Poplar and willow planting in the Wairarapa
Harriet Palmer and Michelle McCabe, New Zealand Tree Grower February 2019.
Those who know southern and eastern Wairarapa recognise it as usually summer dry, winter wet sheep and beef country. It has beautiful but challenging tracts of hill country associated with young geology creating an erosion prone landscape. Several decades of soil conservation work led by Greater Wellington Regional Council, predominantly in the form of poplar and willow planting, has helped keep the soil on the hills and out of waterways. However, there are still approximately 153,000 hectares of untreated areas, so the work is far from done.
Poplar planting in Tinui Forest Park
Tinui Forest Park is in the Whareama catchment of the Wairarapa, an area with a large proportion of erosion-prone land and therefore is a high priority for planting. The forest park is eligible for the services of the Greater Wellington Regional Council land management team. We have a farm plan which enables us to receive grants via the Wellington Region Erosion Control Initiative. This has helped off-set planting costs in the past few years for two radiata pine woodlots on some of the most erosion-prone areas.
In winter 2018 we opted to plant poplars in an erosion-prone but aesthetically important area where a pine plantation did not fit the bill. The new area planted is directly adjacent to a grazing area where the steepest slopes had been space planted with poplars for erosion control a few years ago, so we decided to continue with spaced poplar planting.
Our main objectives for the area, as well as continued grazing, are timber production and soil stabilisation. The value of poplars is that secondary benefits including carbon sequestration, shade for animal welfare and aesthetics all come as part of the package.
Our land management adviser, Michelle McCabe, mapped the site, and highlighted areas eligible for grant assistance which are classified as Land Use Class 6e, with 'e' indicating the erosion constraint posed by the land. The mapping confirmed a total eligible Land Use Class 6 area of 1.6 hectares, needing 140 poles. We selected two poplar cultivars, kawa and weraiti, chosen because of their good timber properties. We have planted several areas with kawa over the years and have had good survival, although it has a reputation for poorer survival than some other cultivars on exposed sites.
We were able to collect the 2.5 metre poles and sleeves from Akura Nursery and distribute them round the site ourselves, therefore reducing costs. However, planting is definitely best left to the experts, and we were grateful to have contractors undertake this.
The total cost per pole planted was $9.35 with the poles planted 10 to 12 metres apart but varying with topography.
This left us with the question of what to do with the small area of adjoining Land Use Class 5e land which was ineligible for funding. The area is poorly drained, rush-infested and probably best used for growing some timber and sequestering some carbon. The unsubsidised cost of 2.5 metre poles and planting is around $18 a pole and we questioned whether there was a cheaper alternative. It is always a good idea to try something a bit different.
The option we chose was to plant rooted 1.3 metre kawa wands, supplied by Appletons Nurseries, and protected with a 1.3 metre shelter. This is an option where sheep are grazing but will not work with cattle or significant deer numbers.
We were lucky to get some end-of-stock shelters, no longer available, from local farm forester Don Bell, who also supplied the durable eucalypt posts. Don designed the shelters to be robust enough to last for many years and specifically to cope with sheep. The post slots are inside the shelter making them much less attractive for sheep to rub on. Other forms of tree shelter require external posts and often two of these are needed to cope with sheep.
The wands are very light and easy to carry and plant compared with the effort which goes into poles and the harder work of thumping them into the ground. The technique used for the wands was to make a hole with a crow bar, slot the wand in and heel the clay soil tightly around each one. Erecting the stakes and shelters was quick and easy in the soft ground.
The cost of the wands was $2.90 each excluding freight. Shelters and stakes were $5 a tree. Labour was free in this case but perhaps worth two to three dollars a wand, giving total of $10 to $11 for each tree. We planted wands at higher density than the poles, around 150 stems a hectare, or six to eight metres apart, with timber objectives in mind. We also interplanted wands with poles in one area to increase the number of stems per hectare.
It will be interesting to see relative survival and growth rates of the poles and wands, especially if we get a dry summer. We will check the planting as the ground dries out in the first summer, check shelters and post, and re-ramming around the base of any pole or post which needs it. This is to close up any big cracks and ensure roots near the surface do not become exposed and dry out.
In a couple of years the trees will be form pruned to select a dominant leader and then eventually clear pruned to about six metres in two or three lifts. These are quick and easy jobs if done on time. The shelters and sleeves will stay on for protection until the trees are bursting out of them. The sleeves on the poles are perforated and will fall off by themselves. The shelters and posts will have to be removed by hand.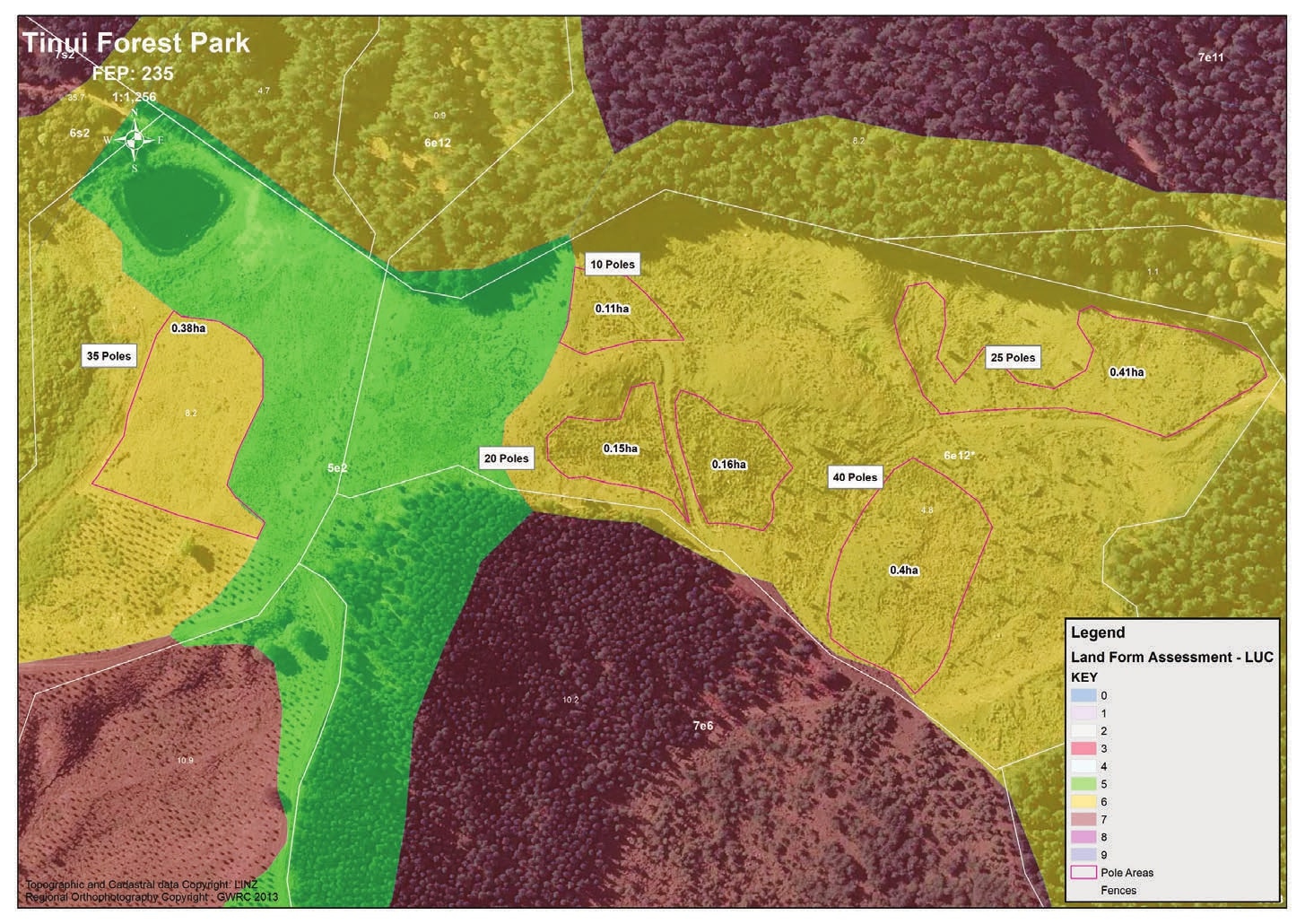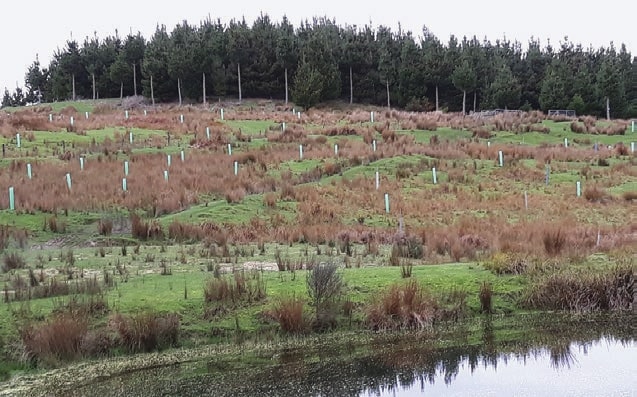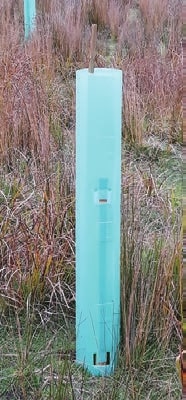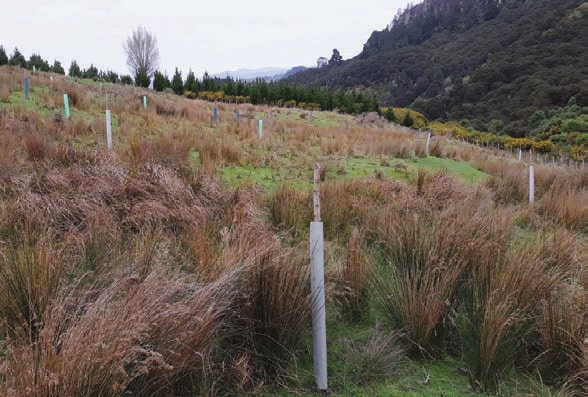 | Poles | Cost excl. GST | Wands | Cost excl. GST |
| --- | --- | --- | --- |
| 2.5 metre pole from Akura | $7.74 | 1.3 metre wand from Appletons | $2.90 |
| Sleeve | $4.78 | 1.3 metre shelter and stake | $5.00 |
| Contract planting per pole | $5.46 | DIY planting per wand notional cost | $2.50 |
| Total cost per tree | $17.98 | | $10.40 |
| Less WRECI grant at 48 per cent | $8.63 | | N/A |
| Final cost per tree | $9.35 | | $10.40 |
Land owner relationships
The Greater Wellington Regional Council land management team, based in Masterton, have for many decades pioneered growing, planting and managing poplars and willows. Hill country farmers with erosion-prone country are able to receive support for poplar and willow planting and services through a farm plan. The Wellington Regional Erosion Control Initiative is supported by funding from the Ministry for Primary Industries' Hill Country Erosion Fund.
Land management advisors work with land owners to map a planting programme and prioritise areas identified as high risk. Costing can be carried out on the farm at the same time giving farmers an idea of the financial implications. Farm plans run over 10-years meaning farmers can spread costs and the workload. Planting over a number of years also spreads establishment risks, such as drought in the first year after planting as well as pests or diseases. Once a plan is agreed, farmers are given practical and financial help to complete erosion control planting.
At the heart of the service is Akura Nursery with 43 hectares of intensively managed beds of willows and poplars. Poles are cut throughout the winter to supply planting programmes, with an estimated 28,000 poles supplied in the 2018 winter. The Greater Wellington Regional Council offers complete planting service to farmers, including helicopter delivery of poles to inaccessible hillsides. Contractors are also available to plant poles.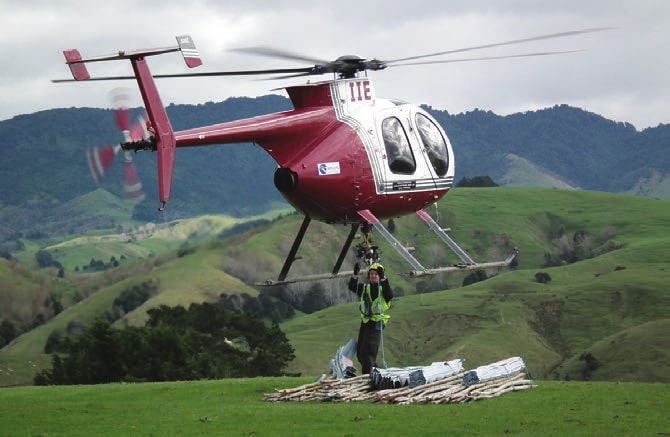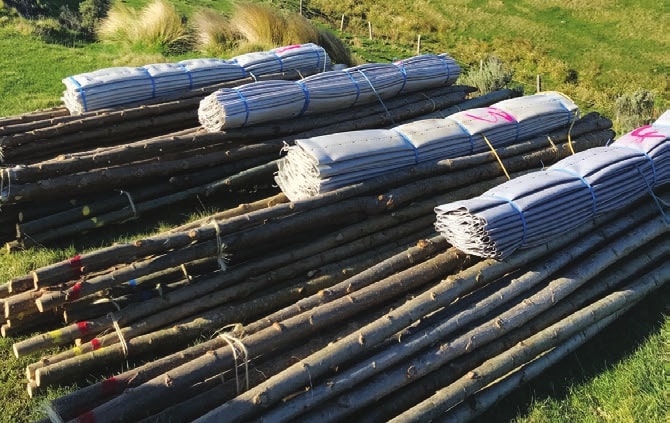 At the time of writing before the Emissions Trading Scheme review, poplars and willows are classified as exotic hardwoods and are eligible to be included if plantings meet minimum conditions relating to area and width of plantings, and percentage canopy cover over the area planted. With judicious design, plantings can enable land owners to obtain the very real benefits of being in the Emissions Trading Scheme. The best advice is to contact a registered forestry consultant as part of any planning to plant poplars and willows with a carbon objective. You can find out more on the choice of poplar and willow cultivars to suit different sites and objectives, and how to manage poplar and willow plantings, from the NZ Poplar and Willow Research Trust website poplarandwillow.org.nz
Michelle McCabe is a Land Management Adviser with Greater Wellington Regional Council. Harriet Palmer is an independent forestry communications specialist, and partner at Tinui Forest Park Ltd.