Risk and Resilience
Michelle Harnett, New Zealand Tree Grower February 2016.
Do you want more money and an income you can count on? Value chain optimisation may be the answer, but to many this jargon phrase needs some explanation. What does it mean in practical terms if you own a small forest?
The terms supply chain and value chain are used a lot. A supply chain at its simplest is the route from the primary producer to the end consumer with all the steps in between. The local forestry supply chain flows from you, the forest grower, through managers, harvesting and log movements to local sawmills, the local market or to export. The contribution and control of a small-scale forester often fnishes at the forest gate. However, there are many more steps and players involved in getting the final product to the end users.
This is where the value chains come in. They take the concept further to include complex networks of supply chains and introduce ideas such as collaboration, communication and innovation. It is also possible to widen the scope of value chains to incorporate economic and environmental sustainability.
The overall performance of a value chain depends on the individual partners' performance and their willingness and ability to coordinate activities.
Optimisation is about identifying what makes money and what wastes money along the entire chain when working to lower costs, achieve higher prices, reduce exposure to risk, improve cash flow and ensure the value chain's operations can be sustained to create opportunities for all.
An optimised forest industry value chain will benefit everyone involved. Owners of small and medium size forests, who are small cogs in a very big machine, stand to gain a lot from an efficient, cooperative industry which is working for everyone.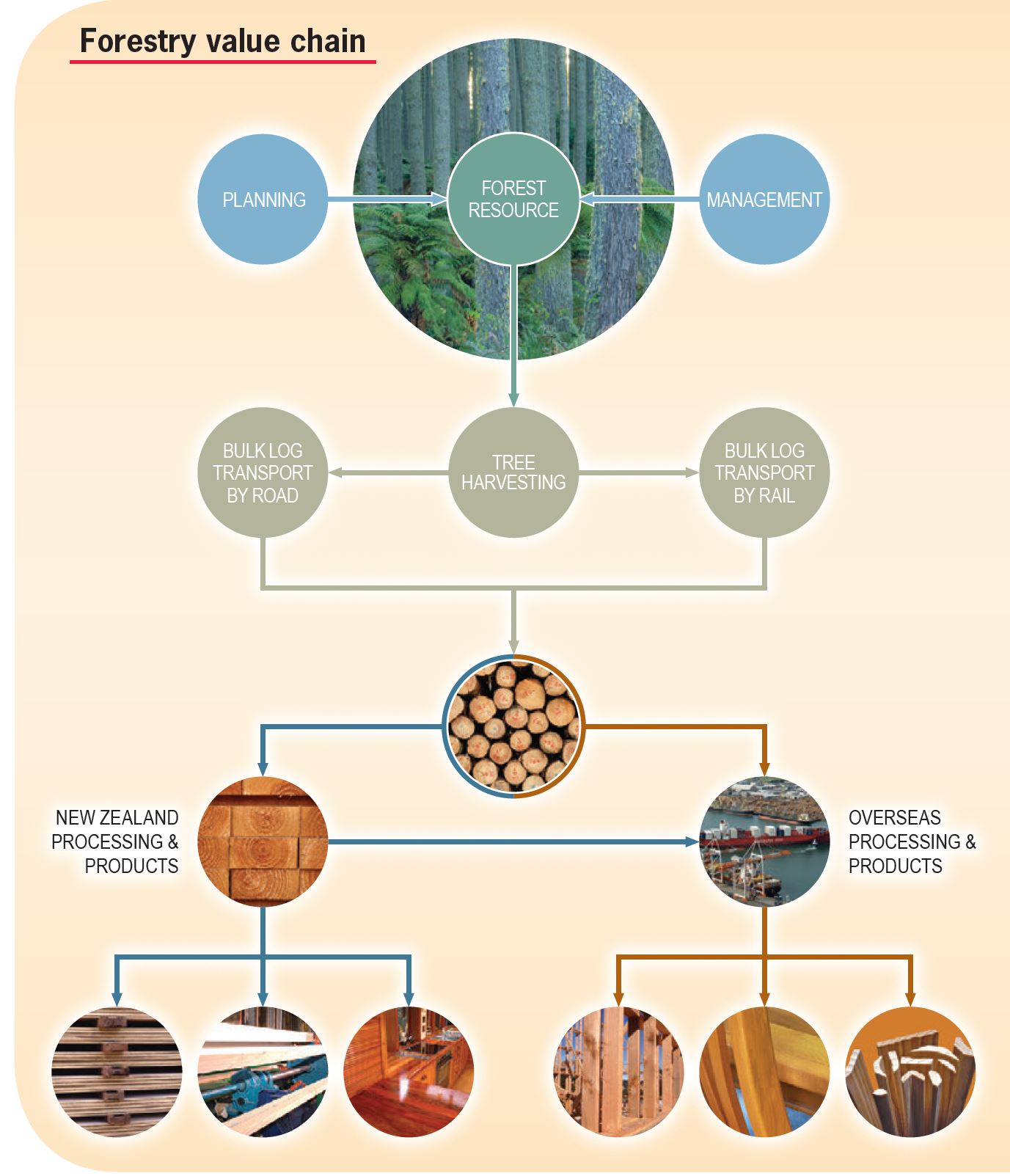 Improving operations
Variability and uncertainty in the world make value chain management and optimisation necessary, according to Dr Carel Bezuidenhout, science leader of Scion's value chain optimisation team. Changes in supply, demand, markets, relationships and the larger business landscape constantly reshape the opportunities and risks associated with business, but without change there would be no opportunities to grow and develop.
There is plenty of scope to improve the operations which make up the New Zealand links of the forestry chain. A frequent method is to carry out a time and motion study. For example, observations are made on an activity such as loading at a skid site or a sawmill operation with a record of every step in the process and how long they take. The data is then used to simulate the whole process. Simulation shows up bottlenecks and activities which add cost in the current process.
It also allows the effect of changing variables on cost, revenue and cash flow to be explored cheaply and with low risk.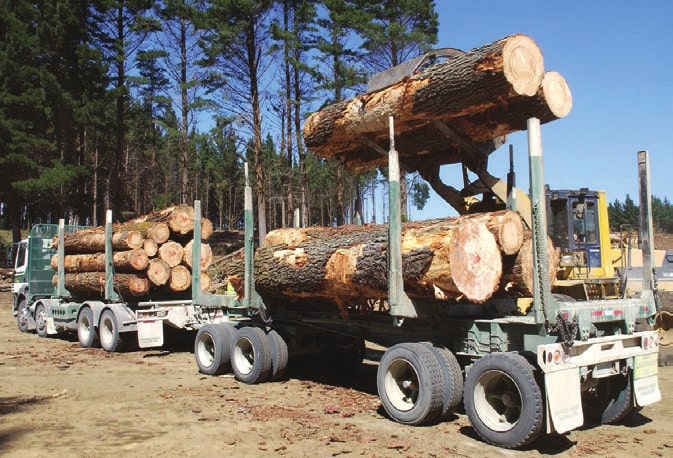 Shipping costs
Shipping is one of the main areas where there are significant opportunities to make substantial improvements and reduce costs. According to Hamish Levack writing in the May 2015 issue of Tree Grower, shipping can take up to half of the cost of getting logs to China. Many ships pick up partial loads at different ports around New Zealand, sometimes visiting up to four ports before they are fully loaded and ready to sail. With port authorities charging around $55,000 a call, costs mount very quickly. Reducing the number of ports of call by one could save around $1.50 a cubic metre. The same applies at the destination – fewer port calls to unload leads to more savings.
The lack of coordination between port and shipping logistics has been identified by Scion as an area where big improvements are possible. Work has begun in collaboration with Massey University to investigate the possible benefits to traders if they acted more cooperatively while still competing, as well as benchmark and simulating port activities to ensure they are world class. There are also opportunities for individual log exporters to evaluate the efficiency of their multi-port operations and for ports to benchmark their operations against each other.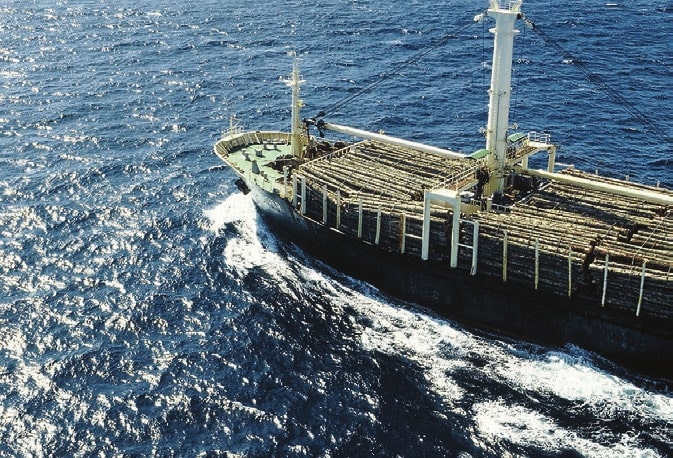 Forecasting demand quantity and products
If customers are not getting what they want, all the best practices in the world will not help a value chain. Anticipating short and long term trends in terms of quality and quantity is perhaps the biggest challenge the forestry industry faces. This is the information on which owners and managers small and large forests need to make decisions about harvesting, managing their plantations in the medium term and what, and how much, to plant to meet the world's wood needs in 25 to 30 years. Getting this right is essential for the future of the New Zealand forestry value chain.
Improving forecasting requires an understanding of customers and how they use New Zealand logs. Just over half of New Zealand logs are exported, the majority to China. As a first step towards building relationships and getting information flowing, Carel and his colleague Dr Csaba Pusztai were in China in October 2015 talking to traders, operators and processors to find out what supply chain and log qualities they value.
The Chinese importers and sawmillers interviewed liked the versatile nature of New Zealand pine and that it was shipped in bulk, which is cheaper than containerisation. However, New Zealand wood has a lower density than wood from other countries and is often used in low cost applications. But log fumigation before departure means that ships from New Zealand are able to enter ports which are not accessible to ships from North America. This has created large wood processing capacities that are specifically geared towards New Zealand logs, especially in the Fujian province.
Information about how New Zealand logs are being used in China is also important to ensure logs with the desired qualities are supplied. PF Olsen staff were in China recently and noted that while less timber was being used in the depressed Chinese housing market, the production of value-added products such as wooden doors exported to the United States was increasing. This diversification was also changing the demand from unpruned utility logs to pruned logs for higher quality appearance products.
Another way to get a feel for the log market is to ask industry decision makers and stakeholders where they think prices are heading. Scion canvasses the opinions of a wide range of participants quarterly through a web-based survey. The data is collated and the log price outlook is shared with those who participated.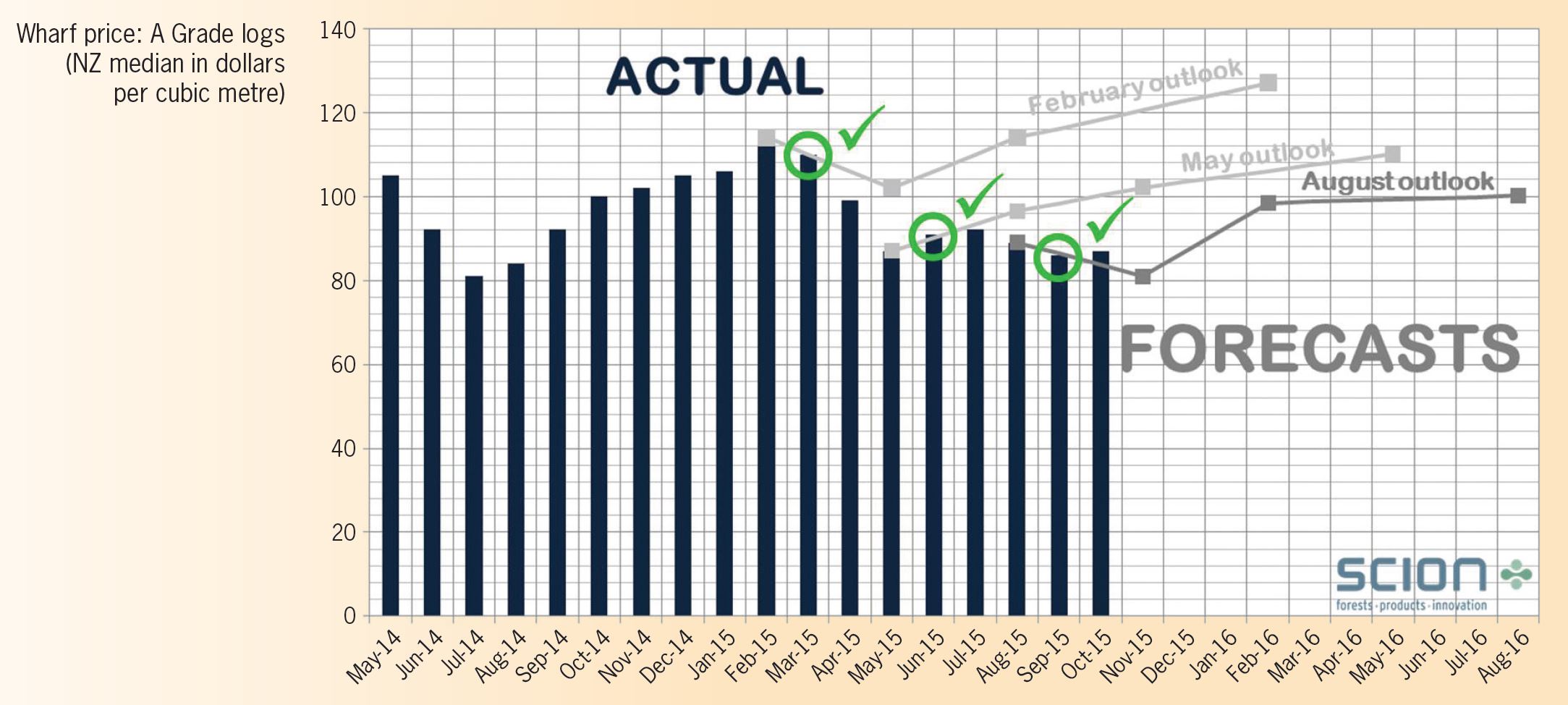 Sustaining the chain
Uncertainty around demand is just one risk factor in the forest value chain. Anything that could change the landscape and make the current supply chain unviable is a risk factor. Scion has identified more than 100 risk factors and the list is still growing. Some of the factors include depletion of resources, political and community pressure, pollution and contamination caused by companies in the value chain and social problems such as a shortage of skilled people.
This is where building up a value chain's resilience comes in. Resilient and economically sustainable value chains are adaptable and can cope with risk. They can also recover from unexpected disruptive events such as earthquakes, fires and sudden price fluctuations, and return to business as usual. Resilient value chains are also flexible with a choice of suppliers and the ability to reconfigure the chain as necessary.
Innovation is another factor that can strengthen value chains. The developing areas of remote sensing and spatial analysis have the potential to make big differences to decisions on forest management. For example, work on ways to collect and evaluate data on growing trees and wood quality is currently being carried out. The information could be used to make decisions on silvicultural intervention or to estimate the volume in a particular stand and decide when to harvest. Spatial analysis tools such as Forest Investment Finder and MyLand can be used to help with decisions on where to plant new forests.
Spatial analysis can also be used to take into account existing infrastructure to identify all potential wood sources in an area to harvest for maximum efficiency. Planning harvesting this way could help owners of small and medium forests cooperate with larger operations to lower harvesting costs, maximise volume from one harvesting operation, provide steady work for logging crews and others, and deliver a steady volume to ports for export.
Beyond individual forests, spatial analysis can be taken further to consider wider problems such how regional developments could beneft the forestry value chain. This could include considering whether or not new infrastructure is necessary to increase access to remote areas, if processing facilities are needed or if an investment in port expansion is warranted.
Forging a strong forestry chain
The forestry industry is taking the first steps towards a fragmented and segmented value chain into one where every link focusses on creating value, the health and wellbeing of the network and the partners. Better understanding of processes, better relationships and information flowing upstream to foresters and downstream to exporters and importers will reduce uncertainty and risk around demand and increase confidence in forestry as a reliable investment.
Owners of small to medium forests will be pulled along on the coat tails of change but stand to get more out of the value chain if they take an active part. This could include filling in industry surveys, thinking about long term trends and planning accordingly, working cooperatively with others, joining organisations like the New Zealand Farm Forestry Association, and even co-investing in processing facilities, all to help shape the future of one of New Zealand's primary industries.
For information on value chain optimisation and the log price outlook contact Carel.Bezuidenhout@ scionresearch.com, for Forest Investment Finder contact Duncan.harrison@scionresearch.com and for MyLand contact Graham.West@scionresearch.com.