The last 20 years and the next 20 years of farm forestry
Garth Eyles, New Zealand Tree Grower February 2014.
Twenty years ago I was introduced to farm forestry. For the previous 28 years I had been involved with resource mapping and the science of soil conservation throughout New Zealand. Due to a mid-life crisis, I had changed direction to working with farmers to encourage more sustainable farming as a staff member with the Hawke's Bay Regional Council. The Hawke's Bay Branch of farm forestry was soon to begin planning the 2001 national conference. During this time I met a group of dedicated and friendly people and made lasting friends – a great way to be introduced to farm forestry.
From my national resource mapping experience it was obvious that trees were an essential requirement for sustainability over much of the country. New Zealand has only been out of a tree cover for 150 or so years, being replaced by English pasture species. A total of 60 per cent of land is steeper than 15 degrees and is inherently unstable. In most other parts of the world these steep slopes are only lightly grazed or remain in natural cover. Here we intensively graze them and continually try to increase their productivity.
Commercial versus farm forester
The commercial forester and the farm forester are two very different species. The commercial forester invariably grows a monocrop, produces large volumes, and depends for a profit on the market at the very specific time of harvest. The owner is a price-taker.
By contrast the traditional farm forester is concerned with individual tree quality, and trees are sited where they are best suited, providing a mosaic of different species across the pastured landscape. In many cases harvesting is secondary to growing with harvest undertaken when both the need and the market are appropriate – it is money banked on the property. As well as the profit, growing trees provides great personal satisfaction from the enjoyment of their beauty, the appreciation of birds, insects and other animals, and the peace of being within a plantation.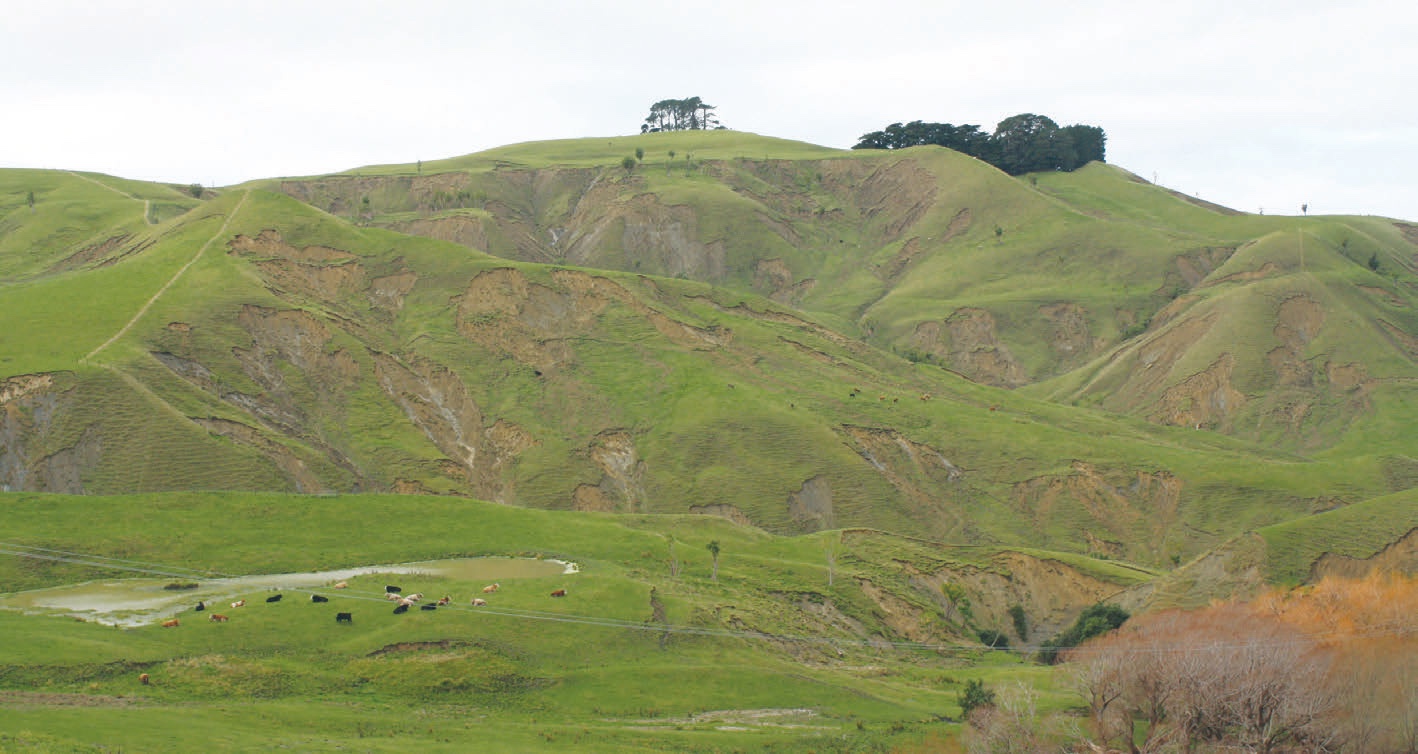 Organisational change
The 1990s saw a major change in the government's approach to rural sustainability. National coordination was abandoned. With the demise of the National Water and Soil Conservation Organisation, the Water and Soil Division of the Ministry of Works and Development and changes to forest research, applied research disappeared with competitive science bidding. The emphasis was then given to blue sky research.
Regional councils replaced catchment boards and became separate empires with an ever-increasing set of responsibilities. Almost all soil conservation science stopped. Typical was the funding for the breeding and selection of poplars and willows, essential for erosion control, which was drastically cut and has never fully recovered.
Why do I raise this history? Because these changes about 20 years ago had a major effect on farm forestry. Applied research into species other than radiata pine and their management systems stopped, or at best became discontinuous, and has never recovered. An example was a regional and national trial of eucalypt firewood species established by the Forest Research Institute. The site in Hawke's Bay was abandoned in the early 1990s. I used it as my personal firewood lot and yet every few years scientists would turn up to take samples for some new project. This would only last until the funding was cut – not a good way to run science.
At this time we also lost the forestry advisors of the Forest Service. Regionally-based, they knew their area intimately and could coordinate advice, plan field days, or respond quickly to problems farm foresters had. Their loss left a gaping hole not to be replaced by consultants or regional council staff.
Farm forestry initiatives
A positive aspect was that about 20 years ago farm foresters began developing their own applied research projects to deal with local, regional or, less frequently, national issues. These projects were mainly funded by the Sustainable Farming Fund, which was a saviour for farming, and some very interesting projects were undertaken – and still are. However it is very difficult to have a forestry project which can be completed within the three-year time span of the projects.
This has meant that projects have to rely on extensions – still too short a time span – or they are reduced to surveys of existing tree lots or one-off workshops with no capability for longer-term follow ups. No long-term committment has been possible.
A classic example of this was the Green Calculator, a farm forestry sponsored project designed to provide a way for the farmer to identify the relative costs of an area being converted to forestry or staying in pasture.
The Green Calculator was successfully developed and nationwide workshops were held to train in its application. However no funding was available to continue these workshops or to update the calculator. I understand the calculator has been taken over by Scion as their property, but this is not what the original project envisaged.
In the 1990s there were large increases in the planted area of forests and with that came a change in approach by farm foresters. This was from having a holistic overview of a farm and the planting of appropriate areas, to planting large areas or whole farms with the sole objective of making money. Farm forestry tended towards being more 'small forestry' than the traditional mosaic of pasture and trees.
Today, I believe farm forestry has ceased to be the dominant force it used to be even 20 years ago. There is a renewed emphasis on increasing animal productivity while timber values are such that tree planting is a marginal exercise at best. Returns required by corporates are resulting in the limits being pushed and the farm forestry concept being limited to the older and more mature family farm.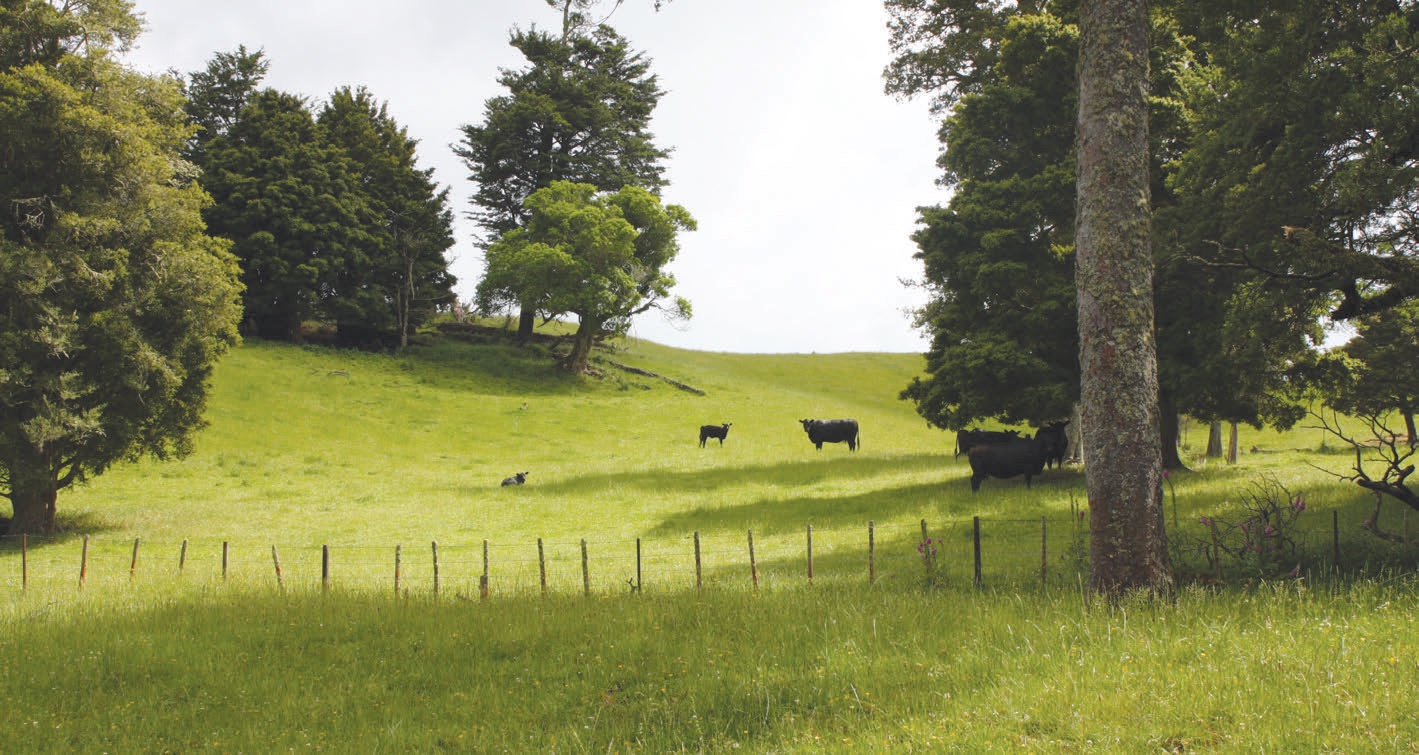 The farm forestry scene 20 years on?
The government's Science Advisor, Sir Peter Gluckman, recently stated that New Zealand has the potential to feed only 25 million people. Our agriculture needs to concentrate on feeding the wealthy of the world or at least the ever-growing middle class. If we go in any other direction and the country will go broke. To feed the wealthy, New Zealand needs to provide quality grass-fed products with highly reputable monitoring systems.
The recent international furore about Fonterra products indicates the stresses involved with dealing with this market and these will only get greater as international competition for this market heats up. Maintaining New Zealand's clean green image will be increasingly difficult if the country continues its rush to increase productivity, intensifying land uses at the expense of the environment. The environment is our main marketing advantage.
The two photographs illustrate the differing faces of New Zealand that the first or second world buyer of our agriculture produce is likely to see when investigating our 'greenness'. There is little doubt which property they would choose to buy from. I believe the farm forestry concept encapsulates the green image of New Zealand and 20 years on this needs to be our focus.
A new reality
For the focus change to become a reality, both academic and on-farm training needs to change. The New Zealand legacy of separate agricultural and forestry universities is that we are still training pastoralists and foresters, two groups with very different approaches to managing the land. We are not training land managers. In between the two extremes we have farm foresters, self-taught and practising almost a religion in some cases.
Training institutes need to mainline teaching farm forestry to gain the new generation of farmers. On-farm training needs to be improved for the current and the future farming generations. The NZFFA has been a leader in this in the past 20 years with its field days and workshops, and with the Tree Grower, but a more integrated approach is needed in the next 20 years. The Tree Grower needs to enlarge its training section with information on 'how to do things', and about species suitabilities for specific areas, so that over time a two-level set of information can be gleaned from old copies.
Science will also need to have changed direction. By 2033 I would hope that applied science will be back in fashion, the competitive approach discarded and an advisory system re-instated. The advisory staff of the Ministry for Primary Industries, employed to run the carbon industry for example, could be more profitably employed as farm forestry advisory officers whose job it is to work with and encourage farmers to develop more integrated farming systems, concepts proved by farm foresters.
Minimising climate change effects
Climate change, whether we like it or not, is with us now. We will have more droughts, more storms, and more flooding, leading to more slips, more sediment and more wind erosion. To maintain our clean green image we must minimise the effect of these, and what better way to do this than ensure the farm forestry philosophy is applied nationally. Until each piece of land is used according to its physical capability, land use will not be sustainable.
We simply cannot just keep on increasing stock numbers – that is the message of history. It is a message which was central to farm forestry's ethic until the 1990s, and in the next 20 years we need to have returned to it and made it mainstream. If we do not, then the wealthy international market will be more and more exposed to the negatives of our farming systems and will be encouraged by competitors to buy from elsewhere.
The current emphasis on mass-producing a low-value timber as a monoculture will need to have changed. Until the late 1980s the Forest Service was trialling a wide variety of tree species but with the selling of the forest estate and the ensuing emphasis on short-term returns, this has gone. It is a pity the trial plantings of native tree species were not continued and extended because species such as totara would be not far off millable in 20 years. Long-term rotations in steep unstable hill country providing high-value timber could be a boon.
Farm plans
In 20 years most farms will use farm plans and this will ensure trees are correctly managed. Those in paddocks will be deciduous hardwoods, planted to enhance pastoral growth and animal health. Conifers, or even eucalypts, will not be appropriate in these situations. Trees such as poplars, valuable timber trees in the northern hemisphere, will prosper. Easy to propagate, providing shade, and silvicultured during droughts for animal fodder, they are the ideal tree and in 20 years a market will have developed.
Steep unstable areas, such as highly erodible slopes or gullies needing retirement from grazing, will be places where the next generation of conifers will prosper. In the 1970s we anticipated appropriate harvesting techniques for gully planting would be in place before harvest for small radiata plantings, but regretfully this has not happened. Until it does we need fast-establishing and slow-growing trees with quality wood which can be harvested in small lengths for niche markets. Is this research underway?
We are currently heading into a more regulated rural environment where nutrient caps, carbon limits, land use controls and compulsory stream retirements are being variously introduced as the government struggles to maintain our clean green image while demanding increased export earnings. This is not going to get easier, so within 20 years farmers will have identified that the best solution to these problems is to apply farm forestry principles providing a mosaic of trees, pasture and crops with an intensity fitting the capability of the land.
As I see it we have two choices −
Continue with the current intensification and monoculture approach to farming and risk ever-increasing marketing problems
Embrace farm forestry principles so that in 20 years this country is comfortably placed to provide quality food for first and second world peoples.
Until 2008 Garth Eyles was the Manager of Land Management with the Hawke's Bay Regional Council where he enjoyed working closely with farm foresters to encourage the integration of trees and pastures. He is currently an independent consultant.