Silverwood
Derrick Rooney, New Zealand Tree Grower February 2011.
A four hectare experimental area alongside the road frontage of Silverwood farm, on Leaches Road near Hororata, provides the Central Canterbury branch of the NZFFA with a valuable opportunity. We are able to combine social interaction with a chance to see whether European-style continuous mixed forestry, including coppicing, is feasible on a dryland site of the Canterbury high plains.
Frank White, who farmed the 400 hectare property for 60 years and was well known among farm foresters throughout New Zealand, was a bachelor with no close living relatives. A few years before he died at the age of 92, he handed control of the property to trustees. They in turn leased the farm to Lincoln University but retained control of some elements, including the woodlots and the diverse shelter belts, in which more than 100 species are growing.
The experimental area is managed under a 99-year forestry right by a trust set up by the Central Canterbury branch. It is only a small part of the entire farm, but the trust has developed an excellent relationship with the Silverwood trustees. For the last three years the trust has been advising them on the design, composition, and maintenance of new shelterbelts, including an experimental belt consisting entirely of indigenous species.
The trust has also taken over the management of a private arboretum containing more than 100 tree species planted by Frank. Many of these species began life as seedlings taken home from farm forestry conferences all over the country.
When Frank offered the four hectares for experimental forestry three years before he died, he imposed no conditions. However he said privately that he wanted the block to be used for experimental purposes and would not like to see radiata pine planted there. This wish has been observed. Instead the trustees concentrated their efforts on some of the English deciduous hardwood trees that were among Frank's favourites.

A row of deciduous trees along the entire road frontage of the farm is a conspicuous feature of Silverwood. Some of these were planted by Frank in the 1930s, some when he was at home on furlough during World War II, and the remainder in the late 1940s after he was demobbed. Captain Frank White served in North Africa, where he was one of the 'Desert Rats'.
The trust decided initially to see if low cost on-farm methods, using recycled materials such as balage wrap for mulch, could be adapted to enable landowners to establish mixed hardwood plantations on less fertile sites with minimal expense and effort. At Silverwood the dominant soil type is Lismore stony loam, one of the more common but least fertile plains soils. Although the average rainfall is a relatively generous 830 mm, the trial site is on the high plains, 260 metres above sea level and more than 60 km inland. It is subject to frequent early and late frosts, drying winds and summer drought.
Four year plan
Planting began in 2001, and the establishment phase was completed in four years. Oaks, chestnut, and walnuts were chosen because −
Little information is available about their establishment as timber trees on exposed sites in New Zealand
Although hardwoods can be grown successfully on the better soils or more sheltered sites in Canterbury, even on dry land, nothing is known of the establishment techniques used when stands were planted in the 19th or early 20th centuries
Oaks, chestnuts, and walnuts are known to be capable of yielding timber of high quality
All are frost-hardy and capable of growing in both the warmest and the coldest parts of New Zealand, provided the site has good air drainage to minimise the risk of damage from late frosts after growth starts in spring
All have heavy, short lived seeds and little likelihood of spreading
Although these species are frequently planted on farms and lifestyle blocks little information is available about suitable provenances for woodlots.
Ashes and sycamores, which have light, wind-dispersed seeds and are able to spread over relatively long distances, were excluded from the trial. Cherries and other rosaceous trees whose seeds are dispersed by birds were also excluded, although space was found for a few less risky ornamental species on the periphery of the trial area. A handful of Dutch elm disease-resistant elms was also planted to provide a possible future source of propagating material.
Walnuts and chestnuts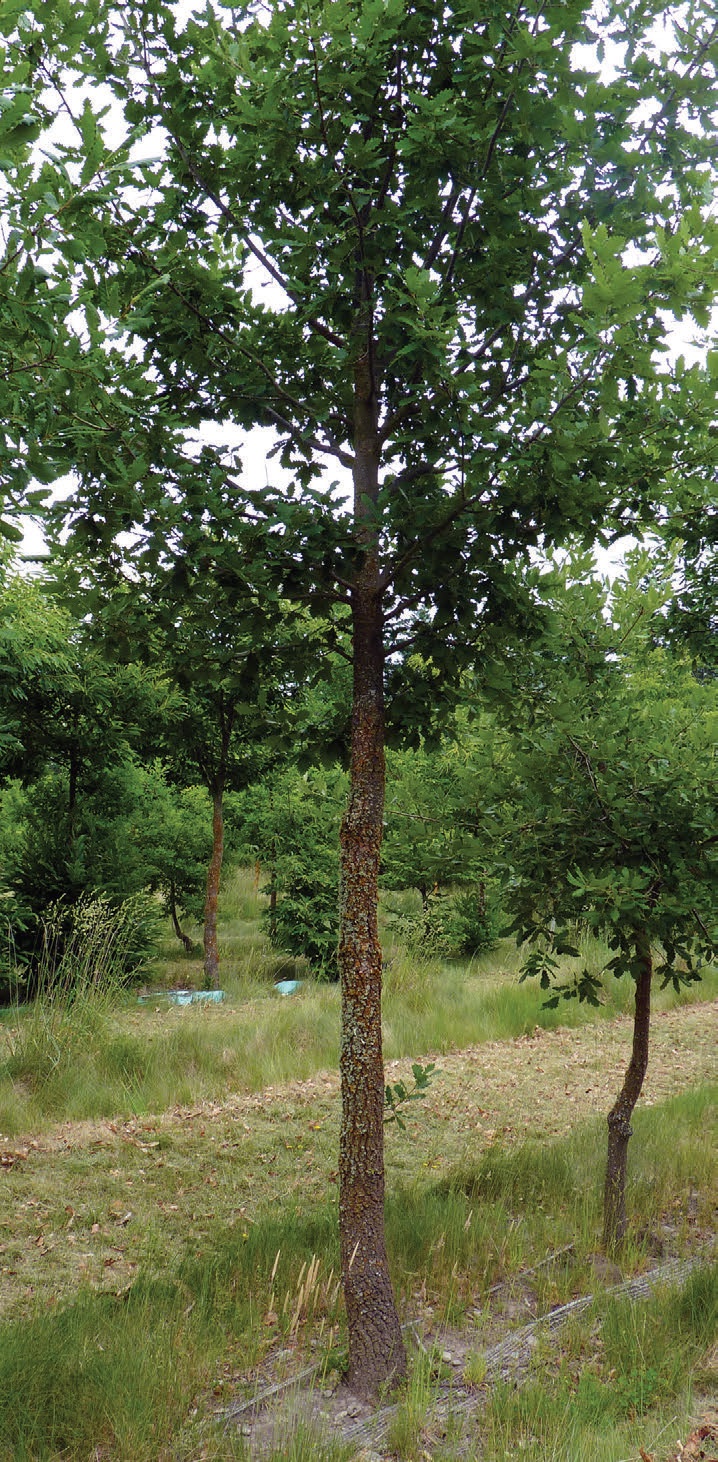 The experiment was seen as complementary to walnut and chestnut research done into nut production and clonal propagation by the Tree Crops Association, Lincoln University, HortResearch and other agencies. In the 2001 block, the main aim was high value timber production from seedling trees. In 2011 its scope may be widened by coppicing part of the block to produce a range of different forest products, including chestnut stakes, which are in demand by grapegrowers.
A small adjoining block of hazels planted in 2005 will, if all goes well, become an integral part of the coppice. It will broaden its product range by providing straight stems that can be harvested for sale as tomato or runner bean stakes, for which there is a steady demand. Properly handled and stored, hazel stakes can be reused for up to four seasons, whereas untreated pine stakes are good for only one season. For those who enjoy tramping, coppiced hazel also produces light but strong hill sticks.
In the main trial block the initial species mixture was about 50 per cent oaks, 10 per cent walnuts, and 40 per cent chestnuts. Most of the latter were well-grown surplus rootstocks up to 1.8m tall, donated by the Quality Tree Company. Seedlings were planted at two metre spacings, with either three or four metres between rows.
More planting
As the planted area expanded to two hectares over the next few years, trees of known provenance were secured from Allenton Nursery and Southern Woods. Chestnuts and oaks from what were regarded as superior provenances located in Ashburton and Hanmer Springs were raised for the trial at Allenton Nursery. A short row of Turkey oaks was included for drought resistance and strong growth, although the timber is usually considered to be of lesser quality.
Southern Woods grew, on our behalf, a line of Hungarian oak from seed collected by the trustees from well-formed trees in an isolated group at Lake Coleridge. About 15 of these were planted at Silverwood early in August 2010.
The best of the Silverwood oak trees, now aged between six and nine years, have exceptionally good form with light branching. Their growth rates have exceeded expectations and many of them are already seeding.
The first, and so far only, independent research project at the area began in 2001 and was completed in the following year. Tembo Chenyanga, a graduate student at the Canterbury University School of Forestry, completed his thesis under the supervision of Professor Roger Sands. It was a study of the effectiveness of different mulching techniques, including straw, herbicide with no mulching, recycled plastic balage wrap, and combinations of mulch and herbicides.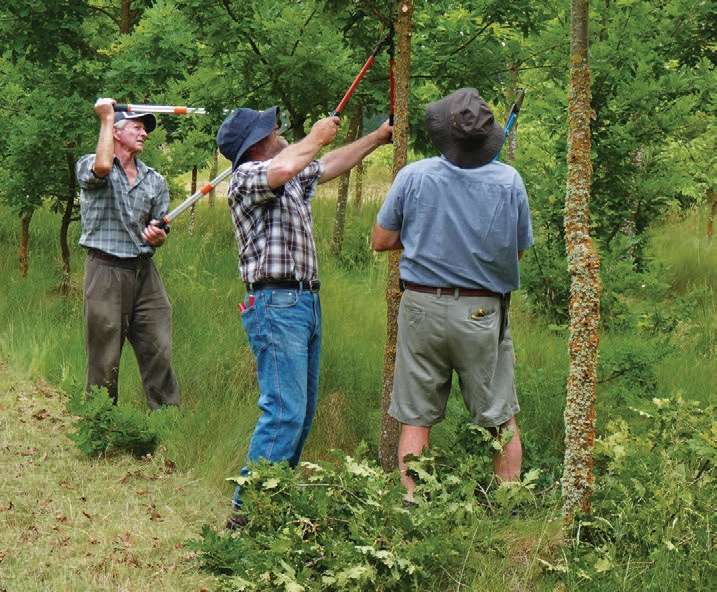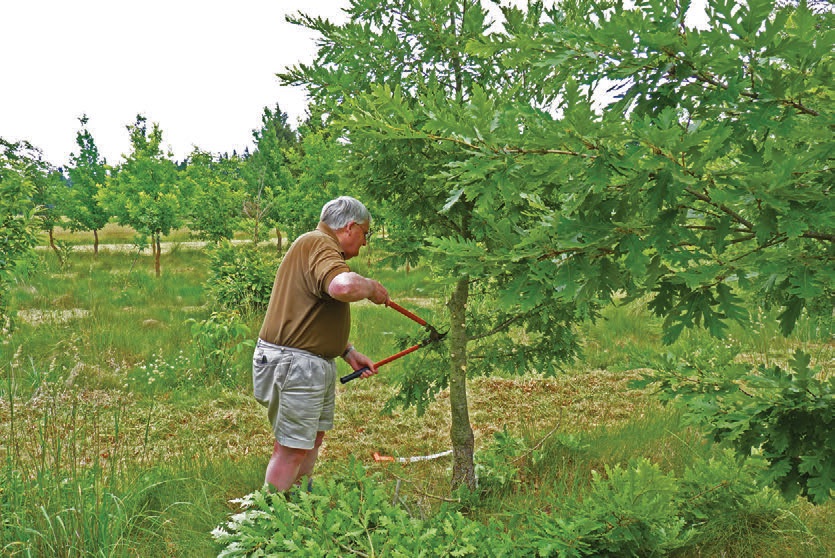 Expansion
The four hectares is divided by a median fence into two approximately equal areas. The unplanted block was cultivated at first and used to help finance the experiments by growing kale to be sold for winter fodder. Since 2008, however, the experimental area has been extended into this section, initially by an indigenous planting which was unsuccessful because of a spring drought immediately after planting. The only survivors have been a handful of black beech, ribbonwood, coprosma, and kanuka. In due course the fact that these have survived will tell us something.
The experiment was broadened further in 2009 by a range of cypress clones, including one found in a Silverwood woodlot. The purpose of this trial, which includes several replicates of each clone, is to test canker resistance, growth rates and form on a dry site.
However, the main long-term aim remains. This is to test whether a European-style, mixed species, continuous canopy forest model incorporating coppicing is feasible on a dry New Zealand site.
This perpetually renewable model is becoming more attractive than conventional plantation forestry to many farm foresters since the introduction of the Emissions Trading Scheme. While European data on mixed forests assembled over several centuries is readily available, it cannot provide detailed and definitive guides for New Zealand conditions. Existing old hardwood stands in New Zealand indicate that the species can be grown here, but they do not provide information on low-cost, home-grown methods of propagation and establishment.
For example, the trees in the experimental area came from a variety of sources and their form reflects the importance of selecting a good provenance. The serpentine stems of the group shown in the photograph above illustrate this point. However, they have been pruned in the hope that 50 to 80 years of natural growth will iron out the kinks in the stems. The double leader of the tree in the foreground has since been reduced to one stem.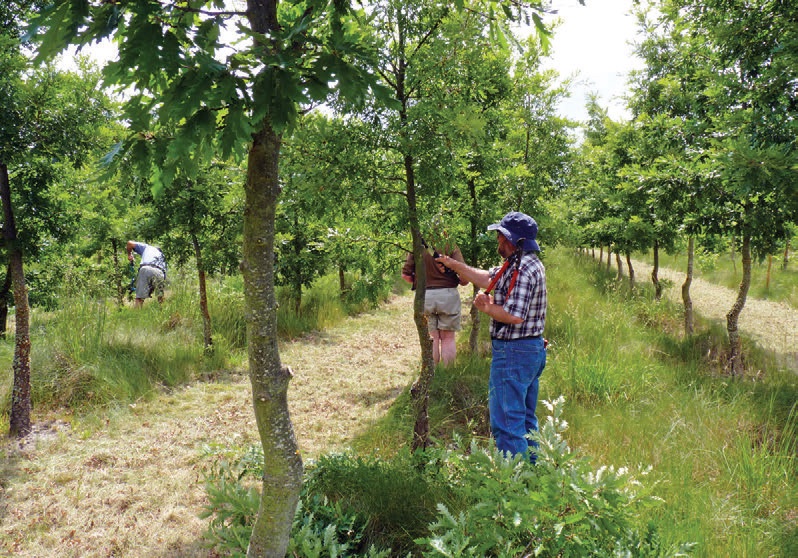 Lessons learned
Some lessons have been learned already from the trial. The first is that the three most important elements in establishment are weed control, more weed control, and even more weed control. Without protection from weeds, of which the widespread browntop grass is the most competitive, planted trees will not thrive on a marginal site such as this one.
An area of clean dirt or weed-free mulch must be maintained for a radius of at least a metre around the base of the tree for at least three years, and preferably for up to five years after planting. If the trees grow well, their own root systems will be sufficient to deter competition after that time.
At Silverwood, where browntop is the dominant species in the old pasture in which the trees were planted, attempts at chemical-free weed control were ineffective. Even where mulches were used, it proved to be essential to destroy the browntop with haloxyfop or glyphosate (Roundup) before mulching. Often this entailed repeated sprayings over three years or longer. In the unsprayed control area, browntop growth continued even underneath a heavy plastic mulch, and eventually pushed the plastic aside. This Mafia factor, that the key to success is the elimination of competition, should never be underestimated.
Mulching
Eight years after planting, the oaks in the unsprayed control row in the initial trial remain both significantly smaller and significantly inferior to the trees that were initially sprayed and mulched, and were never exposed to competition from weeds. Although all the rows of trees have received an annual release spray since the initial establishment trial was completed at the end of the third year, the differences in form and size between the control trees and the remainder persist and show no indication of closing.
Regularly replenished pea straw proved to be the most satisfactory mulch at Silverwood. Pea straw breaks down into humus relatively quickly and has an open texture that inhibits transpiration but permits rainfall and air to reach the soil. Wheat and barley straw are stiff and very slow to break down. Oat straw is an acceptable substitute if pea straw is not available. Sawdust is not recommended as a mulch because it tends to cake and create an impermeable surface layer through which neither rain nor air can penetrate.
Whatever material is used, placing it correctly is important. A mulch which is too deep and too close to the base of the young tree may inhibit rather than encourage growth and will probably damage the base of the tree by providing habitat for moulds and rot. One useful test is to fork up and shake out a sheaf of mulch after it has been in place a few months. If the material is full of tree roots the mulch is probably too deep. Root proliferation in the mulch can also indicate that the ground was too dry when the mulch was spread.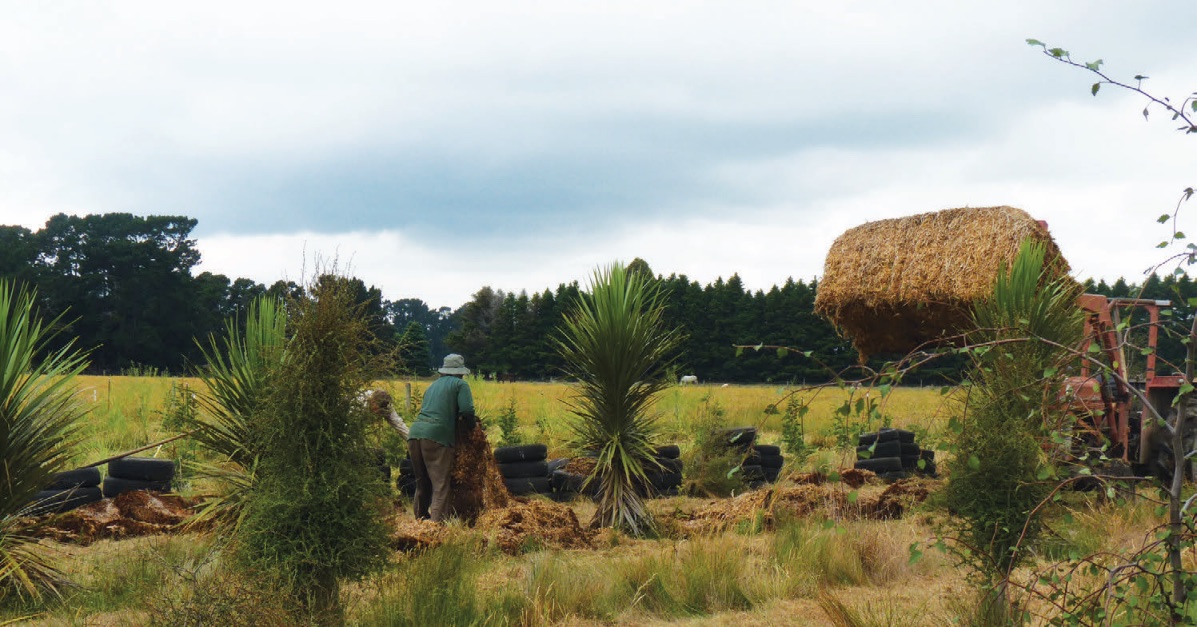 Start well
Another lesson learned from Silverwood is that when establishing hardwood species it is essential to start with vigorous, well grown, large specimens. This means open ground planting stocks three to five years old, at least 1.5 metres tall, with a stout root collar and well-spaced roots. Leave any trees less than 1.2 metres tall in the nursery rows for another year. Trees that were smaller than this size at planting were invariably slower to establish and even after up to eight years are still trailing well behind. Life in the exposed open ground, without irrigation, is difficult for infant hardwoods and they do not thrive on it.
Social role
Among the less obvious benefits of the trial have been increases in bird and insect life and in the number of other small animals, such as skinks. Thanks to intensive dairy farming predators are rapidly losing most of their habitat on the plains. One of the items on our wish list is to persuade a graduate student to make a comparative study of animal and invertebrate life in the experimental area, on the dairy farm next door, and on nearby extensively grazed grassland.
Pruning in the hardwood trial has been confined to light form pruning in mid summer. Usually this is done by farm forestry members and combined with a Christmas barbeque.
This means the area is performing a significant social role within Central Canterbury farm forestry as well as serving as a model hardwood forest which may provide a renewable source of income in 15 to 50 years time. Numerous groups of Tree Crops Association members and farm foresters from other branches have been hosted at Silverwood. Is this what people mean when they talk about multiple-use forests?