Good stewardship of land, water and trees
Brian Simms, New Zealand Tree Grower February 2011.
My parents bought half of the present farm area in 1955 for the princely sum of £2,000. This land comprised a couple of hectares of rough grass, a few hectares of mature native bush and the rest in manuka tree and dense bracken. There were five huge paddocks and no buildings. The intention was that once the land had been knocked into shape, one of their three sons would begin dairying and have a sort of pioneering experience on the very rugged and hilly land.
Ten years later, after much manual labour, a small walkthrough cowshed had been built and there was judged to be enough grass to feed 35 rather scrubby dairy cows. As an 18-year-old, I was tapped on the shoulder.
Starting planting
The next 20 years saw a home built, additions to the farm size which was now 111 hectares, all land except the native bush converted to reasonably good pasture, extra roading and fencing with water reticulation installed. The milking herd had grown to 112 cows and it seemed that the development phase was complete. But by this time there had been one major land slip and threats of more to follow. Influenced by Neil Barr's articles in the NZ Farmer, and the enthusiasm of a local farm forester Richard Ward, I embarked on a tree planting programme to try to control erosion.
The Far North is considered to have a sub tropical climate, with temperatures in the region of 24°C to 28°C in summer and 11°C to 15°C in winter. Rainfall on our property, which is just a few kilometres south east of Kaitaia, averages about 1,300 mm a year but is not at all predictable. Many farms contain several different soil types, such is the convoluted nature of the district's geological past.
When the judges of the Northland Ballance Farm Environment Awards selected Brian and Gaye Simms as the winners of not only the 2010 Northland Regional Council Water Quality Enhancement Award but also the Supreme Award for the region it was well-deserved recognition for many years of hard work and wise stewardship of the land. The Simms demonstrated very good management skills on difficult land 'not eminently suited for dairying', and had shown excellent long term values for the sustainability of the farm, particularly in terms of reducing soil loss and protecting native habitat.
The judges said the Simms had made the most productive use of their land, and diversified their interests well. They concluded that, over their working lives, the Simms had created an attractive and diverse landscape and protected the water and soils now and into the future. The amount of work required and the commitment demonstrated to leaving the land a better place is a credit to them.
Multi purpose exotic plantings
From 1987 until the present day many small areas in danger of slipping have been fenced and planted with a variety of timber trees. On steep slopes we have fenced off small strips across the slope using two electric wires to exclude stock. Within these strips we have planted several species of trees to protect the slopes. This has created an interesting and diverse multiple-use landscape. We have tried poplars for slope stabilisation but with limited success.
Blackwood has been the most favoured by far. Many people struggle to grow a straight blackwood but it is not really that difficult if you listen to the experts, learn from your mistakes and are dedicated to annual pruning. The best of the trees have reached 50 cm diameter at breast height in 18 years.
I have done all the work myself on these areas, totalling about four hectares. While preventing soil erosion is the main reason for these plantings, the trees are managed for high value timber production potential and thought is given to landscape values, especially the way they blend in with the native bush. And of course they provide valuable shade for the cattle. Trees used include eucalypts, acacias, silky oak, Japanese cedar, poplars and willows.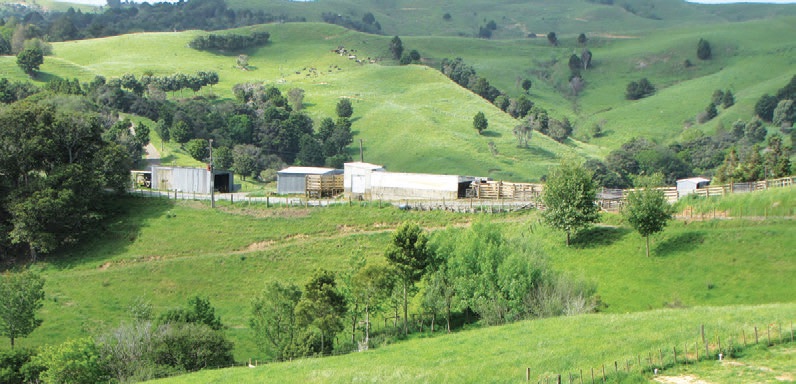 Forestry joint venture
In the early 1990s, the price of radiata pine had risen to undreamed of heights and the decision was made to convert an 18 hectare erosion-prone valley from pasture to pines as a retirement fund project. A joint venture with friend Anna Fenton was established under the newly passed Forestry Rights legislation.
PF Olsen Ltd was contracted to supervise the silviculture through to final thinning. The result is a well managed, rapidly growing and healthy forest about 12 years away from harvest. Planting was at 1,000 stems per hectare and the final stocking is 375 stems per hectare. Growth rates in the Far North are among the best in New Zealand. After much wrestling with the issue of carbon credits the intention at this time is not to join the Emissions Trading Scheme, mainly because of the age of the trees but also because of the financial risks involved.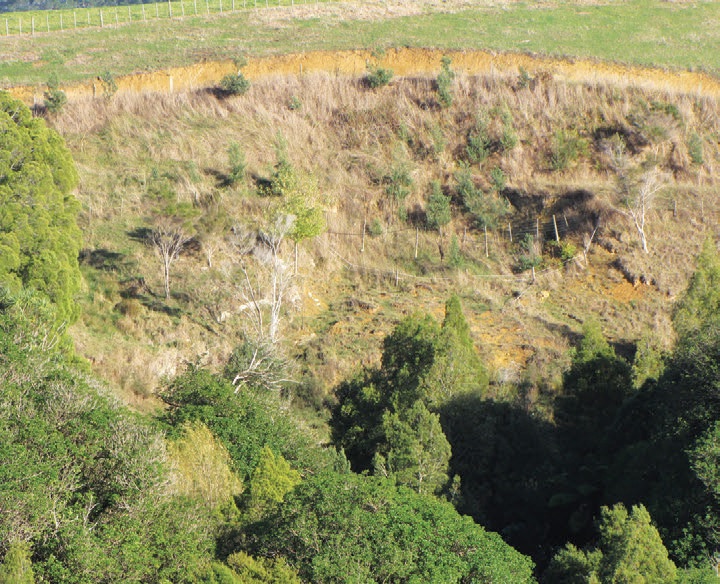 Looking after the environment
As with a vast amount of land in this region, the farm is a water catchment in itself. The main stream through the property has been a vital resource supplying all the water to paddock troughs and the cowshed. Fencing the stream and other minor tributaries has accelerated with the changing focus of our environmental awareness.
In the early years just surviving financially had to be the main priority, environmental concerns took second place. However by 1985 the last of the beautiful patches of bush had been protected from stock with permanent fencing and a dense, rapidly growing understorey soon emerged, creating good habitat for kiwi.
Weeds flourish in the warm climate and considerable effort goes into controlling them. Possums, pigs and goats find this property very much to their liking and they are dealt with by hunting or poisoning.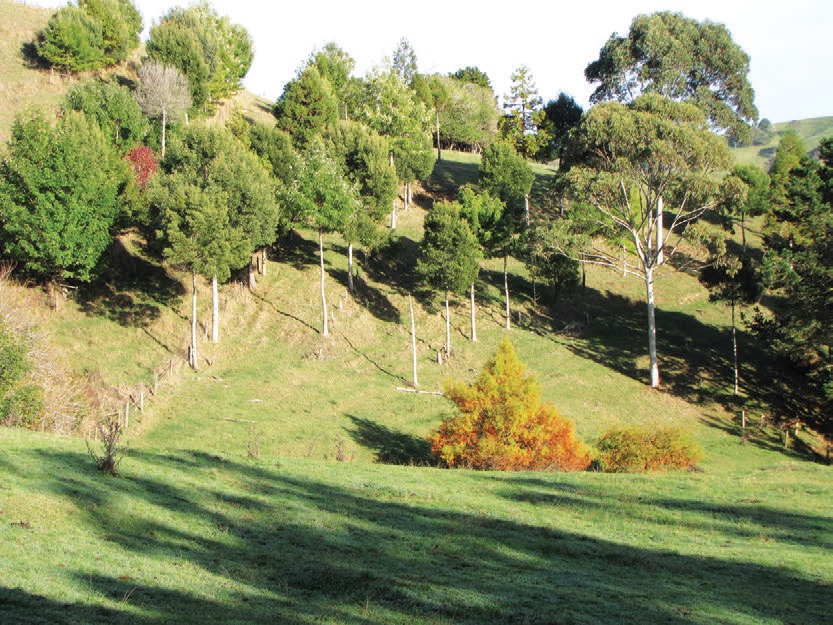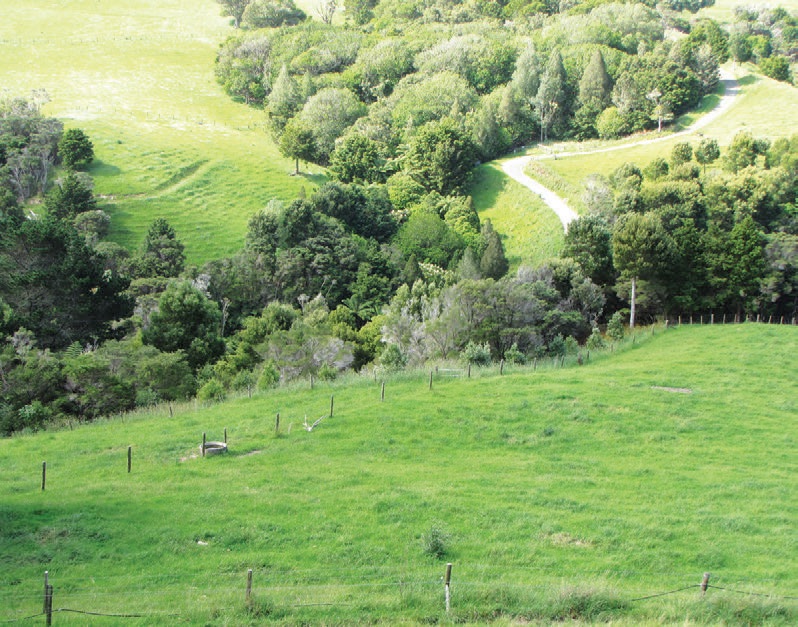 Effect of shade from trees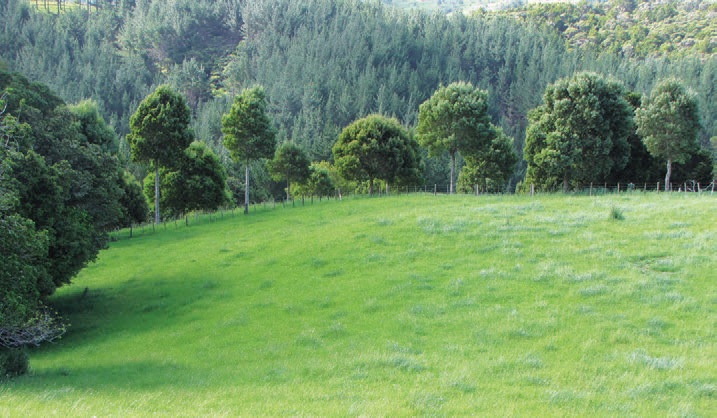 Friesian and dark coloured dairy cows suffer in the heat of summer and white areas of skin can get badly sunburned unless there is adequate shade. When the native bush areas were protected from stock the fences were sited so that there was still some shade left for the animals. On this farm it is difficult to say whether there has been any effect on production levels as result.
Soil health and nutrient management
The clay-over-limestone soil gets an annual dressing of fertiliser based on soil tests, as well as over two tonnes of lime per hectare. This is all applied in the autumn by air. It is not the ideal time but there are practical reasons for this as selenium and copper are added to the fertiliser. Clover root weevil and clover flea are both serious pests on the farm. Due to dramatically under-performing clover and the loss of ryegrass dominance, urea is applied each winter wherever the tractor can be driven.
Two nutrient budgets have been completed and show a pleasing balance of inputs and outputs. Effluent from the cowshed was absorbed by an adjacent dry hillside and Northland Regional Council gave it an above average rating.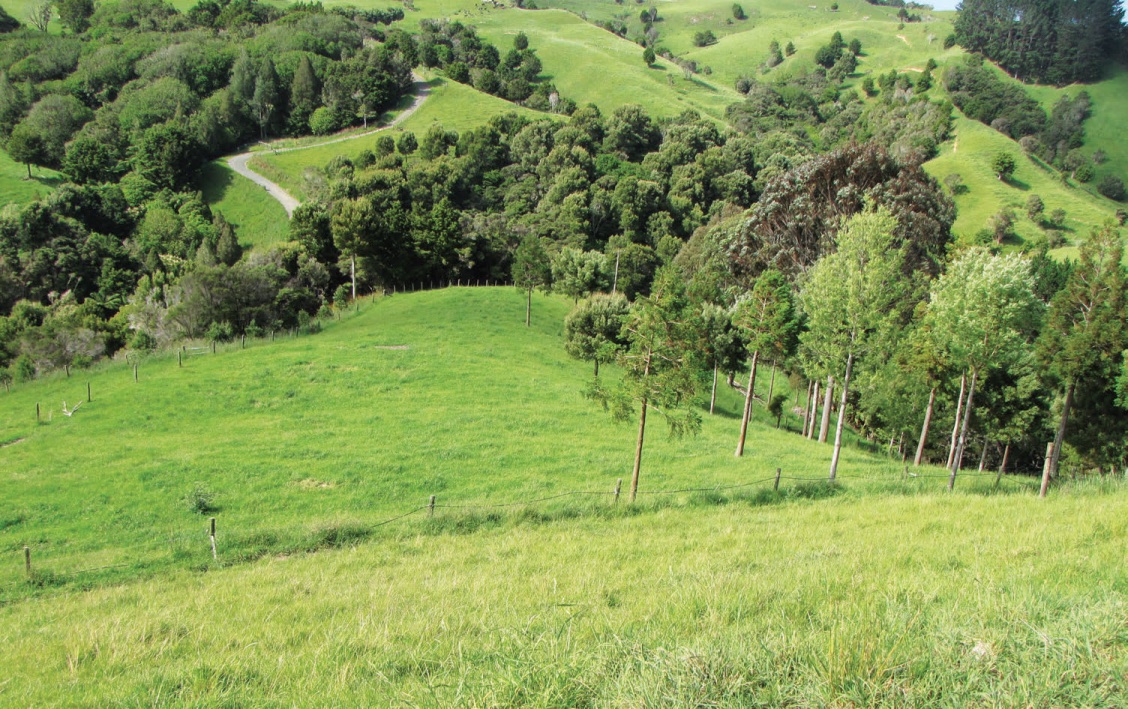 Management of waterways
There are two main streams on the farm, with three bridges for stock and vehicle crossing so that stock do not pollute the water. Two minor side streams are unfenced, although stock seldom venture to cross them because of their treacherous nature. A large effort has been made over decades to fence much of the main creek and tributaries, often in very difficult country.
On one area of the farm there is about a kilometre of drains which are cleaned annually in mid summer when there is low water flow. A one-hectare block of regenerating native forest straddling the main creek was fenced several years ago with the help of the NRC Environment fund and several kauri were planted within it.
Change from dairy to beef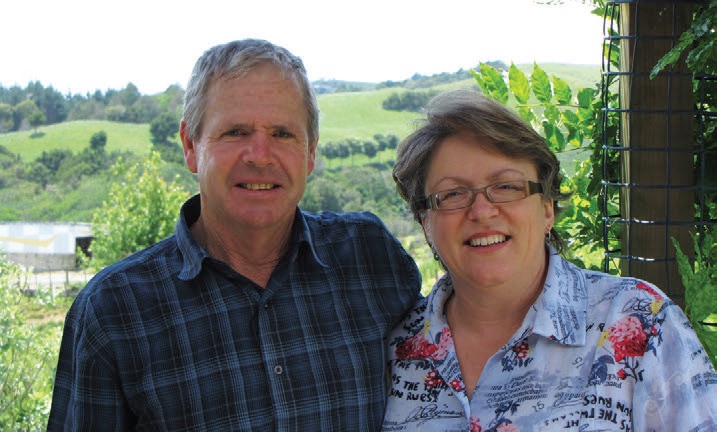 We had been talking for several years of making a change from dairying to beef finishing. The severe drought, combined with a major machinery breakdown in February 2010, proved to be the catalyst to making this change. This is seen as semi retirement with the expected much smaller income being supplemented with off farm investments.
In the dairying years the stocking rate was kept on the low side as my aim was for happy, healthy cows doing better than average production per cow. The culture on this farm is to treat animals humanely at all times.
We were the Supreme Winners in the 2010 Northland Ballance Farm Environment Awards and also won the Water Quality Enhancement award sponsored by Northland Regional Council. Over 45 years of farm development, tree planting and habitat protection has resulted in a beautiful and satisfying place in which to live and work.