Woodlots in the Wairarapa
Nick Bevin, New Zealand Tree Grower February 2010.
Woodlots, planted on small areas of land retired from traditional farming, involve an increasing number of farm forestry members. Species include higher value trees managed in small coupes for timber and for their contribution to the landscape in terms of form, foliage and colour. Growing trees in the woodlot pattern is often linked to the English tradition of landscape gardening as practised by Humphry Repton and Capability Brown.
The number, extent and growth of woodlots around New Zealand have yet to be obtained by the NZFFA, but it is long overdue. In Wairarapa the lifestyle blocks have increased in number over the last 20 years. An area of 10 hectares was the minimum permitted in Carterton District Council in 1987. Although concentrated near each of the towns, woodlots are scattered throughout the district from south of Martinborough and Featherston to north of Mauriceville, and from coastal Mataikona via Tinui to the foothills of the Tararua Range.
A mixed bag
Woodlot plantings tend to be mixed trees of recognised specialty timbers, including native species, usually planted in easily managed, loosely shaped coupes that merge and intermingle at the margins. The variety of trees planted in small areas enhances the immediate landscape.Tracks and glades contribute to this landscape amenity.
Given the often amateur and part-time status of many woodlot owners, trees are usually planted over a number of years producing an uneven aged stand of mixed species that add to the amenity and landscape component. Clear felling and the resulting debris and desolation of the site are avoided. Harvesting single trees or small coupes, or coppicing, which also suits woodlots, can be undertaken on a selective basis as the various species mature, providing a supply of small wood for fuel, fencing and posts as well as highly valued specialty timber.
To illustrate the potential variety in the woodlot approach, here are two examples of neighbouring sites established from different traditions 20 years apart. These two adjoining properties, with their different approaches to the woodlot, will serve as useful comparative models as they grow to fulfil the visions of their respective creators.
The New Zealand bush model
In 1987 we purchased 10 hectares on Norfolk Road just south of the Waingawa River. Previously part of a run-off block for dry dairy cows they consist of low fertility boney ground, flat river terraces and a now prized 1.5 hectare wetland remnant that experience high winds, high rainfall and abundant sun. The locals call the river boulders lying just beneath the surface Taratahi turnips. A more fitting name could be spade stoppers.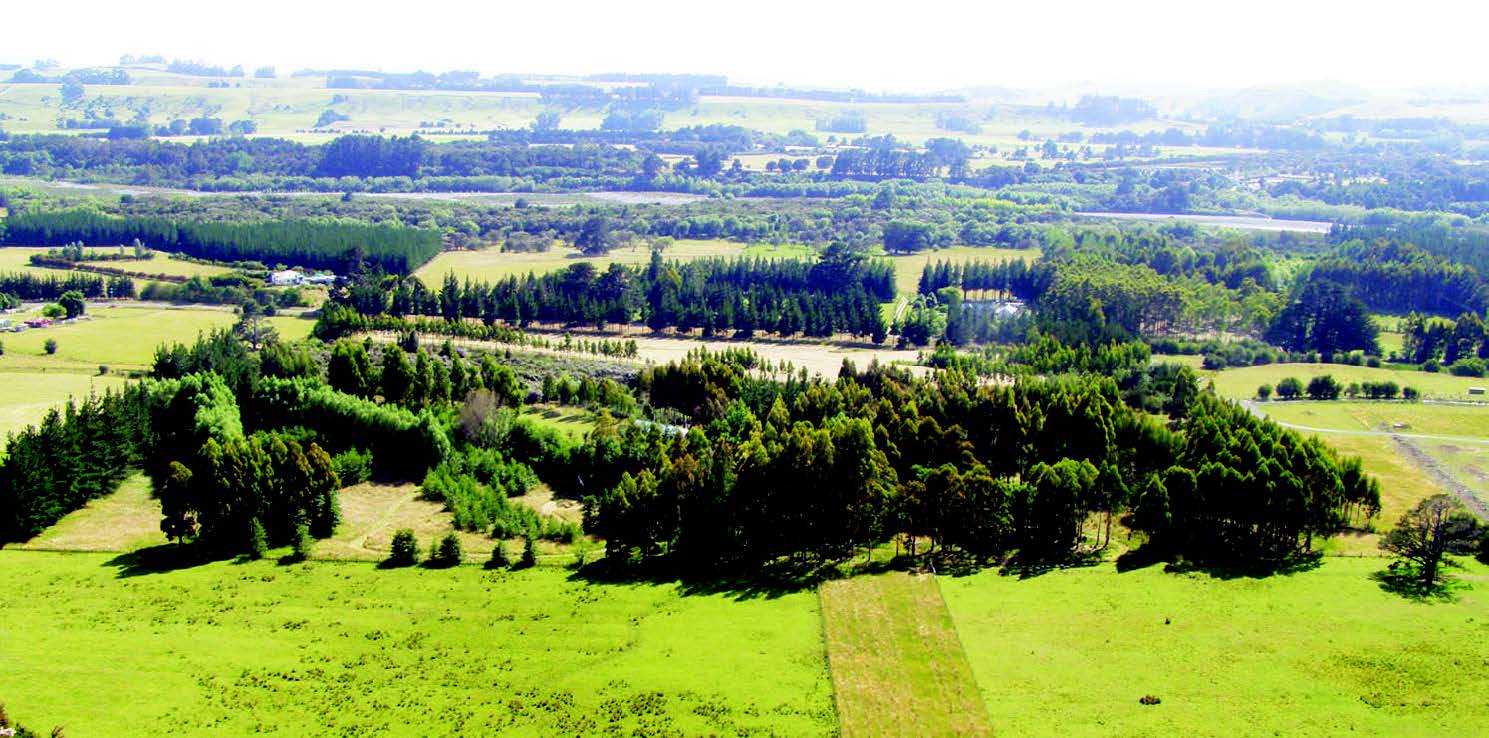 Guided by Neil Barr
Before buying the land, I had an opportunity as an architect to use a wind-felled 60 year old Eucalyptus muelleriana, yellow stringybark, in a new Hawke's Bay house. This introduced me to the beauty of this fine commercially unavailable timber. We used it for veranda posts, flooring, furniture and interior timber trims and showed that locally grown specialty timber could be used in small quantities.
Our planting was guided by reading issues of Tree Grower and discovering Neil Barr writings on eucalypts. The idea was to plant small coupes of no more than 100 trees of mixed species over a period of years in a randomised pattern to avoid the grid lines of many plantations. Glades and access tracks were planned and we entertained visions of hunting pheasant through coppiced woods of acacia and ash eucalyptus. Pine was used for shelter along with willows that, having served their purpose, are now being removed.
The goal was to establish a more natural treed landscape within which we could camp, with the added bonus of big trees after 30 to 40 years. In the meantime thinnings keep two families in firewood and provide healthy exercise for sedentary office workers.
Variety of sources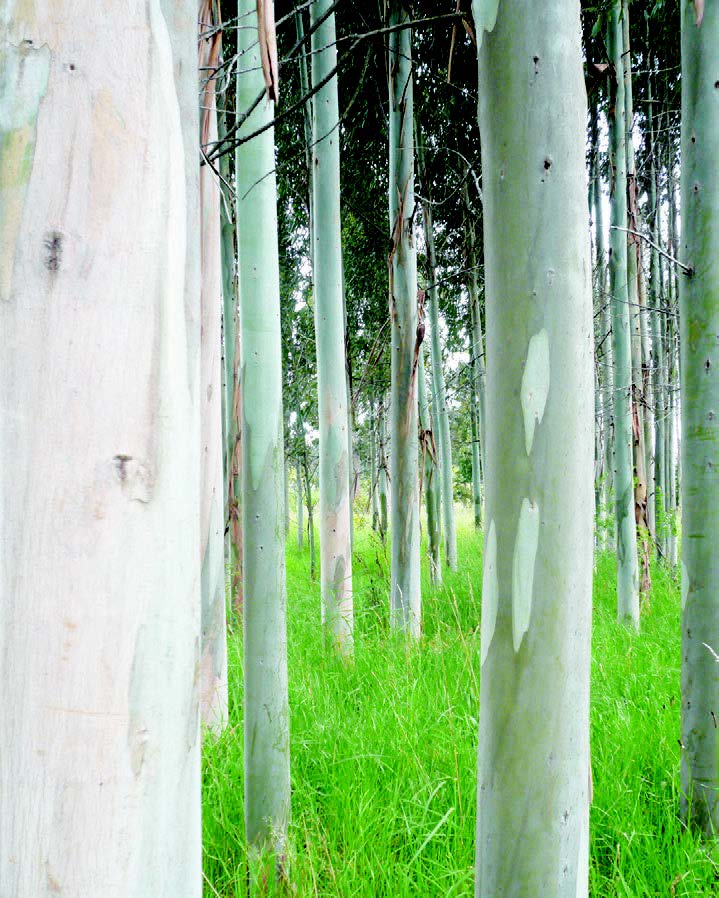 Trees were bought from a variety of nurseries, as bare rooted and root trainer stock, ensuring a variety of genetic material. Species include the eucalypts E. muellerania, E. nitens, E regnans, E. delegatensis and E. fastigata as well as blackwood, macrocarpa, chestnut, larch and oak. In the areas kept damp by run-off from the hills, kahikatea was planted with black alder as a nurse tree. These are now thriving along with a variety of self sown New Zealand native species including mahoe, rangiora and titoki. The amateur status and part-time presence of the owners meant that sometimes trees were planted too close together with inadequate preparation and piecemeal maintenance and pest management.
Most trees survived with tall straight trunks and minimal side branching. Especially surprising is the E. nitens which was planted without shelter in a wet and windy site. Close planting means that grass growth is gently suppressed avoiding the need to graze stock.
Underneath these trees, in the filtered light, a multitude of totara have sprouted and native bird life abounds. The fierce Wairarapa winds eventually were modified locally by earlier plantings. The protected areas now host smaller groups of oak, ash, liquid amber, red and Japanese alders, beech, and a wide variety of native shrubs acting as understorey shelter around the margins. The treed landscape, once established and managed, can remain largely intact and be maintained with planting.
The English landscape model
Almost 20 years on, the neighbouring property of 19 hectares was purchased by an English couple. Their estate in England had been laid out and planted by Repton in the late 18th century and they are familiar with the long established English tradition of planting and managing woodlots for hunting, fuel, timber and landscape beauty.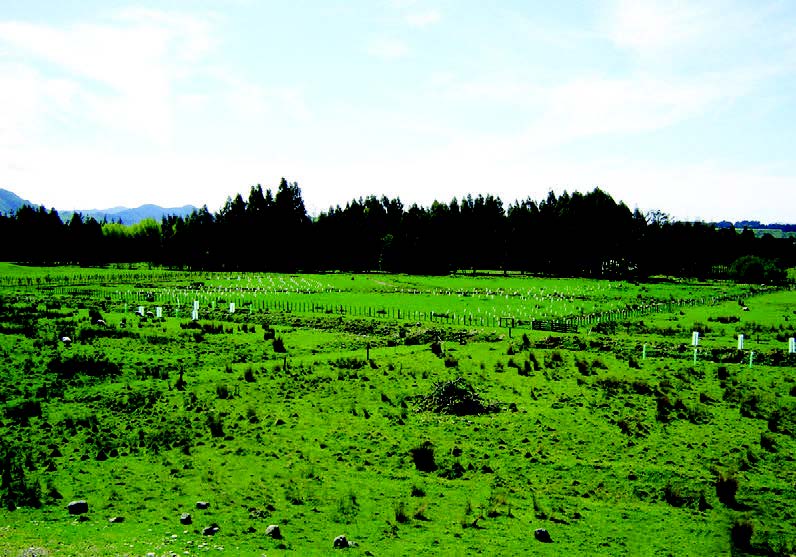 The woods were planned by the owners to consist of groups of species in a variety of combinations. The major consideration always was the overall landscape that would be created − a landscape to be viewed from the house and experienced as you drove through the property.
The property was surveyed, soil tested and fenced. A landscape architect made suggestions and various tree experts were consulted on species and planting.
Shelter from the prevailing north west wind was planted in 2007, mixed rows of oak, beech, black alder, eucalypts and flax. Protection was provided by the neighbouring woodlot with its 15 year old trees which are 20 metres tall. An orchard planted in the lee of these trees, includes apples, plums, peaches, pears and feijoa.
Mixed species blocks
Two main blocks each of about two hectares were planted in timber species in 2008, one to the east and the other to the west the latter shaped to retain the magnificent view of the Tararua's high peaks from the house.
Timber species were selected for their end uses and positioned according to height, form, colour and foliage. Row orientation to views, optimum spacing and relationship to the elevated dwelling that overlooks the tree planting were each considered and given equal weight. Rides for current access and future extraction were established through the plantings and drains were dug to move winter water away.
Each block contains mixed species and there is more than one example of a species in each block. The western block includes redwoods, Sequoiadendron, blackwoods, Douglas fir and black walnut in coupes of 1,200 to 1,400 square metres. There is a ride down the middle of each block. The eastern block has edges of natives, one edge consisting of totara, and includes coupes of lusitanica, E. bosistoana and E. muelleriana.
A vision
In between these two blocks are two paddocks that are grazed. The road to the house will start down an avenue of colourful bark maple and paperbark maple, cross over a water race lined to the east with cricket bat willows, and into a first grazing paddock planted only with widely spaced groups of colourful exotics including birch, different oaks and grey alders. The road will curve around the eastern block and enter the next paddock, where it will go over another water race, enhanced with groups of trees on either side of the road including Norway maple and European cherry, wind around a deliberately created lake, and lead finally to the house placed purposefully on a rise that will overlook all that has gone before.
East of the proposed house is a wet area containing some well-established graceful kahikatea to which has been added more kahikatea, black beech and totara. The steep hill behind the house is mostly scrub, some black beech and numerous hawthorns, considered a noxious weed in the district. Included in the views from the house are a couple of elderly pines and a few totara, single trees scattered in the grazed paddocks along with the small groups of the recently planted exotics.