Trees beside the mighty Buller
Vivienne McLean, New Zealand Tree Grower February 2010.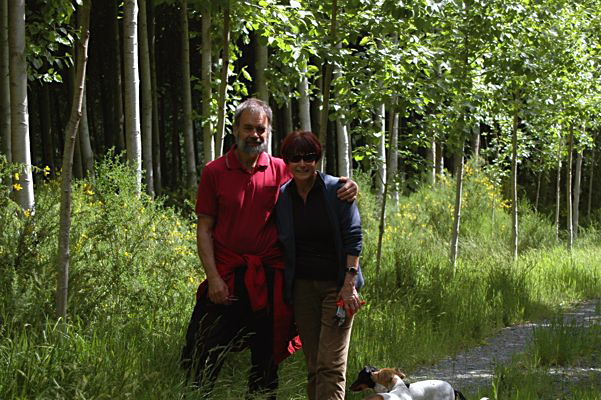 Terry and Claire Gavin might live and work in Nelson but every week you'll find them at their own little slice of heaven, planting and tending their trees beside the Buller River, a few kilometres north of the Owen River Tavern, Murchison.
The Gavins bought the nearly 50 ha property, a long thin strip of bony river terraces lying between SH6 and about 3.5 km of river bank, late in 1994.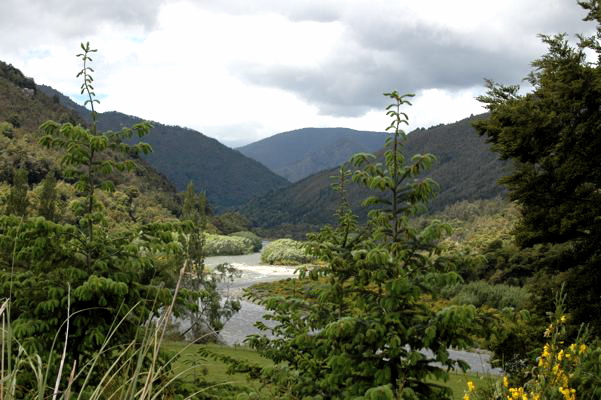 They started to plant in the middle of the following year... and haven't stopped since. They don't only plant for the financial return, saying that while the money's nice enough it's not the most important thing in life. Their children will get something out of it, but meanwhile they're getting involved in planting too, and you get the feeling that the family involvement gives Claire and Terry as much pleasure as their love of trees.
Planting the property out in trees completely is not on the agenda, however. They lease the pasture out for grazing, recognising they simply don't have the time to manage stock as well as tend trees, and enjoy the resulting combination of open space, the trees they have planted, and the natural bush backdrop (particularly the beech on the scenic reserve across the road).
Claire and Terry have planted a fascinating diversity of species, and purchasing another smaller piece of land a few hundred metres down the road has given them even more scope to explore their passion.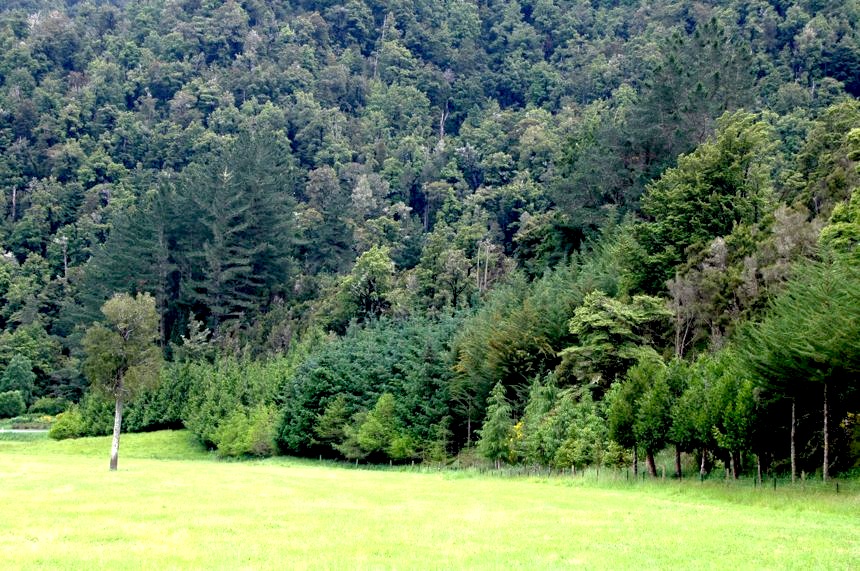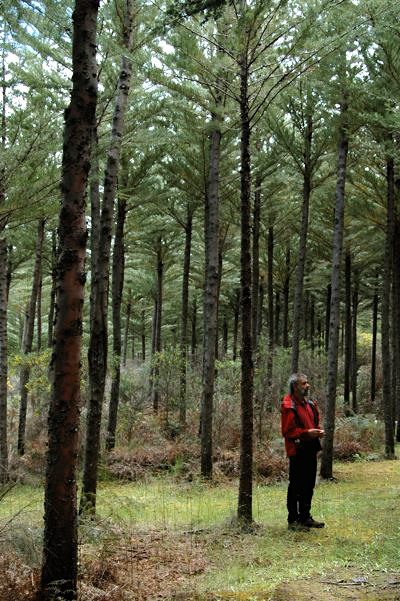 Their river terraces might not offer much in the way of deep loam, but some species are thriving, and in particular the cypresses.
Right from the start the Gavins knew they wanted to include cypresses in their plantings, and took heart from the fact that a previous owner some 40 years prior had successfully planted seedling Lawson Cypress on a steep face. "So we knew this place would grow trees," says Terry.
Their first macrocarpas (Cupressus macrocarpa) were Kukupa clones planted in 1995.
Kukupa was one of the first commercial Forest Research clones. It has gained something of a canker-prone reputation since its release in 1992, but Claire and Terry say they've been fortunate in that less than 5% of theirs have been infected with canker.
Their impression so far is that Kukupa is a nicely formed tree and fairly slim, tall, and lightly and horizontally branched. The growth rate appears slightly slower than some of the other seedlings, but they are growing. At time of writing Terry felt they were probably a little overstocked. Pruned to 6m and on an easily accessed site, he hopes that in another 3-4 years he can take out the poorer performers as a mini sawlog and let the others grow on.
"The question is, whether the canker is becoming more prevalent as more people plant more cypresses?" ponders Terry.
Subsequent to the Kukupa they have gone on to plant other macrocarpa clones, including Kaitangata, Callum, and their two current favourites, NZR and Silverwood.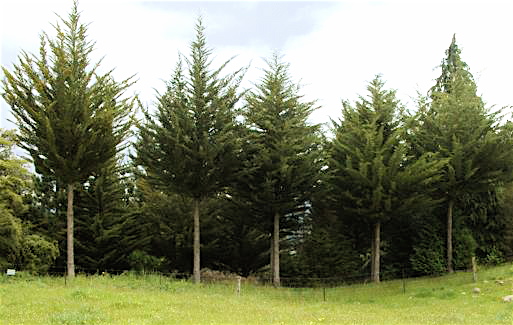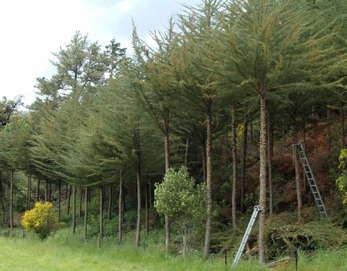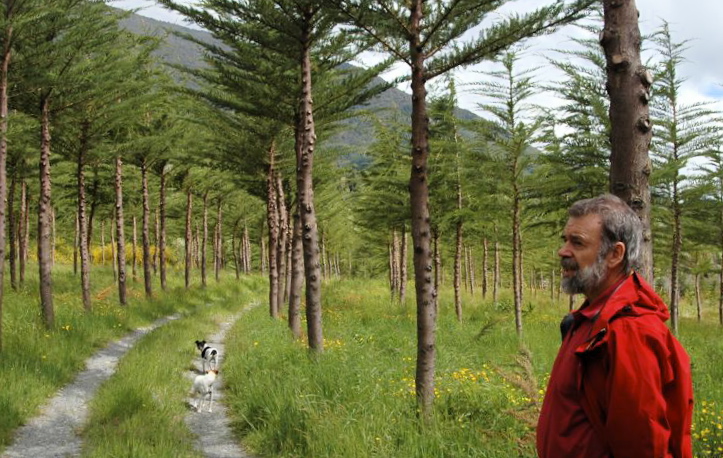 Claire describes NZR as a strikingly elegant clone, slim and straight, with light horizontal branching, and says their oldest plantings of these are starting to "fatten up nicely". This clone's parent tree was found on the side of the road on the West Coast.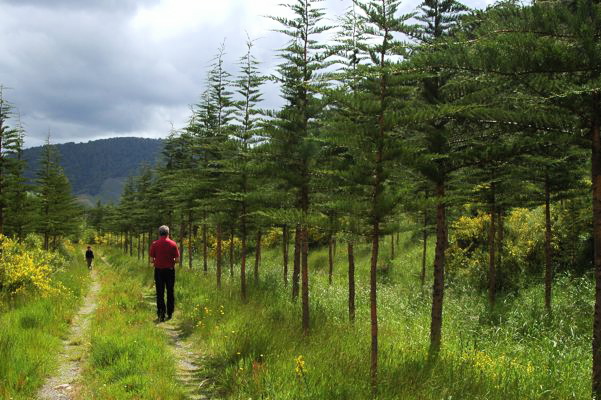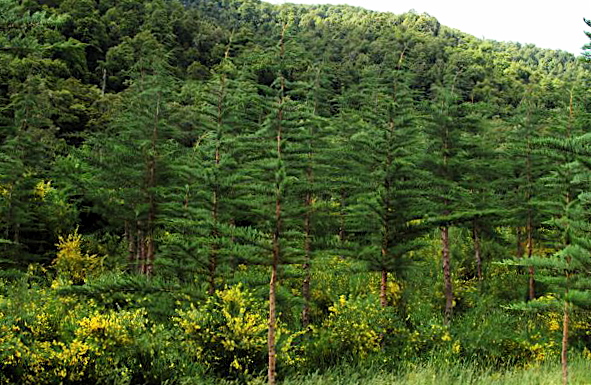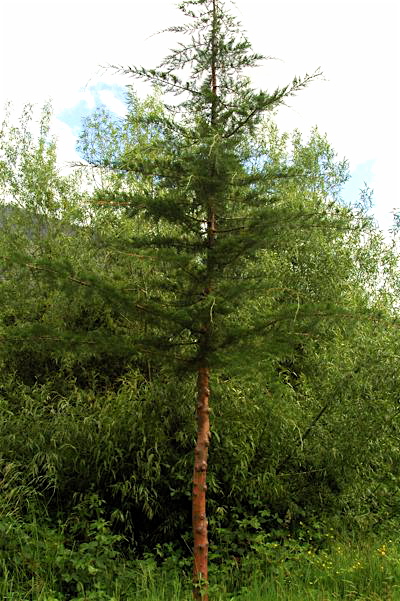 Silverwood grows more vigorously than NZR. The original parent tree came from Frank White's farm at Hororata, and its appearance suggests some lusitanica in its genes.
While clonal macrocarpas tend to have good form they can lack vigour – Silverwood however has not only got what the Gavins describe as a very strong motor, but also shows good form on the bony terraces where growth is less rapid.
The Leyland cypresses (X Cupressocyparis leylandii) originated as accidental hybrids of macrocarpa and the Nootka cypress Chaemacyparis nootkatensis. Ferndown has been their pick of the Leyland cypresses because they grow straight and true and are much less prone to wind socketing than the macrocarpa. The new farm also includes plantings of Stapehill.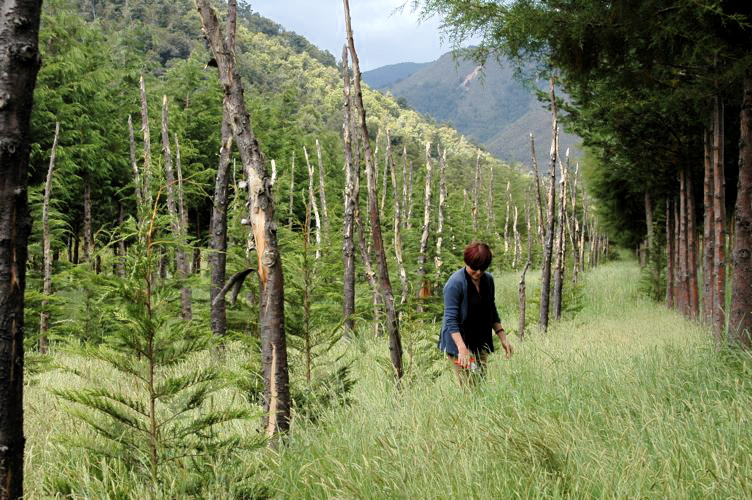 Ovens cypress (C. Ovensii) is a cross between nootkatensis and lusitanica and Terry and Claire report these are very quick out of the blocks.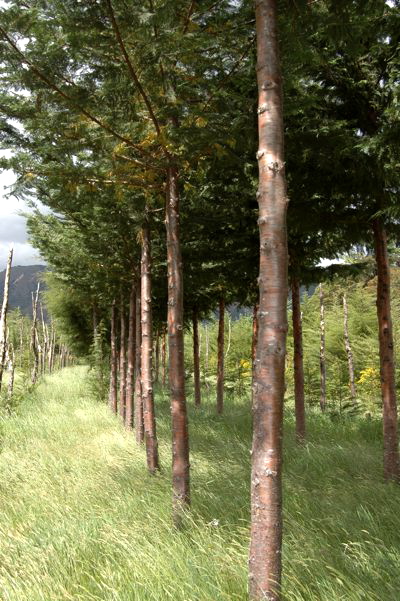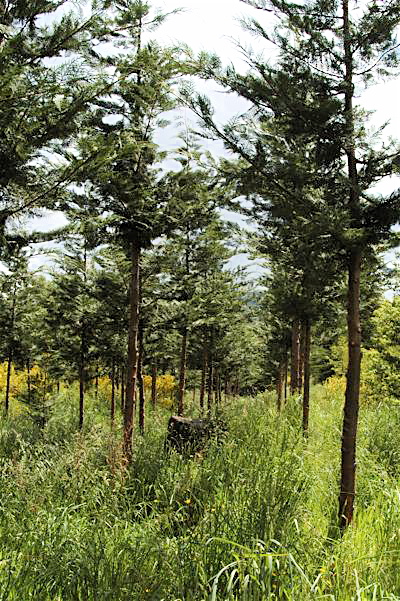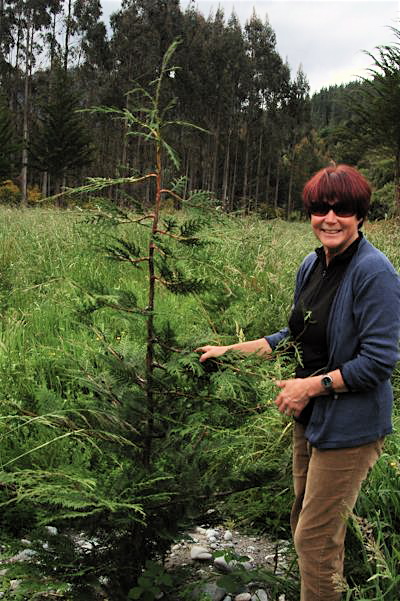 "They outgrow pines and all the other cypresses in the first year or two," says Terry. "They are very nicely formed, very straight, and the branches aren't big ‑ they're just great, and a pleasure to prune.
The Gavins do all their own pruning and say they try not to be too vigorous having had a few sick macrocarpa from overpruning them in a dry summer.
(For more information about cypresses, in particular species and site selection, the hybrids, and wood properties, see Tree Grower, February 2006.)
In addition to their passion for cypress, the Gavins have planted an eclectic mix of trees, some for pure interest, some for aesthetics and some for production – some successfully and some not so successful.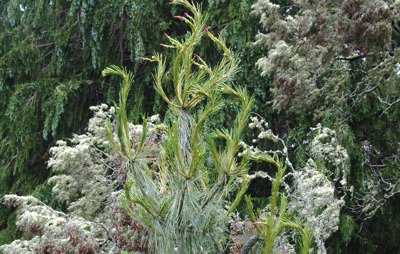 In the late 90s they also planted specimens of Scots pine (Pinus sylvestris), P. Massoniana (Masson's or Chinese Red Pine), P. koreansis, P. armandii (Chinese white pine), P ayacahuite (Mexican white pine) and P. Patula, in what is almost a mini-pinetum.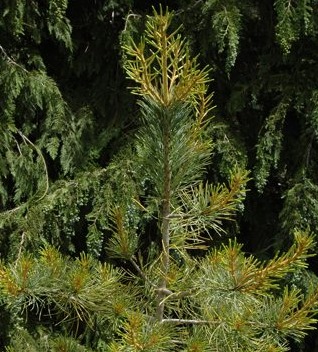 Any walk with Terry and Claire around their property can be full of arboreal surprises. In the space of a few dozen metres you'll see Kaitangata (another macrocarpa clone), Calocedrus decurrens, the incense cedar, used for making pencils; Chinese firs, and more macrocarpas, as well as swamp cypress, and western red cedar.
Other species on their property include sitka spruce (grown from seed), oaks, silver maples and sugar maples, eucalypts (E. laevopinea, E. cordata and E. nitens), liriodendron, red alders, and chestnuts for timber.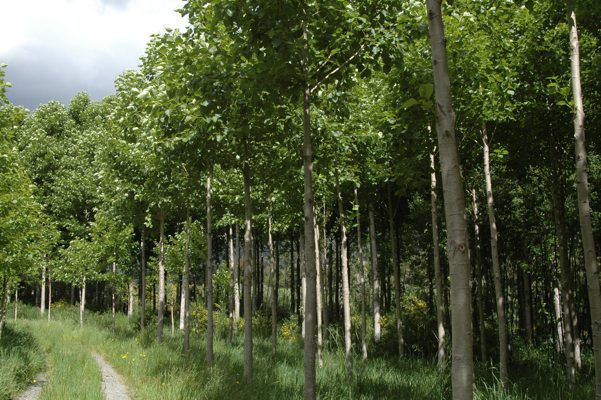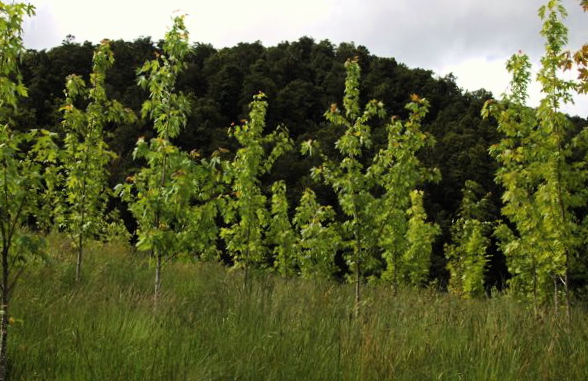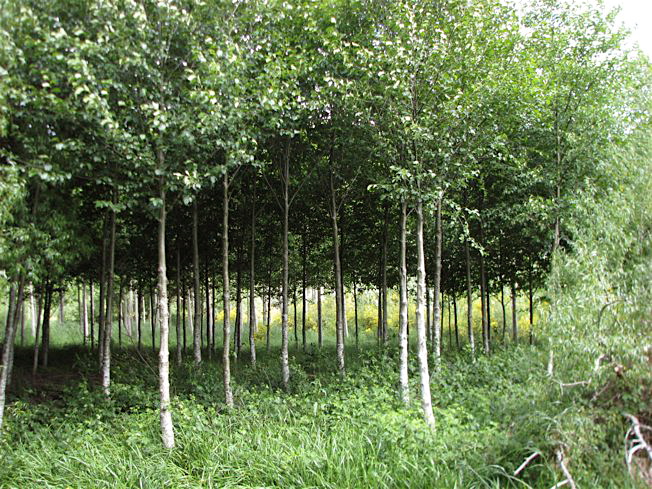 Shagbark hickory (Carya ovata) is being grown for timber and possibly nuts, but Terry notes it is hard to keep a leader.
"They're terrible things to try and get growing straight ‑ they seem to fork off. However it's amazing what trees will do. We're really growing this as an experiment and you never know, we might get some nuts off it."
Always looking to experiment and learn more, they take set-backs in their stride and learn from experience. Amongst their less successful plantings have been redwoods, that have varied from "all right" to "terrible" depending on the site, and the Silvertop stringybark Eucalyptus laevopinea.
The Gavins were inspired to try eucalypts after talking with enthusiast Denis Hocking at a Farm Forestry Conference.
"We had started thinking about it, and then a patient who had given me his old Tree Grower magazines also gave me some seeds," recalls Terry. "He'd been growing eucs in the Marlborough Sounds and had collected some seed of E. laevopinea. Having been fired up by Denis we thought that, because it comes from the high country between northern NSW and southern Queensland and takes a frost more than some eucs, this might be the one for us "So we got Appletons to grow the seed. It proved a bit of a problem but eventually they got several hundred trees for us. They grew OK, not as fast [as some] but OK. But year after year they'd be hit by the later frosts when the new growth was coming, so then we'd form prune hoping they'd come again but it just kept happening. Eventually we culled them and inter-planted with a more suitable tree for us... you've guessed it, a cypress! Now we're chopping the laevopinea down and hauling them away for firewood, just to get a bit more light in progressively to the underplantings."
When the Gavins took over the new 7 ha block they were faced with a whole new set of challenges. The property has been sold several times over, and while a previous owner had planted a lot of trees approximately 10 years before, these hadn't been looked after. In the resulting struggle between the trees, blackberry, broom, muehlenbeckia and others weeds some of the trees won, but often the blackberry conquered. With much application of sweat and machines and brute strength Terry and Claire whacked away most of the weeds and felled some of the worst trees.
One problem area included a small stand of black walnuts that had suffered due to the combination of neglect and being smothered in rampant blackberry.
"Eric Appleton said cut them off at ground level, which of course we didn't want to do, but we did and it was exactly the right thing to do," says Claire, "Because what happens then is it coppices away from the base, you get a few shoots and the next year you choose the best of those. And often because it's got a better root system it will grow a lot better, and that's what's happened although the form is still not very good."
They are now looking at planting a Quercus robur / Q. petrea cross that reportedly has better form and will be a good timber tree, and have planted black walnuts as well.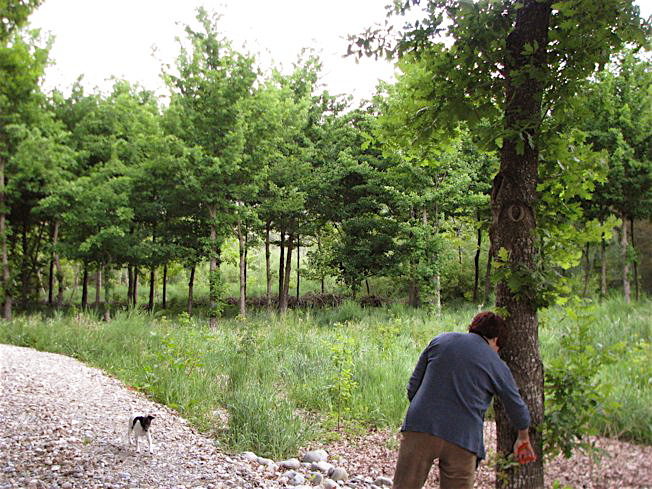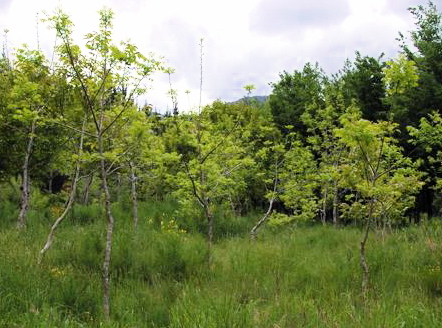 Whoever had done the planting also planted blackwood but these appear to have been stung by a bad winter after some years. Most of those are getting chopped out for firewood and cypresses (Leylands, NZR and Silverwood) planted where they used to be. Firewood supply won't be an issue for the Gavins, with a stand of 10 year-old E. nitens yet to be tapped.
Another problem on this site was poor drainage. A boggier area on the lower part of the property was so bad it was virtually inaccessible, even to walk on, after rain. This has now been drained and planted in Ovensii, which grew by up to 1.5m in their first year.