Vignettes on the eve of the National Conference, Gisborne 19 to 23 April 2009
Bob Wishart, New Zealand Tree Grower February 2009.
Did you know that in 1969 and 1989, Gisborne hosted the national conference? That means if you miss out this time, you may have to wait 20 years till 2029 to get our hospitality. Why not get that registration form filled out now.
Our conference committee members have been busy putting together the conference proceedings booklet over the last month. It goes to print shortly as the plan is to send it out to you with your registration receipt.Then you can read it at your leisure and have all those questions ready to fire. I have been having a look through it and, inspired, thought I would share some parts of it and add my own thoughts.
Geology
Mike Marden of Landcare Research writes that the geology of the East Coast region has been described as 'predisposed towards rapid or accelerated erosion'.
In other words, vast tracts of land are slumping and whole hillsides are flowing out through silt-choked rivers. But the fertile Poverty Bay flats and the many flat valley floors and river terraces that we prize were made through this natural process during centuries of pre-human habitation.
Of course since the early 1900s the advent of European settlers and land clearance, combined with tectonic uplift, earthquakes and spectacular floods, put us in the position that we can boast we are one of the most erosion prone regions in New Zealand and in the world. Mike's in-depth article makes fascinating reading from someone who is extremely informative. We will be having him attend our coast field trip.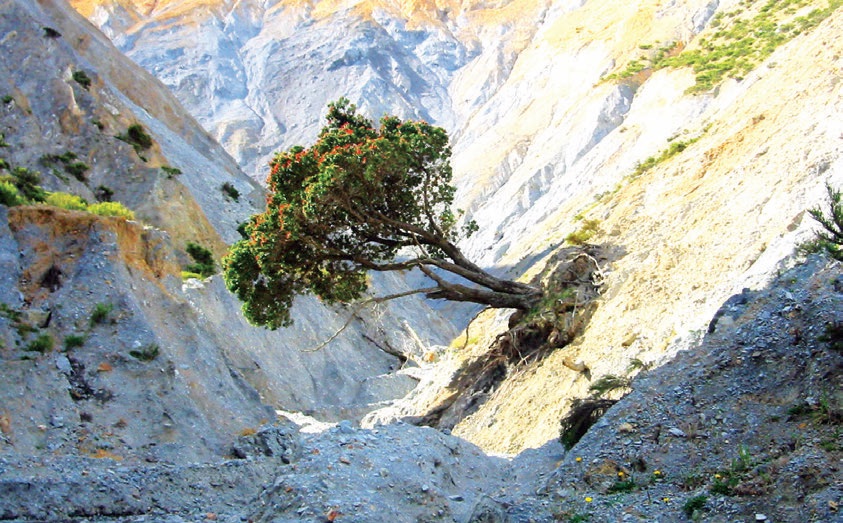 The East Coast Forestry Project
Such a wide-scale erosion problem in the Gisborne district resulted in this government funded project. Since 1992 MAF has provided funding via the East Coast Forestry Project to landholders to prevent and control erosion by establishing an effective tree cover by planting trees or encouraging natural reversion to native bush. Planting can be forestry, conservation poles or natural reversion.
So far 33,000 hectares have received such erosion control treatments and a further 5,000 hectares have been approved for establishment over the next few years.
The Gisborne District Council Sustainable Hill Country Rule
In its 2005 review of the East Coast Forestry Project,the government made it a condition that the council introduce some form of compulsory planting of the worst land for the project to continue. Consequently a major exercise in mapping at farm scale was undertaken and 51,500 hectares of land identified. About 12,800 hectares of that is farmland which still requires treatment.
All affected landowners were sent maps and asked to make comment.Over 90 submissions were made by farmers who opposed or supported, in part or wholly, this controversial new rule. After a four-day intensive hearing in May 2008, the Gisborne District Council adopted the planning change that makes planting of severely eroding land identified as Overlay 3A land compulsory. Most of this farmland is inland and north ofTolaga Bay but pockets of 3A land are spread throughout the district affecting many farmers.
Knapdale
Knapdale is a 32 hectare farmlet on the Gisborne foothills. A planned human, plant, animal and bird retreat provides Kees and Kay Weytmans with a marvellous purpose in life and the prospect of sufficient income to retire comfortably. They farm Highland cattle, deer and some sheep, and they plant and use their own trees in an attempt to live off the land.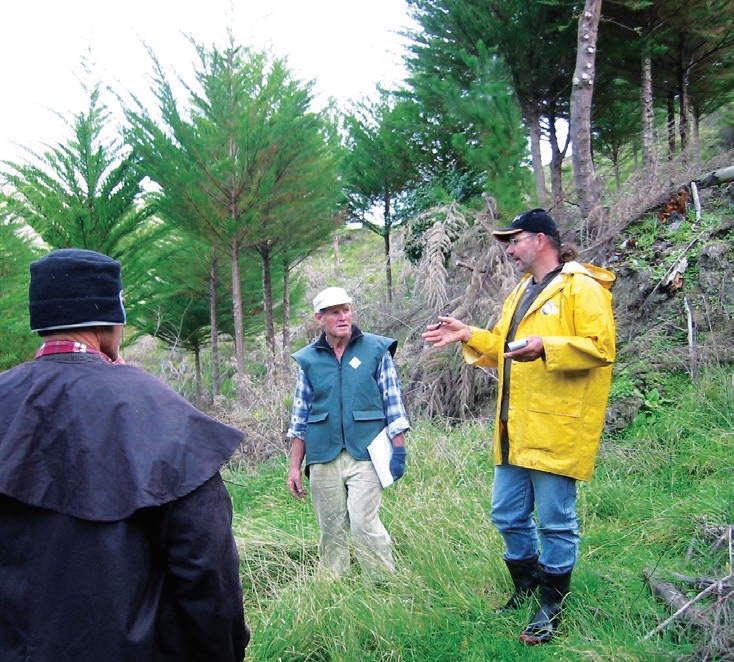 Their farm and forestry venture is wholly integrated with their high end tourism and hospitality business, the Knapdale Eco Lodge. The lodge has been built following sustainable principles. They keep bees, selling honey and venison products at the Gisborne farmer's market. Kees and Kay say their next project will be to use their substantial eel resource.
Knapdale used to have a heavy infestation of gorse on the northern steeper country. In the winter of 1991 this was cut and over a period of several years eight hectares was planted in mainly radiata, lusitanica, blackwood and walnuts. Native forest restoration commenced from 1999 onwards.
Planting blackwood appealed to Kees because of its timber qualities, and suitable sites on the property. Kees regards it as a forester's tree, in that you have to play with its form and its direct environment in order to get a satisfactory result. It reminds him of the skill of the old European woodsman or the skilful Swiss Plenterwald foresters who practised what is now known as continuous canopy forestry.
On our conference field trip, after meandering uphill through award winning forest trees, you will find yourself on the very well preserved earthwork remains of Whaitiripapa Pa. The Poverty Bay flats spread in a panorama before you, and the breeze though the pine needles along with the myriad of native bird sounds will provide a symphonic backdrop to a recounting of the history of the place told by one of Gisborne's renowned storytellers.
Koro Station
I have just read the record of Ray and Grace Newman's tree planting over the years since the 1970s which is going in the proceedings. It is so impressive that I think they should not be just 2008 North Island Farm Forester of theYear as they thoroughly deserve, but also of the decade or even century. It is so full of tree planting activities every year that it makes humbling reading.
Koro Station is not the easiest country around. It is steep with no flats at all and is traditionally one of the first areas to dry out in the district. It has substantial erosion but with that comes good strong soil that grows excellent grass and trees. With the conference coming up, Ray is a hard man to get hold of, as everything has to be looking its best for the field day. Their lovely, species-rich and whimsical garden will delight you and the range of forest woodlots and experimental blocks will make this visit to Koro Station very appealing.
Ray's story
In 1960 Grace and I were married. Grace was a nurse at the local hospital and one of 13 children from a dairy farming family in Kaitaia. I am number two from a family of seven farming at Waipaoa 15 kms from Otoko. As we were well down the land inheritance ladder we decided to move to Waikato.
After a year on wages and three years on 50/50 share milking we saved enough to buy a 30 hectare block of flat land in Te Karaka, nearer Gisborne. We grew maize on the 30 hectares with a share growing on 70 hectares of neighbouring properties. A total of 13 hectares of kiwifruit was planted in 1981 on the farm and 70,000 trays were packed in the old Te Karaka picture theatre. All was going well until cyclone Bola came along and wiped it all out as well as causing severe damage to the two houses that were on the property. My son has bought part of that property now and leases the rest growing apples and citrus.
We now have a 580 hectare sheep, beef, conservation forestry station, a home and a garden under development. Average rainfall is 1,200 mm although cyclone Bola gave us 700 mm in 24 hours and 900 mm over 48 hours.