The house that mac built
Benjamin Lee, New Zealand Tree Grower February 2009.
My brother Julian and his partner Tricia have devoted their working lives to the New Zealand science community. Although still working, they have taken a step back from full time work and at time of writing have moved into what will be their retirement home.
For a long time they have been keen on holidaying in the coastal Bay of Plenty and so they purchased just under a hectare of land on the coast of the eastern Bay of Plenty. An architect was contracted to design and build a house that would be both interesting and comfortable to live in, as well as compatible with its surroundings. There was general consensus that the house should be clad with macrocarpa.
The design specifications called for 2,500 linear metres of macrocarpa with dimensions of 175 mm by 25 mm.These boards form the vertical batten and board method of the external cladding. The quantity surveyor's report stated that this amount of timber along with some other dimensions for beams and pergola supports, rafters and slats, would add $80,000 to the cost of the house.
When Julian showed me the initial plans we discussed the feasibility of being able to get this amount of timber from our own woodlot. For those of the NZFFA membership who attended the 2005 Taupo conference you may remember walking through the macrocarpa woodlot in question.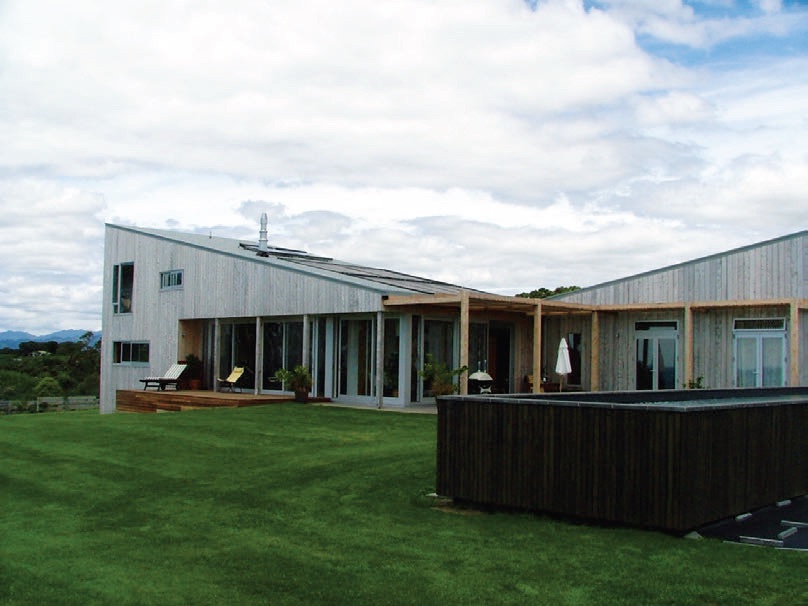 Back to the planting years
Let us go back 42 years. Planting was done by Alan and Dorothy Lee with the help of their young boys in 1964. The stocking rate was around 2,000 stems per hectare. Some sitka spruce was planted in the mix as well. These trees are still standing, along with a few macrocarpa.
Silviculture was somewhat lacking in the early years. In 1976 a one lift prune was carried out to six metres and over subsequent years thinning was carried out, mostly for firewood. The last thinning was done in 1993 leaving a final stocking rate of 250 stems per hectare. This last thinning produced some reasonable logs that were milled for home use. We built a bothy with the timber and some large dimensions were used as lintels in the new dairy when the farm was converted from sheep and cattle to a dairy farm.
Logging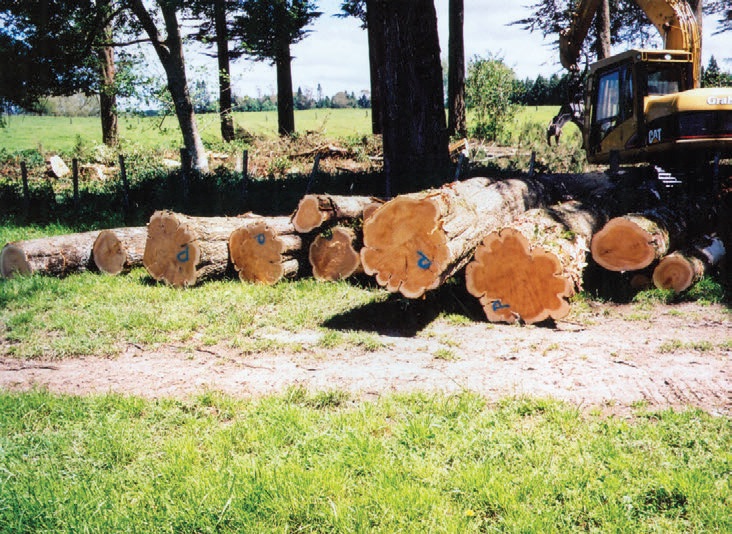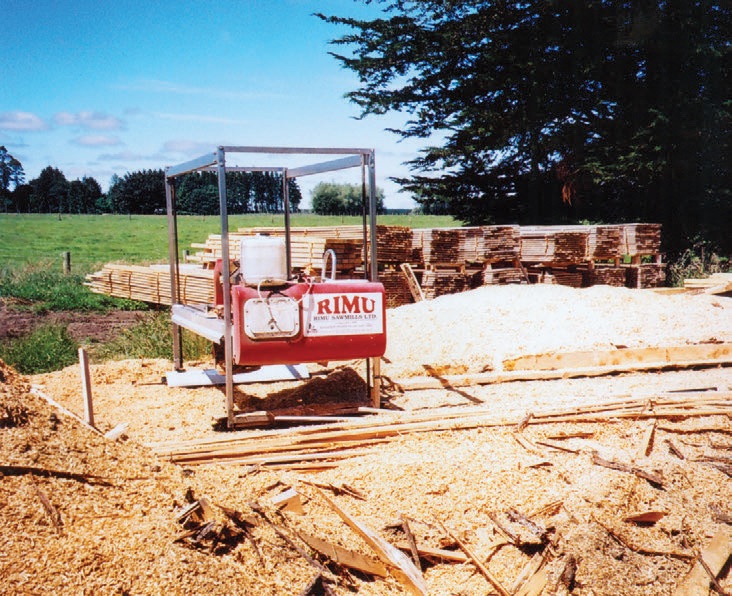 When the woodlot was logged in 2006, stacks of pruned and unpruned logs were made and milling was done on site by a contractor using a Rimu portable sawmill. In total 50 cubic metres was milled with around 40 cubic metres filling the cutting list for Julian and Tricia's house. The balance remained on farm for general use.
Two truck and trailer loads went from the farm to Tauriko Sawmills, Tauranga, where Mike Moore machined all the macrocarpa. He also sourced the eucalypt for the flooring and stairs. This wood came from Matakana Island, near Tauranga. The trees were 70 years old and, I suspect, planted by the NZ Forest Service.
The area that was logged has been replanted with Cupressus x ovensii, a cypress hybrid.To date this hybrid is demonstrating better canker disease resistance and it will have improved growth and form characteristics.
Totally wood
This house should appeal to the purists and processors alike and it champions the NZ Wood campaign. It is totally clad with macrocarpa board and battens. The mezzanine floor is supported by macrocarpa beams. The pergola is all macrocarpa above ground. The floors are mostly Eucalyptus saligna as are the stair treads.
The house is framed with radiata. The entire house is braced with treated six millimetre plywood. Steel has been used for the roof trusses and some concrete for polished floors to trap and store the sun's heat. The end result will give many years of service.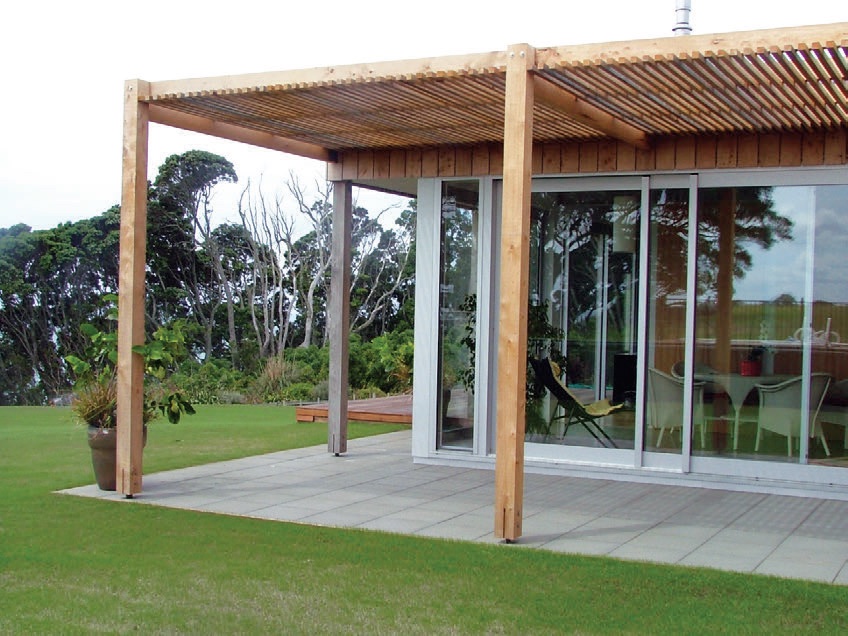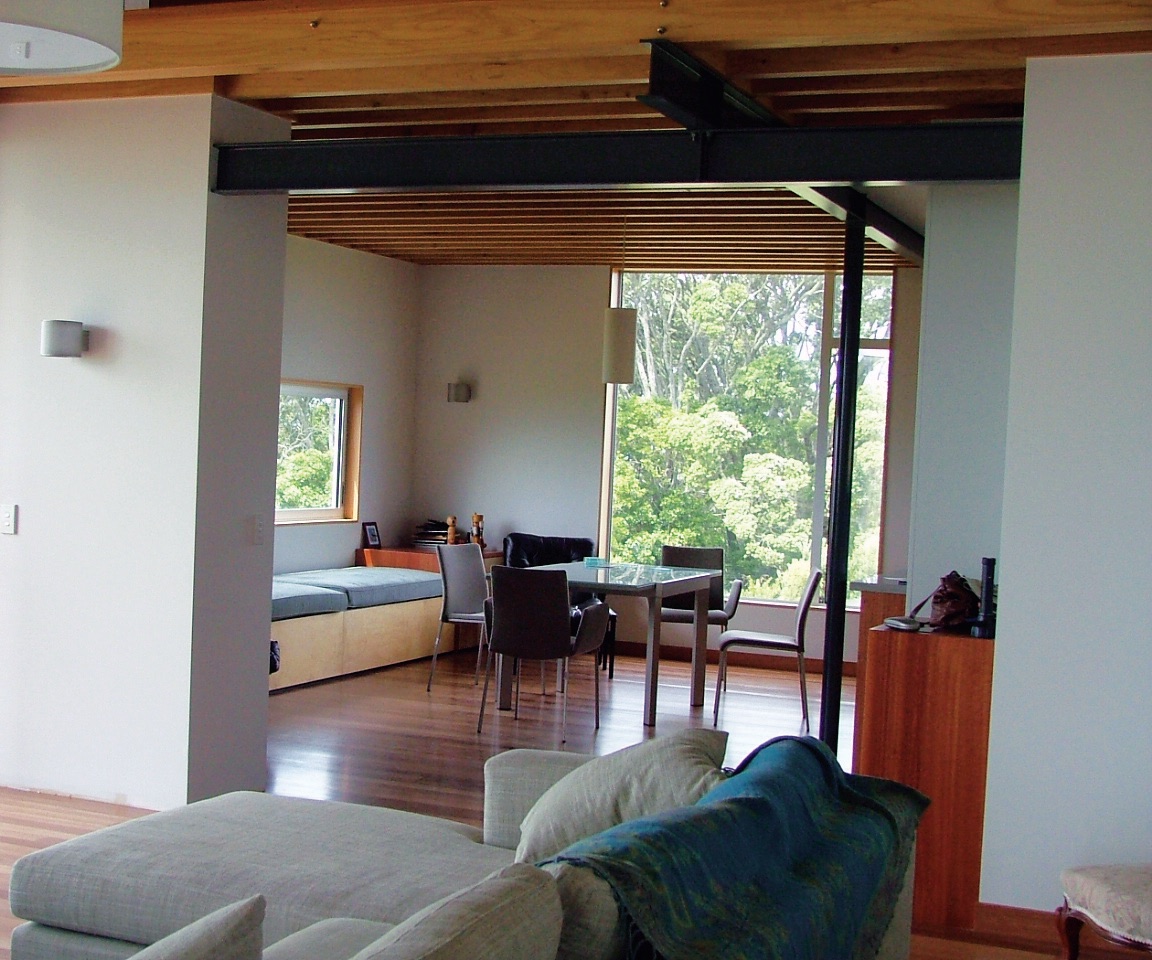 Learning from mistakes
The macrocarpa woodlot lacked intensive silviculture so the recovery of high quality timber from the pruned butts was on the low side. With our more recent plantings we have learned from past mistakes and have put a lot more effort towards producing more clearwood.
Unlike radiata, which has a large proportion of low density core wood, typically the first 10 to 12 growth rings, cypress has the ability to grow heartwood from an early age. This makes it possible to prune to small stem diameters, leaving a smaller diameter over stubs which means a lot better yield of clearwood recovered from large pruned butt logs.
Final stocking rate for cypress
A question I have for other cypress growers and for myself is the ideal final stocking rate for cypress. In order to compete with other softwood timber species, I think it will be necessary to grow a large pruned log of six metres in length with a small end diameter of 400 mm or better, over about a 35-year rotation. The following is a treatment we have given our lusitanica block. The same treatment is also being applied to some small trial blocks of cloned macrocarpa.
We have completed a final pruning and a thinning treatment in our three hectare lusitanica woodlot planted in 1996 on a site with north and south facing slopes. Initial stocking was 1,300 stems per hectare. The stocking rate is now standing at 500 after thinning, and pruned to a height of six metres. The mean crop height is 11 metres, diameter at breast height 19.4 cm, and diameter over stub of nine centimetres.
At first glance one wonders why it has taken 12 years to achieve this result. The site is variable in aspect with fertility ranging from fertile gully bottom to rocky slopes rising from 500 to 550 metres above sea level. The stocking rate was held high in order to maintain good form, which is still variable. It was found that subdominant trees could be pruned as followers and larger trees that had canker damage, bad form or oversized branches could be culled.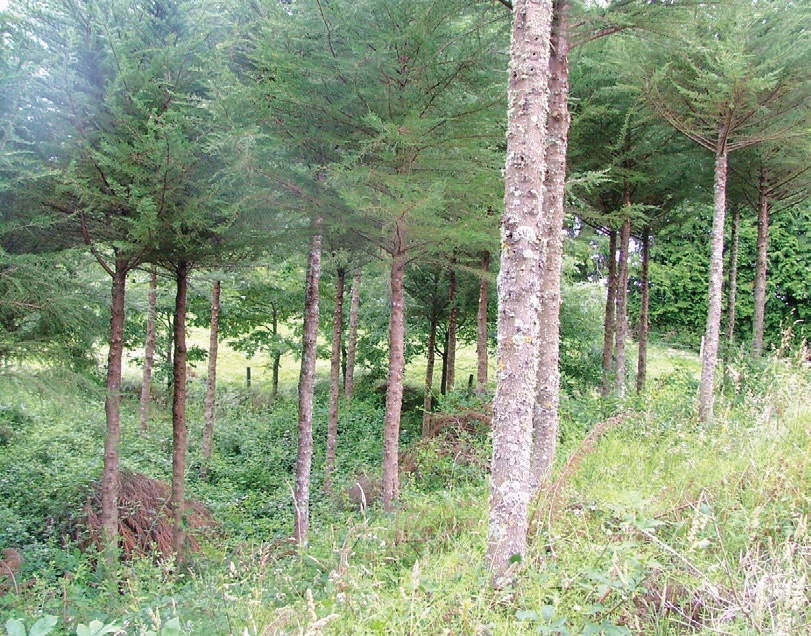 The pruning was carried out in five operations at an average cost of $1.50 per metre. The first lift from the ground was done with small loppers to half tree height. With subsequent lifts the trees were pruned leaving four to five metres of green crown. I am pleased with the outcome so far. At average spacings of 4.5 metres by 4.5 metres the stocking rate may have to come down in order to grow large pruned butt logs.