Indigenous shelter planting
Bruce Winter, New Zealand Tree Grower February 2009.
Our sheep farm of 196 hectares at Spar Bush, Invercargill is an amalgamation of several smaller farms. We ended up with several old homesteads which had macrocarpa planted around them. Unfortunately they had been let go and required major tidying up. This put me off ever planting species such as pine or macrocarpa for shelter because of the high maintenance and poor form if not looked after.
Parental influence
My interest in using natives for shelter was kindled by my parents. Although they did not plant much shelter, as gorse hedges were still in vogue then, they did plant a hedgerow of Olearia paniculata. Good friends of ours were Graeme Watson and his father Derek from Roslyn Bush who were at that time planting shelter and were using O. traversii.
Initially I used flax as the main shelter species. It was cheap, readily available, and very reliable for our coastal zone. However I always wanted a mixture of varieties and types of shelter. I started collecting plant catalogues from nurseries and buying books on New Zealand plants. From this I worked out what would be applicable to our area and who could supply them. In nearly 30 years of planting I have only used three nurseries for the majority of our plants.
Minimal maintenance
One of my early objectives was to have shelterbelts that required minimal regular maintenance and in most cases I have achieved this. Another objective of having a mixture of varieties and species has also been achieved but I must admit to having a passion for the Olearia species.A recently planted belt has a combination of O. dartonii and O. solandrii which I rate as an ideal combination.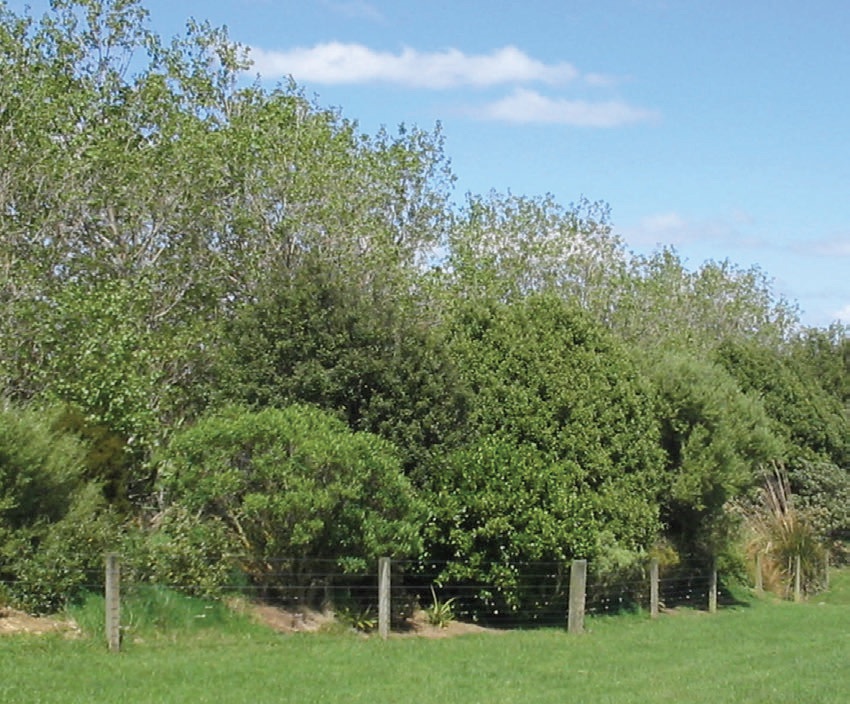 Our plantings have not always been a success as we found out in the big freeze of 1996. By this time we were starting to use species not familiar to our area and we had a few problems.
One of the misconceptions about most native species is that people assume they are slow growing. I have found this not to be the case as, provided you have suppressed weed competition, you will have effective shelter in five years. I blanket spray between the shelterbelt fences with a mixture of Gardoprim and Roundup before planting, and carefully use Roundup and Versatil for release if needed.
On a small area of waste land we have established a block of emerging native bush.As we have all our creeks fenced off we have been able to plant some of these riparian areas with the more obscure species such as O. hectorii.
Still planting
Natives we have used include 10 varieties of olearia, coprosma, hebe, pittosporum, broadleaf, toi toi, cabbage tree and red tussock.
Natives are not the only species we have planted over the years as the farm has shelterbelts of conifers, willows, poplars and species more accustomed to hedges and gardens.
Ever since I started planting I have kept a record of all plantings. This has recorded the year, location, species, width of belt and in some cases records if we had to replant with another species at some stage. I have always taken a photograph of the initial planting. We are still planting after first starting in 1980 and we are contemplating what to use in a new belt close to our homestead in 2009.