Coast redwood silviculture in New Zealand
Mark Dean, New Zealand Tree Grower February 2007.
Californian coastal redwood, Sequoia sempervirens, has proved to grow well in New Zealand when correct siting and establishment practices are attended to. On good quality sites – warm, sheltered and with regular rainfall such as Taranaki and the Bay of Plenty – growth rates can equal or better those of radiata pine. Mean annual increments over 30 cubic metres per hectare a year are achievable.
Redwoods are more shade tolerant than most conifer species so will survive in very low light situations. However they do require full sunlight to grow rapidly. Perhaps because of these attributes redwoods grow readily from coppice and stump or root sprouts. These physiological attributes potentially allow some innovative regimes not commonly practised with more light demanding conifer species.
Redwood markets differ from pine
Although not commonly used in New Zealand, primarily due to supply constraints, there is a strong traditional demand for quality redwood timber in California. Here it is looked upon as an iconic species in much the same way as rimu or kauri in New Zealand.
As access to natural stands in the USA is increasingly restricted, the potential for an export market to develop for New Zealand plantation grown redwood is considerable.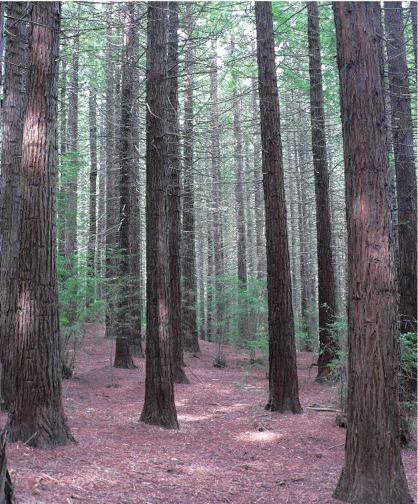 However the redwood timber market differs from the radiata model we are used to. In California, clear heart grades attract a large premium over those with sapwood content and unpruned tight knot grades, which in turn are more valued than timber with bark-encased knots. This grade and price differential, based on branch condition as well as size, provides an important distinction from the radiata timber market that most New Zealand forest growers are used to, and will provide some challenges in managing coast redwood silviculture.
Establishment
While redwoods are shade tolerant, once established they must have good weed control for the first one or two years. Suppression from grasses can hold back early growth dramatically. Retrospective ring analysis on several stands planted in the 1970s found that on average trees were four years old before reaching breast height of 1.4 metres.
Stands planted more recently with good spot release weed control commonly achieve 1.4 metres in the first or second year.
Another consideration to take into account when choosing sites for coast redwood is that of out of season frost. In its natural range redwoods grow from sea level to over 900 metres altitude. However out of season frosts, particularly on the volcanic plateau, are believed to have been responsible for the failure of many early redwood plantings.
Pruning and thinning
While New Zealand growth rates allow for rotation lengths of around 35 years, careful attention will need to be paid to designing regimes which will capture most of the potential value in these stands. The target will be to have large pruned butt logs with upper unpruned logs with green or moribund branches less than 50 mm diameter. Although there have been several hundred hectares of redwoods grown and harvested in New Zealand, most have been non-intensively managed so the effect of various pruning, thinning and initial and final crop stocking combinations has not yet been quantified.
Ensis trials
Over the past few years Ensis, with assistance from New Zealand Forestry Ltd, The New Zealand Redwood Company and the Plantation Management Cooperative have initiated a number of silviculture trials. A series of final crop stocking trials have been installed in existing stands located in the Central North Island, East Coast, Hawkes Bay and Otago. Within four or five years there will be sufficient data to produce a thinning function to aid the basic growth functions implemented in a growth model being developed by Rob Webster. This will allow managers to predict the results of various thinning and final crop stocking regimes in terms of tree growth.
Pruning is a favoured option, given current market preferences. It may be worth pruning redwoods to a small DOS as has been done with cypresses in some instances. Two pruning trials, at Tutira and Gisborne, have been installed by the Plantation Management Cooperative in partnership with The New Zealand Redwood Company. Pruning redwood is not difficult as the wood is relatively soft and branches in plantation grown trees are generally small and well spaced. However, although redwood bark is thick and fibrous on mature trees, with young trees the bark is thin and easily damaged, so care must be taken to not damage the bark and cambium around branch collars when pruning. Although still in progress, interim results indicate that both stocking and pruning severity affect tree growth.
Pruning stimulates epicormics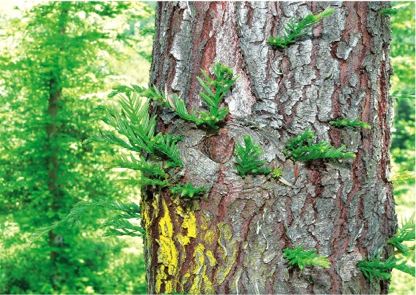 Of much greater interest is the impact of pruning severity on the incidence of epicormics. These originate from buds in the cambium and are stimulated by the combination of stress induced by removing the green crown and light on the stem. When early severe pruning treatments are applied the stems can be covered with epicormics which has the effect of negating the pruning effort. However by delaying pruning until the bark is thicker, and by leaving more green crown, much of this problem may be negated.
There has been some anecdotal evidence that pruning can allow entry of a native longhorn borer or huhu beetles whose tunnels severely downgrade the value of the sawn timber. This problem has been more commonly reported from warmer area such as Northland and the Bay of Plenty, but the extent of and severity of this risk has not yet been quantified.
Maintaining lower branches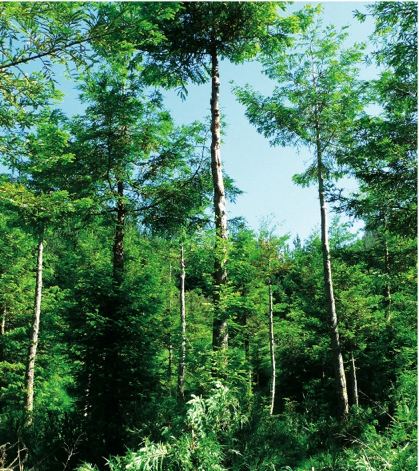 Another silvicultural challenge is to maintain live or moribund branches in the lower unpruned logs, typically from 6 to 15 metres on mature stems. Currently our understanding of crown height recession with increasing stocking and age is fairly basic. There is a need to quantify this and to understand the time delay between branches dieing and the formation of bark encased loose knots.
As for managing redwood stands to minimise the incidence of bark encased knots in sawlogs, there are a number of possible methods which have yet to be tried. For example, regimes involving multiple thinnings or possibly ultra high pruning may go some way to achieving the desired goal. There have recently been sales of small logs, down to 20 cm small end diameter, which can be sawn for utility uses. This may make it possible to carry out production thinning on some sites.
Log quality important
Log quality is of paramount importance in order to maximise the returns from coast redwood. To date very little is understood about the timber grade and value recovery from various log types. Until this understanding is significantly advanced, it is difficult to produce realistic economic analyses required to attract investors and set fair market values for logs.
Currently Ensis and New Zealand Forestry Ltd are trying to bring together interested parties to fund a sawing study on one of very few mature pruned stands of redwood in New Zealand.
Because redwood is not core business of most of the large forestry companies, organisations such as the NZFFA need to have a greater role to play in supporting this vital research. Any readers interested in contributing to this research in any way should contact Graham West at Ensis.
Continuous cover management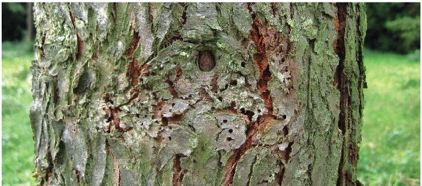 Because of its ability to grow from coppice and tolerate low light situations redwood is an ideal candidate for growing in uneven aged stands which are harvested by a series of thinnings.
Pascal Berrill, from Ensis who is currently studying at Berkley University, has been developing a multiple age management model which predicts growth of Californian redwood stands under this system. There are also a few examples of successful multi-aged stands of redwood in Whaka and Kaingaroa forests. Most thinned redwood stands including all of the recently installed thinning trials have coppicing stumps. At some sites the growth of these are being measured by Ensis researchers but a more structured effort is required to identify and answer the key 'how to' questions of uneven aged stand management. It is my belief that we will see more examples of actively managed mixed age redwood stands particularly in sensitive environments where aesthetics or soil and water values require continuous vegetation cover.
Mark Dean is currently a silviculture analyst for Timberlands Ltd. Prior to that he spent over twenty years with Ensis (formally FRI) researching radiata silviculture and over the past five years has initiated much of the current redwood silviculture and modelling research.