Hybrid cypresses – a future plantation option
Patrick Milne, New Zealand Tree Grower February 2006.
Cypresses have been one of the most popular species advocated and planted over the last 20 years to compliment radiata forestry. This has certainly been the case with the farm forestry movement and to a lesser extent corporate forestry. Of the cypresses, lusitanica has been promoted and planted in the warmer moister northern areas of the country while macrocarpa has been planted in the cooler southern regions.
Not up to expectations
Twenty years on, it is fair to say that these plantings have never quite lived up to expectations.
Lusitanica has proved to be very variable and site specific while macrocarpa has succumbed to cypress canker in many areas. These factors have combined to increase the risk and associated uncertainty of planting these species. As with all generalities, there are notable exceptions and it has been these that have fuelled the continued planting of these species.
Bring in the hybrids
During this period farm foresters started to plant, and are continuing to plant, increasing numbers of hybrid cypresses, namely the Leylands and more recently Ovens cypress Cupressus x ovensii. The Leylands are named clones or varieties grown from cuttings of naturally occurring hybrids between macrocarpa and Chamaecyparis nootkatensis, the yellow cypress. Leyland cypress, or more specifically the variety Leighton Green, has been very widely planted in shelterbelts throughout New Zealand during the last thirty years. Until the mid 1990s very few pure woodlots of Leylands had been planted as, being cutting grown, were considered too expensive at over three dollars each compared with seedlings.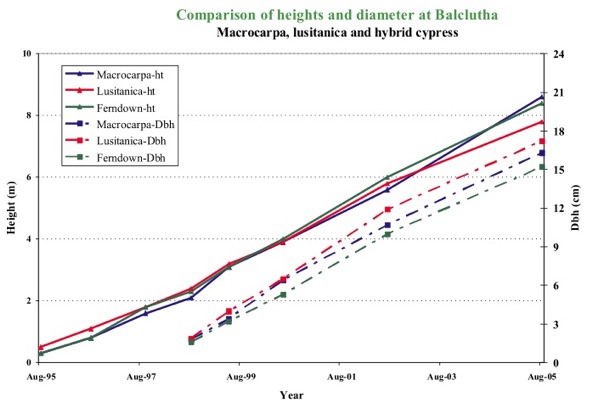 Leighton Green is just one of many different clones that comprise the Leylands. Today, clones such as Ferndown, Stapehill, Green Spire and Haggerston Grey have replaced Leighton Green as the varieties of choice for planting. Although these clones are physiologically old, their growth rates are not too dissimilar from those of seedlings of macrocarpa or lusitanica, as shown in the graph.
Given their pedigree, it would not be unreasonable to expect the Leylands to have very good wood properties. This has been confirmed in a recent published sawing study of 21-year-old trees conducted by Forest Research. In brief this study concluded that the Leylands have similar wood properties to both macrocarpa and lusitanica. The Leylands have grown and performed very well in most areas, but have proved susceptible to cypress canker on some North Island sites.
A recent addition
The hybrid Ovens cypress is similar to, but is not, a Leyland. It is a relatively recent addition to the cypress mix of species and clones available to growers, one that is very resistant to cypress canker. It is proving to be a healthy, vigorous and adaptable clone that grows very well throughout most of the country. It is growing in trials from Northland to Invercargill and indications are that it is probably the most adaptable cypress variety currently available for planting.
Having said this, it is very intolerant of hot, dry or exposed sites and salt laden winds.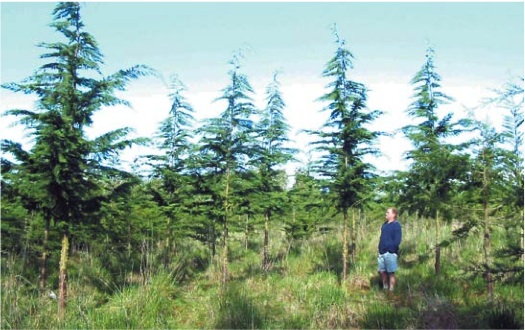 While the wood properties have not been documented, there is increasing anecdotal evidence that it is also a good wood. This is a similar situation to that of Leyland timber a few years ago when very little was also known about it. Ovens cypress is now the cypress of choice for many farm foresters including Bay of Plenty growers Geoff Brann and John Macintosh.
Soil types help
Yellow cypress, Chamaecyparis nootkatensis, is notable within the cypress family for its tolerance of cool and wet conditions along with its ability to survive and grow on soils that are deficient in nutrients.
The soil types it most commonly occurs naturally on are classified as histosols, described as peat or muck, and podosols which are naturally infertile soils that respond to good management.
On the other hand macrocarpa and lusitanica require somewhat better soils to survive and grow well. Given this data, it is not that surprising that hybrids of this species grow well on a wide range of soils and sites throughout New Zealand including Kaingaroa pumice, West Coast pakihi, the Canterbury Plains and foothills and reverting East Coast farmland.
Good for radiata, good for hybrid cypress
Today, the majority of hybrid cypresses are being planted in woodlots whereas only a few years ago it was shelterbelts. The photograph shows six-year-old Ferndown growing in a woodlot on a fertile farm site at Waimate. As a general rule, a good radiata site is also proving to be a good hybrid cypress site. They have proved to be very easy to establish and manage. They can be produced as either open ground or containerised plants and are now available for considerably less than two dollars a plant if ordered in quantity.
Many of the techniques used for establishing and managing radiata are directly applicable to them. Both the Leylands and ovensii respond very well to pruning and thinning. Anecdotal evidence suggests they are considerably easier to prune than seedlings of either lusitanica or macrocarpa. Chris Nasey, a silvicultural contractor based in Katikati and who specialises in managing cypresses, claims pruning these hybrids is in the region of 30% to 50% less work than pruning cypress seedlings.
In summary, these hybrids are developing a reputation for reliability and ease of management, and are proving to be a realistic complimentary species to radiata on many sites. Just as importantly, they are indicating a possible direction for the development of a New Zealand plantation cypress industry – one based on hybrids.
The next steps
So what are the next steps or what is required for such an industry to start to develop?
Firstly, both farm foresters and foresters need more experience with planting and managing hybrid cypresses on farm and forest sites. This can only be achieved by establishing small stands upwards of 10 hectares over a range of sites and planting years. In addition to experience and confidence, such stands will also provide future growth and yield data.
Secondly, growers should accept that a current lack of data on hybrid cypresses will restrict the level and accuracy of any financial analysis. Existing models for macrocarpa or lusitanica may or may not be useful, therefore they are going to need to rely more on their experience and training in any evaluation.
Thirdly, for any species to be successful it needs to be supported with an appropriate research programme, and hybrid cypresses would be no exception. The development of new hybrid clones and propagation regimes, along with growth and yield models, would be some of the initial projects.
Lastly, growers need to work together to pool resources and share knowledge in a structured industry organisation. An appropriate model could be developed along similar lines to that of the Douglas fir cooperative. There is increasing interest in alternatives to radiata within government and an industry organisation would be in a good position to capitalise on this and attract significant funding.
Scope for hybrid cypresses
To conclude, hybrid cypresses have been grown in New Zealand for over forty years. To date they have not been considered seriously as a plantation option, yet they have many of the required attributes.
While radiata and Douglas fir will always be the mainstay of the New Zealand forest industry, there is definitely scope for increased species diversification and hybrid cypresses offer that opportunity.
Patrick Milne is a Registered Forest Consultant.