Adding value by milling on site
Jonathan Walker, New Zealand Tree Grower February 2005.
It is a well known fact that when you have a commodity to sell, there is an over-supply and the price falls. Conversely, when you are in the market to buy, there is a shortage and the price is sky high. We can cushion ourselves to an extent when we have trees to harvest by leaving them standing, perhaps until market conditions are more favourable.
Why give our roundwood away?
When to harvest is an important consideration, along with where and how to sell. Farm foresters often have relatively small quantities of timber to offer to the market. We also grow a greater variety of species, and in most cases are able to pay far more attention to the silviculture and tending of our crops than the corporates. So why give our roundwood away to a timber merchant or sawmiller? Is he not just a middle man, adding value to our raw material?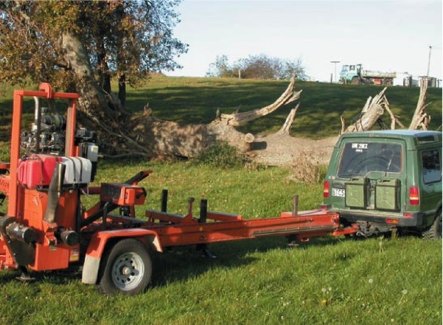 In some cases it makes more sense to retain control of our products and add value to them on site, cutting out the middle man, reducing transport costs and having the satisfaction of selling direct to the user. Many of us also have a requirement for sawn wood products or processed timber on our own holdings. It can be very cost effective to mill and use our own timber. We can also bore all our friends with the life history of a particular table, beam or barn.
On-site processing
There is a good variety of mobile sawmilling equipment available in New Zealand, mostly the modular circular saw types, but also trailer-mounted band saws. You should also consider other machinery and methods of on-site processing to add value.
In Europe, trials using a simple tractor mounted double-slabber circular saw have been carried out recently. In northern France, blocks of oak 70 mm to 100 mm in short lengths were sawn from small diameter thinnings for use in strip flooring and window frame manufacture. Square sawn fence posts in Wales have been sawn from conifer thinnings, and 100 mm blocks of birch for end-grain flooring have also produced.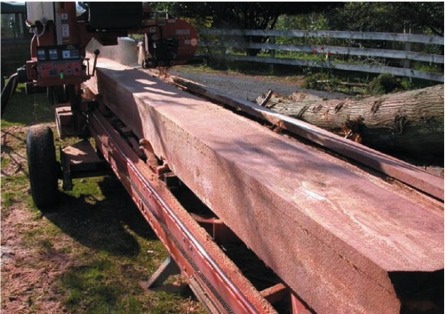 If we peel our conifer thinnings, then air dry and CCA treat, are we not turning that piece of chipwood or firewood into a strainer or fencepost with a higher value?
I operate a contract sawmilling service in Waikato, using a Woodmizer bandsaw. Here are a few recent examples of value adding to customer's timber:
Pirongia
Six Japanese cedars were felled from part of a shelterbelt which required thinning. The customer was planning to construct a timber sleep-out and wanted to reduce the quantity of treated timber used.
Japanese cedar grows too fast in New Zealand to be considered strong enough for construction purposes. However it has some natural durability, has attractive heart wood and is light in weight, so can be used to produce weatherboards and internal cladding.
Six trees were felled, delimbed and cross-cut into 6.4-metre and 4-metre logs. The work was carried out by the contractor. The 15 logs had a roundwood volume of approximately 6.4 cubic metres.
Counting the sawn produce
The sawmilling was undertaken using the customer's assistance. One day's sawing produced 4.3 cubic metres of sawn timber which is 67% recovery.
The costs were as follows –

Orini
A dairy farmer was planning to renovate his house and wanted to clear up a windblown English oak. This tree had blown over in one of his paddocks a couple of years previously. The farmer wanted timber 150 mm by 50 mm and 100 mm by 50 mm for structural work, as well as 25 mm boards for flooring.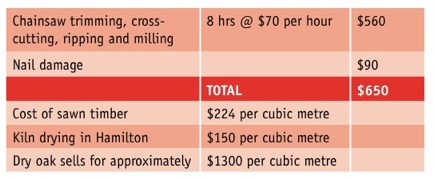 The stem produced two four metre sawlogs, the first being clean, the other being second grade with some knots. The butt log had a large diameter of just over a metre so was ripped in half with a large chainsaw for ease of milling.
The two sawlogs had a total roundwood volume of approximately 5.4 cubic metres and produced sawn timber totalling 2.9 cubic metres, giving 53% recovery.
One half of the butt log was contaminated with nails which increased the sawing costs. The costs are presented here.
Conifer thinnings
The customer had recently purchased a mixed sheep and beef farm. He needed to replace existing dilapidated fences and also to undertake tree planting within sheep pastures, using tree shelters as protection. A steep bank had been planted with mixed conifers and was thinned using farm labour and extracted using a standard tractor with winch.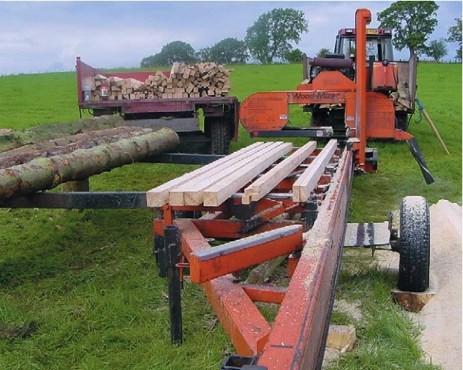 The thinning yielded approx 30 cubic metres of medium-sized softwood logs. However the landing was a kilometre from the nearest access point for a timber truck and across three soft grass fields.
Selling the roundwood was therefore not cost effective.
The sawlogs were sawn on site into square fence posts, fence rails and tree stakes. A pattern soon developed depending on the diameter of the log.
The smaller logs, around 24 cm diameter, produced
Eight 1.8 metre, 75 mm by 75 mm fence posts
Two 3.6 metre, 90 mm by 30 mm fence rails
Twelve 1.2 metre, 38 mm by 38 mm tree stakes
The larger logs, around 30cm diameter, produced 18 posts size 75 mm by 75 mm.
All the roundwood with a top diameter of 150 mm to 200 mm was peeled and used for straining posts. The strainers and sawn timber were air dried to a minimum of 30% then CCA-treated at a local sawmill.
All slabwood and tops were used on the farm as firewood and the sawdust used for cattle bedding.