A planned shelter system on the Hunter property at Maheno
John Prebble, New Zealand Tree Grower February 2005.
Situated three kilometres south of Maheno on either side of SH1 is the Hunter family property. John and Dorothy Hunter have farmed this 241-hectare property since 1962 when they took over from John's father. The farm is situated in the fertile downlands of North Otago and farmed under dry land conditions with a rainfall of approximately 500 mm, but with a wide variation between years. Wind is a constant problem, the farm being subject to north-east winds off the coast on even the best of days, but also drying north-west winds in spring and summer. The soil is Timaru loam which is situated on a hard pan and can become very wet in a wet winter.
Farming under these conditions can at times become quite difficult, but with the planting of shelter, the conditions of the varying seasons can be better controlled. In the late 1970s John and Dorothy, with the assistance of the Otago Catchment Board, planned a shelter system for the property and over the next ten years the planting took place. Now some 20 years later they have a very well planted and sheltered property with 6.4 km of shelterbelts.
Shelter protecting against the cold winds
Although the advantages of shelter have been written about before, it cannot be stressed too much that our present day farmers have to take on board these gains and act on them. With animal welfare now becoming a more prominent issue, and any storm or discomfort to farming animals being highlighted on the news, it is time farmers again had a good look at their shelter plantings. It must be of concern to the farming community the publicity that is created by storms at lambing time such as happened in the south last year. Although shelter plantings will not solve the problem completely, it goes a long way to giving stock a much more comfortable environment to live in.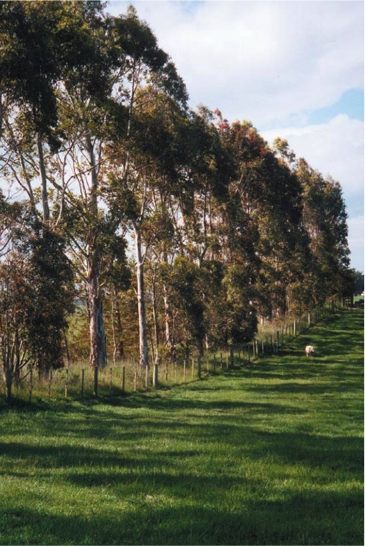 This spring in North Otago, although we missed the rain of further south, the cold winds were killing lambs born in the open. To use their shelter to its best this year the Hunters kept their lambing ewes against the shelterbelts with an electric fence during the night and the coldest days. This may appear time-consuming, but it got excellent results, with their 1900 Romney ewes producing 150% lambing.
Shade
The day I visited the Hunter property was one of the warmer days of this spring. As we drove around it was noticeable that there were very few stock out in the open in the paddocks, but most were comfortably sitting in the shade of the trees. The old saying is that when lambs are sitting in the shade panting they are putting on weight. Shade can be supplied by single trees or by shelterbelts, both having the desired effect.
Planning shelter
It is well known that a shelterbelt gives shelter several times its height in shelter out into the paddock. With many of the shelterbelts on the Hunter property now reaching 15 to 20 metres in height, many paddocks are over half sheltered. With any planning some mistakes are made and John said that careful planning should be done taking into account future stock movement and accessibility from paddock to paddock.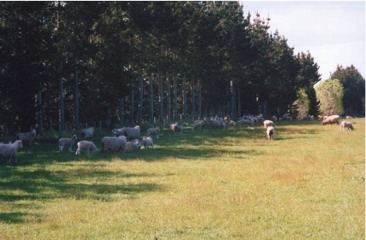 As trees grow some difficulty can occur, and John said that in some places if the shelter had been on the other side of the main fence things would be much better. It is therefore important that all things are thought out when embarking on a shelter plan. Continuous shelter is needed, preferably in long running belts. Gaps can create wind funnels and should be avoided. The Hunters have done well in this area and have one shelterbelt running almost the full length of one of the farm blocks.
Establishment
All shelterbelts are permanently fenced on both sides before planting, usually six metres, wide enough to take two rows of trees. Both rows are deep ripped in the summer before planting and the weeds and grass are kept under control by chemicals. Due to the climate the trees have made steady growth over the years and are now providing very good shelter. All shelterbelts are now trimmed every two to three years to keep them within the fence lines.
John and Dorothy have made an excellent effort in planting this property and have been keen members of the NZFFA and have also attended several conferences. After 41 years at the helm, John and Dorothy have recently handed over the management of the property to son Ian.
Species used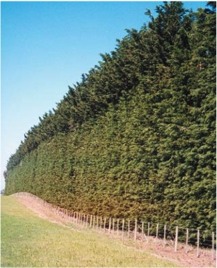 Here is a list of some of the species used along with John's comments.
Leyland cypress Leighton Green, planted in 1980. A very attractive shelterbelt now approximately 14 metres high and being side trimmed to nine metres. It runs east-west, provides shelter to ground level from the south and managed by side trimming every two or three years, only one side at a time. It is a very effective shelter.

Salix alba, poplar and flax, planted in 1985. Predominately S. alba, white willow, with scattered poplars in a north row and flax on the south side. Planted east-west and seven metres high, it grew quite fast initially and provided shelter after three or four years, but appears as if it will not reach much higher. Grass grows up to the fence and is providing very good permeable shelter.

Eucalyptus nitens planted in 1979. This would be the most disappointing shelter. It was planted at 2.4 metre spacing with every second tree now removed. There was very poor grass growth for 20 metres out on the eastern side. Branches are blown out after a wind and it is labour intensive cleaning the debris.
Green spire Leyland and radiata, planted in 1984. Provides good permeable shelter in a belt over 1.5 km long. The radiata is pruned to five metres. It is a very attractive shelter.
Eucalyptus dalrympleana, planted in 1983. They are an excellent permeable shelter even though they look open compared with other species. They have turned an exposed area into a well sheltered paddock with grass growing right to the edge of the trees and have reached a height of almost 12 metres.