The Specialty Wood Products research programme
Marco Lausberg and Harriet Palmer, New Zealand Tree Grower August 2021.
The Specialty Wood Products research programme was established in 2015, marking the start of a seven-year partnership between Forest Growers Research, the Ministry for Business, Innovation and Employment, other research providers and industry partners. Species included are Douglas-fir, cypress and eucalypts − durable and non-durable. We are now entering the final year, with an end date of June 2022 coming into focus.
The Specialty Wood Products programme was established with the following objectives −
Transforming processing options for tree species other than radiata pine
Developing improved breeding stock to overcome current wood quality and forest health concerns
Developing a new naturally durable eucalypt resource.
The aim is to encourage regional investment in specialty species, and four regional business cases or strategies will be completed by June next year.
Research aims, providers and partners
The original research plan incorporated three aims −
Improving returns from the current resource, trees already in the ground
Creating a superior future resource, breeding trees with better growth and timber characteristics for which there is market demand
Bringing higher value products to market via regional strategies.
The main research providers are Scion, the University of Canterbury School of Forestry, and the Marlborough Research Centre. Other researchers, such as the University of Canterbury Department of Engineering, have also contributed significantly.
Programme planning and oversight involves two steering groups which meet regularly to review progress and set future work programmes. The NZFFA is represented on both groups, currently by Peter Berg, Angus Gordon and Vaughan Kearns. The programme is managed by Marco Lausberg of Forest Growers Research.
Douglas-fir
Douglas-fir is New Zealand's second most popular plantation species by area after radiata pine, with an estimated 103,400 hectares in the ground. Its greatest asset is its structural properties and these have been put to good use in New Zealand over many decades.
The Douglas-fir research programme predominantly involves tree breeding and timber processing research. It receives around 19 per cent of the total research budget. A separate programme is looking at the problem of wildings.
Breeding advances
Back in 2016, Douglas-fir growers identified new breeding targets −
Growth A 35-year rotation length, a yield of 600 cubic metres a hectare of total recoverable volume and an average of 20 cubic metres a hectare of mean annual increment
Form Maintain at the current level
Wood stiffness Maintain stiffness no less than 8 GPa
Needle retention Three-year retention indicating improved tolerance to Swiss needle cast.
The Douglas-fir breeding plan was updated in 2017 and new selections were made including selections for wood quality and resistance to Swiss needle cast. Work on Douglas-fir genomics began in 2018 using some additional funding. This creates potential for much faster genetic gains than with the conventional breeding programme. The Douglas-fir growth model used by industry has been updated and includes new information about productivity.
New product development
The demand for engineered wood products for high-rise construction is a global growth area, and Douglas-fir cross-laminated timber has good potential in this market. Cross-laminated timber panels have been tested for structural properties and then progressed to testing their ability to withstand earthquakes. This incudes work on fasteners and connection systems for the panels, the most critical aspect of seismic resilience. Results have been very promising. The eventual aim is to produce enough data to allow Douglas-fir cross-laminated timber to be approved under the relevant building code.
Douglas-fir thinnings have been used to make a new engineered wood product, termed optimised engineered lumber. The technology uses short logs and makes laminated, finger-jointed structural products with uniform and reliable properties. It has reached a commercial stage in New Zealand, but so far only radiata pine has been used.
Non-durable eucalypts
Over 22,000 hectares of eucalypts were recorded as growing in New Zealand in 2019. Three non-durable species which make up a significant proportion the total eucalypt area, and which are included in the research programme, are Eucalyptus nitens, E. fastigata and E. regnans. Non-durable eucalypts receive around 25 per cent of the total Specialty Wood Products research budget.
Breeding advances
By far the majority of E. nitens in New Zealand is grown in Southland and the central North Island and is destined for pulp markets. Work is focussing on improving sawn timber properties to help diversify the product range of E. nitens. Two new fourth generation seed-orchards have been established by Scion as part of a breeding programme which will produce improved germplasm specifically for solid wood products. Selection to further boost genetic improvement of the E. nitens breeding population is also under way.
Progeny trials for E. fastigata, already in their third cycle, have been assessed and results show there is good potential for genetic improvement of productivity and tree form. Wood stiffness is another area of interest because of the potential for E. fastigata as a veneer component.
New product development and testing
E. nitens logs also have been converted to optimised engineered lumber using the same technique as with Douglas-fir. Using this process E. nitens achieved the strength and stiffness properties of the New Zealand structural grade SG12. This also shows potential and may have application further down the track.
Specialty Timber Solutions, a North Canterbury firm, has produced three kinds of flooring from young, unpruned E. nitens – solid, cross-laminated and birch plywood-backed. The performance of these was compared to commercial engineered oak flooring. Overall, the differences between the engineered oak and the E. nitens boards were small, confirming the potential of the eucalypt product.
Work assessing the suitability of E. fastigata as a component of veneer has been led by Juken NZ. Results showed that good quality E. fastigata logs peeled well, and confirmed that the veneer is significantly stiffer than radiata pine. Work on how well the glue with the eucalypt veneer works has also been carried out, and high-stiffness veneers containing E. fastigata are now closer to commercial reality.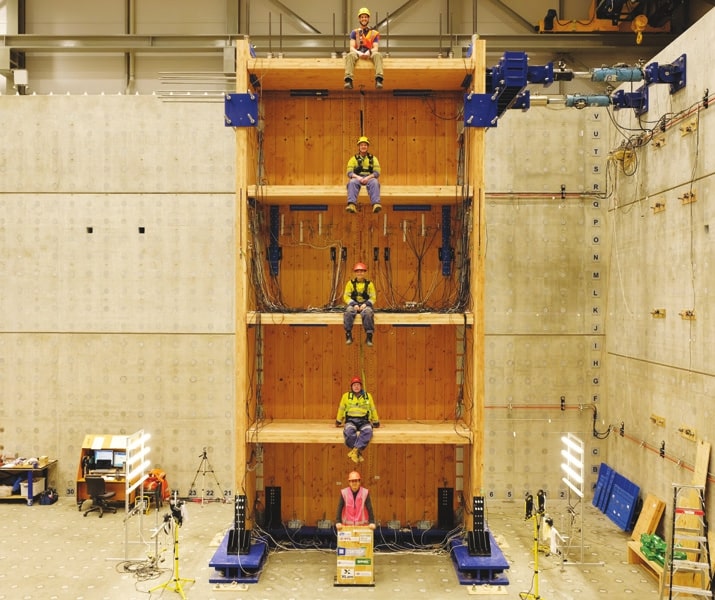 Eucalypt health
Work to introduce a new biological control agent to control eucalyptus tortoise beetle, Paropsis charybdis, was completed as part of the research programme. A 2019 study estimated potential losses from this beetle at between $400 and $500 million. It concluded that biological control would be more cost-effective than chemical control in most situations.
The introduction of the biological control agent was approved by the Environment Protection Agency, but the process has been delayed by some practical problems. Approval has now been given to release Eadya deaneries, a predator of paropsis. Hopefully the adult wasps will be released on three sites next summer.
Other work has looked at the level of paropsis browsing on E. nitens and E. bosistoana, and found some are more tolerant than others. Depending on the heritability of this tolerance, it could be incorporated into future breeding programmes.
Cypress
There are almost 10,000 hectares of cypress known to be growing in New Zealand. Work by Scion under has been bolstered by the involvement of the NZFFA's Cypress Development Group. Cypress receive around 10 per cent of the total Specialty Wood Products research budget.
Planned results for cypress are −
Identification of canker-resistant genotypes
Identifying the best ways to market for hybrid clones
Turnover of breeding populations
New orchard seed available for macrocarpa
New hybrid cuttings released for planting.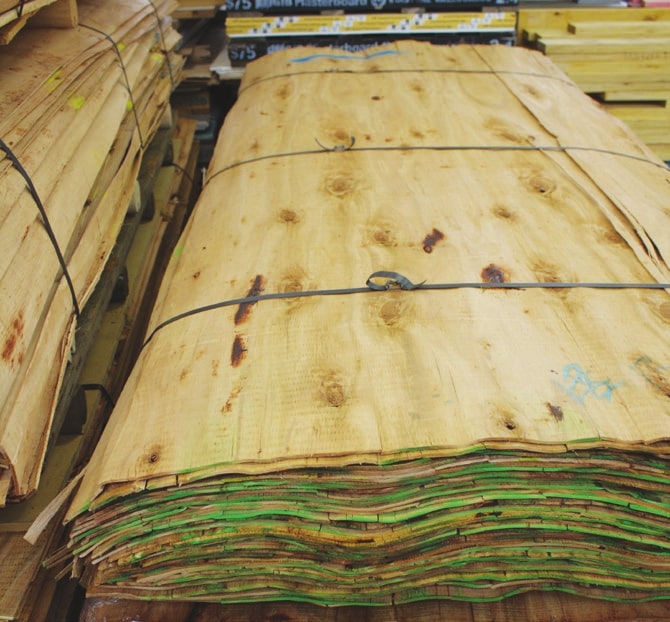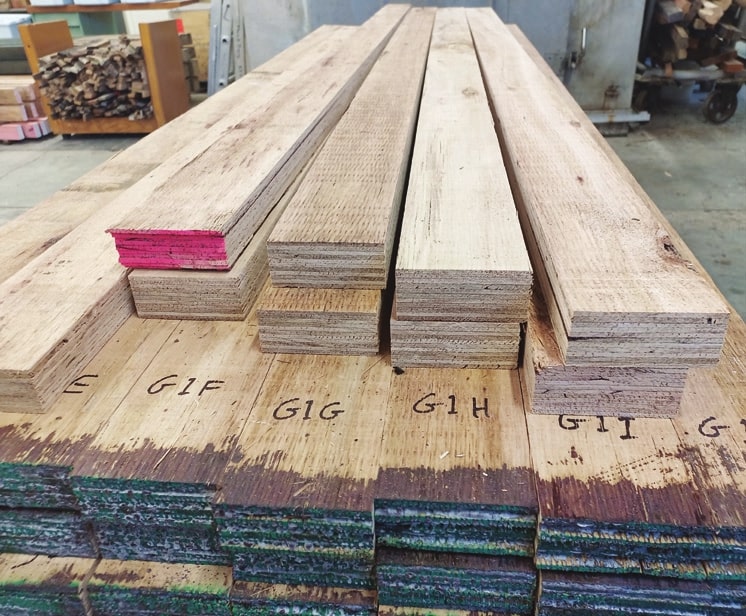 Breeding work
The breeding programme is a continuation of work done over several decades. C. lusitanica progeny trials were evaluated for growth and health, mainly canker, and new selections made to include seed orchards, to make new seeds available in five to seven years. The third generation of C. lusitanica trials were established in 2017.
Two new trial series have been established in the past three years. Three large-scale trials to test new C. macrocarpa genotypes were identified as potentially canker tolerant. A series of small-scale trials to test 12 Ch. nootkatensis hybrids is being managed by the Cypress Development Group and planted across a wide range of farm forestry properties. Further trials will be planted this winter.
New product development and testing
Recent work assessed whether young 22-year-old unpruned and unthinned cypress can be cost-effectively sawn and made suitable for high-value joinery.
C. lusitanica and C. ovensii were investigated and a summary of this work is in the article on page 13. Trees were sawn and air-dried.
Overall volume and grade recoveries were encouragingly high, and an economic analysis indicated that thermally modified cladding is a promising application. Other research has shown that thermal modification significantly increases the durability of cypress timber. This is essential for outdoor applications of timber from young trees due to the proportion of sapwood.
Durable eucalypts
Durable eucalypt research is led by the Dryland Forests Initiative. The project is a breeding, research and development initiative and accounts for 40 per cent of the budget. The aim is to develop sustainable multi-regional hardwood industries A total of 12 potential wood-supply catchments have been identified where a total of 60,000 hectares of durable eucalypts could be established. Work with others in priority regions is under way and new web-based guidelines for growers have been produced to help land owners make decisions around planting durable eucalypts.
Breeding and propagation of clones was recently boosted by a $536,000 Te Uru Rakau grant. In spring this year the first generation of improved planting material will be planted with more planned for the future. The trial network of over 30 trials form the backbone of the research and development programme. Nine more trials will be established, extending the geographic and environmental range of the trials.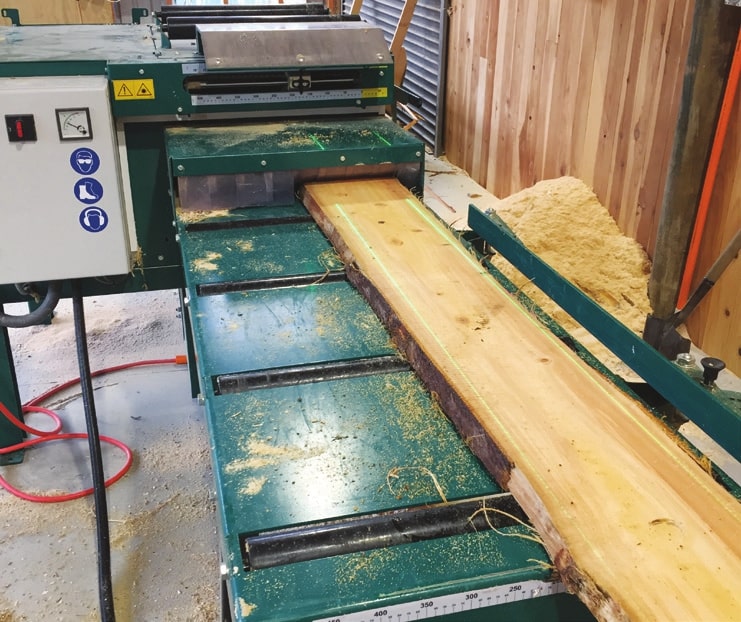 Wood quality research continues at the School of Forestry. Techniques to test young trees for heartwood, extractives and ease of processing have been developed. Research into potential markets indicates durable timber could generate over $1 billion by 2050. Substituting durable hardwoods for copper-chrome-arsenic treated pine posts and poles is a good place to start. This market is estimated to be worth between $210 and $240 million a year and trials are under way to assess how well different post-peeling machines handle durable eucalypt logs Work on eucalypt health and integrated pest management is also being carried out at the School of Forestry, one aim being to improve understanding about how different species tolerate insect defoliation. Research has already proved that some are more tolerant than others. Another project is looking at essential oils in dryland species. Essential oil composition may be linked to insect tolerance and the oils have potential to be a valuable product in their own right.
Regional business investment cases
The Specialty Wood Products programme is required to develop four regional strategies or investment cases as part of its overall work. These are intended to identify implementation routes for research and development, and receive around five per cent of the total research budget.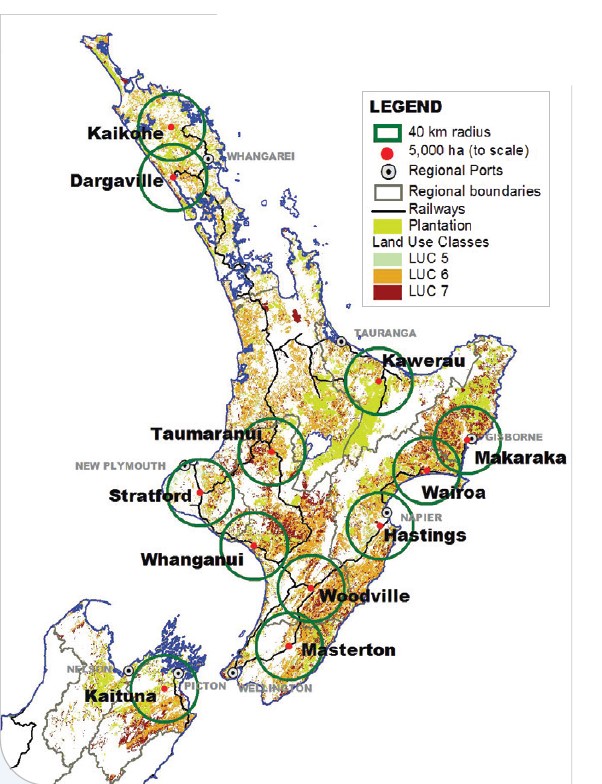 Dryland Forests Initiative strategy 2020 to 2030
A strategy up to 2030 has been produced 'Durable eucalypts: a multi-regional opportunity for New Zealand's drylands.' Six projects were identified and work is continuing in each of these −
Identifying markets for durable eucalypts
Modelling forest productivity and economic feasibility
Working regionally to encourage new forests
Breeding, propagation and trial management
Educating growers on durable eucalypt forest establishment and management
Building industry partnerships for support and increased capability.
Durable hardwoods market opportunity
Market opportunity
Current market value
Sawn timber
Domestic substitution of treated pine for outdoor use
$280 to 320 million a year based on retail value of $700 to $800 a cubic metre
Posts and poles
Substitution of treated posts for vineyards, agriculture and horticulture
$210 to $240 million a year based on retail value of $700 to $800 a cubic metre
Hardwood imports
Substitution of high value hardwood imports including over 29,000 cubic metres of timber, 3,000 cubic metres of sleepers and 5,000 cubic metres of post and poles
$53 million in 2017 Five-year average value of over $1,400 a cubic metre
Exports
Significant timber and log export potential to replace Australian and tropical hardwoods
Annual export value of 100,000 cubic metres of hardwood could be $140 million
Veneer
As a component of high value and high strength hardwood laminated veneer lumber and cross-laminated timber
International value of high strength veneer is $400 to $500 a cubic metre
A strategy for the cypress industry
Following consultation with cypress growers and the harvesting and marketing sector, a cypress strategy workshop was held in Wellington in October 2020. A working group led by Richard Thompson is now developing a strategy, and five themes have been identified −
Producing breeding and propagation
Growing, selection, establishment and silviculture
Harvesting and processing
Markets and marketing
Communication and collaboration.
The Cypress Development Group will continue to be an important part of cypress research and development in the future.
Douglas-fir processing
Two detailed reports on Douglas-fir processing opportunities reviewed different export and domestic marketing and processing strategies. Of the options available for Douglas-fir logs, the least-cost lowest-risk is exporting whole logs. Douglas-fir logs command a premium over radiata logs in the markets where they are traded.
Domestic structural sawmilling does not appear to be an attractive option for new investment when Douglas-fir products are marketed directly into niches occupied by radiata pine. However, market niches that suit Douglas-fir's strengths, and further processing of Douglas-fir into engineered products could generate more value and better returns for growers. New options for co-processing with radiata pine and some approaches to forest management to even out supply over time were also identified in the reports.
Regional development of specialty timbers
Following work on the alternative species resource and the potential for small-scale sawmilling in Hawke's Bay Region, there are two associated projects. One is a pilot study by School of Forestry towards developing a new mapping method to record the alternative species resource more accurately than with the National Exotic Forest Description. Initial work in Hawke's Bay using the new artificial intelligence-based technique has produced encouraging results. The other project is work to support the development of the small-scale sawmilling sector.
Woodscape models and nursery survey
Two other projects deserve a mention in this overview. A series of woodscape reports have been completed relevant to the regional investment cases. These have projected regional supply of specialty species and the opportunities for regional processing based on log supply, the costs of different processing options, and product prices.
The other project is the annual survey of nurseries selling specialty species planting stock. The data provides a useful picture of new planting trends for all species of interest.
Future research
An alternative species workshop was held in May 2021. The aim is to develop an industry perspective on ways to enable future high-worth value chains for alternative species, and identify what stands in the way. We need to be well-informed about the research needed to reduce the barriers and risks associated with developing alternative species value chains, and establishing new or niche species.
The next step is to refine the framework via a consultation process. Then the plan is to produce a way to identify a set of research initiatives for each of the priority areas identified.
As with so much forestry-related research and development, the results of work undertaken will take a long time. However, some clear wins and benefits are beginning to emerge for all the species in the programme. Growers of small and large forests all stand to benefit. As awareness of the risks associated with a near-radiata pine monoculture increases, the results will provide the foundations for better commercial prospects for alternative species in the future.
You may want to know more
The activities of Specialty Wood Products are available in the form of technical notes and technical reports and various other publications. These are all available on the Forest Growers Research website. The research will be presented at the annual Forest Growers Research conference in Nelson in October. Past issues of Tree Grower also contain a number of relevant articles.
Marco Lausberg is manager of the Specialty Woods Products Research Partnership, Forest Growers Research. Harriet Palmer is an independent forestry communications specialist.