Husqvarna South Island Farm Forester of the Year 2019 - Gary Fleming
New Zealand Tree Grower August 2019.
It would not have been a surprise to those who know Gary Fleming that he is the 2019 South Island Husqvarna Farm Forester of the Year. Gary is the complete farm forester – he is a very good farmer, a very capable forester, an enthusiastic proponent of farm forestry and dedicated father.
The property
The farm of approximately 100 hectares is at the base of Mount Grey in North Canterbury and has the Kowhai river on the northern boundary. Originally it was a much larger farm which was purchased by Gary's great grandfather back in 1917. Subsequently 600 hectares were acquired under the Public Works Act to add to Ashley Forest.
Gary is the fourth generation Fleming on the farm and he adds to it by leasing adjacent farm blocks. The farm is reasonably flat with a series of terraces running through it which demarcate the main soil types, namely river bed, river flats of high-quality silt and clay downs. The farm runs deer and sheep and is complemented with annual crops of wheat or barley. Regular summer droughts and the occasional wind storm are the climatic events which have the biggest influence on farming and forestry practices. Otherwise the climate is relatively benign.
Contribution to farm forestry
Gary has been a member of the NZFFA for 32 years having joined after leaving school. He has been a North Canterbury committee member since 2002, many years as secretary and currently the Branch Chairman. He is an active member of the Eucalypt Action Group and the secretary/treasurer since 2010.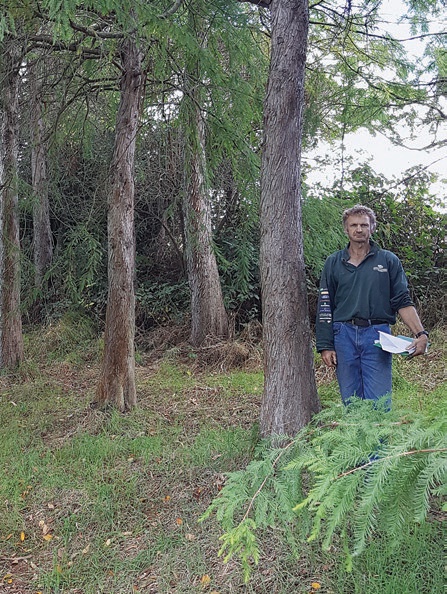 Over the years he has contributed many articles to branch newsletters, the Tree Grower and local newspapers. For many years now he has donated plants he has grown to the local branch as gifts for field day hosts and presenters. Each year he hosts students from the School of Forestry on his farm for a field day on farm forestry. Gary won the Neil Barr Award at the Hanmer conference in 2004 and followed that up a few years later as the inaugural winner of the Michael Hay Memorial Award.
The plantings
A total of 15 per cent of the farm is either plantation or shelter plantings in which more than 600 different species have been planted. Most of the plants for these have been grown by Gary. He is now collecting seed from many of these plantings and growing seedlings for farm use and on-selling.
Gary has used farm-grown macrocarpa for building and fencing and has cut poplars to feed stock during droughts. While Gary is very keen on a wide range of plant species, the eucalypts are a passion. He is very keen on growing durable eucalypts with a favourite being E. cladocalyx followed closely by E. agglomerata, E. baxterii, E.cornuta, E.globoidea, E. laevopinea, E. macrorhyncha and E. muelleriana. They offer good all-round timber for general building, with moderate to good in-ground durability.
He has also grown an impressive stand of Acacia dealbata or silver wattle which sadly has been marked for removal because of its weed potential. A novelty species grown is an open planting of paulownia. Gary has found a sound market for this ultra-lightweight strong and stable timber as a component of sporting mallets.