Land transfers involving the Emissions Trading Scheme
Stuart Orme, New Zealand Tree Grower August 2016.
The Emissions Trading Scheme as we know it will be nine years old at the end of this year. Despite this, we are regularly working with clients who have been involved with land transfers and not followed the well-established legal requirements under the Climate Change Response Act.
When registered forest land planted after 1989 is sold, or names changed on the title by more than 40 per cent, the seller must make a Mandatory Emissions Return to MPI within 20 working days of the land transfer being carried out. Failure to do so will put you in breach of the Climate Change Response Act. At the same time the seller is responsible for submitting the transfer of participation documentation to MPI to ensure the new landowner is an Emissions Trading Scheme participant. The new landowner must also open a New Zealand Emissions Unit Register holding account.
Regardless of whether the seller submits the transfer documents, if you buy or acquire land which is post-1989 registered, you will automatically inherit the obligations registered against that land. This happens unless the previous participant withdraws the land from the ETS before transferring to you.
We have found that, although there will be a notice on the certificate of title showing that a post-1989 forest is registered and the Climate Change Response Act is clear on the responsibilities, due diligence practice and legal advice is not as good as it could be.
There are those in breach of the Act who will eventually be caught up with – possibly when the Mandatory Emissions Return is not fled by the new landowner who does not realise they are in the ETS. This could have been the case in 2013 after the end of the first compliance period and may happen again in 2018 when the next compliance returns are required to be lodged.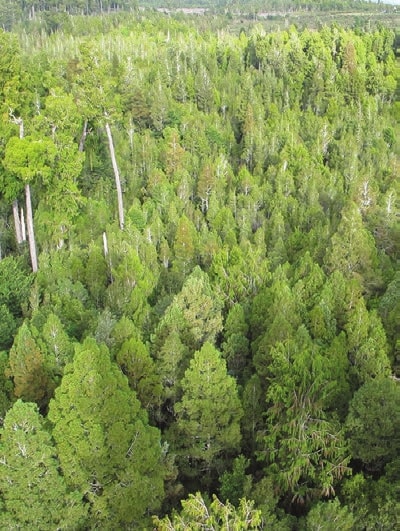 Transfers of registered interests
A transfer of participation and a Mandatory Emissions Return have to be submitted to MPI within 20 working days of a transfer. Transfers can occur in the following circumstances −
If land with trees planted after 1989 registered in the ETS is sold to a new landowner
If a registered forestry right over post-1989 forest land registered in the ETS is transferred by way of assignment to someone else
If a new registered forestry right is created over post-1989 forest land which is already registered in the ETS, and the participation is transferred from the landowner to the right-holder.
If transmission of an interest in registered post-1989 forest land to someone else, such as via inheritance or a court order.
Changes to the members of an unincorporated body can also constitute a transfer. The trigger is 40 per cent. If the members change by more than 40 per cent a Transfer of Participation and Mandatory Emission Return are necessary. If just 60 per cent of the members of an unincorporated body are the same following the transfer of land, this will be treated as a change in membership and not a transfer, but MPI must still be notified Changes will also need to be made to the members and possibly primary representatives of the corresponding emissions register account to reflect the change.
MPI's website has a rather confusing definition of an incorporated body under the ETS −
Where the applicants are in a partnership, trustees or in a joint venture, two or more of them jointly own post-1989 forest land or jointly hold a registered forestry right or registered lease
And where the applicants are not partners in a partnership, trustees or in a joint venture, but three or more of them jointly own post-1989 forest land or jointly hold a registered forestry right or registered lease.
Applicants are not classified as an unincorporated body where –
There are no more than two of them jointly owning post-1989 forest land or jointly holding a registered forestry right or registered lease
They are not partners in a partnership, trustees or in a joint venture.
We recommend that you research and understand your position before initiating any transfers or changes to unincorporated bodies or get advice about the requirements and possible options regarding your ETS registration and emissions account. There can also be other implications for those registrations over 100 hectares, and potential problems if the transfer is not recorded with MPI at the time of change. If the above requirements are not met within the prescribed time, the Environmental Protection Authority has the ability to conduct a penalty assessment process on those involved.
Buying or selling land or forests
A notice relevant to the Climate Change Response Act will be recorded on a Certificate of Title for one of the following reasons −
A pre-1990 forest land compensation allocation of units has been claimed
A pre-1990 forest land exemption has been registered
Post-1989 trees have been entered into the ETS, although the notice will be cancelled if the participant subsequently leaves the ETS.
To find out if a notice relates to pre-1990 compensation, exemption, or post-1989 ETS registration you can find the out using a Land Information New Zealand search.
For pre-1990 forest land
If land which was forested before 1990 has compensation units which have not been claimed, there will be no notice on the Certificate of Title relating to pre-1990 forest land even if such land exists. However, whether or not the units have been claimed, the liability on any pre-1990 forest land still exists unless an exemption has been registered. It must remain forest land, although up to two hectares can be deforested within each five-year compliance period without penalty. But remember to keep good records to support a deforestation of this size for future reference.
After being cleared, a pre-1990 forest must be replanted or be regenerating within four years − it must reach specified height and crown cover within specified time frames. This applies unless the decision is made to deforest and change the land use.
As the liability rests with the land owner, it is very important to know whether or not there is pre-1990 forest land on any land you are buying or selling and understand the liability which is attached to it. The only way to remove the liability and change the land use is to submit a deforestation notice to MPI and surrender the carbon stocks calculated on the forest or have some offset planting elsewhere. Not doing so can incur a $30 fine for every New Zealand Unit and will still require purchase of the required units to meet the obligation.
If a land use change is required, as mentioned above, offsetting is now an economic possibility. This is replanting an equivalent forest elsewhere. For example, if required to surrender 800 New Zealand Units for each hectare for a pre-1990 land using a purchase price of $18 a unit, the potential cost of deforestation amounts to $14,400 a hectare.
To offset this, you can buy land and use offsetting. This involves planting an area elsewhere with a species capable of producing a similar amount of carbon sequestration potential which has been removed. This may not necessarily be the best land use, but the economics are obvious.
Post-1989 forest registered in the ETS
Before a land sale involving post-1989 forest registered in the ETS, there is the option to de-register and surrender the units received. This will leave the land free of obligation as far as post-1989 trees are concerned. Alternatively, if a prospective purchaser is agreeable to taking over an ETS registration with or without the units, a Transfer of Participation must be fled with MPI within 20 working days.
If no action is taken before a land sale, a participation transfer then becomes compulsory with MPI and the obligation is with the seller to submit this with the Mandatory Emission Return. It is important to note that as a result of a transfer, the new landowner becomes responsible for the unit balance of the registered forest being transferred, and compliance with all requirements under the Act. The liability will be from the time of registration into the ETS. You can find out more from sections 192 and 193 of the Climate Change Response Act.
If you are affected by any of this, we would advise you to remedy any oversight as soon as possible. It is an offence not to provide any required emissions returns, notifications, information or documents without reasonable excuse, and penalties may apply.
Stuart Orme of Woodnet is a Registered Forestry Consultant based in Masterton.