Transforming Taranaki with riparian plantings
Don Shearman, New Zealand Tree Grower August 2014.
North Taranaki dairy farmer Blue Read, now also a Fonterra director, sums it up − 'Riparian planting is going to happen in Taranaki. We farmers can choose to be the heroes by getting on with doing it now, or we can be the villains and force the regional council into a more regulatory enforcement attitude. It is our choice'.
More than 300 streams and rivers flow from Mount Taranaki which geographically defines and visually dominates the region. Fencing and planting all these waterways is an ambitious long-term project of international scale. Farmers, the dairy industry and the Taranaki Regional Council are working in partnership to achieve the objective. Painstakingly and methodically they are transforming the Taranaki landscape.
The council regards the project as a critical strategy in protecting and enhancing water quality. As well as keeping stock out of waterways, well-established riparian strips also filter contaminated run-off, provide shade, keep water temperatures down and enhance biodiversity.
Contrary to the perceptions of some, water quality in Taranaki is still generally good and has been showing some improvement in recent years because of investments made by the farmers and community. With cow numbers now around 500,000, the riparian project is seen as essential to future-proof the dairy industry.
Riparian management plans
The council adopted a riparian management strategy in the early 1990s. From the outset the council took a methodical approach, with a firm emphasis on developing productive relationships with landowners. The first step involved the preparation of a specific riparian management plan drawn up by a land management officer who consults the owner and walks the farm's stream banks.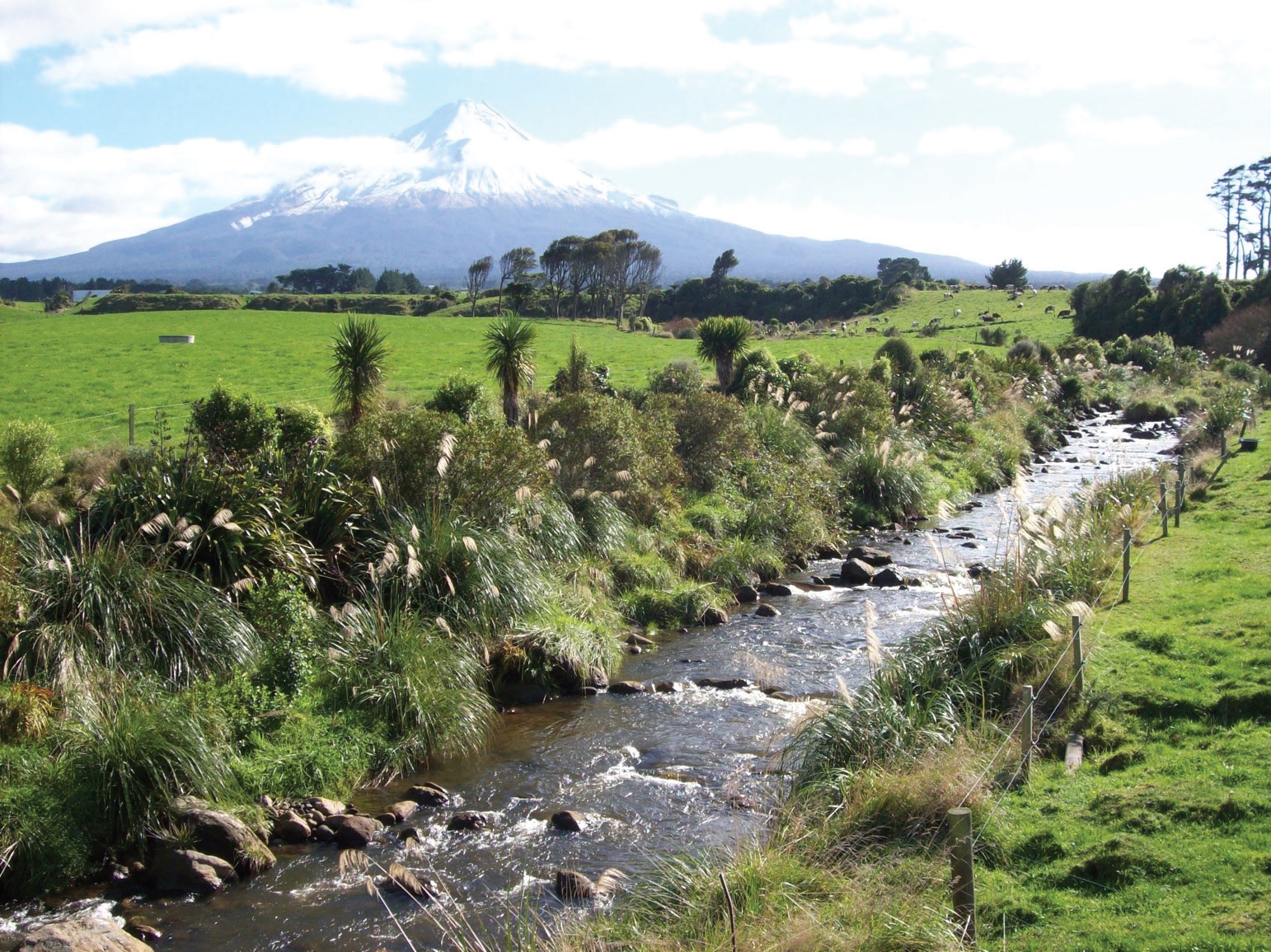 Advances in information and mapping technology have greatly helped. They allow the plans to evolve from a basic schematic with recommendations and costings to the current computer-based model using customised geographic information system software. Follow-up help and encouragement includes −
The supply of riparian plants at wholesale bulk purchase rates
The coordination of contractors to carry out planting and maintenance work if farmers do not want to do this themselves
Free advice as riparian plans are implemented.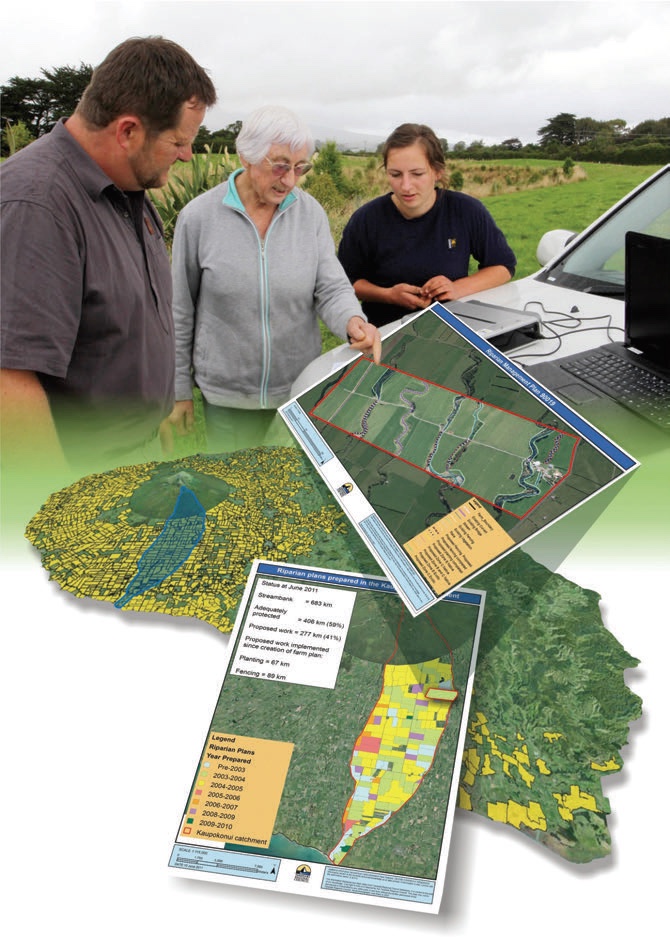 The scientific evidence
There is clear scientific evidence supporting what is being done in Taranaki. This includes national and local studies as well as research being carried out overseas. Measures which reduce pasture run-off and protect stream banks from erosion or collapse due to stock movement, such as riparian management, have an immediate and direct benefit for improving water quality.
Streamside vegetation also promotes long-term benefits in the ecological health of waterways. This happens by increasing shading, reducing water temperatures, providing a greater diversity of stream and bank habitat, which in turn helps the survival of more complex and healthy ecological communities.
It is all being confirmed by environment monitoring, with long-term trends for ecological health becoming more encouraging in recent years. A technical paper on the effectiveness of riparian margins, published by the Ministry of Agriculture and Forestry, noted that 'riparian management can be viewed as the last line of defence for attenuating contaminants before entering the stream. Fencing stock out of streams and retiring riparian margins from agricultural land use are also particularly important practices to improve stream water quality. Buffer zones can filter contaminants and sediments from overland flow by increasing the infiltration into soil, intercepting particulates, and removing soluble nutrients.'
Other studies
A New Zealand study by NIWA compared the water in stretches of waterway where there were riparian buffer zones to areas where there were none. The study showed the water within the buffer zones had improved, and that even short isolated riparian strips result in improvements. In a study conducted by the University of East Anglia in the United Kingdom, researchers created a model of the various factors that lead to such pollution. This was then used to test the effectiveness of different methods of cutting the pollution using the catchment of the river Humber as a case study.
Methods used ranged from reducing the number of dairy cows in the area by 20 per cent, cutting fertiliser use by 20 per cent, or fencing off stream banks and planting riparian vegetation. The results were very much in favour of fencing. The model suggested that faecal bacteria pollution could be as much as 59 per cent lower with fenced streams and riparian vegetation than without. In contrast, reducing the number of cows led to a 12 per cent reduction, and cutting fertiliser use cut the bacterial concentrations by less than 10 per cent.
Supply of plants
The Taranaki Regional Council has developed a tendering system to meet the growing demand for riparian plants, along with a relatively small number of plants for hill country and dune stabilisation. The tender was first advertised in 1996 to supply 15,000 plants consisting of 20 different species and was awarded to six nurseries. Since the tendering scheme started, more than three million plants have been supplied to holders of riparian and other farm plans.
Plant species
| Botanical name | Common name | Botanical name | Common name |
| --- | --- | --- | --- |
| Austroderia fulvida | Toetoe | Hoheria sexstylosa | Lacebark |
| Carex secta | Purei | Kunzea ericoides | Kanuka |
| Phormium cookianum | Mountain flax | Leptospermum scoparium | Manuka |
| Phormium tenax | Flax/harakeke | Melicytus ramiflorus | Whiteywood |
| Aristotelia serrata | Wineberry | Metrosideros excelsa | Pohutukawa |
| Carpodetus serratus | Putaputaweta | Myrsine australis | Mapau |
| Coprosma repens | Taupata | Olearia lineata var. dartonii | Twiggy tree daisy |
| Coprosma robusta | Karamu | Olearia paniculata | Akiraho |
| Cordyline australis | Cabbage tree | Olearia solandri | Coastal tree daisy |
| Corokia species | Corokia | Olearia traversii | Chatham Island akeake |
| Corynocarpus laevigatus | Karaka | Pittosporum crassifolium | Karo |
| Dacrycarpus dacrydioides | Kahikatea | Pittosporum eugenioides | Lemonwood |
| Dacrydium cupressinum | Rimu | Pittosporum tenuifolium | Kohuhu |
| Dodonaea viscosa | Akeake | Plagianthus regius | Ribbonwood |
| Fuchsia excorticata | NZ fuchsia | Podocarpus totara | Totara |
| Griselinia littoralis | Broadleaf | Pseudopanax arboreus | Five finger |
| Hebe stricta | Koromiko | Pseudopanax crassifolius | Lancewood |
| Hoheria angustifolia | Narrow leaved lacebark | Pseudopanax laetus | Broad-leaved five finger |
| Sophora microphylla | Kowhai | | |
Native plants are supplied because of the moist Taranaki climate and the potential to enhance the region's biodiversity. Planter bag PB3's or higher are favoured because experience shows that plants which are 50 centimetres high with sturdy stems and full root development regularly achieve survival rates of 90 per cent or higher. Smaller-grade plants grown in containers do not fare so well in riparian margins.
Advice, help and incentives
By the end of June 2013, a total of 99 per cent of the 1,769 ring plain dairy farms had riparian management plans. The focus now is now on getting the work done. There has been a strong message to plan holders that as the scale of planting increases, the logistics of plant supply become more of a problem. This makes it essential for them to assess their requirements and order their plants at least two seasons in advance. Plant numbers on this scale are not available off the shelf.
Throughout the year, land management officers visit individual plan holders to liaise, advise, monitor progress and take plant orders for the following season. The graph below shows how this one-on-one contact with plan holders, mainly riparian, has intensified in recent years as the focus has switched from preparation to implementation.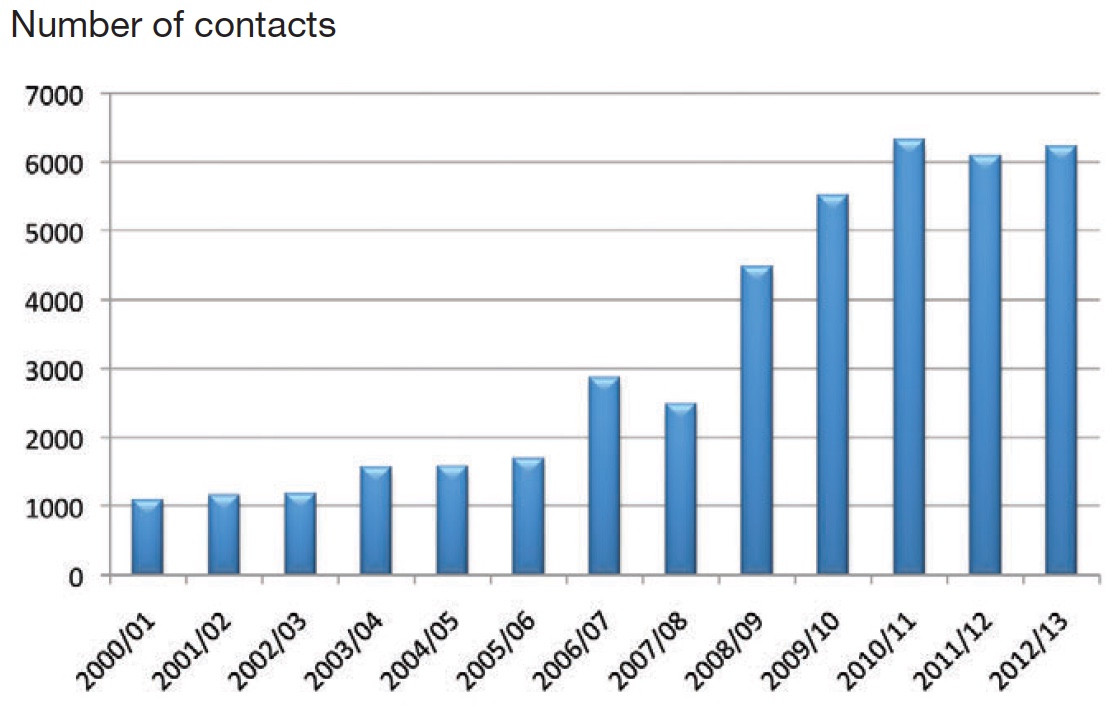 Numerous case studies featuring the achievements and experiences of farmers who are committed to the riparian programme have been prepared and published. They are designed to reinforce the message that riparian protection is regarded as standard business practice. Besides the environmental benefits of effective riparian management, these case studies have highlighted its other advantages including −
More stock shelter and windbreaks
Biodiversity gains, especially richer birdlife
Better stock management
Reduced risk of stock drowning or contracting liver fluke from drinking stream water
Elimination of workplace hazards such as removing the need for farm workers to retrieve stock from steep stream gullies
Taxation advantages from environmental enhancement
Increased aesthetic and property values.
Fonterra's 2012 Waterway Management Programme required most suppliers to meet stock exclusion and stock crossing requirements by the end of 2013. In recognition of the added benefits of riparian vegetation, Fonterra has allowed an extra two years to its suppliers opting for the Taranaki method of planting as well as fencing. The small number of suppliers not taking this option were given strong messages about the need to allow room for riparian planting when fencing their stream banks.
Progress so far
Since 2002 the council has been monitoring the implementation of riparian management plans, recording the amount of fencing and planting that takes place each year. By the end of June 2013 plan holders had fenced 2,880 kilometres of stream bank and planted 1,460 kilometres of stream bank. In total, 47 per cent of all recommended fencing and 27.6 per cent of all recommended planting had been implemented. Taking pre-existing fencing into consideration, 10,330 kilometres of stream banks are now fenced – 76 per cent of the stream bank length covered by the riparian plans.
The path to the future
The task is a big one, probably New Zealand's largest environmental enhancement project. However, the Taranaki Regional Council is confident that it will be fully implemented by the end of the decade. In an industry whose environmental credentials have come under increasing scrutiny, domestically and offshore, the programme has been an opportunity for dairy farmers to demonstrate leadership in this area and to future-proof their businesses.
The council has aimed for a sense of ownership by the farming community, most importantly by maintaining a voluntary non-regulatory approach. The Regional Fresh Water Plan for Taranaki is currently under 10-year review, with a new plan expected to be implemented in 2015. This will probably secure completion of the riparian programme by introducing an element of regulation by the beginning of the next decade, aimed at those who are still making no effort to protect their riparian margins.
The message to landowners is clear. As quoted at the beginning of this article, farmers can choose to be the heroes by getting on with doing it now, or be the villains and force the regional council into a more regulatory enforcement attitude. It is your choice.
Don Shearman is Land Services Manager for the Taranaki Regional Council.