Management of forest growing research and development - The levy at work
Russell Dale, New Zealand Tree Grower August 2014.
With the introduction of a compulsory forest growing levy in January 2014, much of the industry-good research which was previously funded by voluntary contributions from industry members is now funded from the new levy. This has resulted in significant changes to the way in which the forest industry organises and funds its forest growing research activities.
Until the mid-1980s forestry research was funded by the government via the Forest Service's research division, the Forest Research Institute. Collaborative research activity began with the introduction of a policy of the user pays where those who benefitted from forestry research were required to contribute to the costs. Cooperatives were established as a way of bringing forest industry participants together to set priorities and to provide funding.
Around 2005 the research cooperative model had served its time and a more commercial approach was needed to bring the industry together to organise and fund research. The Radiata Pine Breeding Cooperative was transformed into a company, the Radiata Pine Breeding Company, the Wood Quality Initiative was formed to focus research on wood properties, and the remaining cooperatives were merged and transformed into a new company, Future Forests Research.
Forest Health Research, including the forest health surveillance scheme, was organised and funded via the Forest Biosecurity Committee and the Forest Biosecurity Research Council. The Forest Owners Association provided funding for these activities from voluntary membership fees or, in the case of forest health, a voluntary levy on members.
New levy proposed
Unlike other primary industries in New Zealand, the forest industry has not had a voluntary levy to fund industry activities, such as research, despite a levy being investigated and considered previously. During 2012 and 2013 new proposals were developed for the introduction of a forest growing levy and it became clear that should the levy be adopted a new way of organising and carrying out research, as well as other levy funded industry-good activities, would be required.
The result was the formation of a joint New Zealand Forest Owners Association/New Zealand Farm Forestry Association secretariat to −
Administer the collection of the forest growing levy
Make recommendations to the new forest growers levy trust
Manage the implementation of levy funded activities for the levy trust board.
Responsibility for the implementation of the various levy funded initiatives lies with joint committees. These consist of people from industry and the committees are responsible for planning and overseeing programmes for the benefit of levy payers.
Forest research committee
One of these committees is the forest research committee which like the others consists of some representatives from NZFOA and NZFFA. The committee's role is to develop and take ownership of an overall forest growing research strategy which ensures that forestry growing research priorities are aligned with the overall strategy of growing the value from $4.5 billion of export earnings to $12 billion by 2025. It also has an important role of making recommendations via the industry associations to the forest grower levy trust on the allocation of levy funds to research programmes then monitoring that research to ensure the programmes are completed and that they give value to levy payers.
The committee is chaired by David Balfour from Timberlands, Deputy Chair is Grant Dodson from City Forests with committee members being Patrick Milne from the NZFFA, Glen Murphy from the Waiariki Institute of Technology, Ian Hinton from Timberlands, Philip Elworthy from Matariki and Dave Lowry from Hancock. Although not a committee member, the CEO of Scion, Warren Parker, attends committee meetings.
Committee members have been appointed as industry experts and not as representatives of their employing organisation and this is an important distinction. It is anticipated that the committee will meet four to five times a year and will operate at a strategic level to ensure investment is correctly targeted and research programmes are producing results which are of value to the forest growing levy payers.
Research programmes
The research programmes of Radiata Pine Breeding Company and the Future Forests Research steep land harvesting programme have not received levy funding due to levy funding constraints. However others are continuing, with the support of individual forest company investors. Future Forests Research is being retained for the steep slope harvesting programme to protect commercial arrangements and to ensure control remains with the investors, but it will be managed by way of a management agreement with NZFOA. Radiata pine breeding activities remain separate from this new structure.
The detail of each research programme will be managed by a technical committee made up of people knowledgeable in the research subject matter for the benefit of the wider industry and not as individual company or organisation representatives. Each technical committee is chaired by an industry member of the research advisory committee. The purpose of the technical committees is to −
Work with the science leaders
Understand the research programme and its objectives
Provide advice on the technical direction of the research programmes
As advocates for the programme, help with technology transfer and industry uptake to ensure industry results are achieved.
Research programme funding
The levy trust have allocated approximately 50 per cent of the levy funds to research and development in 2014. Based on recommendations of the research committee the trust has allocated funding to support six research programmes, shown in the table, along with weeds and steep land harvesting which have not received levy funds. Radiata breeding and genomics programmes are not part of the new structure and are not included below.
Sustainable intensification
The largest programme of levy-funded research is 'growing confidence in forestry's future' which aims to double the productivity of New Zealand's radiata pine forests. This is an ambitious aim, but essential to future success is the ability to be competitive relative to competing land uses. The programme aims to improve the productivity of existing forests by mid-rotation intervention and of future forests yet to be planted. It will do this by using new remote sensing technology to identify and locate superior trees across an extensive forest estate rather than a limited number of trial sites.
Once located and assessed for internal wood properties, genetic techniques will be used to identify the parent trees with the aim of then propagating new planting stock from this material. Intensification of forest production must not be at the expense of environmental credentials. The programme will focus on ensuring and demonstrating sustainability as a means of maintaining the industry's licence to operate.
Forest growing research and development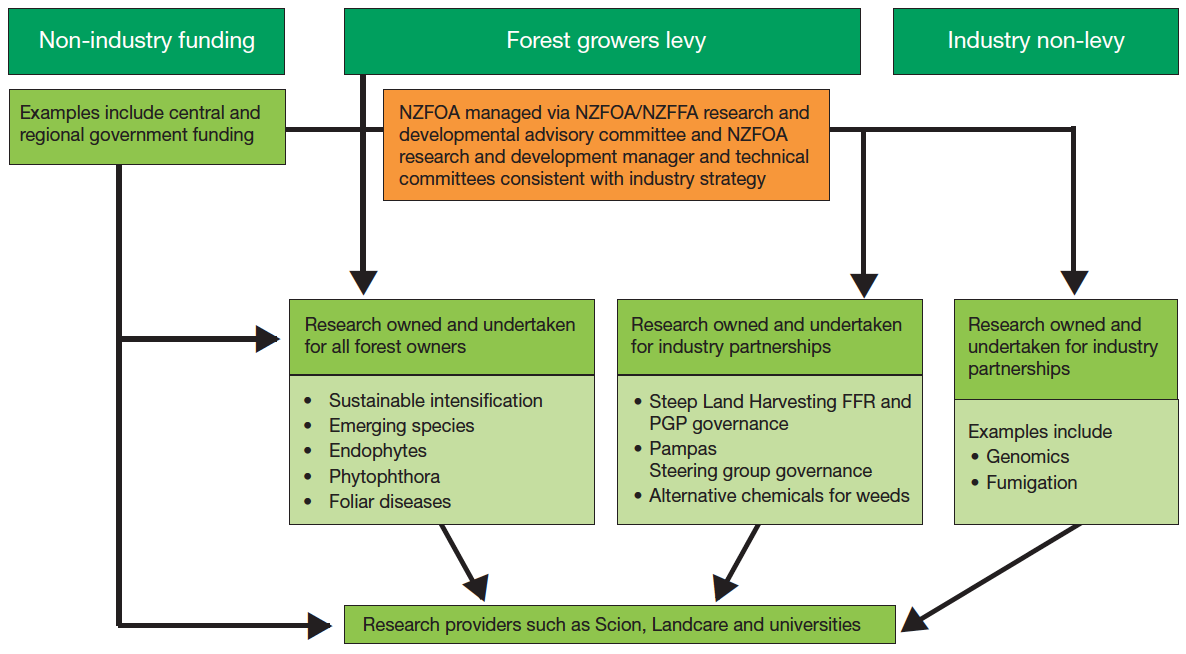 Research programme funding 2014 in dollars:

| Programme | MBIE funding | Forest grower levy | Scion | Other | MPI | Total |
| --- | --- | --- | --- | --- | --- | --- |
| Diverse species | | 300,000 | 250,000 | | | 550,000 |
| Fire | 700,000 | 60,000 | 50,000 | 300,000 | | 1.11 million |
| Sustainable intensification | 3.38 million | 1.6 million | | 200,000 | | 5.18 million |
| Phytophthora | 2.2 million | 400,000 | 500,000 | 270,000 | | 3.37 million |
| Bio-protection | | 300,000 | 80,000 | 300,000 | | 680,000 |
| Foliar diseases | | 340,000 | 1.89 million | 160,000 | | 2.39 million |
| Total levy funded | 6.28 million | 3.0 million | 2.77 million | 1.23 million | | 13.28 million |
| Weeds | | | 640,000 | 130,000 | 340,000 | 1.11 million |
| FFR steep land harvesting | | | 130,000 | 500,00 | 600,000 | 1.23 million |
| Total non-levy funded | | | 770,000 | 630,000 | 940,000 | 2.34 million |
| Overall total | 6.28 million | 3.0 million | 3.54 million | 1.86 million | 940,000 | 15.62 million |
Phytophthora sciences
Phytophthora species are a major threat to trees in New Zealand. They have been identified as causing kauri dieback, apple and citrus tree diseases and in foliar diseases in radiata pine and Douglas fir which result in large losses each year. Little is known about the science of the Phytophthora species in New Zealand responsible for the above diseases.
The aim of this programme is to improve our knowledge in disease behaviour, host-pathogen interactions, and the ability to rapidly screen and identify Phytophthora species. We can then manage the diseases in a better way from breeding and other advanced technology.
Bio-protection
Fungi and other microorganisms associated with plants can be beneficial to plant growth by helping with nutrient uptake and protecting the plant from disease agents. Endophytes have been identified as beneficial to other plants such as grasses and forage crops but little is known about their potential value to forest crops.
Some benefit has been identified previously from treating radiata seedlings with selected endophytes. Outstanding results have been achieved with Acacia mangium in Sarawak where survival and plant productivity has been significantly improved using selected endophytes. This programme aims to suppress existing foliar diseases and minimise the threat of biosecurity problems by enhancing the defence mechanisms of radiata pine in the nursery and forest plantations using beneficial endophytes.
Foliar diseases
Foliar diseases, such as those caused by Dothistroma and Cyclaneusma, have a significant effect on forest productivity. A good understanding of the behaviour of these diseases and control options are important in protecting the value of existing forests and enhancing their productivity. A big focus of the programme is on the red needle cast, now known to be caused by an airborne Phytophthora species. Understanding the extent of the disease, means of pathogen dispersion, climatic influences, effect on tree growth and subsequent forest values and control options are all included in this programme.
Fire
The rural fire programme is multi-agency involving the National Rural Fire Authority, Federated Farmers, local government, the Department of Conservation and commercial forest owners. It aims to improve the knowledge and understanding of fire risk assessment, fire behaviour and spread rate, the effect of different fuel types and fire control technology.
Emerging species
This small programme builds on the Future Forests Research diverse species programme which came to an end with the completion of the government funding contract in September 2013. Industry gave priority to maintaining and protecting the breeding and selection programmes for Douglas fir, cypress species, the industrial eucalypts and Californian redwoods, and looking for opportunities to secure additional funding for this work. Funding has also been allocated to support student projects at the School of Forestry with a focus on naturally durable hardwood species.
Steep land harvesting
Improving the productivity and safety of harvesting on steep land has been identified as a priority for the industry. This programme began in 2010 when Primary Growth Partnership funding was secured for a six-year period. Individual companies, rather than the levy, continue to support this programme. Results to date have been −
The accelerated production of a steep slope feller buncher machine capable of working on slopes in excess of 45 degrees
Remote controlled cut-over video camera systems which enable hauler operators to have a complete view of the cut-over work area
Improved grapple carriage control systems and a tablet computer-based navigation and guidance system for felling and bunching machines working on steep slopes.
Future developments planned include tele-operation of harvesting machines working on steep slopes as well as investigating innovative carriage and extraction systems which enhance the productivity and safety of harvesting operations.
Russell Dale is research and development manager of the New Zealand Forest Owners Association based in Rotorua.