Husqvarna Farm Foresters of the Year North Island 2014 - John and Diny Dermer
Angus Gordon, New Zealand Tree Grower August 2014.
John and Diny Dermer's farm Waipiko is located at Cheltenham, 15 kilometres north of Feilding. The farm is a mixed cropping, sheep and beef fattening farm and has been owned by members of the Dermer family since 1909. Occupying 186 hectares the farm was originally the home of a stud Jersey herd, as well as Romney and Southdown flocks. Since 1948 when the dairy cows left, it has had its current livestock and cereal mix.
Initially this consisted of 1,700 breeding ewes and 80 cattle which limited seasonal flexibility. Now it runs 400 breeding ewes, finishes 2,000 lambs to 22 kilograms, 60 bulls to 380 kilograms, and grows 40 hectares of barley. The flexibility of this trading stock and cropping system, and the proximity to the fielding sale yards, has made farming this property considerably easier, especially as John and Diny do most of the farm work themselves.
The farm consists of low alluvial terraces formed by the Kiwitea stream and two other creeks which bisect the property, along with gently rolling loess covering higher and older terraces. At an altitude of 200 metres above sea level, and with an annual rainfall of approximately 1,100 millimetres, this property generally has a long and stable growing season.
Harvesting and floods
John and Diny came to the farm in 1974 and joined the NZFFA in 1996. When John took over the reins at Waipiko there was a collection of old plantings of oak, macrocarpa, radiata, plane, ash, elm, linden, walnut as well as an old heritage fruit tree orchard.
Many of John and Diny's earlier woodlot plantings were carried out before joining the NZFFA and it is those earlier plantings which have just been harvested.
This year a 1982 riparian pine block produced 769 tonnes from the west bank of the Kiwitea stream. Trees on the opposite side of the stream were harvested aged 22 years immediately following the disastrous 2004 floods. These floods tore out much of the east bank plantings and deposited up to 500 millimetres of silt on some of the lower terraces. This block adjacent to the Kiwitea stream exemplifies John's attitude to farming and forestry – cropping and animal fattening on the class one and two soils, with riparian buffers fenced and planted in trees around the terrace edges and streams.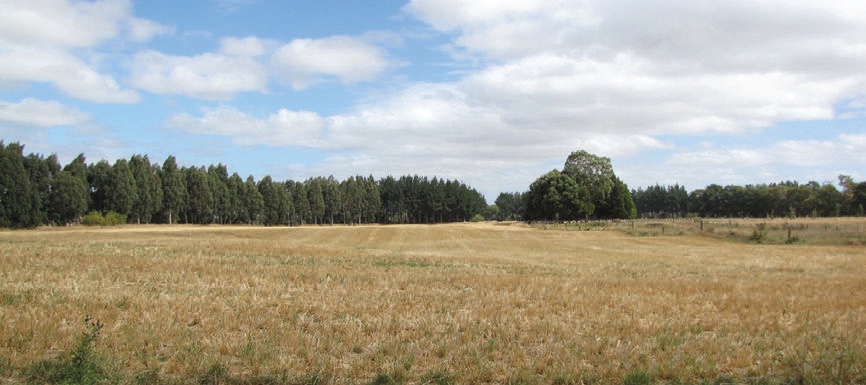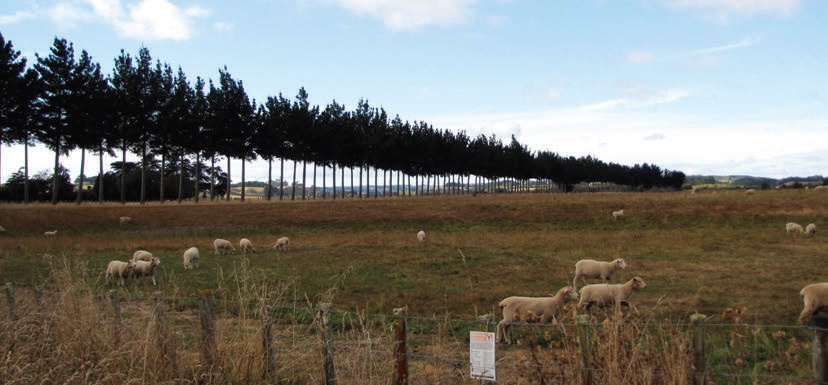 Water use and protection
There is an extensive network of tile and mole drains on the heavy loess soils, and the mole drains need re-pulling after each cropping rotation. Water protection and reticulation have also featured in the positioning of woodlots and retirement of the last remaining indigenous trees on the property.
Even though Waipiko is connected to the Kiwitea stock water scheme, John rarely bothers to use his allocation due to the strategic fencing and protection of the large permanent spring in the centre of the property. The water always runs cool and clear due to shade from trees and the exclusion of livestock.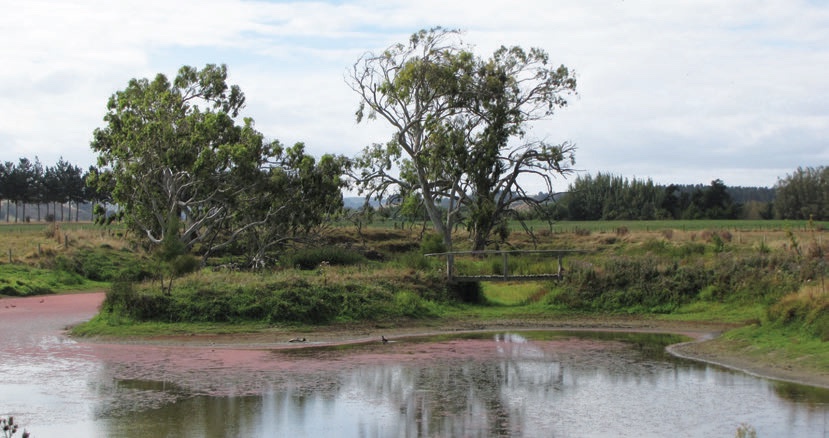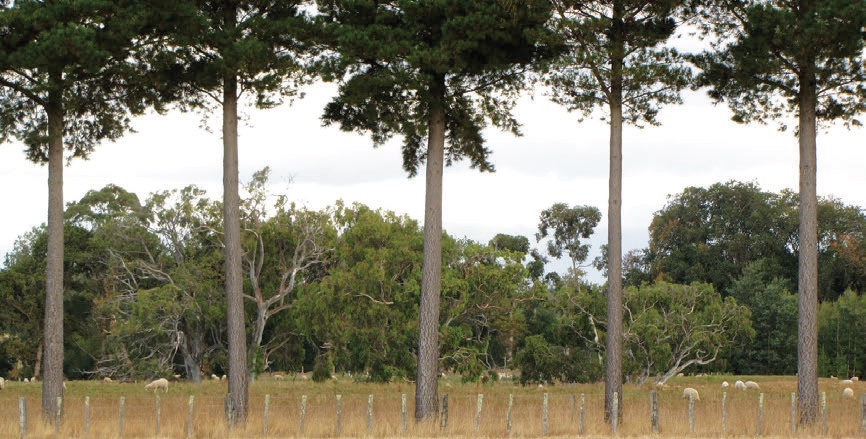 Many of the farm plantings reflect the fashion at the time. Along the western boundary is a high pruned timber belt. In one of the small gulley systems there are two woodlots, one of lusitanica cypress and another of coastal redwood. Many of these plantings show the effects of the prevailing westerly winds and moisture-holding loess soils, but the farm would be much the poorer without them.
Many plantings on neighbouring properties suffer from poor form and inevitable windthrow with the combination of loess soils, fertility and exposure. John and Diny are in good company when it comes to these challenges. When tree planting is combined with John's other passions, providing habitat for water fowl and their harvesting, the combination of trees and water brings a pleasant aesthetic look to an otherwise gentle landscape.
An old river meander which has had its oxbow lagoon recreated, instead of drained and farmed, provides one of the most pleasant views on the property and the diversity of wildlife living around it has to be seen to be believed. On the eastern side of the farm a well-planted stream provides what must be the best wind shelter on the Dermer property. This is a mixed eucalypt planting of Eucalyptus nitens, E. obliqua, E. regnans and E. muelleriana. It is a haven for nectar-loving birds at certain times of the year, and this mix of species is proving very adept at shrugging off the prevailing winds without any apparent physical damage.
John's comment about trees and shelter is that 'we have a very sheltered wee farm now and it is great'. This planting is probably the most successful in terms of growth and form in this environment and it has grown at a most impressive rate. On the eastern boundary there is a nice stand of well-pruned cypresses on the dry well-drained sloping ground with alder sitting at bottom of the slope in areas of perched water table. John's attention to this sort of detail has been very much one of trial and error and learning from what the local conditions have thrown up.
Away from the confines of Waipiko, John and Diny were shareholders and directors in an investment forest in the northern Tararua range foothills south of Palmerston North. Woodpecker forest has now been sold, partly to the Palmerston North city for recreational activity with the remaining areas harvested.
As many of you will know, John is the immediate past president of the NZFFA and he did a nine-year stint on the national executive. Previously he was a board member of Ducks Unlimited, and in his spare time a district councillor. This commitment to the community has also extended to hosting agriculture students from nearby Massey University, and setting aside part of the property for the exclusive use of the Cheltenham fullbore rifle club as a range on club days. The woolshed is also the home to Middle Districts annual plant auction held every June, and I suspect that many of the farm plantings may well have originated from that very event.
This is a pleasing property to visit. All too often, intensive animal and cropping operations push the local environment to its absolute limits or beyond with little regard for any other benefits due to changing the land use on small portions of the property. The current buzzwords of 'accruing eco-system services' and 'thoughtful diversified land use' apply well on the Dermer family farm and it is a credit to both partners in this family farming operation.