Developing a wood energy industry in Central Otago
Rhys Millar, New Zealand Tree Grower August 2014.
Wood energy for heating has been around for a long time and most New Zealanders will be familiar with drying and storing wood for winter, preparing and starting the fire, adding logs to keep the space warm, and having to empty the ash bin. The same steps apply to modern wood boilers except they are now fully automated and highly efficient.
Seasoned wood fuel, in the form of wood chips or wood pellets, is transferred into an on-site bunker, a heat gun starts combustion and fuel from the bunker is transferred to the boiler using a series of augers. The boiler can turn on and shut off automatically and is able to relight itself when required. The only real intervention with a new modern boiler is to empty the ash bin and perform regular maintenance.
Renewable fuel source
In 2013 Ahika Consulting Ltd completed an assessment of the potential for the Queenstown Lakes District and the Central Otago district to provide a significant proportion of its industry's energy requirements using locally owned and sourced wood as a renewable fuel resource. The feasibility report assessed the potential to develop an effective regional wood energy cluster. To be viable this required two main ingredients – a secure supply of feedstock and demand for wood fuel. The first part of the report addressed the requirements of the supply, from the forest floor to point of sale, beginning by assessing the volume of usable wood biomass residue available within the region.
Raw resource
The raw resource for wood energy can arise from five main sources −
Use of existing local low-value logs which are currently marketed and sold into alternative markets Importing low-value logs into the region
Obtaining wood residue not currently sold from the forest site
Use of the wilding conifers
Use of other local biomass currently sold into alternative markets.
The potential of each of these sources, with specific regard to Central Otago and Queenstown Lakes, is outlined below.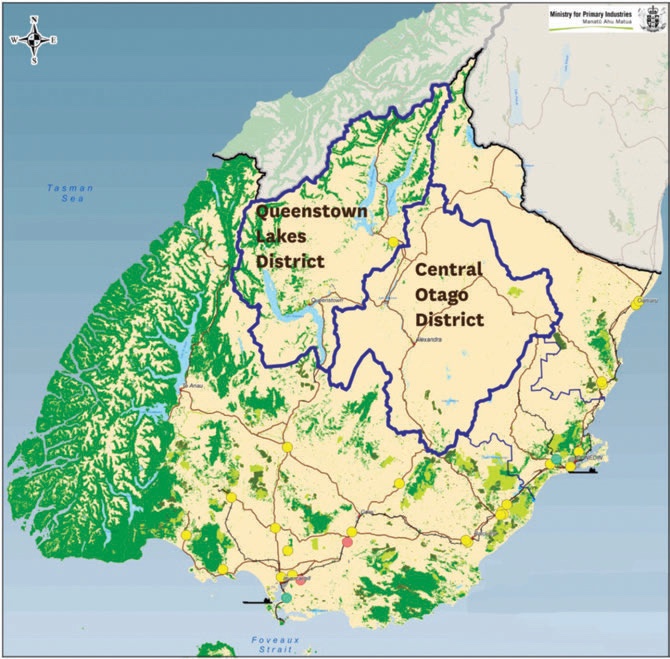 Use of existing local low-value log products
The distance from Central Otago and the Queenstown Lakes to industry chipping facilities, ports and the medium-density fibreboard plant based at Mataura is significant. It makes supplying these chip log markets with lower value log products a difficult proposition. Instead, local firewood markets are traditional for low-grade logs. Demand for firewood logs is high, with an estimated 40 firewood merchants across the two districts supplying an estimated 30,000 to 40,000 cubic metres of loose firewood each year. As a result, the historical sale of low value trees from these forests is usually to the firewood market.
Transport costs associated with importing wood reduces the viability of this option. It is not easy to backload logs or their products out of Queenstown. This adds significant extra cartage cost and immediately raises the total cost for production of wood energy.
Forest residues are the unused portions of plantation trees which have been felled by logging, but remain in the forest. It is these forest residues which have the best potential to be used as they can add economic value to what is currently valueless.
Use of wilding pines
Understanding the potential to use the wilding conifers was an important objective of this project, due to a wish to make to use of an existing pest tree which otherwise costs millions of dollars a year to control. However, it is not commercially viable to harvest the wilding conifer forest sites solely for wood energy. The costs of harvesting, particularly of small trees which produce a low recoverable volume, are disproportionate to the amount of income generated from the sale of the logs for energy. Forest owners would receive around two to three dollars a tonne net if their trees are removed solely for wood energy. This compares with the $18 a tonne in typical Central Otago sawlog regimes.
Harvesting stands of wilding pines for bioenergy could be a viable option for many forest owners if the priority was to deforest wilding pines and make the land ready for an alternative use such as native afforestation or grassland. Of course, once a heavy infestation of wilding pines is removed the change which occurs is to immediately start re-growing into a conifer forest again. It is possible for the landowner to convert the wilding forest site into native forest, or grassland, but only at a significant cost and with a lot of effort.
Woody biomass availability
The make-up of availability of different sources of woody biomass was different between the Queenstown Lakes and Central Otago due to proximity to the market, existing crop values and harvesting costs. The consistent supply available from Central Otago forests dilutes the significance of the fluctuations of the Queenstown Lakes resource. Naseby Forest in Central Otago is already providing sustainable quality wood fuel. This forest is able to supply all existing demand for wood fuels, as well as considerable future demand. However, the transport to supply this from the northern point of Central Otago into Queenstown, a distance of approximately 170 kilometres, adds more cost to the delivered price of the wood fuel.
The limited forest harvesting activity within the Queenstown Lakes district does not currently provide a viable wood energy resource. This current lack of viability is partly due to the lack of demand for wood energy and the impetus to generate a sustainable and reliable managed resource. Harvesting activity is very low and there is no surplus of logs to be used for the production of wood energy. The low-value logs are currently readily used by the firewood market.Although this market will remain, it will decrease in proportional importance as the availability of log supply grows.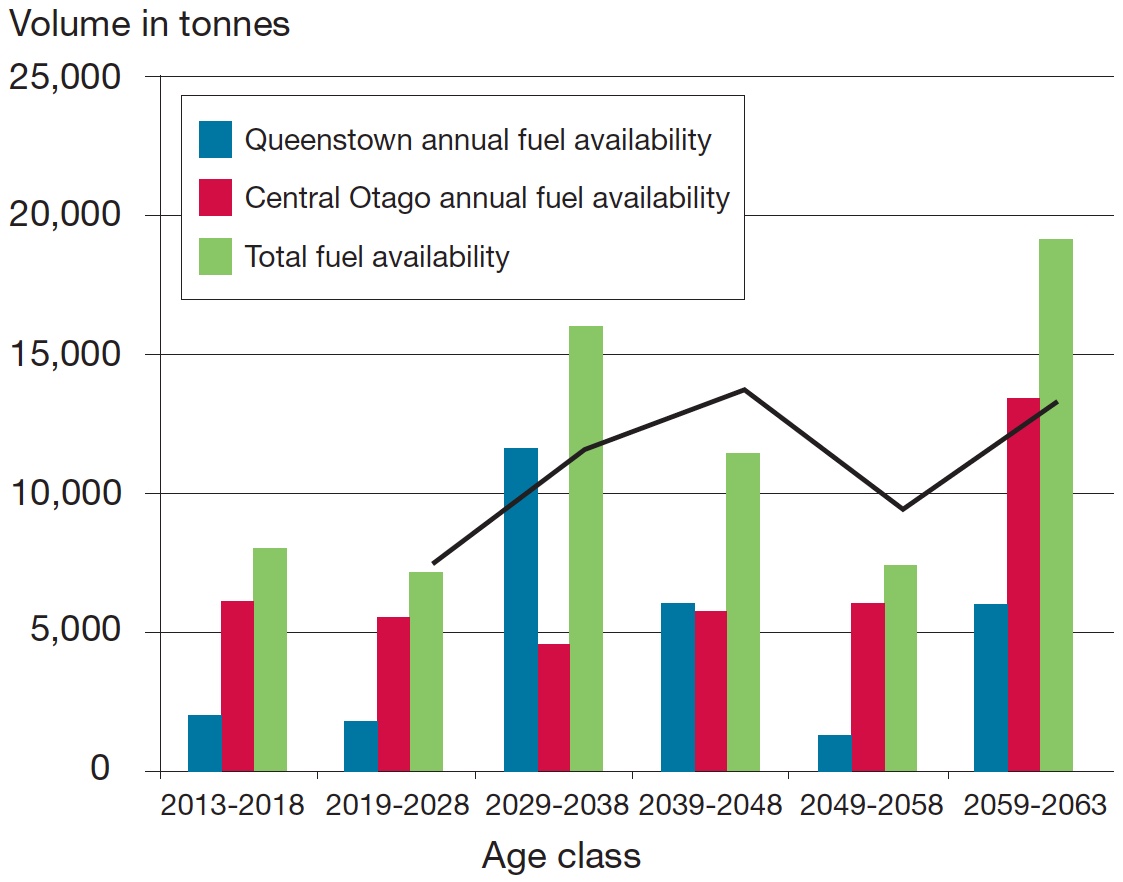 The fluctuating age distribution of the wilding forest means that anyone involved in the wood energy industry should carefully consider long-term reliability. Although there is significant available volume for the two decades 2029 to 2048, the dramatic decrease following 2058 requires careful planning to ensure a consistent supply. Here is a potential conflict of whether to manage pest trees out of existence or to manage and harvest them for a sustained yield.
The variability within the age distribution of the wildings forest resource provides flexibility to extend the expected rotation of these wilding forests beyond that estimated in this analysis. Additional flexibility in their management also arises from the fact that the wilding forests have not been established to provide the landowners with a return on investment. As such, there is greater potential to harvest the forest to provide a lower return on investment than would normally be targeted by plantation owners.
Wood energy industry viable
In the short term the local Queenstown forest resource has the potential to supply a small customer base of wood energy users in the town. The forest is currently being undercut and is not being harvested to its potential. This current lack of harvesting in the Queenstown Lakes district is not due just to a lack of a mature forest. It is also due to harvest accessibility and regulatory problems associated with the necessary consents and approvals to extract trees from the sensitive landscapes of Queenstown.
If the mature resource was immediately available for harvesting under sustained yield, then the volume of logs available for wood energy from that harvesting activity would be sufficient to make a start-up wood energy industry viable. Within 15 years, forest harvesting activity is expected to significantly increase and as a result will create sufficiently large volumes of log residue to support a strong base demand.
Early adopters of wood chip in the district can be serviced from the existing supply at Naseby Forest, or from other chip imported into the region. As the expected forest harvesting increases in the Queenstown Lakes district there will be an opportunity to harvest, transport and store logs for local drying and subsequent chipping.
Summary of regionally available wood energy resource

| Years | 2013 to 2018 | 2019 to 2028 | 2029 to 2038 | 2039 to 2048 | 2049 to 2058 | 2059 to 2063 |
| --- | --- | --- | --- | --- | --- | --- |
| Queenstown log residues | 4,639 | 4,183 | 29,447 | 15,286 | 3,011 | 15,169 |
| Central Otago log residues | 15,401 | 13,989 | 11,551 | 13,861 | 15,617 | 34,191 |
| Sawmill wood chips | 3,200 | 3,200 | 3,200 | 3,200 | 3,200 | 3,200 |
| Sawmill sawdust | 4,000 | 4,000 | 4,000 | 4,000 | 4,000 | 4,000 |
| Total megawatt hours | 27,420 | 25,372 | 48,198 | 36,347 | 25,828 | 56,560 |
Technical and economic assessment of sector groups for conversion

| Sector | Is it technically feasible? | Is it economically feasible? | Probable return on investment | Comments |
| --- | --- | --- | --- | --- |
| Schools | Yes | Yes, diesel and LPG | Under 8 years | Coal boilers can be converted to wood fuels |
| Wineries | Yes | Marginal | Over 10 years | Other factors may be just as important |
| Large accommodation | Not all sites | Yes | 2.5 to 5 years | District heating may be an option for some |
| Small accommodation | Not all sites | Yes | 4 to 8 years | More suited to wood pellets |
| Rest homes | Yes | Yes | 3 to 6 years | Year-round energy use |
| Holiday parks and campgrounds | Yes | Not all sites | 5 to over 10 years | Works best for year-round sites |
| Council pools | Yes | Yes | 4 to 6 years | Year-round energy use |
Demand for wood energy
The second part of the report identified the potential demand for wood energy from Central Otago's industry. Using real sites across region the report assessed factors such as feasibility to convert, suitability of site, appropriateness of fuel and estimation of energy requirement. This information was then evaluated at a regional level to produce an estimate of regional demand for wood energy.
There are currently 1,700 megawatt hours of wood fuel, equivalent to 1,600 cubic metres of chip wood, being brought into Central Otago by existing suppliers for heating processes.The opportunity to further supply wood energy from local sources was assessed as shown in the table below.The information demonstrates that there is a significant opportunity to increase the supply of wood energy from log residues in Central Otago and Queenstown Lakes, as well as from existing woodchip and sawdust which is being produced from the region's wood processing sector.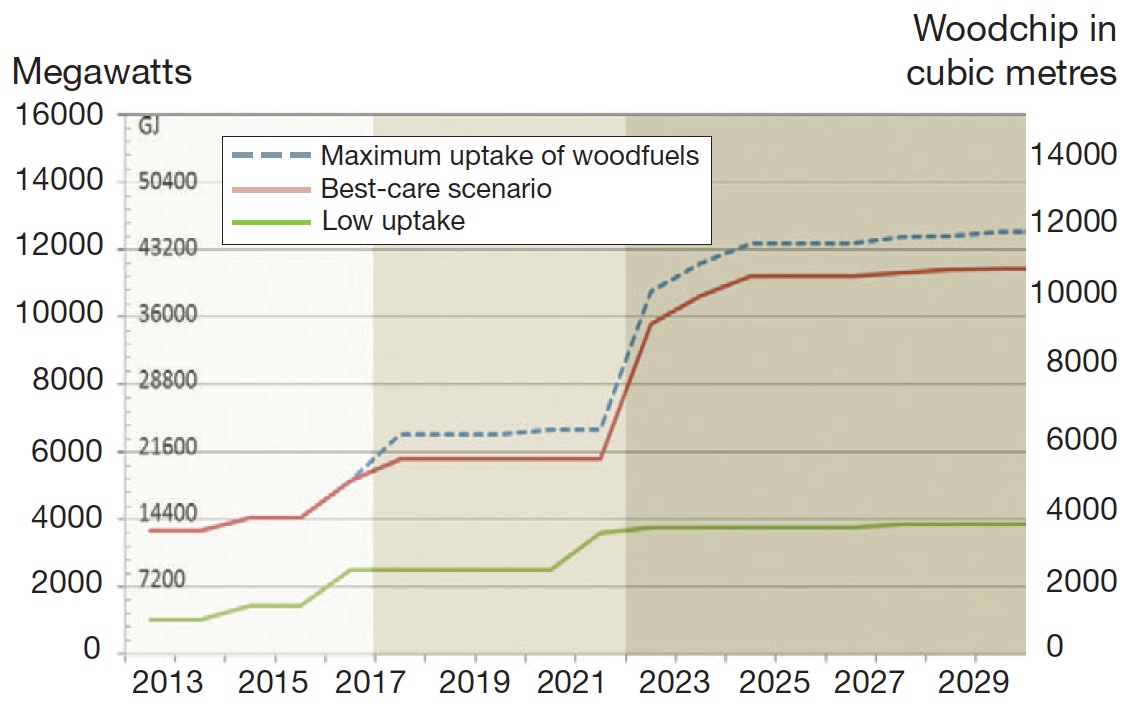 An assessment of businesses in Central Otago identified further demand that could increase the required supply over the next 20 years from 1,700 megawatt hours to 7,200 megawatt hours. New proposed schools in Queenstown and council-owned facilities are in the initial group of new demand for wood fuels.
Sectors were assessed economically and technically based on site visits and survey information. The next table provides an overview of the potential first sites for conversion to wood energy. It indicates rest homes, council pools and large accommodation as favourable sites, which is not surprising since these sectors have year-round energy use. Nevertheless, schools and small accommodation are other opportunities worth pursuing.
Schools, wineries and council facilities are the most convertible of sites, whereas rest homes would be expensive to convert if they are using electricity exclusively. Large accommodation tends to have suitable plant and pipework for boilers and radiator heating systems, but a proportion will be difficult to convert because space is often at a premium.
There are some encouraging new projects which are forecast for the region, mostly in Queenstown. This includes at least two new schools over the next four years and a large development at Remarkables Park which includes a 1,200 unit housing development and commercial buildings. The importance of supporting these developments to use wood fuels needs to be reinforced as it will help build baseline demand. The council could also build demand by converting places such as the Cromwell and Lakes Leisure pools both of which are likely to show favourable return on investment.
Estimated future wood energy demand and supply balance

| | Potential energy demand megawatts | Wood supply available megawatts |
| --- | --- | --- |
| 2013 to 2017 Stage 1 | 3,797 | 20,040 |
| 2018 to 2022 Stage 2 | 5,484 | 18,172 |
| 2023 to 2033 Stage 3 | 10,261 | 40,998 |
The table shows demand broken down into three time stages. They take into consideration demand and matching this with the potential supply from within the region. The best estimate for potential demand extrapolated across the region is 22,500 megawatts a year or 21,000 cubic metres of seasoned wood chips. As shown in the table, there is sufficient wood energy available now and over the next 20 years.
Rhys Millar is a director of Ahika Consulting in Dunedin, which provides advice on land use, community development, energy management and sustainability.