Wood-Mizer for farm foresters
John Fairweather, New Zealand Tree Grower August 2013.
I have a mix of alternative species over 20 years old on my block in north Canterbury. Over 10 years ago I decided to try and add value to the logs and needed to learn about sawmilling. I assumed that band saws were the way to go as they do not waste much wood, an important point because my blackwoods are relatively small.
My first mill was a very basic hand-made model kindly given to me by a relative. It was too slow and awkward to use, so I built a replica of the Norwood band saw, common in North America but designed by Logosol in Sweden. This cuts very well but all the operations are hand-operated. You have to roll the log on to the base, turn the log, level it, raise the cutting head, push the saw through, pull it back, carry off the timber, release the log, turn it again and so on.
Wood-Mizer
Then an opportunity came to buy a used Wood-Mizer LT40 Super Hydraulic sawmill with board return and debarker. This is a much easier way to saw logs. All the operations are mechanised and the Accuset headworks make for easy management of board thickness. The 51 horsepower Cat diesel is an excellent power source.
I have added my own Lubemizer to control the flow of lubricant. I just used a car windscreen washer pump and an electronic controller to set the time it pumps and the interval between pumps. At first I used water as the lubricant, but now I find that used canola oil is much better, giving good lubrication with less volume used.
The Wood-Mizer therefore gives me relatively easy sawmilling with a band saw. Beyond the advantage of minimising the volume of sawdust, I have good control of the log and all the cutting processes. After the log is loaded on the mill, it can be turned to find the best face on which to start. Toe boards front and rear allow for adjusting for log taper. Once you start sawing it is easy to work in from the outside of the log and get to a squared-off cant, and then cut whatever size is needed.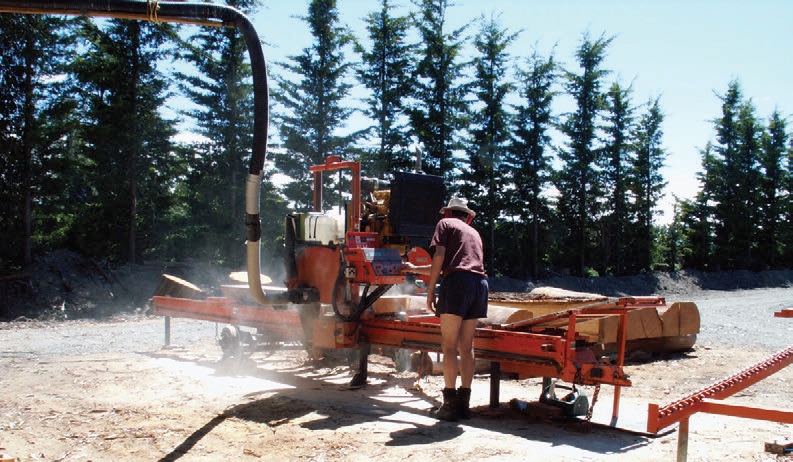 Usually, boards which need edging are stacked on their edges and cut top and bottom to get finished boards. To avoid this lifting and turning, I run them through a Wood-Mizer twin blade edger and get finished boards at whatever width is available.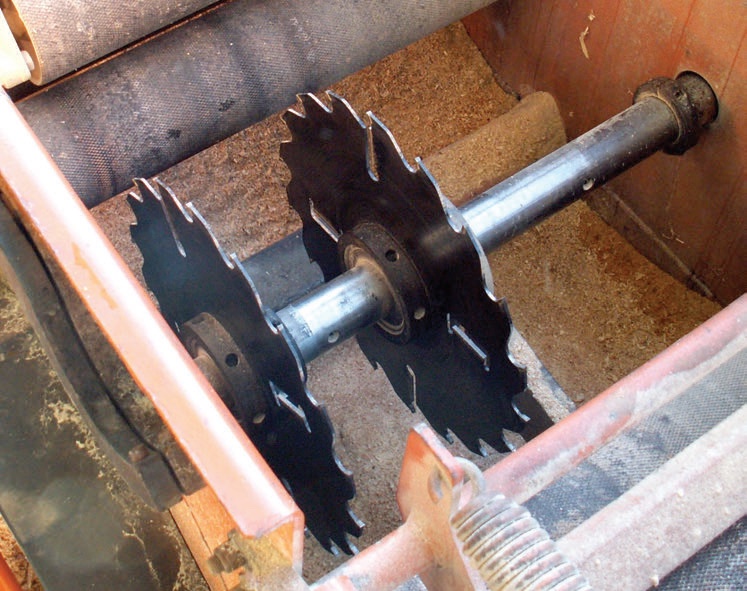 The Accuset is a very good feature which takes away the inaccuracy of reading off a scale and manually setting the height of the cut. It also automatically lowers or raises the thickness you are cutting. It can even work out where to start the first cut to get the last at the designated thickness.
Following the experience of Allan Hedley in Waimate, I have a roller table set up behind the mill and use this to direct the boards either to the edger or stack for already cut timber. The board return drags the board back each time so there is little lifting at this point either.
When you start to saw on a more regular basis you generate a lot of sawdust, and while it was easy to shovel the first lot into a trailer to take away, I could not see a future in doing this. There is now a sawdust extraction system which sucks most of the sawdust away to a nearby heap.
Like other saw blades, band saw blades have a number of dimensions such as tooth angle, degree of set and type of steel. There are choices to make as to what type of blade cuts best. I use 10 degree, 37 millimetre wide bands. Bearing in mind that I mostly mill eucalypts, I find that the stellite-tipped blades, while more expensive, last longer and provide more accurate cutting.
The Wood-Mizer is eminently portable – setting up is quick and easy and within minutes you can be cutting your first board. The mill weighs close to two tonnes so you need an appropriate vehicle for safe towing.
Current business
I am now working full-time to establish a viable specialty timber business, focusing mainly on eucalypts and some other species. I cut mainly at 28 millimetres for flooring, with some at 43 millimetres. The main species are Eucalyptus nitens and E. regnans with some E. delegatensis and E. globoidea. I mill the occasional blackwood log and as a substitute some Acacia dealbata. I have dabbled with cedar and macrocarpa.
To date, most of my clients have been farm foresters who have wanted trees milled for cladding, flooring and yards. The main challenge is to sell to other customers and the plan for this year is to market the timber to buyers in Christchurch. Business is starting to pick up with enquiries from a variety of people needing particular solutions to their problems.
For eucalypts, I follow the sawing pattern developed by Dean Satchell and Li Legler and start with a cut through the pith. The log is kept intact and turned 180 degrees and then sawn from the top to half-way at the given thickness. Finally, the two remaining quarters are turned and the same pattern repeated. All boards (actually "slabs") then go through the edger.
This Wood-Mizer system works well for eucalypts, especially the demanding E. nitens. The tension is released, the boards re-cut, and then are relatively stable. The wider boards are mainly quarter sawn and therefore more stable, tending to shrink mainly through the thickness of the board rather than across the width. The system works very well for 30 to 50 centimetre diameter logs. In Canterbury, and I am sure elsewhere, it is possible to grow eucalypts to this size in 16 years.
To broaden my range of offerings, I have a solar kiln and a planing and moulding facility. The Solarola Sun-dry kiln from Melbourne manages the rate of drying and has a number of advanced features for managing the drying process. The running cost is very low. The Logosol planer and moulder allows me to plane any boards which have washboarding, quite common for E. nitens, and to make moulding products such as weatherboard or flooring.
The volume of timber I can handle is quite modest. It takes about 20 to 30 minutes to mill one log so the daily total is quite small. There are many other jobs to be done to keep the system going, such as shovelling the sawdust which escapes the vacuum system, making stickers and maintaining equipment. Another job is sharpening blades, and my recent purchase of a sharpener has really helped get good quality sharpening the way I want it.
Milling and infrastructure
Getting a mill and producing timber from logs is an attractive proposition. If you want to focus on easy-to-mill species, such as pine or macrocarpa, then all will be well. But for eucalypts, at least the harder to mill ash eucalypts we have in the South Island, more care is needed. The appropriate milling technique is essential and great care needed with drying the sawn wood.
This means, at a minimum, making sure that there is minimal exposure to the sun, the stacks are wrapped in Microclima cloth to slow the rate of drying, and the stacks are weighted. Shed drying appears to be the best way to manage the rate of drying.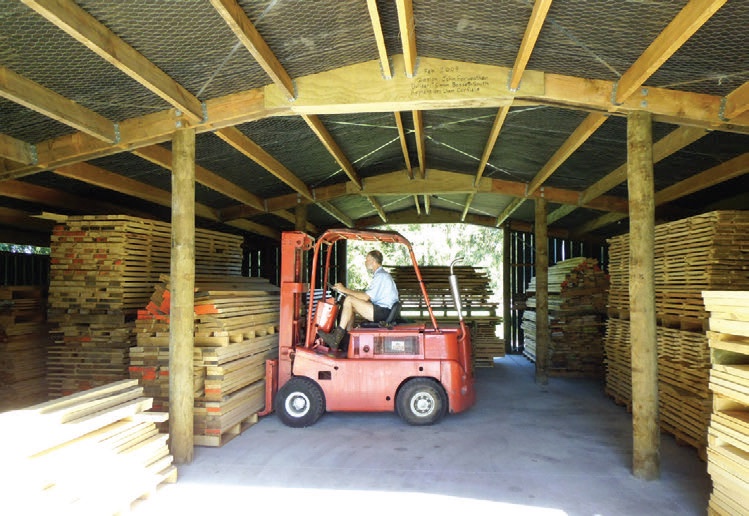 It has taken me the best part of a year to set up the infrastructure described above. There are still things that need to be developed, so marketing has not been a priority until this year. I will do my bit, but I think there is a national need to promote the use of specialty timbers. The Farm Forestry Timbers website developments are a significant contribution, but more needs to be done to nurture interest in plantation hardwood among the public. Such interest will translate into demand.
It is our duty to promote the use of locally-grown hardwoods and provide a quality alternative to imported timbers, many of which are from indigenous forests, are not sustainably logged, and are contributing to climate change. The long-term goal is to establish a new hardwood industry and turn the abundant eucalypt resource into valuable hardwood timber products.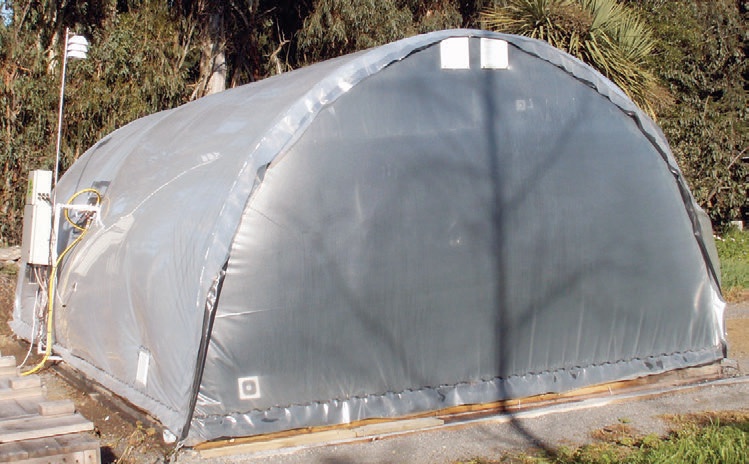 Overall
The band saw option suits me and the Wood-Mizer is well suited to the milling technique needed for the difficult to mill species. It is a well developed machine with excellent support in New Zealand from Paul Marshall near Timaru. There are a number of attachments which can be added such as a re-saw or lathe. In my case, as someone new to this area, the experience of using my hand-made mill gave me the grounding on the basics of sawmilling.
Stepping up to the professional mill was relatively easy and so far I have managed to avoid any major problems. This is an important point. With 51 horsepower of brute force, if you do not take care, you can do major damage very easily. I find that running the mill needs a clear head.
The Wood-Mizer does take some looking after. There are a lot of moving parts and plenty of systems to maintain and keep functioning. While the catalogue says it can cut logs up to 91 centimetres, and there is a model built with extra width of cut, I find 70 centimetre logs difficult to handle. For cutting really large logs circular saws may be a better option. However, they are less flexible in terms of maximising the amount of quarter-cut wood and they produce sawdust in great quantities. Cutting thin dimension products can also lead to a lot of wastage.
The band saw is working well for me and gives flexibility in what can be produced. It is reliable and sophisticated, and well suited to the new milling techniques for eucalypts. Broader use of these sawmills could well form the base of a hardwood industry using locally-grown hardwoods.
John Fairweather manages a specialty timbers company in Christchurch and also carries out some academic work at Lincoln University.