Onwards and upwards for the NZ Dryland Forests Initiative
Harriet Palmer, New Zealand Tree Grower August 2013.
Around 10 years ago Paul Millen saw the opportunity for locally grown ground durable eucalypts to replace treated pine posts in Marlborough's vineyards. The market for vineyard posts alone is huge, but many other market opportunities for the durable, attractive timber produced by this group of eucalypts have since been identified, some of very high value. Paul planted a series of species trials in Marlborough, and then began to pull in funding and build a team of specialists to give the project scientific rigour and credibility.
The New Zealand Drylands Forest Initiative is now one of the most significant research and development initiatives happening in New Zealand forestry. Participants at a Christchurch workshop held in May were brought up to date with the achievements so far and plans for the next few years.
The New Zealand Drylands Forest Initiative team have been successful in several major funding bids including a recent Sustainable Farming Fund grant for $216,000 which will go towards the next three-year phase of the project. Total investment in the initiative to date is around two million dollars. The aim is for New Zealand to be the world leading breeder of ground durable eucalypts, and by 2050 to be home to a valuable sustainable hardwood industry based on eucalypt forests. In practical terms this project aims to produce valuable complementary land use for farmers in the warmer parts of eastern New Zealand. The project is now progressing along two parallel strands, both underpinned by species trials and demonstration work, and early screening for desired wood quality characteristics.
Breeding tomorrow's trees today
There is more than just finding eucalypts which will grow well on different site types, although this is a real challenge. It was recognised in the early stages that developing genetically improved stock would be fundamental.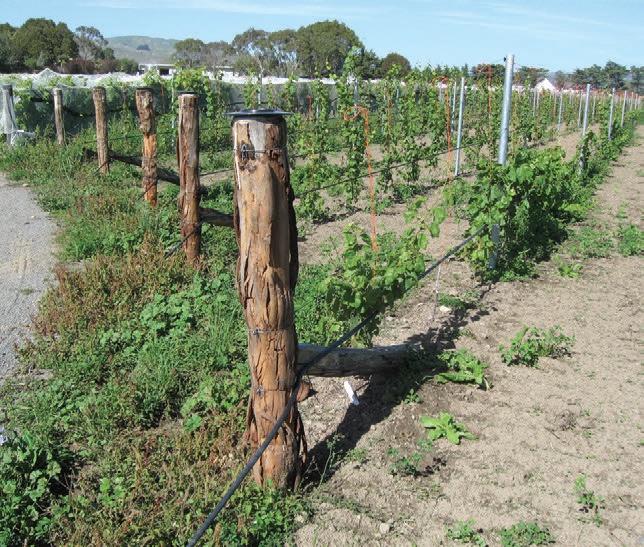 Virtually no genetic improvement work has been done on durable eucalypt species anywhere in the world. In contrast, radiata pine has seen around 70 years of genetic improvement. Dr Luis Apiolaza, a forestry geneticist from the University of Canterbury School of Forestry, is confident that within 10 years this project will achieve the level of improvement which has taken 70 years with pine. This is mainly due to improved technology and lessons learned in pine breeding work.
Selecting the species
Potential markets for ground durable eucalypts
The main one is posts and poles for vineyards, kiwifruit orchards, organic farms and general farm use. A minimum of 500,000 posts a year are needed in South Island vineyards alone. Power poles and cross-arms for power poles include export to the Australian market where demand already exceeds supply. For houses, indoor and outdoor flooring and decking would replace high-value imported tropical hardwoods.
Finally, durable timber is required for railway sleepers and construction timber for rail bridges and wharfs where strength and durability are paramount.This would avoid debacles like Kiwi Rail's recent experience with non-durable sleepers imported from Peru.
For maximum genetic gains geneticists suggest that efforts should concentrate on a few species, ideally only one, but with the maximum possible amount of genetic variation in the base population. However, the project team was wary of homing in on only one or two species too early, especially given the tendency of eucalypts to be very site-specific and vulnerable to pests and diseases.
The team reached a compromise to select five species on which to focus improvement efforts −
E. argophloia Western white gum
E. bosistoana Coast grey box
E. globoidea White stringybark
E. tricarpa Red ironbark
E. quadrangulata White topped box gum.
Other secondary contenders, including E. camuldulensis and E. cladocalyx, may be considered in future, depending on the performance of the primary group of species. Some were selected partly on performance in earlier trials while others were chosen specifically for the colour of heartwood and ability to hybridise. All species meet the following criteria −
Class 1 or 2 durability Australian standard
Good growth
Good stiffness and strength properties
Drought resistance
Relatively good frost tolerance
Established timber potential from experience in Australian markets.
A large seed collecting effort was coordinated by Proseed's Shaf van Ballekom. Collections ranged across Australia's eastern seaboard and included some New Zealand trees. The collection of provenances and families of the selected species is now quite large, providing genetic variability at a scale which gives great scope for tree improvement.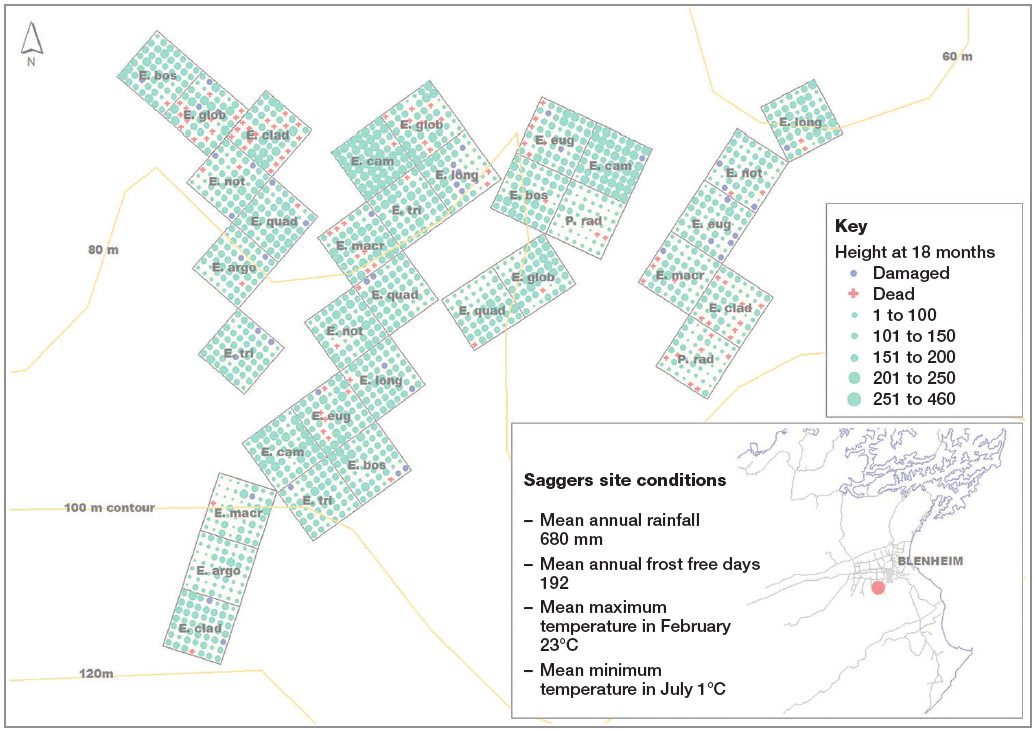 Species trial and demonstration sites
Morgan's Road Nursery in Blenheim grows the seedlings for the project, with a close eye on keeping separate the 500 or so families which form the base resource. Over the past five years 120,000 seedlings have been planted in single species plots on 13 demonstration trials which also incorporate 20 separate breeding populations. A further six trials will be planted in 2014. The trials are on a range of site types which include inland and coastal, high and low altitude, ex-pasture and cutover forest. They and are located from North Canterbury to Gisborne and across to the Bay of Plenty.
Intensive monitoring of the trees has already begun, overseen by tree breeding specialist Ruth McConnochie. At least 100 permanent sample plots are being established across the sites to collect productivity data. Six sites have fully automated weather stations the remainder are using small data loggers to record temperature and light intensity. A comprehensive picture of species, provenance, family and individual tree performance will develop, with GIS-based mapping and evaluation systems being used to help data analysis.
The results of all this work will be used in future selection and breeding efforts and will be the basis for productivity models. By the time seedlings reach nurseries for retailing to farmers in a few years, the properties and site suitability of the stock will be finely tuned to meet the needs of growers.
The diagram above shows early results from monitoring a species demonstration trial near Blenheim. Each plot is planted with a different species of a known seedlot. The trees are individually numbered, located in a GIS, and monitored. The exact location of the trees and their relative height growth are shown. The graphic can be overlaid on to a site map showing, for example, soil types or other physical characteristics, giving information about species and site interactions.
Transferring the technology
Over the next three years, there will be a further series of workshops for eastern drylands farmers and other land managers. These will provide practical information and skills training in planting, maintenance and pruning techniques. Other resources involve post and pole production regimes to be developed and field tested. A 10 to 12 year rotation is envisaged to produce posts.
Stumps will be left to coppice on vulnerable erodible sites so there will be no need to replant after harvest. One of Paul Millen's objectives is to encourage landowners to maximise opportunities for processing on the farm and to use the timber to try and optimise their financial returns.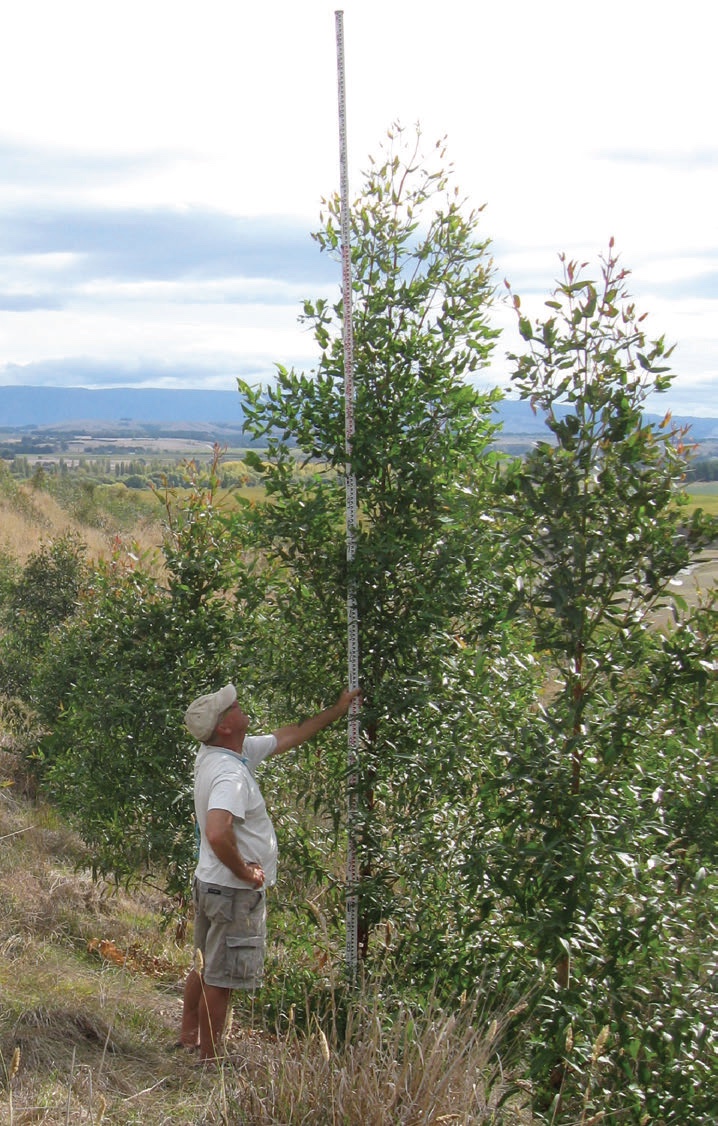 Early screening for wood quality
The second strand of this project is developing techniques to screen young trees for desirable wood quality. A perennial Achilles heel of breeding to improve timber quality is the need to wait until the trees are mature enough for the timber tests to be valid. Extracting and testing the large number of timber samples required for improvement would be time- consuming and logistically challenging. The traditional graveyard tests used to establish timber durability can take decades to yield meaningful results.
All this is set to change thanks to a team of scientists at the University of Canterbury led by Justin Nijdam and Clemens Altaner. They have developed a suite of world-first techniques to rapidly test large numbers of samples from young trees for durability and other quality characteristics.
If young individual trees in the trials can be identified with desired wood quality characteristics, then the potential gains from selection and genetic improvement are enhanced. The project's tree breeders will be able to target gains in growth, form and site adaptability, as well as internal wood quality, such as early formation of heartwood, durability, strength and drying properties.
The importance of this work is self-evident. Full development of the techniques will depend on the success or otherwise of a proposal for funding from the Ministry for Business, Innovation and Enterprise. The results will be known sometime in August.