Landcare Trust Award for Innovation in Sustainable Farm Forestry 2013 - Ewen McGregor
Angus Gordon, New Zealand Tree Grower August 2013.
This year's award winner has achieved in a dry land environment what many aspire to achieve in more benign parts of New Zealand. Situated on the banks of the Tukituki river east of Waipawa in central Hawke's Bay, Ewen's farm is not without its challenges. The top soil is mainly loess which has formed a tight clay prone to drying out and cracking in summer and becoming saturated and plastic in the winter.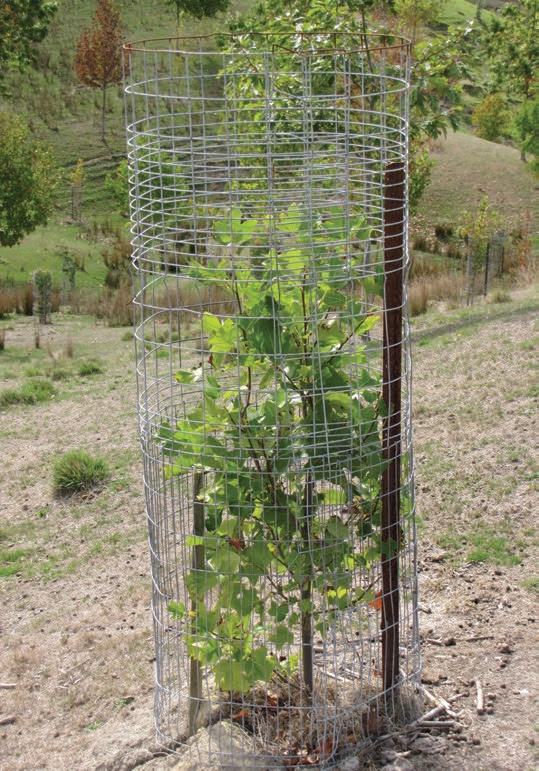 It is in this environment that Ewen has practised what he describes as silvopastoralism. The term describes the blending of trees into a farmed landscape without the exclusion of livestock or farmed grassland. It is a philosophy which has been moulded to fit the reality of a modern and relatively intensive farm system in a dry land area that has more drought years than good years. Central to Ewen's method is to provide the trees he plants with two critical elements for success – protection from browsing by farm animals, and moisture on the steep dry slopes which are the sites for most of his plantings.
Protection and irrigation
Protection from livestock browse is achieved using recycled battery hen cages which are rolled to form a tube. They are light, strong and have a mesh size that will deter even the most determined browser. They can be electrified if need be to encourage animals to stay away, and as the tree grows they can either be moved up with the growing top of the tree or have another layer added. They are fixed in place with a steel waratah standard and an opposing wooden stake. Due to the light nature of the construction, it is possible to use a large number of these protection systems so that a planted gully system can be fully occupied in the first season of planting.
The second method which Ewen has employed is an adaptation to the sort of drip feed irrigation found in the grape industry. Using a system of above ground reticulation, he can connect to the farm water supply and then use smaller and smaller feed lines ending with a manifold and multiple drip lines running out to individual trees. This system is quickly and easily deployed using large portable hose reels.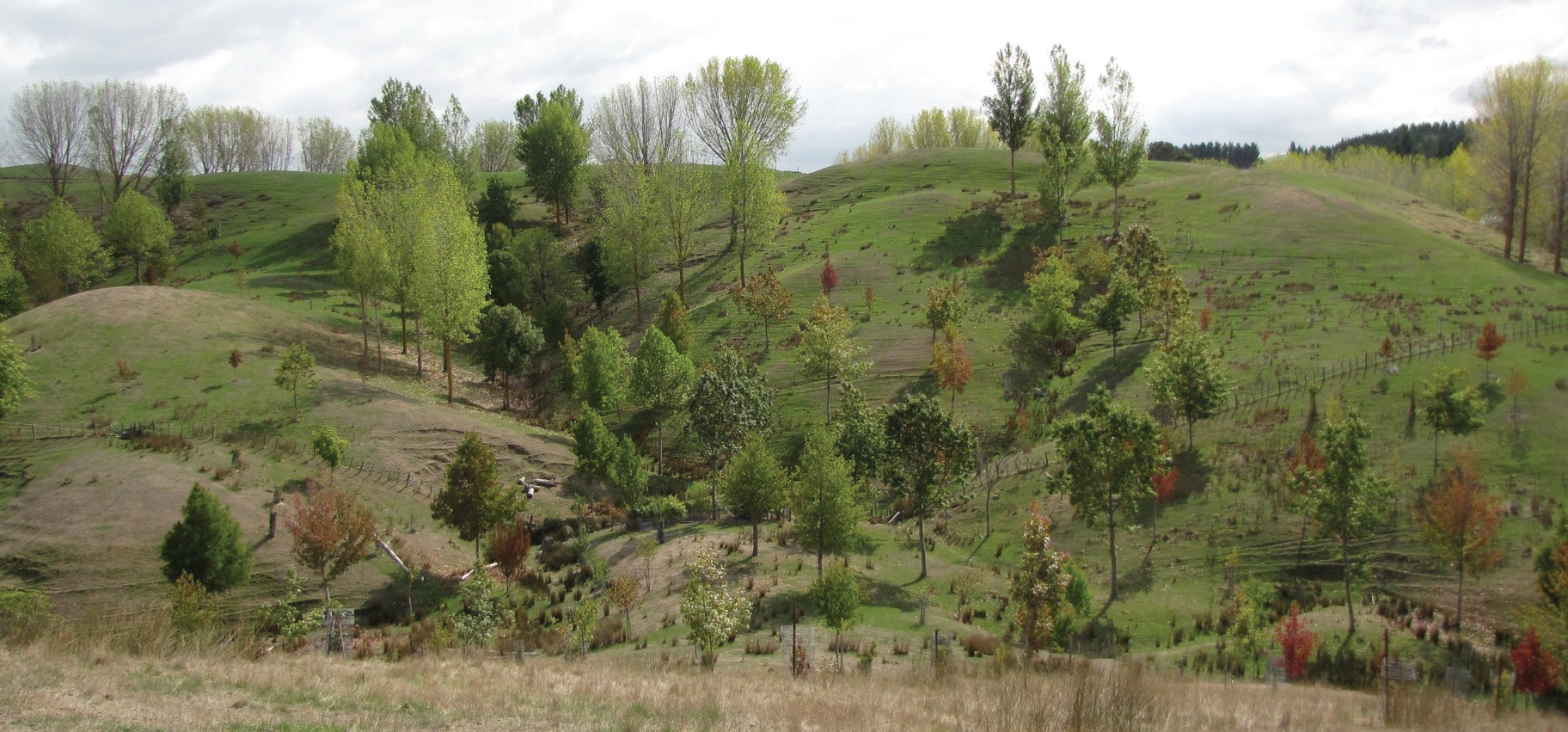 The contrast in the landscape is stunning. In unmodified areas adjacent to Ewen's farm there is hardly any shelter or shade for animals, little or no alternative income sources than pastoralism, and visually little to ease the mind from the grinding relentlessness of drought. In his silvopastoralist landscape, there is shade, shelter and alternative income sources with feed options for animals. It is an oasis of colour, shape and form and it really hums with life.
With the trees all pruned well above stock browse height, little in the way of grazing is lost. When one of Ewen's other passions − dams as wetlands − is added to the mix the whole farming system steps up a gear. Clean water is protected and reticulated for stock water drinking, and on some of the river terraces small-scale irrigation is used to grow niche forage, such as lucerne.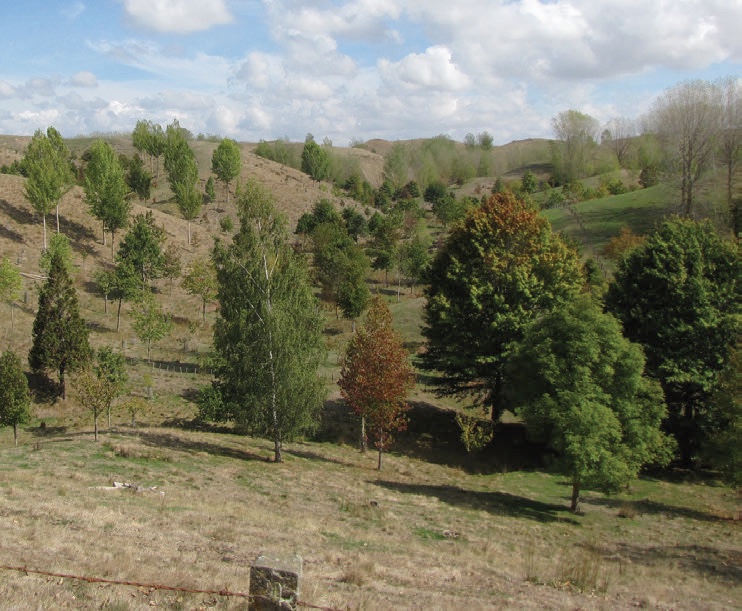 Native planting
Silvopastoralism does not have to be all about exotic trees. Two indigenous species which have fitted well into this system are totara and cabbage trees. The first is planted from traditional planter bag nursery stock, but the second uses a system which has more in common with poplar and willow establishment.
Ewen grows his cabbage trees in a nursery bed, and then when the stem has reached the desired height of between one and two metres, it is cut off a little above ground and the stem is planted in the same manner as you would a willow pole. The remaining stump coppices to produce more stems for future harvest. With a simple trim of the growing head of the cabbage tree pole to remove excess leaves, it is ready for a new life in a different part of the farm.
Anyone who intends to start on a regime of mixed tree planting and livestock grazing would be well advised to visit Ewen, partly to learn from someone else's experience and also to come away full of enthusiasm knowing just what can be achieved if you set your mind to it. You will not regret the decision. If silvopastoralism was ever to become a notifiable disease, Ewen would be well and truly quarantined. Thankfully it is not, so I would advise you all to do your best to catch this wonderful contagion – you will not regret it.