Husqvarna North Island Farm Foresters of the Year 2013 - Bob and Meg Gaddum
Angus Gordon, New Zealand Tree Grower August 2013.
This year's winners live on Te Koawa Station, an 882 hectare property 50 kilometres west of Gisborne. It is typical of the hill country of that region. It runs approximately 7,800 stock units, a Romney composite ewe flock, and a Friesian Charolais cross cow herd. Deer became part of the mix following the purchase of a neighbouring property. Summer fodder crops along with chicory and plantain herb mixes are used on the flat intensive parts to provide some feed insurance against summer droughts.
The local geology is broken, moderately consolidated mudstone rock, clay subsoil and a volcanic topsoil. This combination means that it is prone to earth flow and slips when it rains too often, and drought-prone when it does not rain enough.
Two-thirds of the property lies on the northern side of the Waikohu river where it is more moist due to its south- western aspect. The remainder of the property is far steeper, and its north-eastern aspect tends to make it far more prone to drying out. The Waikohu river can be little more than a trickle in a summer drought and a raging torrent in a winter storm. It is the dominating feature of the property, incised into the soft rocks to form a gorge 100 metres deep. Incidentally,Te Koawa means carving river so this farm is aptly named.
Over 100 hectares in trees
Bob and Meg bought 575 hectares of the property in 1980 and a further 307 hectares was added in 2006. They have been enthusiastic adopters of afforestation schemes which were offered by central and local government, and after 33 years of work over 100 hectares is now in forestry. The majority is radiata pine but there are also significant stands of alternative species such as cypress Cupressus lusitanica and C. macrocarpa, eucalypts such as Eucalyptus saligna, E. muelleriana, and E. fastigata, blackwood, black walnut and Douglas fir.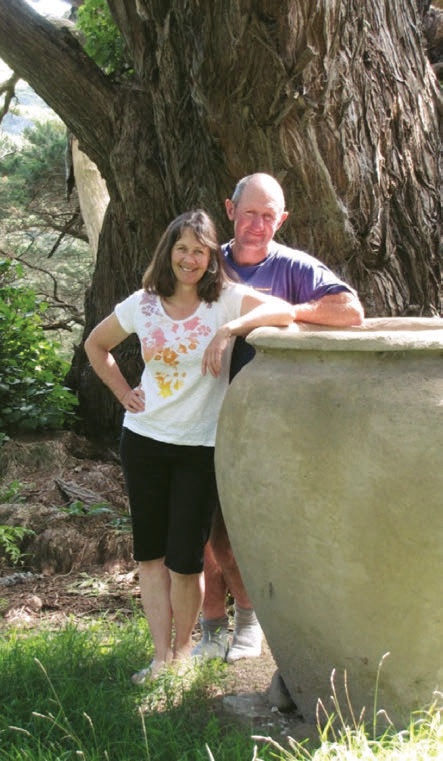 Recently one of the dryland forestry initiative eucalypt species trials has been planted on the property. This is an ironic addition to their planting mix, as their farm has some very interesting old eucalypts. These are the remnants of stands planted by some of the original owners over 75 years ago in a climatic region that favours eucalypts.
Riparian planting
When Bob and Meg arrived at Te Koawa there was an old run-down house and only 13 paddocks. Now, with the aid of a lot of electric and conventional fencing, there are 104 grazing paddocks and approximately 20 separate areas of woodlots and plantations.
All of the areas adjacent to the river riparian zone have been fenced and planted in trees, and livestock have been excluded. Many of the dams are fenced and water is reticulated to water troughs in a gravity feed system. Poplar and willow poles are grown in their own nursery and are used in permanently grazed areas for soil stabilisation and shade.
In drought years the older trees provide a useful stock feed resource, although one that can pose a physical risk to man and beast. Bob and Meg have always done most of their own planting and silviculture, which has been a significant task.
Alternative species
An interest in trees other than radiata pine and poplars, led Bob and Meg to insist on some alternative species in their plantings, which were funded by local and central government grants.
The siting of their woodlots and plantations has been with consideration of the trees and their needs, and to running the livestock operation which the forests complement. The forestry part of this rural business therefore makes what traditionally was a very difficult farming operation much easier and more resilient to any future economic or natural challenges.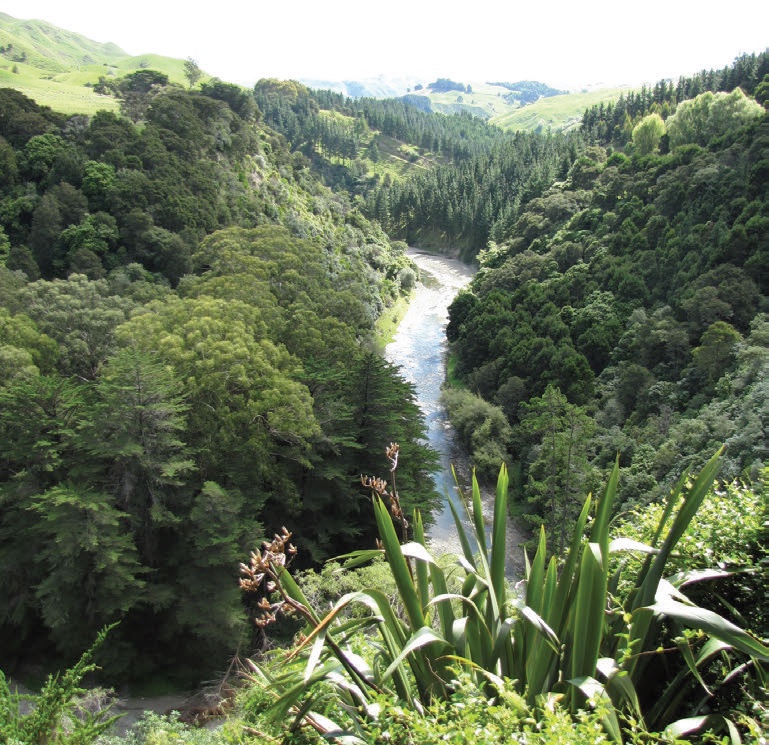 One of the interesting proposals put forward by Bob and Meg is to consider planting a particularly hard, dry, steep and unproductive north-facing hillside in manuka. The long-term goal is income from manuka honey and also carbon credits should a market still exist. This sort of lateral thinking typifies their approach to working with a challenging east coast hill country property, and is one that could be duplicated by many of their farming peers to good effect. Continuing with the indigenous forest theme are several QEII Trust blocks, two of which are adjacent to the Waikohu river gorge.
Pride of place adjacent to the gorge and with a magnificent view is the homestead. There is an interesting collection of exotic and native trees in the surrounding planting.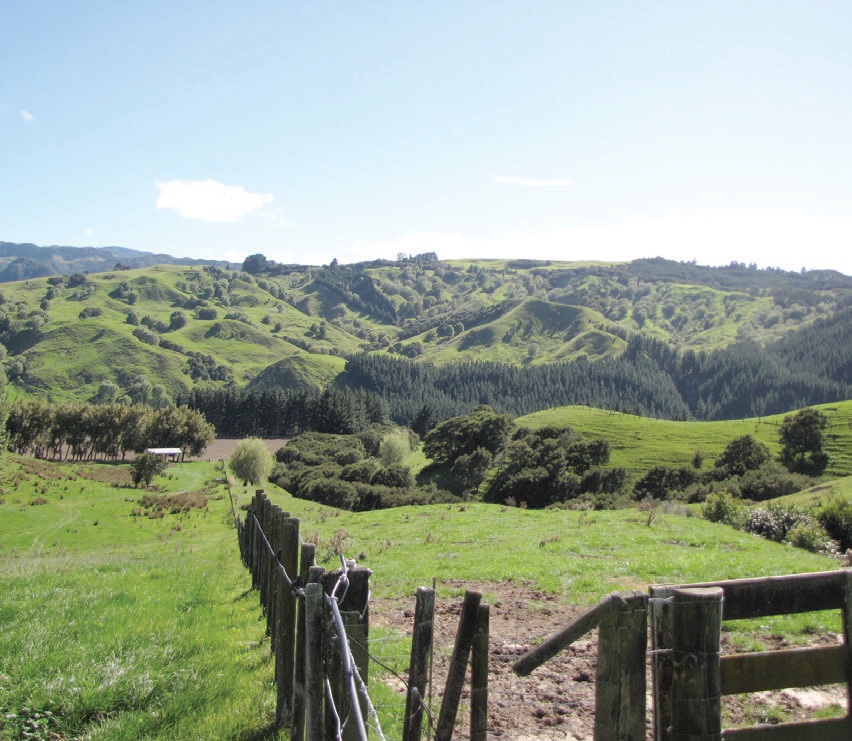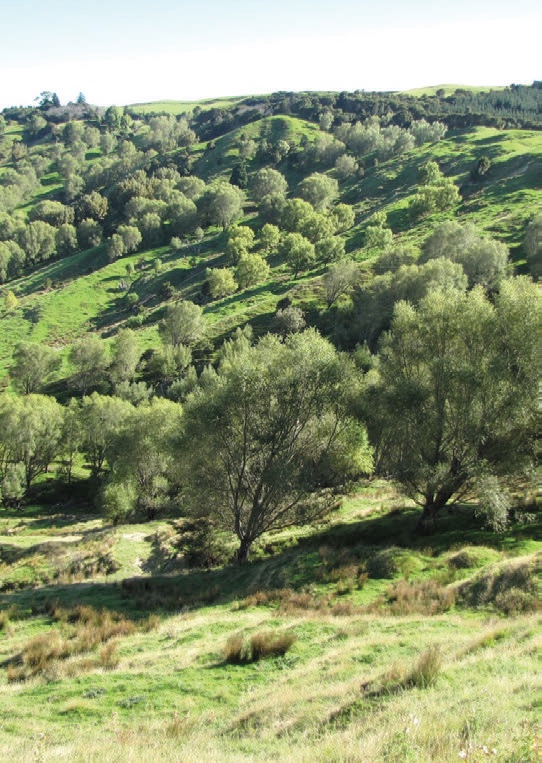 NZ Plantfinder
With a view to locating a larger range of tree seedlings than was available locally, Meg began her own enquiries into who grew what and where. This culminated in a web-based programme called NZ Plantfinder. It listed 39,000 plants and seeds sourced from 390 nurseries. It enabled any user to find a supplier of a plant anywhere in New Zealand without having to collect all the catalogues. It was a service provided free of charge to the nurseries involved before the wide application of the internet and websites. Unfortunately, this service is no longer publicly available.
In 2000, Bob and Meg were the winners of the inaugural Gisborne District Council's environmental award. In addition at the NZFFA 2009 Gisborne conference they were awarded the Neil Barr award for silviculture.
When not farming, Bob has been an active member of Search and Rescue and St John's. Meg has completed a masters degree in landscape design, built the NZ Plantfinder website, and was secretary and registrar for the last Gisborne conference.
Anyone visiting Te Koawa will be both impressed and inspired. Thirty-three years ago a young couple took on the task of dragging a tough Gisborne hill country station into the 20th century. Now that much of the hardest work has been done, what Bob, Meg and their family have achieved is a credit to them.