Savage storm shreds coastal Hawke's Bay More trees would reduce future erosion problems
Marie Taylor, New Zealand Tree Grower August 2011.
The massive April storm which hit coastal Hawke's Bay in April was a wake-up call. Garth Eyles, the Napier-based land management consultant, said that people were panicking about the damage from the storm, which dumped up to 750 mm of rain along the coast over a couple of days, and were likely to make rushed decisions.
Farmers, especially those with very few trees on their properties, need to heed the call to look at the potential for trees as part of an integrated land management strategy.
This was the first major storm to hit the central Hawke's Bay coast since the 1960s except for a small area around Porongahau in 2004. A state of emergency was in place for several days as a result of the storm, which caused widespread flooding, large numbers of slips and closed many roads. Fourteen coastal settlements were cut off and hundreds of people were evacuated.
Hawke's Bay co-ordinator for Rural Support East Coast Mike Barham says that 65 farms were hit hard by the storm. However this is an ideal time to look at where the farms are going in terms of a combination of farming, forestry and planting various tree species specifically for erosion protection, rather than simply repairing the immediate storm damage.
Up to 80 years to recover
At a post-storm meeting in Waipukurau, LandVision's Lachie Grant said that erosion scars would take between 40 and 80 years to regain 80 per cent of pre-erosion production. He provided figures after storm damage in winter 1992, when Federated Farmers found that adequately spaced pole plantings reduced erosion by about 65 per cent, and closed canopy plantings reduced erosion by 95 per cent. However at that stage only 35 per cent of plantings were assessed as adequate and appropriate for the erosion they were planted to control.
Garth says that much of the land with potential to slip in the storms has done so. It is very noticeable that where you have trees you do not have as much slipping. The storm has highlighted the need for farmers to look at their fencing systems, which are the biggest capital item on the farm.
There might be 50 to 100 km of fencing on a farm and at $15 a metre that is a lot of money. Wires should be on the downslope sides of posts where fences run across slopes which will slip, and strains should be short. That way, if there is a break, large areas of fence line do not get destroyed. If the wires are on the topside, when debris comes down it takes the posts out too.
We need to think more about minimising the long term cost knowing that we are likely to get erosion events every five, 10 or 15 years on these properties. Logic says that if you plant poplars and willows on these slopes you can continue grazing on most of them, and you will have more stability. But no matter how many trees you have, in a major storm you will get erosion on some slopes.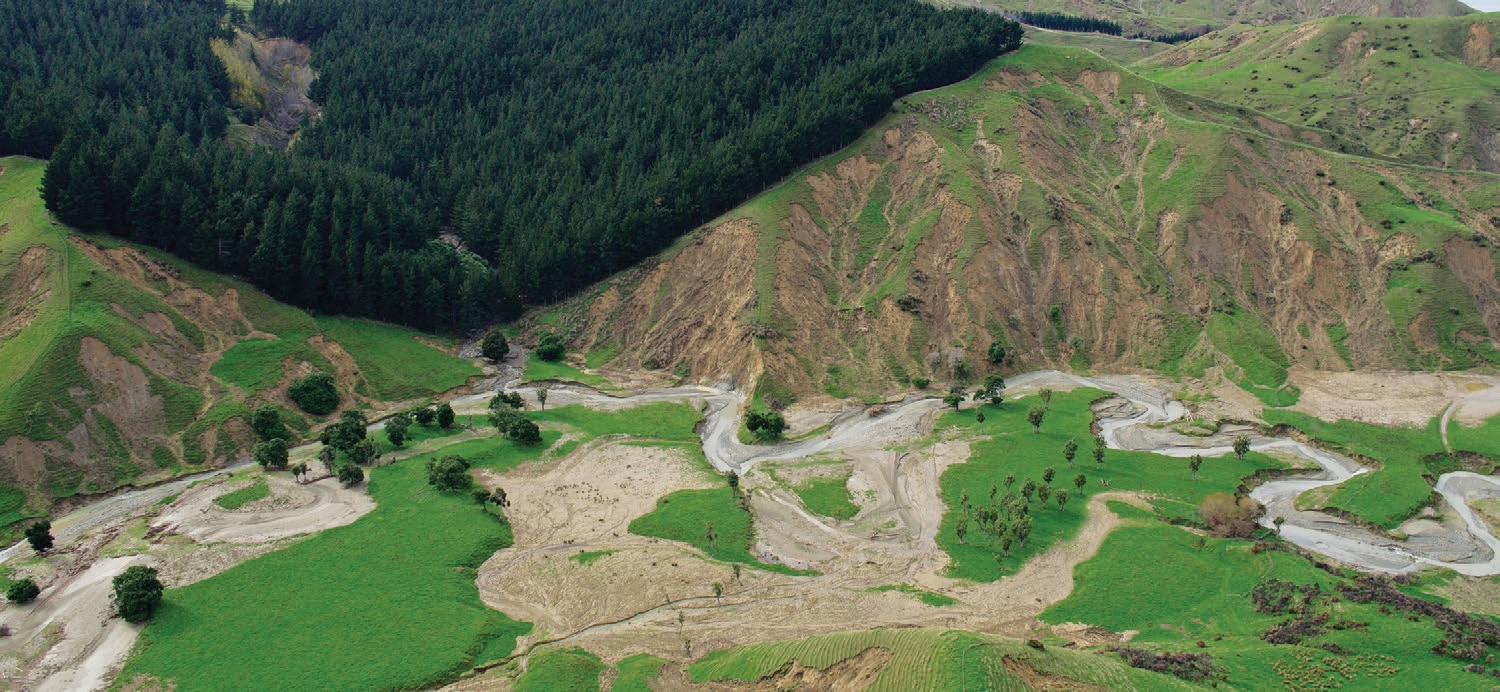 Trees help prevent erosion
Everyone Garth spoke to who has trees on their properties said they have worked. But planting on this coastal hill country is fraught because the really dry summers mean establishment is difficult. In some areas we lost 100 per cent of poles planted, and the next year there is 100 per cent survival. It is extremely difficult to predict and nothing is worse than having most of your trees die in a drought when you have just planted them. It is a recipe for not planting next year. Garth recommends spreading plantings over a period of time to give better results. It is why you see a lot of poles planted at the bottom of slopes because the trees will grow there.
Garth would like to see deciduous hardwood used for planting, and says that pines are not the perfect tree for farm plantings as they are a single use tree. If you are going to plant pines under current systems, you have to plant a large enough area to make it economic to harvest. From a soil conservation point of view, close planting trees in highly erodible areas is a must. However the economics of harvesting means that frequently farmers will not make a profit from trees. They need to weigh up retaining their soils and the off site effects of erosion with making a profit from the trees.