Tree growing in Australia
John Woodley, New Zealand Tree Grower August 2009.
This is a brief overview by John Woodley, formerly of Motueka, of his tree growing experiences in Australia.
In 1987 I moved to Victoria with my family to join an alpine logging contractor, felling and logging native alpine forests, specifically Eucalyptus delegatensis, E. regnans, E. obliqua and E. nitens, all of which are sold in Australia as either Tasmanian oak or Victorian ash.
Having silviculture experience around Nelson and Marlborough, and limited logging experience in pine harvesting for Baigents near Nelson, it was a serious jump into the deep end of the native forests logging pool. The trees were large and the bark was thick meaning that I had to learn to sharpen a chainsaw properly if I was to cut it and be paid as a seriously productive faller – paid per metre rather than an hourly rate.
Good earnings
The logging contractor I started with maintained that pine fellers did not know how to sharpen a chainsaw compared to hardwood fallers, as they are called in Australia. But we did know how to work. I started on a per metre rate that amounted to a weekly take home pay of three times what I had been earning in New Zealand.
In 1994 I purchased a 40-hectare property in Taggerty, a small village about 120 km north east of Melbourne, more or less directly under the flight path of planes flying from Melbourne to Sydney. The property was bought for its 900 mm rainfall and its relatively flat contour as well as its proximity to good tar sealed road at the front gate.
Demonstration farm
I began to establish an agro-forestry demonstration farm. This was to show how trees might be grown on farms using the New Zealand experience, with exposure to farm foresters like Ian Stringer and Neil Barr to guide me. Because the logging was a fine weather job for about seven or eight months of the year I did some silviculture during the winter to keep my hand in with planting, pruning and thinning.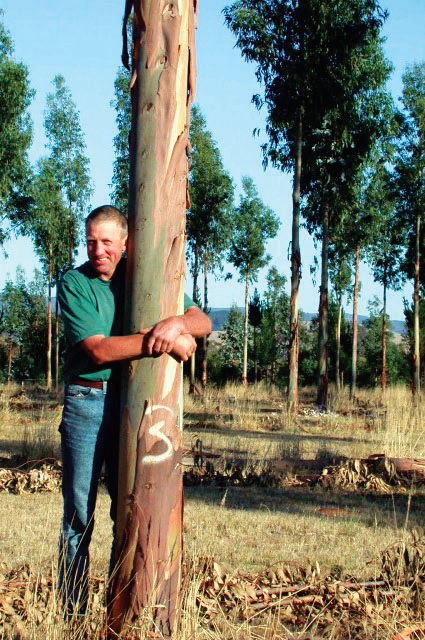 There was a government initiative in 1996 known as the Fforne scheme − Farm forestry of the region north east. This was to encourage farmers to plant and manage minimum 10 hectare woodlots for hardwood sawlogs and got me started with planting mainly E. globulus and E. nitens for sawlogs. Some 1,600 hectares were established under this scheme and the woodlots formed a good basis for my silviculture business. By 2000 I was employing two men full time while I remained felling in the bush during the summer months.
By 2003 the gloss had gone from the job. This was because of a lack of pay increases and having to log steeper and rougher coups to meet the departmental commitment to licensees − sawmills to whom the government had promised supply. I moved to log grading for two more years and then went back to silviculture as a business, helping people to establish and maintain plantations mainly in native hardwood, with the odd pine plantation.
Planting
Meanwhile the Taggerty property was performing well with the first plantings in 1995 of three row shelterbelts of pine with a central row of macrocarpa. In 1996/97 I planted the property in radiata, macrocarpa and E. nitens, about roughly a third of the property to each species. This was supplemented with small areas of redwood, cedar, red stringybark E. macrorhyncha, messmate E. obliqua, spotted gum Corymbia maculata and a mixture of different ground durable eucalypts, oaks and deciduous trees to enhance the habitat and amenity qualities of the property.
The area to the north of the house was planted in deciduous exotics selected with managing fire from the north in mind. The remainder of the property had several thousand native flowering shrubs planted to complement the pruned timber trunks and make it into a nice place to live. Eric and Robert Appleton of Wakefield near Nelson were a definite influence with this objective. On Black Saturday 7 February, the fire approached us from the south west but did not reach the property so amazingly the trees and shrubs survived.
Various farm forestry field days and master tree grower field days have been held at the property. These involved live demonstrations of best practice establishment technique such as deep soil pits for soil profile analysis and matching of species, ripping, mounding, spraying for pre-plant weed control, form pruning and thinning. The Neil Barr book on growing eucalypts on farms has been a great guide and in fact he was way ahead of the game when it came to growing eucalypts. I adopted much of his practice of low stockings of 150 stems per hectare or less when Australian foresters were talking 300 to 400 stems per hectare.
Lessons learned
Lessons learned have been at times harsh. Of my original plantings of 2,000 macrocarpa most have died a slow death from canker. I have replaced them with lusitanica and ripped another row up the middle at six metre spacings for eucalypt hybrids.
The E. nitens have suffered root rot and Armillaria fungus attack because they are in poor draining soil. They are a spectacular tree for initial growth but very sulky and sensitive when the pressure comes on with drought, fungal attack and insect attack.
Radiata pine is a modest success story but last year the pine aphid arrived and defoliated the trees by about 50 per cent. The trees have recovered but it is that time again and I am waiting to see if the attack is as vigorous this year.
In 2002 the opportunity to set up a forestry joint venture came up with a farmer who liked trees but had neither the cash or the expertise to manage for sawlogs. I got him government grant money towards the establishment as the plantation was at the head of a high priority salinity catchment. The chosen species were E. nitens and E. cypellocarpa, and 15 hectares were established. A further 10 hectares were established in 2006 with the same farmer.
In 2005 I was diagnosed with bowel cancer and some investors bought about half of my standing plantations, but not the land, and so my income protection insurance arrived. Previously any insurance was out of the question because of my occupation being too dangerous as a hardwood feller and then a silviculture contractor.
During the treatment for cancer, which went on for several months, I ran a Master Treegrower course over a series of eight weekends. This was with the help of Ann Jelinek, an environmental consultant, and Rowan Reid of Melbourne University who is the national convener for Master Treegrowers. This was therapeutic and attracted 35 participants.
New company
In 2006 I formed a company called Treelot Company. This was with a client, Melbourne based businessman Paul Montgomery, specifically to attract investors to grow eucalypts for sawlogs. We bought 40 hectares of prime tree growing land in Terip Terip which is in the lower reaches of the Strathbogie range and has a higher rainfall than surrounding low country.
Other clients joined us as investors so the first project was up and running with E. globulus. I employed a professional forestry consultant which is why E. globulus is the recommended species. It is one of few species that the foresters can make stack up economically because of its fast growth rates.
No pruning or thinning
I believe that forestry economics in Australia need to be viewed in a slightly different way from current thinking and I have already written a story on this subject.
A case in point is the fact that pine in Australia is not pruned and is managed mechanically for the whole crop rotation with no thinning being done until the crop reaches a merchantable size. Thinning to waste is not on the agenda and money spent on pruning is considered wasteful and compromises the end financial returns of the crop.I have considered whether eucalypts could be managed this way as well, but I think that the milling of the sawlogs would be fraught with difficulties from internal growth stresses from competition by delayed thinning.
The reality is that Australia needs to consider that it cannot keep cutting native forests the way it does, especially since the last two major wildfires in 2006 and 2009. Major investment in eucalypt plantations for sawlogs is needed to grow a resource that can take over from native timber. Unfortunately the timber industry itself did not begin this process in 1960 when it was urged to do so, mainly for political reasons. When the industry acknowledged that hardwood sawlogs could be grown in plantations they were worried that the government would move against them and reduce their native sawlog allocation. They said for many years that quality hardwood timber could not be grown in plantations, and the government accepted it.
Rewards
Carbon was the new word and there was a brief initiative to encourage people to plant for carbon and manage for timber. Sadly the government tended to sit back and let the managed investment schemes put trees in the ground mainly for pulpwood, without any thought for the need for a plantation sawlog resource.
Private individuals such as myself, and a few crusaders in Australia, are pressing on in the knowledge that eventually well managed eucalypt plantations for sawlogs will be welcomed by the market and the growers will be well rewarded for their foresight.
The shining gum that I sold to investors on my home property have eight years to go to harvest and the largest tree is now 46 cm at breast height. Barring natural disaster, insect attack, root rot, wind, storm and fire, the boat should come home nicely for my investors.
I am encouraged by the New Zealand experience and see no reason why we Australians should not enjoy similar positive stories to the New Zealand tree growing public. I am already planning to replant my home property after harvest, beginning in 2017. Right now in 2009 the rabbits are a serious problem and any plantings, whether on the farm or in the garden, need to be guarded. Oh for the days when it was mere formality at the local police station to buy a rifle.
(top)