Poplars and willows for drought fodder
NZFFA Information leaflet No. 22 (2005).
Poplars
After the 1988-89 drought I decided to plant an area in poplars with the specific intention of using them solely for stock fodder in the next drought. I planted about 500 wands 5 x 5m spacing and this covered just over 1ha.
The first lesson I learnt was that poplars are quite site-selective. The planting site included a small flat and two hollows, and poplars planted off the valley floor did very poorly, some not surviving. In future plantings I will use rooted cuttings instead of wands which, although starting well, seemed to root shallowly into the surface layer of soil making them liable to die in the first summer in a dry spell.
The variety 'Flevo' was used with a few 'Tasman' spread through the planting, and some 'Kawa' were added in gaps some 3 to 4 years later. Future plantings will be of 'Flevo' because its leaf yield was superior to that of Tasman. The dry knobs of the block that was just on 2ha overall were planted in radiata pine.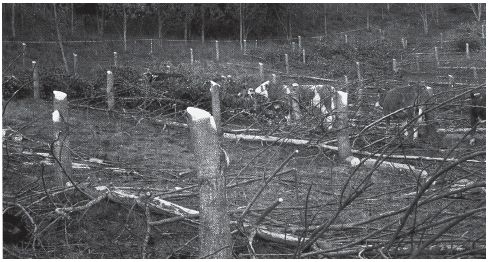 The whole block was shut up for the first three years and some light grazing has been taken from then on. The block has been monitored regularly and stock removed if any bark damage occurred.
Dry sheep proved to be the best animals for grazing, causing the least damage. In contrast, the flock rams were put in one hot summer to give them the benefit of the shade and plentiful pasture, but in one night they decided to have a mainly bark diet and were quickly removed!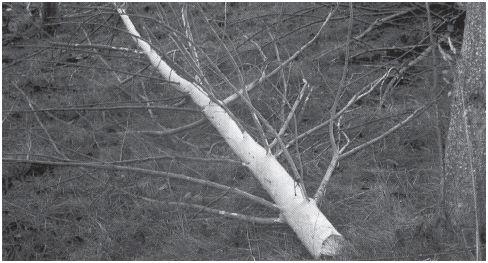 In the autumn of 1998, with the drought starting to become severe, I decided that the time had come to use the poplars, with the best of them now being over 10m tall.
There was stock water in the flat area so with a single electric wire, I fenced off one row of trees, felled part of the row and introduced thirty-three 18-month steers and heifers. The question was, how many trees were needed to feed the cattle? Eight to ten trees were cut each day, with numbers increased if the trees were smaller.
The trees were cut about 1m above the ground, a good height to safely operate a chainsaw and not require any climbing. It also meant that the job could be done quite quickly. Using this method and shifting the electric wire as necessary, the block of just over 1 ha lasted 30 days, with the 33 cattle gaining weight. Before the cattle were put into the poplars, all the killable cattle from the herd had been drafted, and on removal from the poplars, another 12 were drafted, showing that the cattle grew as fast on poplars as they would have on grass at this time of the year.
From my experience:
Poplars are very site-selective and to get good yields of leaves, loamy valley soils are best.
Poplar leaves are equivalent in feed value to good lucerne hay.
Poplar leaves have a high dry-matter content and a greater variety of minerals and trace elements brought up from the deeper subsoil that normal pasture can't source. This may account for the shiny coats of the cattle after about two weeks browsing on poplars.
Cutting trees 1m above the ground is simple and fast, requiring minimum daily time, and leaves plenty of stump area for coppice regrowth. Shoots appeared about 6 weeks after the trees were cut.
Cut stumps were painted to reduce the risk of fungal infection.
I estimate that the next crop from this block will be ready for feeding in about five years, and I will select 3 to 4 shoots to grow on each stump. Some further fine tuning is needed to estimate the yield of leaves from the trees to help with determining how much feed is required for each animal each day. Poplars have proven to be a good source of fodder in drought times on my property, and with this success, I will be looking at planting other suitable small areas into poplars for feeding to livestock to cope with future droughts.
Willows
Like many areas of the East Coast of New Zealand in 1998, our normally summer-safe part of Hawkes Bay was severely affected by drought. In past dry spells we have cut both willow and poplar for emergency feed for cattle and sheep, but the seriousness of the drought meant that this year willow especially became an integral part of our supplementary feed regime.
We began cutting in mid-February to help eke out the remaining pasture, but as it became apparent that there was going to be little or no autumn rain, cutting began in earnest, to be fed along with bought-in oat balage. As we worked our way through the various blocks (planted for erosion control, rather than specialist fodder), it became obvious that more thought needed to be given as to how the trees were cut.
In the past we had tried to make the job as neat as possible, with branches cut flush with the trunk, leaving trees looking either like pollarded avenue specimens, or some sort of pruned butt. On the second rotation however, these trees proved very difficult to work with, if not downright dangerous. The remaining branches were too big and too far off the ground to be safely dealt with, or the pollarded crowns weren't big enough to confidently stand in without a high risk of the branches giving way under your weight. It is very easy to drive around in the ute and talk about dropping a few branches for the cows, but far less so when it comes to standing underneath a 12yr old tree, and working out how it can be done without endangering lives, limbs and equipment!
It also became obvious that the bigger the branch did not necessarily mean more dry matter per time and risk spent cutting it. Bigger is not best. Regrowth from earlier cutting proved to have far more luxurious growth, thus more dry matter per branch. From all this we deduced that for optimum fodder production regular cutting is preferable (every 5 or 6 years), and that leaving a large and somewhat ugly crown makes for a safer platform to work in.
Willows are extremely dangerous to work with. Seemingly innocuous branches will split and kick-back without warning, jamming saws and causing many adrenalin rushes. It is imperative to have a spare saw and a second person handy should problems arise. Having said that, the willow we have planted has proved to be a very valuable drought management tool, providing good food from foliage, small twigs, and bark.
The article on poplars by John Prebble, appeared with photos in the May 1998 issue of the New Zealand Tree Grower, while the article on willows by Michael Halliday appeared with photos in the August 1998 issue of the New Zealand Tree Grower.