Matters of 'the heart'
By Paul Quinlan, Northland Totara Working Group newsletter, August 2019.
Heartwood development in tōtara trees
Tōtara heartwood is one of the most durable timbers in the world. However, this reputation was built on timber from old-growth forests with trees of great age. Now, as we explore the opportunities to manage younger trees from naturally regenerated stands of 'second-growth' forest, or planted stands, it is important to understand 'matters of the heart'.
Greg Steward of Scion has been researching the vagaries of heartwood content in tōtara trees between 35 and 127 years old. This has proved no easy task due to the high variability between individual trees. However, it appears that increasing stem diameter at breast height (DBH) is the best predictor of heartwood content, with tree and stand age a secondary predictor.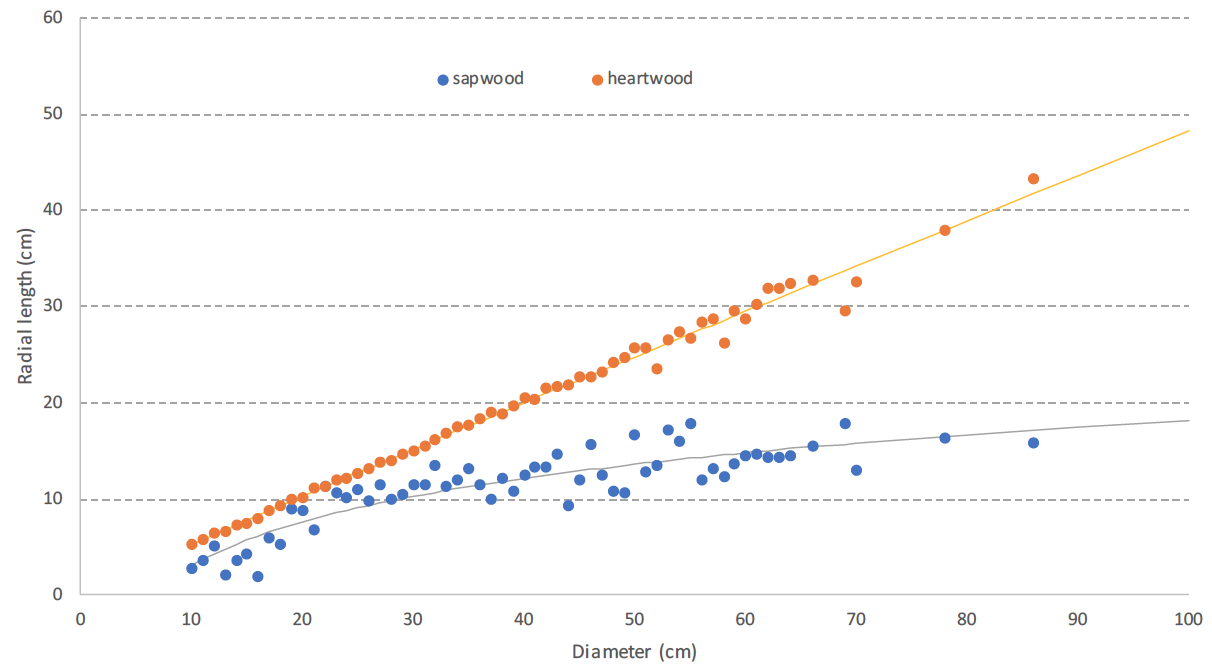 The results show a very steady lineal gradient for heartwood development relative to stem diameter (DBH). This finding suggests that managing natural and planted stands of tōtara for quicker growth rates may not significantly influence the relative content of heartwood. It is also clear that recovery of significant volumes of heartwood as sawn timber will require large diameter trees.
Table 1: Stand characteristics at assessments
Table 1: Stand characteristics at assessments
Type
No. stands
N
Age (years)
DBH (cm)
Stems/ha
Mean
Range
Mean
Range
MAI
Range
Planted
7
230
69
52 - 110
31.9
10.5 - 69
0.46
975 - 3300
Natural
15
190
78
35 - 127
41.7
10.3 - 86.5
0.53
900 - 2500
Further research is needed to understand the formation and attributes of heartwood, transition-wood and sapwood in tōtara trees.
Many thanks to Greg Steward and Scion for sharing the above update.