Case Study: Prebbles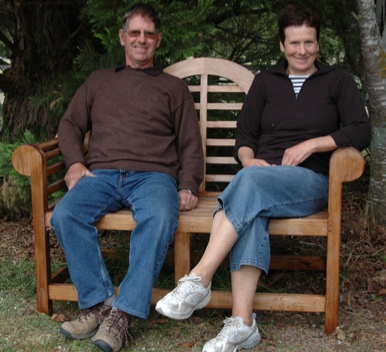 When John and Heather Prebble bought their farm at Mt Blue, Dunback, in East Otago around 30 years ago, there weren't too many trees in the landscape. The urgent priority was to establish a buffer against the notorious nor-westers, and the next five years saw nearly 3.2 km of shelterbelts planted to protect stock, crops and their home. Later the emphasis moved to timber production – today there's over 30ha of woodlots, including radiata, macrocarpa and eucalyptus as well as poplars planted for fodder.
The landscape has been softened and tamed by the plantings, and the gentle rural outlook is now a picture postcard of the farm forestry model in action… trees planted for all the right reasons, enhancing a productive livestock operation.
John and Heather now lease the farm to their son Mark, but their vision and goals for the land haven't changed over the decades.
John is very clear about his farming philosophy, driven by his over-riding goal to develop a sustainable farming system that takes account of the climatic conditions:
To farm the property in a sustainable manner using inputs in relation to carrying capacity


To look after the soils by disturbing them as little as possible, with maximum use of direct drilling


To produce quality stock and get satisfaction from farming, and


To produce satisfactory financial returns.
And he's adamant that planting trees has played a vital role in enhancing the farm's performance.
Land description

The farm totals some 631 hectares, with soils comprising Claremont on the downs and limestone on the hill country.
Altitude ranges from 61m asl up to 471m asl, from the flats and rolling downs to steeper hill country. Approximately 160ha of developed, rolling to steep downs planted in modern pasture grasses are fenced into 23 paddocks, and around 440ha of over-sown and top-dressed tussock country are fenced into 6 blocks. There's also a 31 ha quarry and lime works on the property.
Despite frequent dry spells no irrigation is required, with sufficient stock water available from county schemes and the farm's own springs.
Climate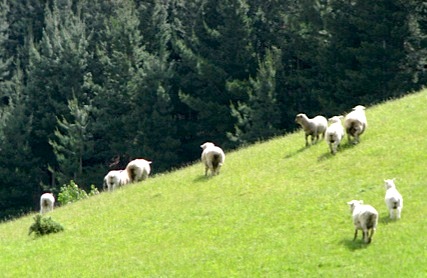 Temperature is described as a "moderate" 30+ degrees in summer, with frosts in winter.
Rainfall averages 650mm, unevenly spread, with yearly totals ranging from 500mm – 1000mm. A dry summer period can be expected most years, with the occasional severe drought, and it's rainfall that dictates the carrying capacity of the property, with a tendency to carry conservative stock numbers.
Farm Operation
The farm now runs 1750 ewes and 400 hoggets plus 75 beef cows and winter calves for sale in spring.
Brassicas, swedes, turnips, kale and rape – are planted for summer lamb feed and winter feed. All crops are direct drilled where possible, although some conventional sowing is still done depending on circumstances.
Trees were initially planted to provide shelter to enhance the property, with woodlots for profit sited to make maximum use of poorer land and also to provide shelter. All up over 34ha of woodlots, including radiata, macrocarpa and eucalyptus, have been planted over the years, along with 3.2km of shelterbelts and 1.5ha of fodder poplars.
Shelter

Having planted around 3.2 km of shelter belts as one of his first priorities on taking over the farm, John Prebble just shakes his head when the subject of ripping out shelter for dairy conversions comes up. He says although he hasn't tried to quantify the benefits of shelter on the property, the sheltered paddocks are now "the best on the place".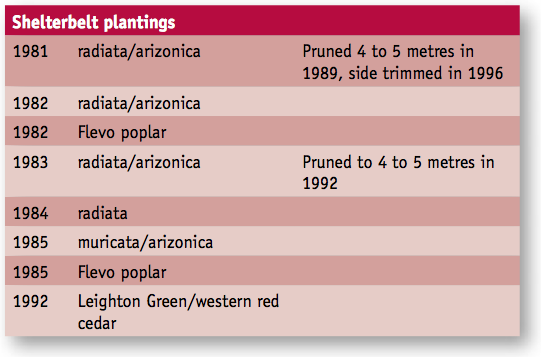 Shelterbelts are a mix of P. radiata/C. arizonica, Flevo poplars, P. muricata/C. arizonica planted in 1981-185 with some Leighton Green and Western Red Cedar planted in 1992.
Visiting in November, with signs of a possible summer drought already concerning the Prebbles, the shelter effect was obvious. The Tank Paddock had been sown in kale two days previously. Whereas all the other paddocks were "dry as a bone" according to John, a quick probe with his pocket knife showed that this paddock, virtually surrounded on four sides by shelter, still had moisture in it.
"We've noticed in the last few years, particularly during the last couple of dry autumns, this one is the only one with any green on it left on the place," he says.
Woodlots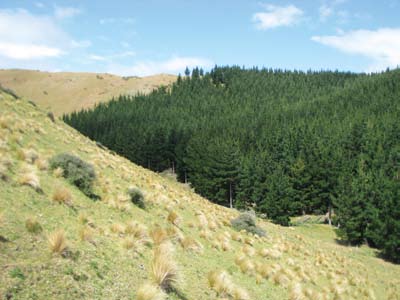 All told some 34 ha of woodlots – mainly radiata and macrocarpa, plus a small area of eucalyptus have been planted for timber production, starting in 1989 and continuing with annual plantings through to 1997.
The oldest block, radiata pine planted in 1989, is now 20 years old and the trees are growing well. Planted at 10 x 2 as an agroforestry block, pruned at 4-5m and thinned to 240 sph, the GF22 trees are showing good growth and form. This woodlot has a site index of 31 (307m3), which John says is high for the district, the usual range being more like 25-31. Branching is quite fine, and there's not a lot of taper.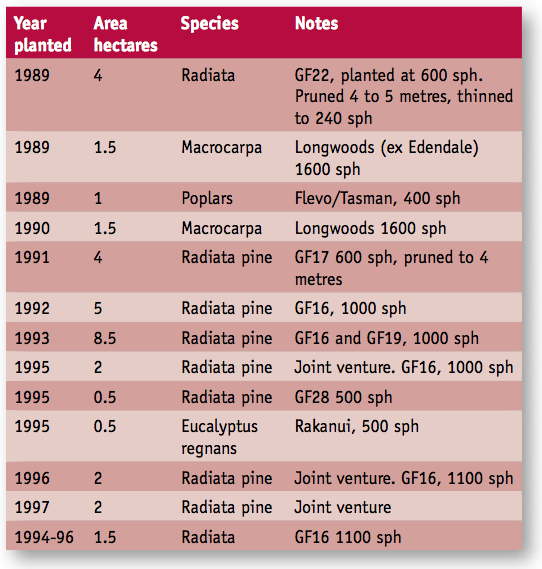 When the trees were about 15m it was particularly good shelter at shearing time, although that advantage isn't so great now that the grass cover has reduced.
This block will be the first to be harvested, although that's some years off yet and (understandably) the Prebbles say they will be interested to see what the log prices will be like then.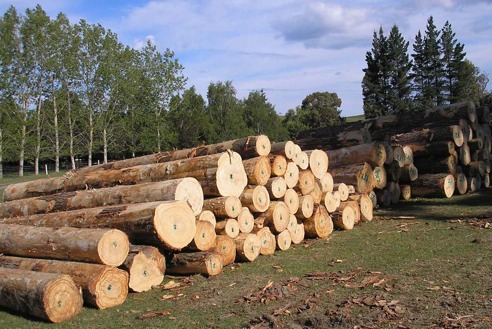 Meanwhile they have already experienced the practical realities of harvesting, having sold some timber in 2006 after taking out a couple of radiata shelter belts.
All up some 400t of logs were extracted, with a net return of around $9,000. John says the best price for the sawlogs came from local mill Hewvan Timber, realising 82t of S grade at $39 per tonne. The rest were exported through Port Chalmers, a mix of Export A, K and K1 grades.

It was a good price at the time for the sawlogs, says John, although tinged with some disappointment at the volumes. The Prebbles had expected they would get 150m3 or more in sawlogs, but a lot of the pruned logs just didn't quite reach length specifications. It was a good lesson learned.
"Being shelterbelts we hadn't consciously pruned them up to 6m and a lot of them were falling just that much short," recalls John. "It was just that last ring of knots that was putting them out."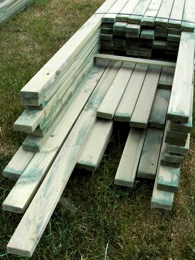 An unexpected bonus was being able to recover timber from three poplars that would otherwise have been smashed when the radiata was felled. The contractor felled them and pulled the logs out into the paddock. They've since been milled and treated for the top of a new deck.
In the mid to late 90s the Prebbles carried out three joint venture plantings. The joint venture structure brought in useful cash flow that kept the planting momentum going.
Macrocarpas
Some of the Prebbles earliest woodlot plantings were macrocarpas. Longwoods from Edendale Nurseries in 1989 and more Longwoods from Fords Nurseries in 1990.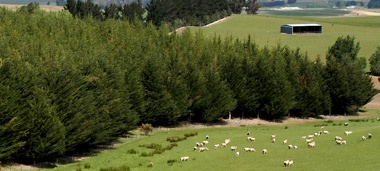 The onset of canker had John scratching his head, until the Prebble's forestry advisor, Dave Pearson, of Plantation Management Services came across an old article describing the use of boron as a remedy for canker.
Cypress canker (Seiridium cardinale and S.unicorne) is widespread throughout New Zealand, and can kill young trees. For those growing cypresses for timber production the impact can be severe, with the disease reducing returns due to malformations and stem cankers. The usual strategy is one of prevention, managed by selecting the appropriate species for the site. Unfortunately C. macrocarpa is particularly susceptible to the disease, suffering branch and stem dieback. (For more information click here)
The decision was made to apply a tonne of boron, not only to the macrocarpas but also to two small blocks of pines. The boron was applied by helicopter in 2008, and within six months the change was dramatic.
The trees have gone from what John describes as a "sickly yellowy-green" to a better, healthier green and the canker has seemed to not get any worse, he says. He believes the boron does seem to have controlled the disease, with only a few trees showing lingering signs of yellowing. His plan is to let the stand stabilise then thin out the affected stems and finish pruning the good trees.
Although the Prebbles did a lot of planting early on, woodlot planting has virtually ceased in recent years so John can complete pruning and thinning on the existing stands. He's used contractors in the past as well as doing a lot of the work himself, but says he'll finish doing the "tidying up" himself. With son Mark now leasing the farm, John sees future timber sales as an aid to succession planning, although any further planting will most likely be more shelter.
Fodder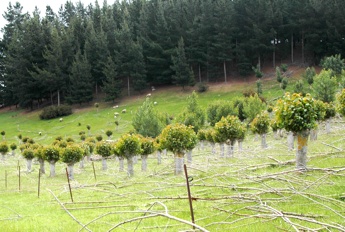 The Prebbles' interest in planting poplars for stock fodder started back in 1989, when they planted 500 Flevo (P. deltoides x nigra) wands supplied by the Otago Catchment Board. The 1.5 ha block was established and managed purely as a way of feeding stock during drought.
Reading the handbook Growing Poplar and Willow Trees on Farms, it seems Flevo would not normally be regarded as the ideal species for sites prone to mid-summer drought and has since been superceded by newer clones. However it is recommended as a fodder resource because of its large leaves and many branches.
In 1998, under severe drought conditions, 33 steers were fed 10 trees every day, with results that have since been described as "amazing" by the Ballance Award regional co-ordinator Rhys Millar.
John says the cattle did do quite well, although they did damage the trees. He only puts sheep in there now because cattle stripped the bark off so badly. Last autumn he ran around 300 ewes in the block. The trees have recovered quite quickly and are coming away again well, and will be available to feed off in two years time.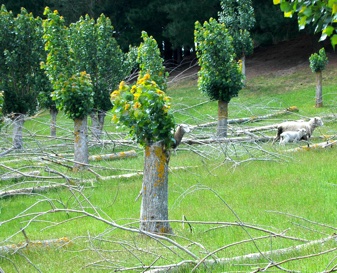 In 2004 John helped Barrie Wills of Central Environmental Services, Alexandra, and land and forest consultant Murray Harris set up a trial with a grant from the Sustainable Farming Fund (SFF Project #04/089) to evaluate the effects of simple practical pruning treatments on tree fodder production and possible leaf retention. The project looked at quantifying dry matter yield and analysed the quality of the feed.
Well-placed fencing for maximum animal control during grazing is seen as the key to good utilisation of tree fodder. The trial concluded that autumn pruning produced greater biomass within the relatively short two growing season period from pruning to harvest. Eliminating smaller branches during pruning improved yield initially but was eventually offset by a decrease in edible fodder. In his report on the project Barry Wills says when trimming larger trees for the first time horizontal cuts should be avoided, as it restricts wound healing and meristem development (from which new branches arise).
The treatments applied to the trees had a negligible effect on leaf retention at the end of the growing season and using combinations of different poplar species or cultivars was seen as a more effective way of extending the fodder supply.
In 2006 John and Heather received a special regional Ballance Award in recognition of their work with the project.