Newsletter 1, August 2020
Welcome to our first communication to the Oak Action Group (OAG). We do not anticipate sending out many newsletters as such, as plans to create an Oak Action Group Website are underway, and future communications will probably use the website as both a news platform and for information storage.
What with Covid-19 cancelling both our NZFFA meeting at Invercargill, and the NZ Oak Open days at Gisborne, we did manage to hold an AGM at Knapdale Ecolodge on 31 May 2020. Some people managed to log in by Skype, but the internet quality was not good. Just a small committee at this stage, Kathryn Hurr as Chairperson, Eric Cairns as Secretary, Kees Weytmans as Treasurer and Rachel Rose as Councillor.
We have a bank account which we can deposit money into, but have had ongoing issues complying with the anti-money laundering requirements.
A discussion document on proposed research activities was tabled at the AGM. The meeting voted to support establishment of three trial plots of deciduous red oaks. A detailed trial plan has been prepared, and we are awaiting confirmation that trees can be planted at Eastwoodhill, Guthrie Smith and Rewanui near Masterton. It is hoped to plant these in the winter of 2021. Appletons will be donating most of the trees, so many thanks for their support. The species will be Quercus ellipsoidalis, Q. kelloggii, Q. pagoda, Q. palustris, Q. rubra, Q. shumardii, and Q. texana (Buckley). Cluster planting at 12m centres will be used, with progressive thinning to obtain the best trees. It is anticipated that the best trees on fertile sites will grow at more than 2cm DBH per year.
Q. pagoda, shumardii and texana are not yet well known in NZ, but their reputation for high quality timber is good and they appear to have grown well at both Hackfalls and Eastwoodhill. The May visits to Gisborne were also an opportunity to collect acorns. Q. michauxii is another high quality white oak where acorns have been supplied to Appletons.
Why Hybrids?
Our interest in oaks for timber leads us to consider choice of species, which are the fastest growers (assuming that fast grown oak will be more financially viable that slow grown oak), genetic diversity of our resource and many other factors. It has become obvious that many individual trees here do not quite fit the literature descriptions, and that NZ seems to be developing its own suite of hybrids. This is to be expected when the source acorns have been obtained from arboreta containing a wide varieties of species.
What is also in plain view, is that many of the fastest growing oaks are hybrids. Perhaps the most famous of these is one of the largest oaks at Eastwoodhill, St Landry's Oak, Q. xludoviciana, a hybrid between Q. phellos and Q. falcata (or Q. pagoda), planted in 1951.
In attempting to develop elite selections of oaks for timber, we might well be handicapped by the relatively narrow gene pool that exists for many oak species in NZ. The option of including hybrids, with hybrid vigour, is an obvious way of broadening the gene pool. Where both parents have a good reputation for timber properties, it is unlikely that their progeny will have poor timber.
The existence of a hybrid swarm is perhaps more evident with Mexican red oaks, whose seed lots show a wide range of features and some progeny from listed hybrid trees show exceptional early vigour. (e.g. Q. x dysophylla and Q. castanea x laurina).
Hackfalls Arboretum Oak Measurements
The oak collection at Hackfalls Station, Tiniroto, has outstanding international scientific merit, according to Peter Marshall and Roderick Cameron, oak experts with the International Oak Society. Bob Berry made records of genetic source, planting dates and some diameter and height measurements. Even though trees were planted at wide spaces, we think that their growth rates would be very helpful in predicting their potential as woodlot trees, and have started a process for updating diameter and some height records. It will be a big job, and take a number of visits to complete. Roderick Cameron wishes to update the arboretum records as the information becomes available. Amongst others, we found a 37yr old Q. affinis at 97cm DBH and a 36yr old Q. x dysophylla at 112cm DBH.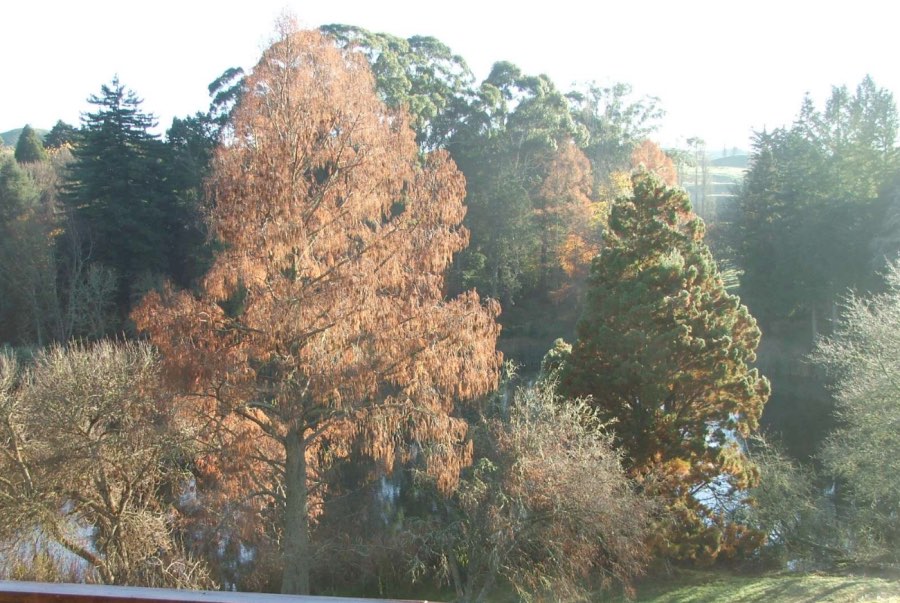 View from the deck of the Hackfalls accommodation lodge
Neil Barr Fund
We have been successful with a small application to the NBF to purchase a GPS to be used for locating plots and tree data, and also to assist with site preparation at one of the trial plots. Thank you to the trustees. NBF support will be acknowledged when the projects are written up.
McIntosh Family Trust Oak Forest
Di and Dougal McIntosh have recently extended their family farm holding to include Waitaha, a 130ha hill block adjacent to SH4 near Whanganui. Dougal has invited the Oak Action group to advise and utilise part of the block for research. (Potentially the Log Traders and Forestry Advisors Act may restrict our ability to offer forestry advice). About 10ha of north facing slopes are available to be planted over the next 2-3 years in a range of oak species, intended as eventual production forestry. This represents a fantastic opportunity to monitor the performance of some species and selections, at little cost to the OAG. In fact it could be a fund raiser, as the McIntoshes want to purchase (quality) planting stock. Another research plan has been tabled and discussed by the committee. The McIntoshes have other smaller stands of Q. robur and Mexican oaks on their home block that are doing well.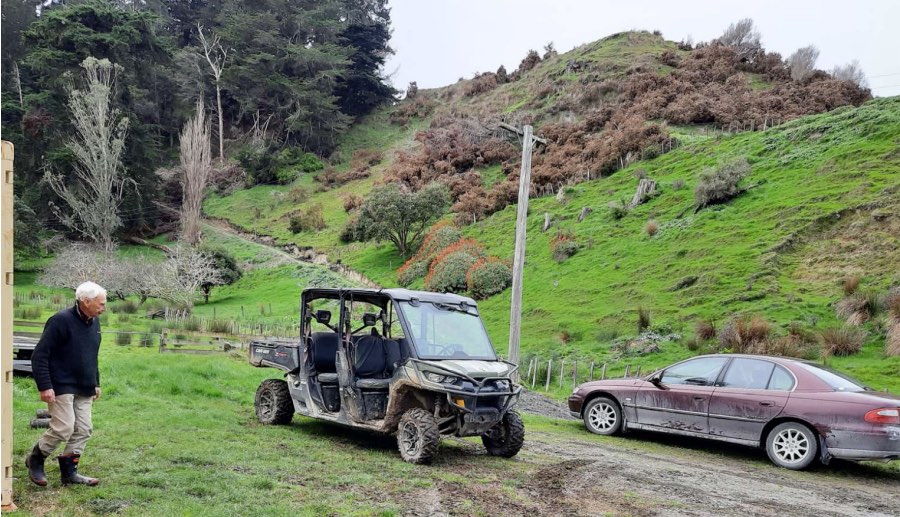 Dougal and CanAm at Waitaha
Battle Hill Oak Plantings continue
The Greater Wellington Farm Park at Battle Hill (Pauatahanui) is still in the process of revising their Park plan, which will be open to submissions shortly. In the meantime, and consistent with the colonial farm origins, a range of oak species are being planted as amenity trees. Kath, Annette, Eric and Park Ranger Joby were planting Q. montana, Q. mongolica and Q. muehlenbergii in late July, all carefully protected with Combitube tree protectors. This is the second season of planting oaks at Battle Hill. Potentially, a woodlot area currently in Pinus radiata, may become available for amenity or woodlot planting. Feel free to make submissions on the park management plan.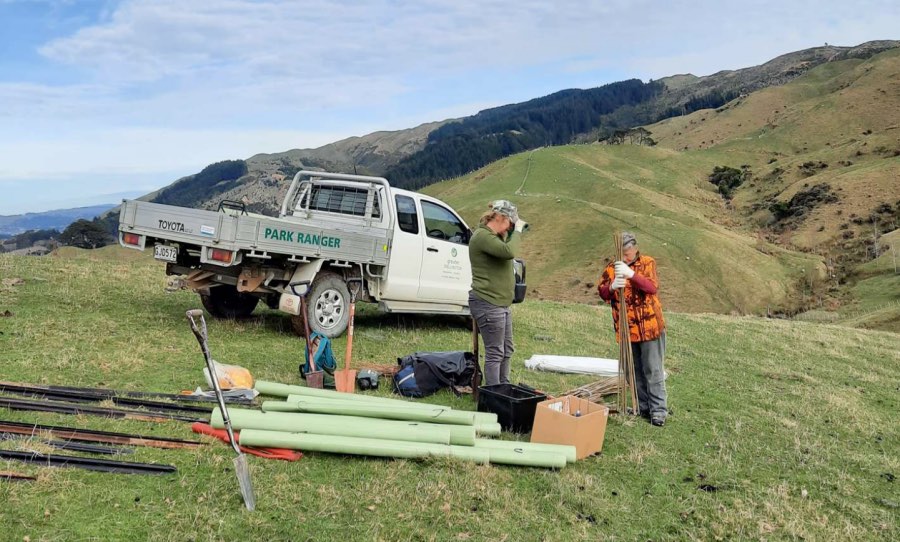 At the northern end of Battle Hill
Oak Establishment
Eric C is a great fan of using vigorous 1-2 year old seedlings, with good root structure and well inoculated with beneficial mycorrhizae. This is what you get if you buy open grown stock from Appletons. Containerised stock can hide root structure problems where main roots are curling all over the place, and even feeder roots could cause later constriction and for the trees not to be wind stable. This just needs careful inspection and judicious root pruning at planting time. Root trainer and bottomless olive pots help, but do not completely eliminate root structure issues.
Don Tantrum has talked about direct sowing of acorns protected by short translucent poplar sleeves. A handful of sawdust is used to suppress weeds. Several of our group are giving the direct sowing approach a go this season. They will need to make sure that the right mycorrhizae are available in the soil (cutover pine forest will work). The average NZ pasture may lack suitable fungi species for oaks. Also, if you use potting mix for container grown stock, it will need inoculation with leaf duff or schleroderma puffball spores. Trichoderma may also be beneficial to oaks (as it is to pines).
Private oak forests
While we are talking about ways to establish oaks, we would be keen to hear about any significant oak stands around NZ with a view to taking measurements, usefulness as a seed resource, less common timber species etc. Some of these are perhaps associated with truffle production. The editor will welcome stories about what you have planted and why, and how you are managing the forest.
Oak Grower Manual
Hopefully this document will end up on the OAG Web Pages. Eric has drafted a 12 page manual that will be added to over time. It includes lists of most of the oaks available and suitable for timber production in NZ, along with recommendations for establishment and silviculture. If you want to see this email Eric at cairnse178@gmail.com
Edible Acorns
Yes, acorns can be used for human food, and are now regarded as a high quality, gluten free alternative to the likes of buckwheat, rice or corn flour. Eric & Annette Cairns recently ran a short workshop for Tree Crops Association members.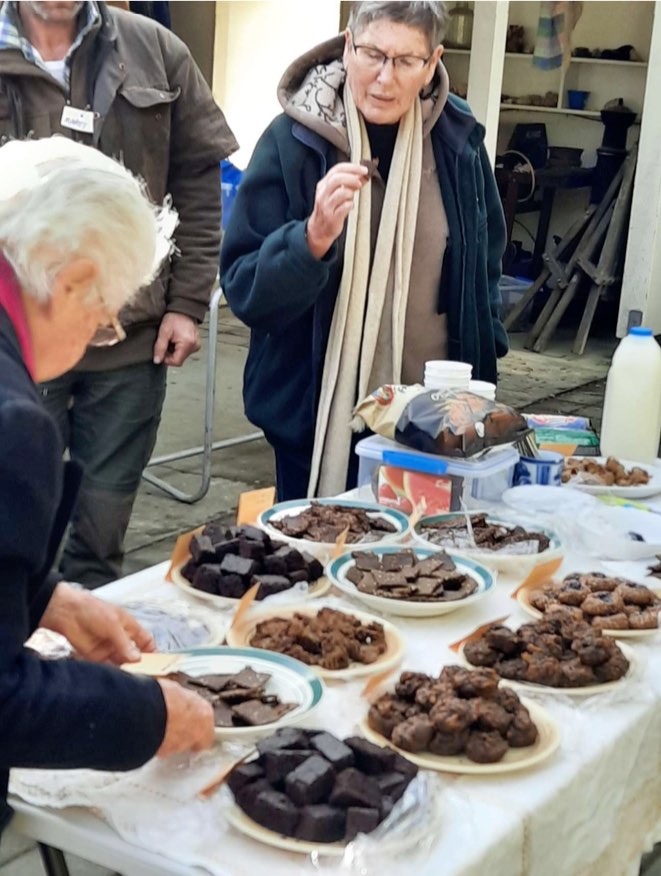 Tasting acorn flour products at Cairn's
If you want to plant oaks suitable for manual processing of acorns into food, find something with abundant crops of large sized acorns. Some Q. robur and Q. cerris acorns are over 40mm long. Some Q. macrocarpa hybrids look promising but do not always yield heavily. The advantage with bitter acorns is that wildlife tend to leave them alone, so they are easier for you to harvest. The tannins are still easily leached. However, if you want naturally sweet acorns, there are a few Q. bicolor and Q. muehlenbergii around, but with mostly quite small acorns. Quercus ilex and Q. suber are rated very highly, but trees/acorns that lack bitterness are rare. The sweetest Q. ilex acorns that Eric has found are in Wellington's Central Park (near the Tennis stadium on Brooklyn Road), and the largest Q. ilex acorns from a single tree in the Cambridge Oak Arboretum.
Quercus virginiana in NZ
This live oak species is pretty hard to find in NZ, but could be a valuable addition to our suite of timber species. In the US it was formerly used for building battleships. The USS Constitution beat up on the best of the British Navy in 1812, so the timber is certainly hard and tough. Most of what we thought were Q. virginiana in NZ have turned out to be Q. ilex. Does anyone know of possible trees in NZ, perhaps hidden in gardens with US connections?
There are likely to be oak species in New Zealand we don't even know about. The MPI Plants Biosecurity Index lists 150 species of oak (including synonyms) which can be imported into New Zealand. This list tends to get used as the default list of species officially known to be present in NZ prior to 29 July 1998 (when the HSNO Act came into force), but we know there are lots of other species at Hackfalls and Eastwoodhill, and probably other collections and arboreta, which are not on the list.
Kath is on the governance group for a project run by Murray Dawson (RNZIH) called 'Taking Stock', which aims to document evidence and apply for official recognition for another 600- 800 species in NZ. We are hoping to take more oak species with good evidence they were here prior to 1998 through this process. If you think you have something unusual please get in touch.