Ian McKean Pinetum
The Ian McKean Pinetum is well worth a visit if you are traveling through the inland Manawatu region and are prepared to take a road less traveled. Heading South from Taihape on S.H.1, turn off at Mangaweka, cross over the Manawatu River and head for Rangiwahia. The Pinetum is on Renfrew Road.
The late Ian McKean, farmer and dedicated Farm Forester and member of the International Dendrology Society, had a passion for Conifers. He sourced conifers from all over the world and gradually developed a 14 hectare section of the family farm where he planted what is now regarded as the most comprehensive collection of conifers in the Southern hemisphere.
Situated on a steep North facing slope near the foothills of the Ruahine ranges, the site provides the ideal environment for the growing of a wide range of conifers. Being well inland and near the ranges, winters can be cold with frequent frosts and the occasional snow fall.
The first trees were planted in 1958 and the collection contains more than 300 species of conifers including 90 of the 110 recognized pine. It is now protected under the Q.E.2 Trust and is open for anyone to enjoy. There is a good network of tracks with seating and picnic tables overlooking the collection but no other facilities apart from a rustic gazebo at the bottom of the hill. Unfortunately not all of the trees are
named.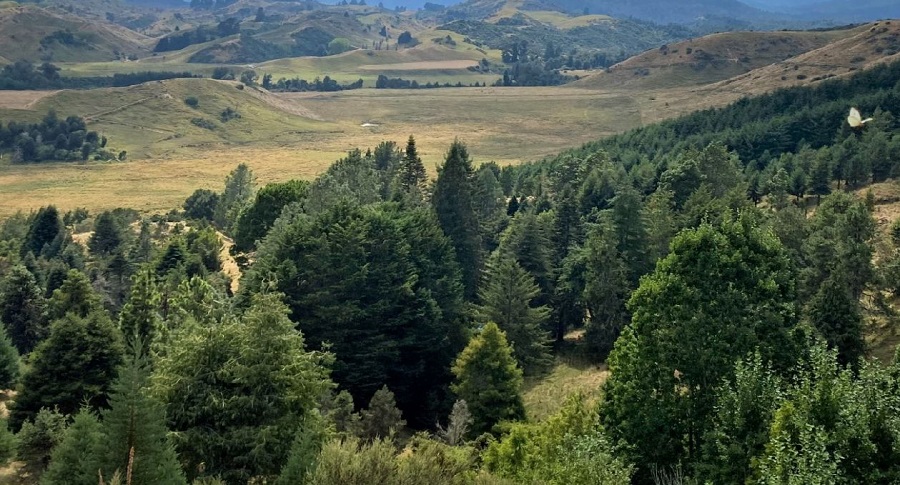 Ian McKean Pinetum, Rangiwahia, Manawatu
There is a grove of Redwoods planted some 30 years ago in memory of the late Neil Barr, one of the founders of the NZ Farm Forestry Association.
In 1987 when the Eastwoodhill Trust Board convened the Plant Management Committee, Ian McKean was one of the invited members and his knowledge and experience of conifers proved invaluable when establishing the Pinetum at the Eastwoodhill arboretum.
A few km south of the Pinetum are the Mangahuia Wetlands which are also well worth a visit. Established in 1997 by local farmer, Mike Bourke, on private land, this reserve is home to numerous species of waterfowl and other birds. It is extensively planted with a wide range of mostly introduced species of both evergreen and deciduous trees including many magnolias. Enjoy!