Towards Commercialising Cypress as a High-Value Plantation Forest Species
Report Date: March 2017
Author: Dean Satchell, Sustainable Forest Solutions, R.D. 1 Kerikeri, Northland 0294
+64 21 2357554
dsatch@xtra.co.nz
In memory of Allan Levett, cypress enthusiast and advocate for undertaking this research.
Special thanks and acknowledgement go to:
MPI Sustainable Farming Fund
Cypress Development Group (NZFFA)
Marika Fritzsche
Brian & Barbara Gibson
Ben McNeil & family
Andy & Tinks Pottinger
Vaughan & Jude Kearns
Angus Gordon
Jeremy Thomson & Sashil Dayal
Glenn Crickett & Catherine van Paassen
Allan & Gail Laurie
Neil & Pam Cullen
John and Robyn Fairweather
John Moore
Charlie Low
David Henley
Introduction
A large series of clonal cypress trials were initiated by the NZ Forest Research Institute, now Scion, through the 1990's in multiple locations throughout New Zealand. The purpose of the trials was to evaluate new cypress clonal selections for potential deployment in plantation forests. The opportunity has recently been identified to revisit these trials and compare relative performance of these clones as mature trees from the different geographical regions and environments where the trials are based.
The purpose of this research project was to compare relative performance of the cypress clones across the range of locations the trials were sited in. This involved measuring performance indicators, these being growth, form and health of trees.
Advantages with deployment of clonal (cutting grown) trees include faster genetic improvement (a one-off large genetic gain) than traditional seedline breeding strategies. Desirable genes are captured without recombination, meaning a large, one-off improvement in performance. Clonal forests also have consistent wood properties and these can be selected for. Clonal propogation, if combined with hybrid breeding, potentially offers rapid deployment of improved trees with specific combinations of complementary traits. Desirable features from both parents can be combined in a single generation.
The original purpose of the FRI historical trial series was to capture and test superior traits such as growth, form and canker resistance in trees identified at the time as elite, by propagating these trees vegetatively and then testing clonal progeny in trials for later selection and deployment. This strategy is still relevant today, with this research identifying failures, issues, lessons and opportunities from the historical clonal cypress trials.
Cypress species are well known in New Zealand for their timber, usually called "macrocarpa" and also as a planted tree in the rural landscape. Macrocarpa and hybrids have been planted for shelter, shade and aesthetic values for well over 100 years, primarily because of easy establishment and good growth throughout New Zealand. Older plantation and shelterbelt trees have often proven to be very robust, growing into large trees free from disease, standing the test of time to then become targeted by loggers, sawmills and the market. Historically the species quickly achieved recognition because of the quality and value of the timber.
Unlike many other conifer species introduced into New Zealand, planting of macrocarpa and cypress species has not resulted in unwanted spread as wilding conifers (N. Ledgard, pers. comm.).
One advantage with cypress over other commercial plantation conifers grown in New Zealand is that clones can be selected that apparently do not suffer from physiological ageing to the extent that continued propogation over time results in slower growth of propagules (D. Franklin, pers. comm). This allows "one off" selection of superior clones for deployment that can continually be reproduced over time.
One of the key criteria for selection of cypress clonal material for deployment is ease of propagation. This allows for rapid bulking up of clonal material and rapid deployment to plantations once evaluated for other traits such as growth, form and wood properties. This is a characteristic clonal selections can be screened for as rooting percentage.
Cypress also has consistent wood properties from pith to bark. Radiata pine, the dominant plantation forestry species in New Zealand, has very low density wood in the core, with increasing density and strength to the outer wood. This presents growers of radiata pine with challenges as the species is very fast growing during the early years, manifesting as a significant percentage of the basal area with poor wood properties. On the other hand, although slower growing, cypress can potentially be harvested as young trees with small diameters and the sawlogs utilised for high value products. If this property were understood and accepted by the market, log prices for small diameter and younger material would reflect the value proposition and positively influence the profitability of growing cypress.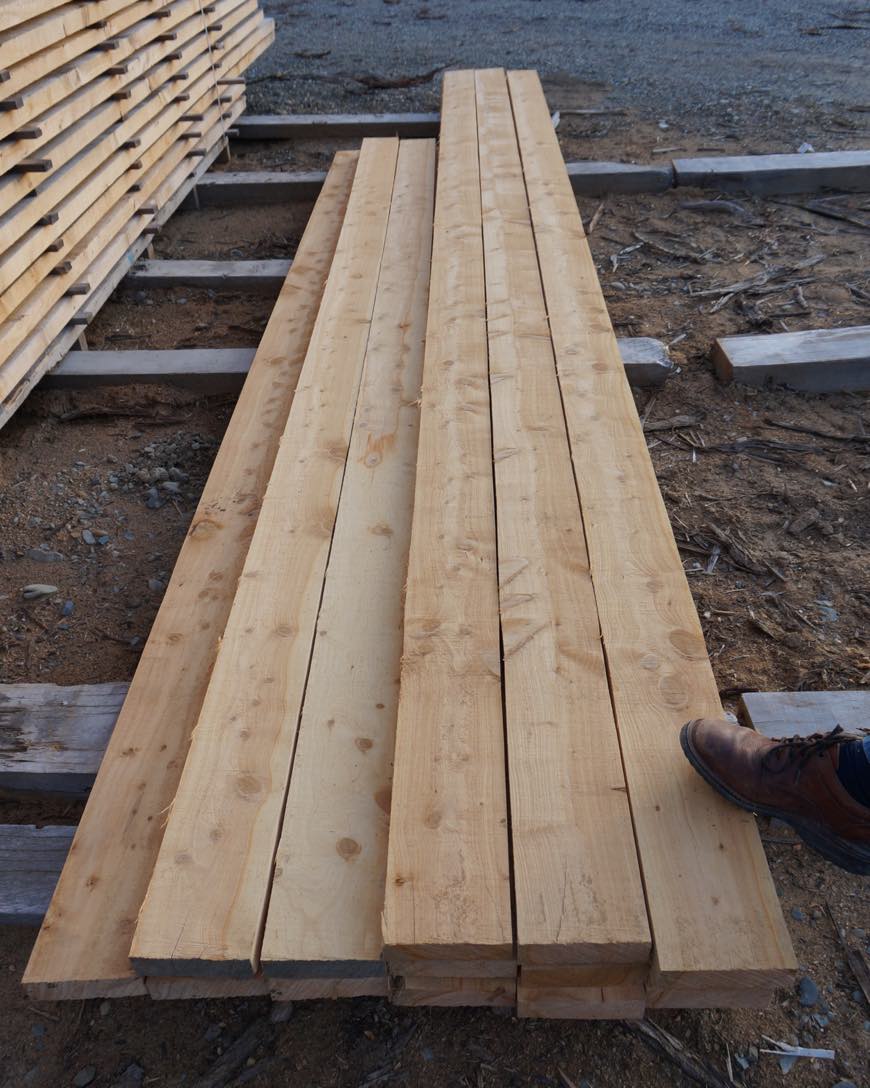 Cypress is well known in New Zealand as a decorative timber, with a rich colour and lustre similar to Kauri, a traditional native appearance timber now in short supply. Prices for high quality cypress timber are high, but issues with form, slow growth and disease levels have reduced both volume and quality of logs produced, and therefore value to the grower. Overcoming these by deploying high quality clones could transform the economics of cypress forestry.
A number of constraints to commercial cultivation of cypress as a plantation forestry crop have been identified by growers, hindering serious interest in the species for plantations.
Cypress canker has proven to hold considerable biological risk for growers, borne out by failed plantations resulting from the two predominant macrocarpa seedlines planted throughout New Zealand over the last 25 years, Longwoods and Strathallen. Unlike the farm grown macrocarpa (of unknown origin) preceding distribution of these two seedlots, resistance to cypress canker has been very low and failed plantations have became the norm throughout most of the country. The reputation of macrocarpa to this day remains in tatters.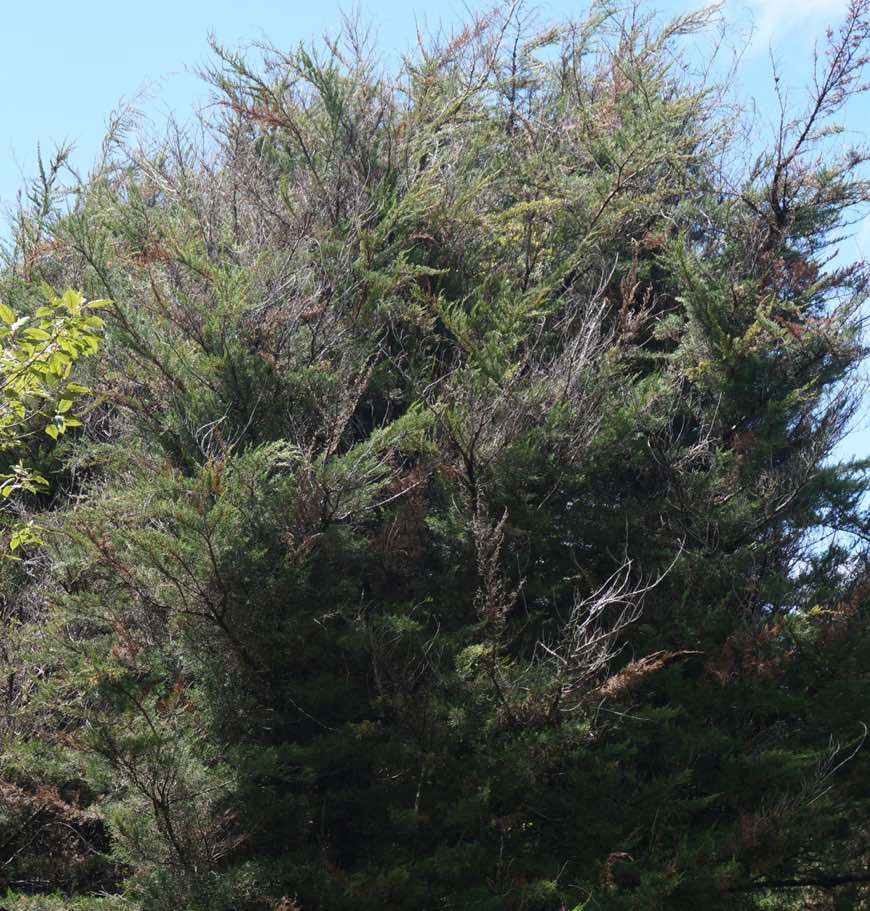 Because the highest market premium available is for clear cypress heartwood, efforts targeting production of this has been the aim of many growers, but this has proven problematic. The commercial reality of growing a plantation conifer species for heartwood is that heartwood comprises a relatively small proportion of the whole tree and even lower if targeting clear heartwood. Growing trees to a size suitable for producing a reasonable yield of clear heatwood means high silviculture costs (pruning and thinning), long rotations (35-40 years) and low final crop stocking (100-200 stems per hectare). Making this work for an investor has not proven to be easy when the alternative is radiata pine, a species grown for sapwood that can be easily impregnated with preservatives at low cost and grown for an industrial commodity market.
To be a viable proposition and have any chance of commercial success, cypress forestry requires propagules that will grow fast, grow straight, produce a high proportion of heartwood and be resistant to disease. All of these in one tree and consistent between crop trees. Clonal forestry potentially offers all of the above in one simple selection process and in a much shorter time frame than seedline improvement. However, the length of time a clone should be tested in field trials before it can be recommended for deployment is not yet known. Early selection comes at a lower cost entails greater risks in deployment because some poor traits are not expressed in immature trees.
This research evaluated clones and seedlines from trials planted between 1994 and 1998, during November and December 2016. The primary purpose of the research was not to evaluate performance with the goal of making selections for deployment, but rather to evaluate relative performance and health for clones between sites in different geographical regions, in order to identify issues relevant to selection of clonal cypress tree stock.
Of interest to growers are three key performance parameters relevant to clonal selections and siting:
overall performance of each clone;
each clone's relative adaptability to different sites;
how each site performed in general.
By evaluating each site in terms of general performance of each clone (and all clones), issues that impact on performace could be identified. Also of interest was within-clone variability, both across sites but also within site.
By evaluating each clone over a range of sites, its adaptability to site could be assessed, along with its suitability to different sites. Site issues include level of wind, soil nutrition, soil drainage, soil moisture, rainfall, humidity and temperature. These variables might each affect individual clones in different ways.