Newsletter 146, July 2023

In this issue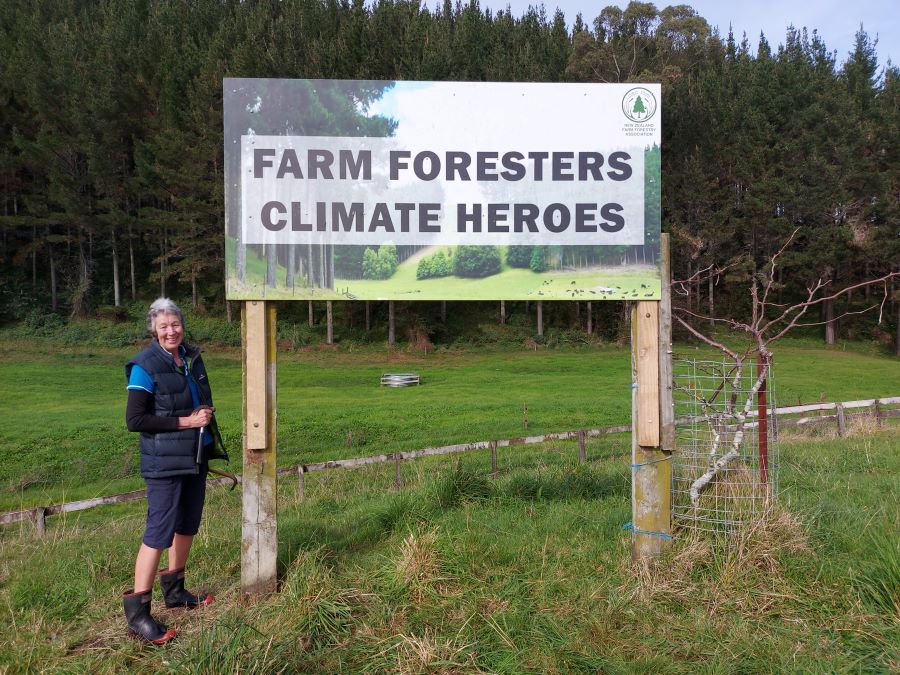 Viv Barr with an NZFFA billboard in Awakeri
President's comment
Greetings all. The Association has had a busy couple of months. The nationwide series of workshops Opportunities from Trees have been completed with generally good attendance and feedback. The NZFFA Executive and MPI will review how they went and hopefully we will be able to negotiate a contract for presenting a series with more detailed information on a similar range of topics next year. Te Uru Rakau/NZ Forest Service are busy adding to their network of forest advisors and it was good to have them along introducing themselves at the Workshops.
For the second time in 7 months we have had a great crew of at least 20 volunteers manning the NZFFA part of the Forestry Hub at National Fieldays near Hamilton. As well as answering a steady stream of inquiries from visitors to the hub, the Association was giving away a range of seedlings both native and exotic to young and old people keen to see whether they have green fingers. There was a marked interest in redwoods and poplars in particular and support for our Association was evident with 40 new members signing up. The Hub provided a valuable opportunity to network with other organisations and two members also took part in an entertaining debate on the merits of different species. Our contribution to the Hub was significant, with Graham West part of the overall organising group and Vaughan Kearns and Dave Forsythe putting in a big effort to ensure our displays and set-up worked well.
It has been a busy time on the political side of forestry. Both National and Labour have announced policies for restricting the conversion of farms to forestry using different methods. These measures may please some of our farmer members who have been concerned that livestock farmers have been unable to compete with forestry interests interested in buying farms. However, the likely effect of these policies if implemented will be a drop in land values, so farmers wanting to exit the industry will have to accept a lower pay-out as competition reduces.
This week we have had two sets of proposals released for consultation for changes to the ETS. The review of the Scheme is in reaction to claims that it is not working properly in reducing emissions as emitting companies find it cheaper to buy units or plant trees rather than actually taking actions to lower their emissions. There are 4 options offered to address these perceived deficiencies with the latter two proposing radical changes for how units earned from forestry will be priced.
The other proposal concerns the design of the Permanent Forest category in the ETS and what species will qualify. We will be making submissions on behalf of NZFFA before August 11 th so if any member has strong thoughts on these matters contact me or other Executive members.
Neil Cullen, NZFFA President
Offshoots
For more information on these events, they are posted on the NZFFA website »
Branch secretaries, please make sure you notify head office of any branch or action group events.
---
NZFFA again played a large part in the Forestry Hub. We had approximately twenty people helping with manning the stand along with giving away plants to families in another area in the hub. A total of 3200 plants including cypress, eucalypt, redwood, manuka, akeake and cabbage trees were given away.
We had experts in a good number of different species on the stand at all times: redwood, eucalypt, oak, cypress, poplar/willow, native and radiata pine.
Each stopping point also had the relevant pamphlet available along with the Tree Grower and the Alternative Species booklet to give away. At the area where we gave away the plants to families, we interacted with approximately 3000 different people. They were given the relevant information on the plants they took.
Did we give a young budding forester thoughts as to a future career? Unfortunately, any sort of farming in New Zealand needs a social license to operate nowadays. I think we helped a lot to create a positive image of the role of planting trees on farms. We also signed up a reasonable number of new members.
Quite a few people travelled a fair distance to help with the setting up on the day before the start of the Fieldays, during the event and helped with pack down. Particular thanks to Vaughan, George and Ben, Also to Graham West for the work he does in making sure we are part of the event.
Dave Forsythe
Additional comments from some of the other volunteers:
At times there were up to 15 NZFFA members present which made the stand look busy and gave plenty of opportunity for networking between species enthusiasts but with other groups in the hub. A Scion person quipped that if NZFFA wasn't there it would have been mundane. The numbers also allowed adjacent members to cover for one another, so no important contacts were lost. SAG felt that having a few seedlings on the stand was beneficial as a discussion opener like "Is that a Redwood tree? or "Where can I get some of these?"
Regarding the last question, there were no exotic tree nurseries represented in the hub, but we were able to find 5000 seedlings for the current planting season for 2 farmers who would likely have missed planting this year otherwise. The opportunity for networking worked both ways, Scion researchers were able to discuss current and future projects for instance. It was a good opportunity to educate people (including politicians and Te Uru Rakau staff). We were also able to refer questions regarding the ETS and carbon to others in the hub. As a direct result of the event, we have confirmed that the nursery industry will need to supply at least 108000 redwood seedlings next year in addition to existing orders. There are also a number of follow ups to be made regarding trial results and information that we didn't have on hand.
Russel Coker (Sequoia Action Group)
This time numbers were way better than last year. On the first three days we spoke to the steady stream of farmers and other landowners that came through.
On the Saturday this changed, and the numbers were much more urban based but there were lifestyle block owners, investors and people interested in community tree planting. The give away a tree section was very busy that day. We were able to help people who were
interested, educate, give advice or point them to somebody close by who could or sometimes just yarn about trees on farms and what they were up to.
Many of the other exhibitors remarked on how busy we were, how knowledgeable we were and how our presence was important to the whole Hub. It was good to be able to discuss forestry and land use issues and to network. It was good to have the support we had on hand which gave those there the chance to get out for a break for short periods and ease the load on us all. Thank you to all who made the effort to turn up. The fellowship amongst those there was a very important aspect as far as I was concerned as well as the interaction with the public and being able to spread our message in person.
Laurie Bennett
As a volunteer at the 2023 Fieldays in the Forestry Hub for NZFFA, here are a few things I observed, thought about, and discovered.
Most people were positive about trees, (natives and alternative species). Most people found it beneficial talking to NZFFFA volunteers in the Hub. There was a wide range of topics discussed. People are planting trees in all sorts of places. The Kids Grow a Tree Campaign had repeat clients that were happy to discuss their trees and receive more trees. Most of the trees are growing well. Does anyone understand the enjoyment that Kids get from planting trees and looking after them?
George Shallcrass
What I saw is a great number of member volunteers, all very knowledgeable in their respective portfolios. We were the only Organisation that presents a mix of viable additional species guides additional to P. radiata. We had good handouts to provide especially the Alternative Exotic Forest booklet. There were high levels of engagement with the public, many respectful of the practitioner and ground level advice given. Didn't detect any antagonism against forestry, knowing the public media blitz on slash and anti Radiata.
Stan Braaksma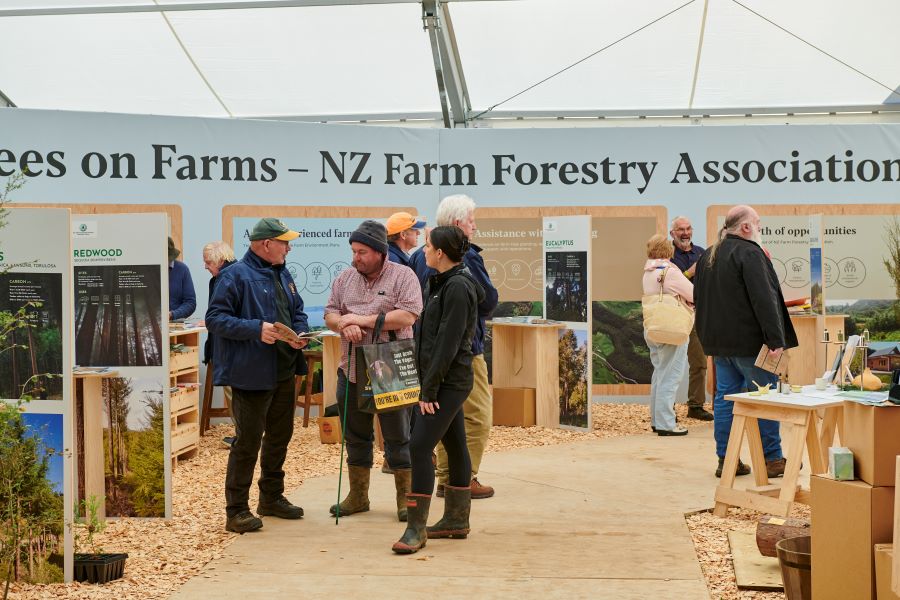 Our second year in the Forestry Hub. Better crowd numbers – 105000 in total over 4 days. Busiest time was 2 hours to 10am as crowd came in nearby gate and a good percentage diverted into the Hub for a look. 30 tonne forestry diggers with processing and felling heads attracted people to the end entrance, with the wooden bike the attraction for the centre entrance.
Good steady numbers stopping at NZFFA corner. Most enquiries were for redwoods and then poplars and much interest in carbon figures and the ETS. Good to have the Sequoia and Poplar experts on hand to answer queries. Denis handled the more technical forest management and radiata enquiries. Everyone took opportunities to encourage joining NZFFA as they arose with good success. Networking opportunities were many, especially with other groups in the hub.
Neil Cullen
I think that being part of the Forestry Hub has been fantastic for our Association and raised our profile. It is a great way to promote the industry and what we advocate for. As well as the verbal knowledge transfer the printed hard copies like the Alternative Exotic Forest
species booklets have been very well put together and received by farmers. The kids tree give away is a great conversation starter and gave the FFA another angle to talk to potential members, with the added bonus of being a feel-good factor.
Richard Allen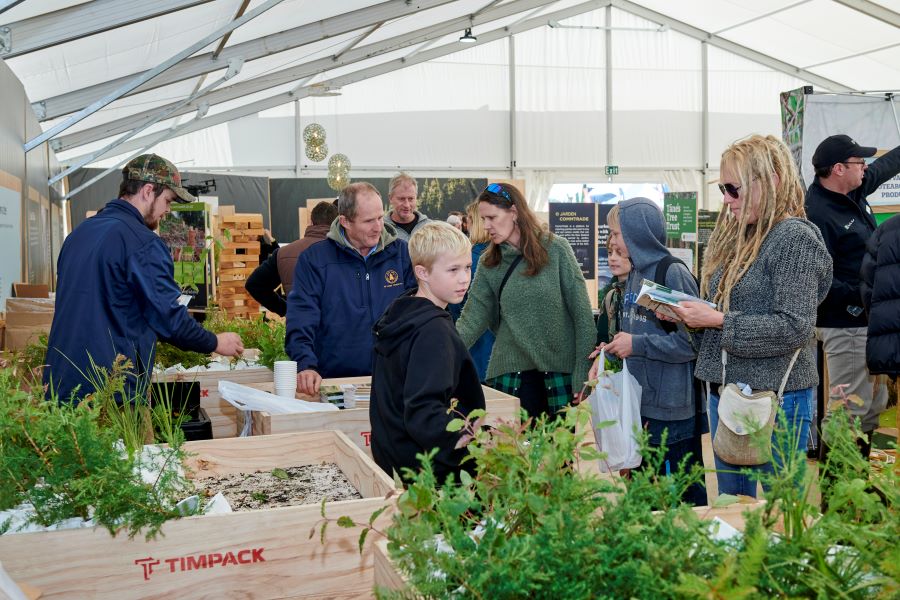 The interaction with other exhibitors was one of great praise for being back again this year and the public thought the 'kids grow a tree' campaign was an amazing idea to get kids out in their back garden/paddock and learning about planting and looking after trees. There
were also a large number of adults that wanted to take trees away to grow to see how they would go in their area with the possibility of at a later date coming back to buy large quantities of trees. I spent a large proportion of time talking to people and educating them on the possibility of planting exotic species in certain places, for the likes of land stability or hedge rows or just the simple fact of wanting trees to bring back wildlife onto their property.
Ben Shallcrass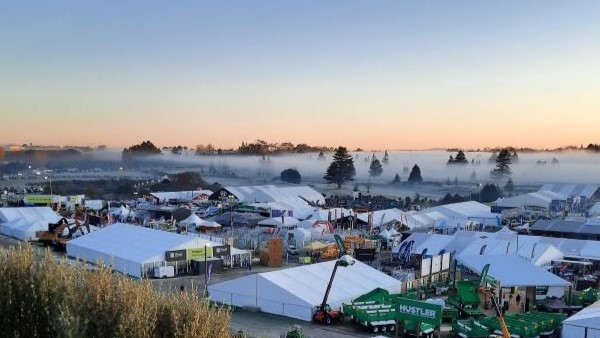 President: Neil Cullen president@nzffa.org.nz

Newsletter editor: Dean Satchell dsatch@xtra.co.nz

National Office: Liz Chamberlain admin@nzffa.org.nz Phone: 04 4720432

Members
The members area of the NZFFA website can be accessed by using your email address and password to log in. Your email address MUST be the address you have provided to NZFFA for your subscription (which happens to be the one this newsletter was sent to...).
If you don't have a password or can't remember it, you can get one very easily. Just follow the instructions here. Any problems logging in then email me.
Dean Satchell, website administrator
e-Newsletter
If you are receiving this e-newsletter and don't want to, please notify NZFFA by replying.

Disclaimer: Personal views expressed in this newsletter are those of the writers and do not necessarily represent those of the NZ Farm Forestry Association.