Newsletter 2, December 2021
Hi everyone
Another belated communication, so apologies in advance. Our proposed dedicated website has not eventuated, so we are resorting to traditional communication means.
AGM 2021
From the Wellington Conference, and Action Group AGM, our same committee was reappointed, but with the addition of Gary Fleming. Since then, the committee have met several times working on a strategic plan and developing options for future research. We now go under the name Oaks New Zealand. No constitutional changes are required. No change to the ONZ subscriptions, but the administrative fee (affecting non FFA members) went up to $20 (and proposed to be increased again next year).
Facebook
There are now over 200 members of the Oaks New Zealand closed group. Obviously not all of them are NZFFA members, and a good number are from overseas, with connections to International Oak Society and more. This is a useful platform to operate and does give us the ability to quickly communicate and share information. We do encourage all action group members to join.
Oak Trials
Two of the three proposed deciduous red oak trials went ahead, with Eastwoodhill and Rewanui near Masterton being planted in late July. These trial blocks will need ongoing care, maintenance, and recording, so if you live near one and have time/energy, please let us know. We need weed control in the first two years and checks that browsing animals are not compromising our trial. Thanks to Appleton's Tree Nursey who donated the trees. As previously communicated, there are 10 plots each of 7 species. Ellipsoidalis, kellogii, pagoda, palustris, rubra, shumardii and texana.
We also assisted Dougal & Di McIntosh family trust with some alternative oak genetics for their Waitaha property near Whanganui and will be following progress there with great interest.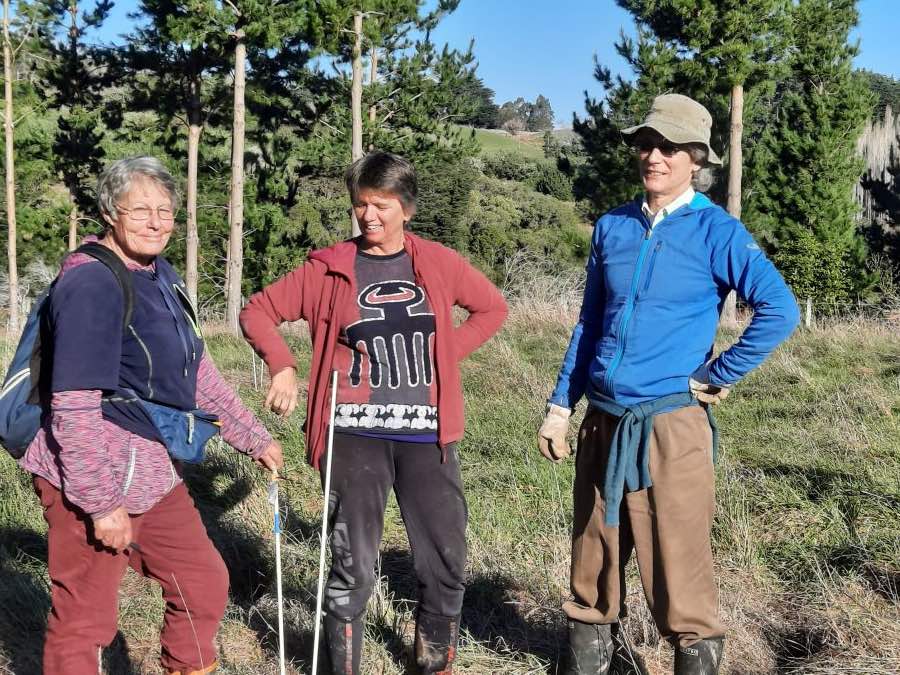 Annette, Annie and Chester at Rewanui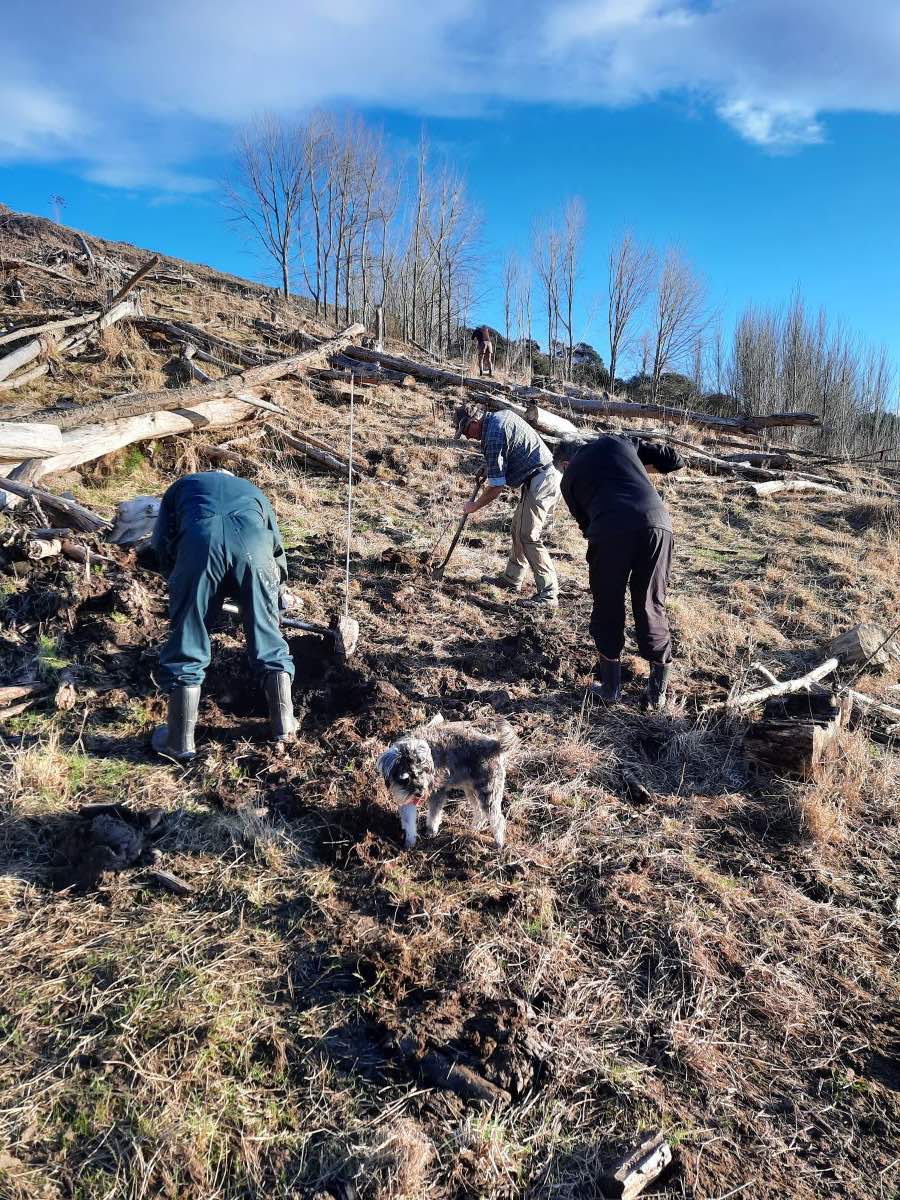 Gisborne FFA members, and the dog, oak planting at Eastwoodhill (sorry about the back views)
Along the way we heard about substantial oak plantings near Whangamomona on the Forgotten Highway and hope to catch up with the Forest Manager there at some stage. I hear the growth rates of both robur hybrids and rubra have been pleasing. This is basically a redwood forest owned by an Irish and Austrian consortium. Oaks and other broadleaved species are being planted on the better soils.
Living Wood Fair
In April, some of us attended the Living Wood Fair at Takaka. Eric presented a talk on Oaks as Plantation Species and drawing on the Hackfalls tree measurement data to show how fast some of these species could grow. Eric also had some data relating to wood properties of Mexican oaks (density and shrinkage) The talk is supposed to be available from the Livingwood Fair website. Humfrey Newton had a 36 year old Q. canariensis milled at the fair. The fresh sawn slabs from a single tree sold for $4500 at auction. It would be nice to get some feedback from the purchaser as to how well the slabs are drying. This fair is to be run every second year.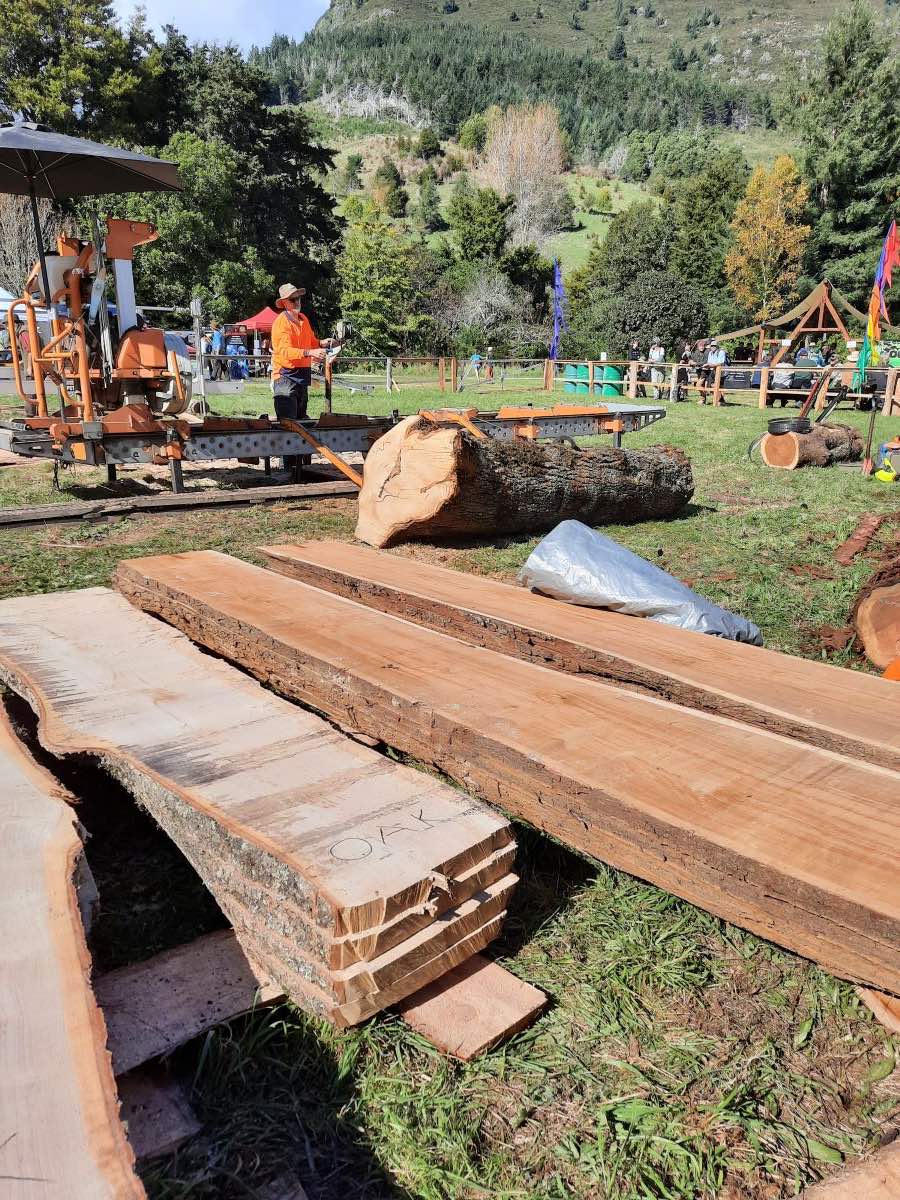 Sawmilling at Livingwood Fair. The fresh milled slabs were highly sort after at auction
Strategic Plan
We have been approached by a major corporate land user offering sites for research trials. Yes, we want to take advantage of this, but also felt that we needed a strategic plan documented so that we understood our values and to set direction. We will be making suggestions for their planting over the next couple of years.
Working with Industry Partners
Part of the strategic plan emphasises the need to work alongside other significant players in the industry. For ONZ, this includes Government, other groups within NZFFA, major nurseries, arboretums, consultants, landowners, science providers, international oak society, IDS, communication media. And the need to learn or borrow ideas from likeminded organisations.
Some of the partners may have sufficient funds to set up trials without us having to resort to external funding applications.
As an extension to this theme, and in recognition that Hackfalls Arboretum have been a major source of oak genetic material, we would like to support them in their tree propagation and fund-raising efforts. Additional funds are needed to meet ongoing costs of the collection's wellbeing, and maintenance by certified arborists. They wish to offer some of Bob's Special trees (including Q insignis and a form of Q macranthera) for sale, along with other plants from the arboretum. The intention is to set up a nursery at Tiniroto and offer plant sales from the arboretum in much the same way as Lady Anne used to do. I personally (Eric) intend to take some surplus material back to Tinoroto to support their fund raising.
Note on oak grafting: In spite of US and European nurseries regarding Q. roburas a universal root stock for white oaks, delayed graft incompatibility between robur and some other white oak species scions is still an issue for Eric C, your editor. Aerial layering is being tried at Hackfalls and other locations in NZ, as an alternative clonal propagation technique.
Publicity
On the publicity side, Rachel has managed to get some articles into Lifestyle Block. Another one due early next year. This helps us get more members on Facebook, and generally gets people asking questions. And Tree Grower has run a couple of articles, with more to follow.
Action Group Weekends
Hopefully most of you will have heard about the Northland (November) and February around Nelson Alternative Species weekends,
Nov 19-21 Kerikeri Northland, (I guess this was cancelled?)
25-28 Feb top of South Island lead by Eric Appleton. Start in Nelson. Monday Buller Gorge.
Anyone wishing to attend needs to urgently register with Vaughan Kearns. Costs include shared accommodation.
Taking Stock
Kathryn is still working with Murray Dawson (RNZIH) and has requested MPI Biosecurity to add oak synonyms to the Biosecurity Register. If there are still oak species in NZ that are not listed in the Biosecurity Register, and can be proven to have arrived before 1998, Kathryn would like to know.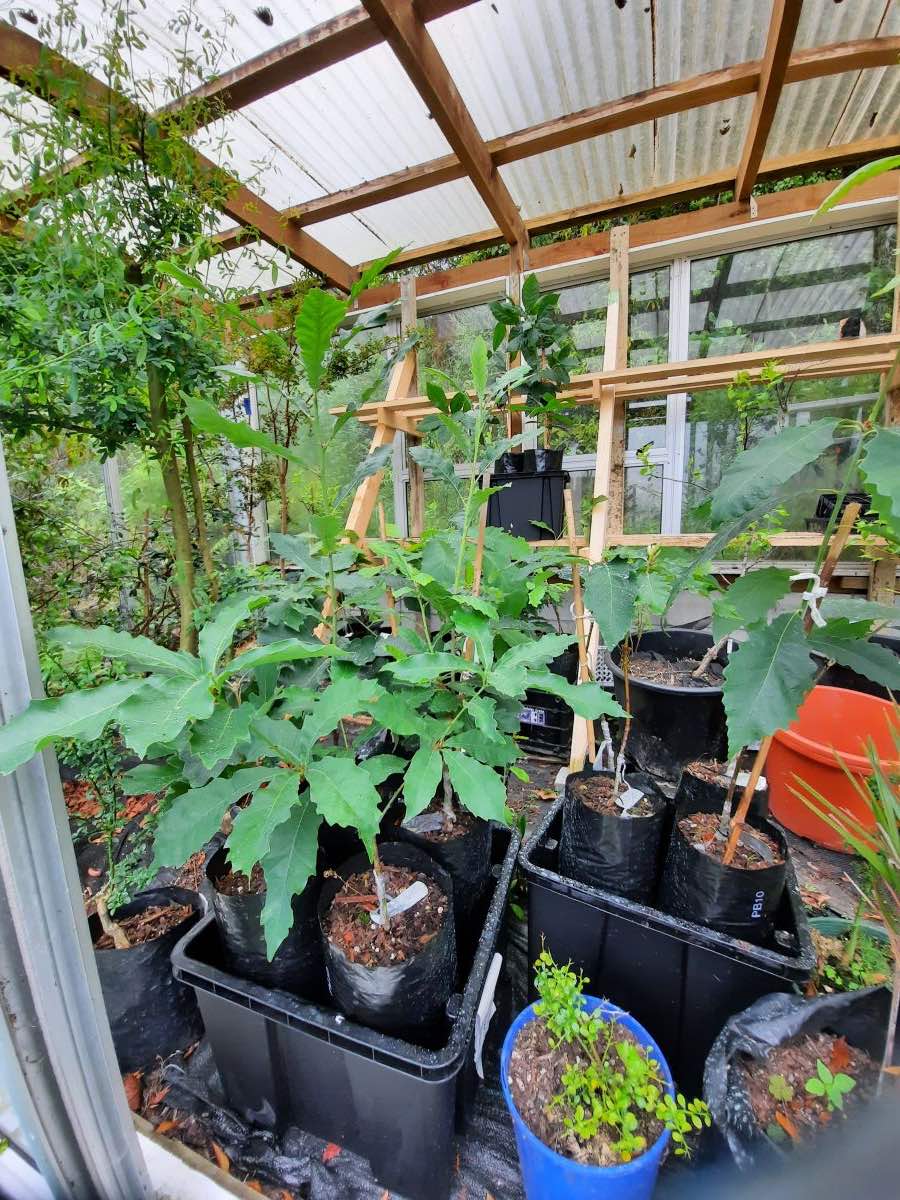 Selection of grafted oaks(and other stuff). Some of these are destined for seed orchards, but some also for Hackfalls fundraisers.
Contingency Timber Species
The NZ Timber Industry is now realising the (Biosecurity) risks involved for having such a large part of our plantation forest and wood processing industry dependent on a single species. They have asked for input into contingency species (softwoods) to replace pine in the value chain, but also are- looking at special purpose timbers not obviously filled by pine or similar softwoods. Towards the end of last year, our FFA colleagues on the Specialty Wood Partnership asked the action groups to put cases forward about the importance of their favoured alternative timber species. Our plug for oaks seems to have found some sympathetic listeners. So, wait and see.
Seed Orchards
One of the issues highlighted for contingency species was availability of improved seed sources (needed to support the expansion of oak planting). Acorns are large. Imagine how many seed trees it requires to be able to plant out 100 ha, at say 1100 stems per ha. This has brought into focus the need for seed orchards of our best oaks, along with planning how to improve the quality of the genetic resource. Part of this may involve using grafted oaks from superior mother trees that don't presently set good or high-quality acorn crops. Assembling the best genetics in a few locations should result in a more diverse gene pool. Most oak seed orchards can probably be managed with seedlings (thinned to best performers, possibly supplemented with grafted stock).
At present, tissue culture is not available to support large scale oak planting.
To avoid some of the issues with inbreeding (comparative lack of vigour), Eric is now favouring the creation of a number of hybrid landraces of oak, that are fast growing, of superior form and adapted to NZ conditions. Eric is keen to work with elite hybrid oaks some of which are documented as putting on 3cm per year DBH. If you discover outstanding oak hybrids around NZ, please let Eric know. See also Tree Grower Nov 2021, pp 40-42.
Please contact Eric if you want more details or to be involved with oak selection, breeding, seed orchards or trial sites. (cairnse178@gmail.com)
Annual Conference 2022
Covid willing, NZFFA conference and our next action group AGM will be in Timaru 7-12 April 2022. Some of us will be combining this with an opportunity to collect acorns (either before or after conference). A larger selection project involving the roburoid group is envisaged. Nothing formalised just yet but sing out if you wish to tag along.