Macrocarpa- Faulkner's strain, Gisborne
By Rodney Faulkner, May 2014.
In 1905 My grandfather A.J. Faulkner took up land south of Gisborne. There was little in the way of native bush on these hills and he could see that there would be a need for fencing and general farm timber that could not be met from what little was growing on his land.
He started establishing plantations around the property using seed available from the N.Z.Forest Service. He planted a wide range of Eucalypts some of which have performed very well; E. globoidea, E. muelleriana, E. saligna and E. botryoides have provided very useful fencing and building material over many years.
He also planted several blocks of C. macrocarpa again using N.Z.F.S. seed. Most of these stands were planted on river terraces though some were on hard steep hill sides. These latter plantings were not very productive because of the exposed sites and lower fertility. The largest block was of around one ha. on a terrace beside the creek. Deep silt loam had built up over the years when the creek flooded. This block was planted in 1915 with a spacing of 2 m. X 2m.
They were only very lightly thinned but were high pruned to about 8 m. at about yr. 20. Labour was scarce during the two wars and depression years and it was not until my father returned after 1945 that he started work on this block. I understand that quite a number of the trees had died or were badly deformed with canker when he started thinning.
He built a treatment plant using cold creosote as a way of producing fencing material which was very scarce at the time. Several hundred posts and strainers were treated every year and gave good results, there being very little sapwood in these thinnings as they had been suppressed for so long.
The first saw logs were milled in about 1960 and this continued until 2000 when the last of the trees were milled. During this time posts were cut from any timber not suitable for milling. The sawn timber was used to build two woolsheds and one large house. It was also used for all the general building needs on the property.
Seed was collected from the best trees when they were milled and this seed used to establish some small blocks on the property during the 1960-70's. It was also used by some of the local nurseries and some went to Don Tantrum at Taihape.
Some time in the late 1970's the F.R.I. carried out a survey of C. macrocarpa in the North Island and looked at our stands. I was at that time keen to establish further plantings using our seed lines. As a result of this survey I was advised not to plant further macrocarpa as the incidence of canker was thought to be increasing, especially in warmer climates. It was felt that C.Lusitanica would give better results so I planted a block of them using seed from "Proseed". Unfortunately the seed was collected from poor quality, heavily branched trees and the stand is disappointing.
We also planted a stand of cutting grown C. macrocarpa "Kukupa" in 1992 on a river terrace. Within about 5 years all were showing signs of canker so were cut out.
In hindsight I should have continued planting using seed from our best trees. They appear to be resistant to canker on our property, possibly because the most susceptible trees have died over the years leaving only those that are resistant.
Rodney Faulkner. 26/05/2014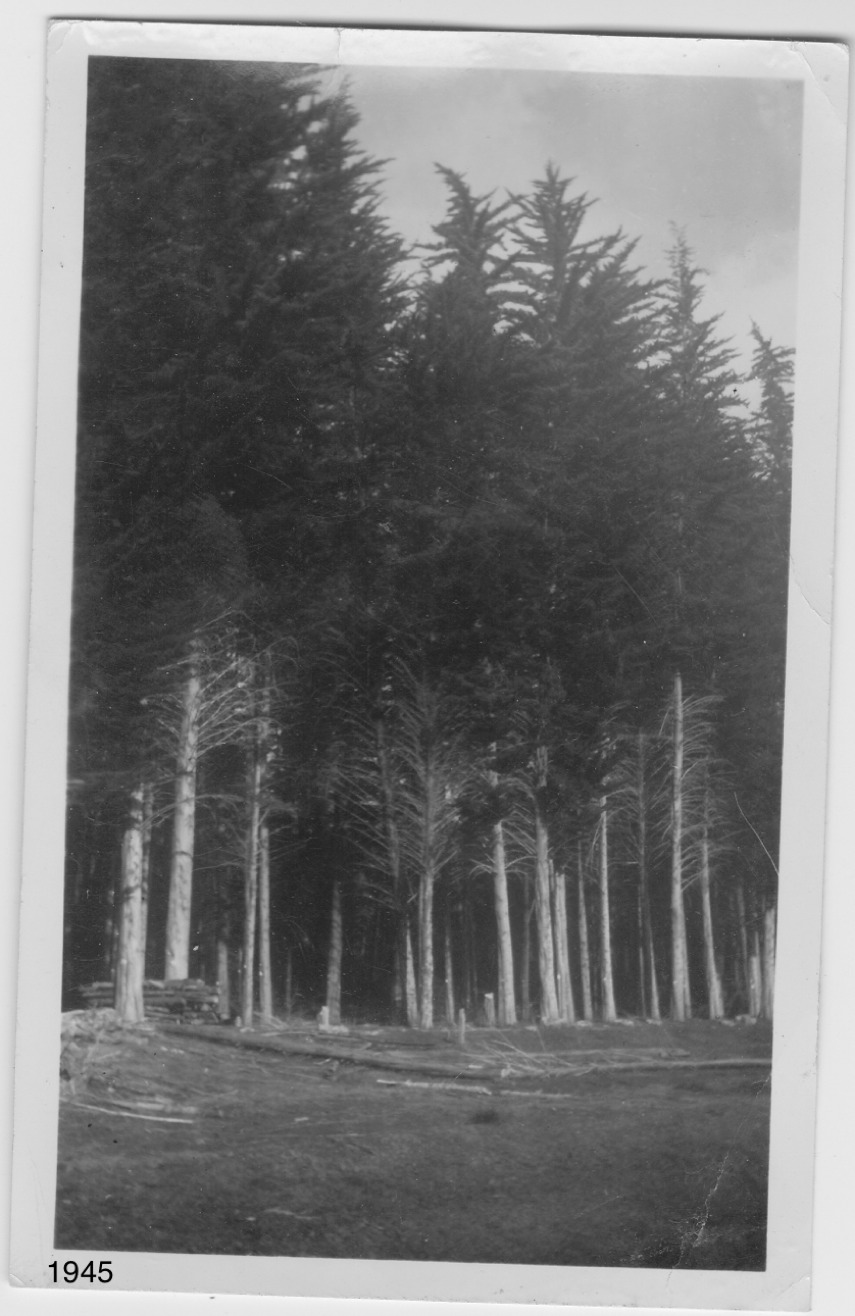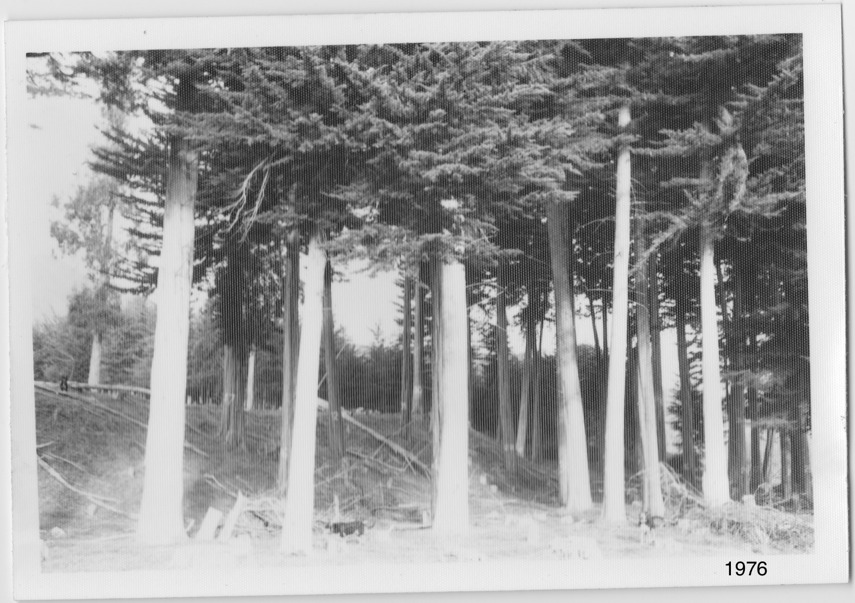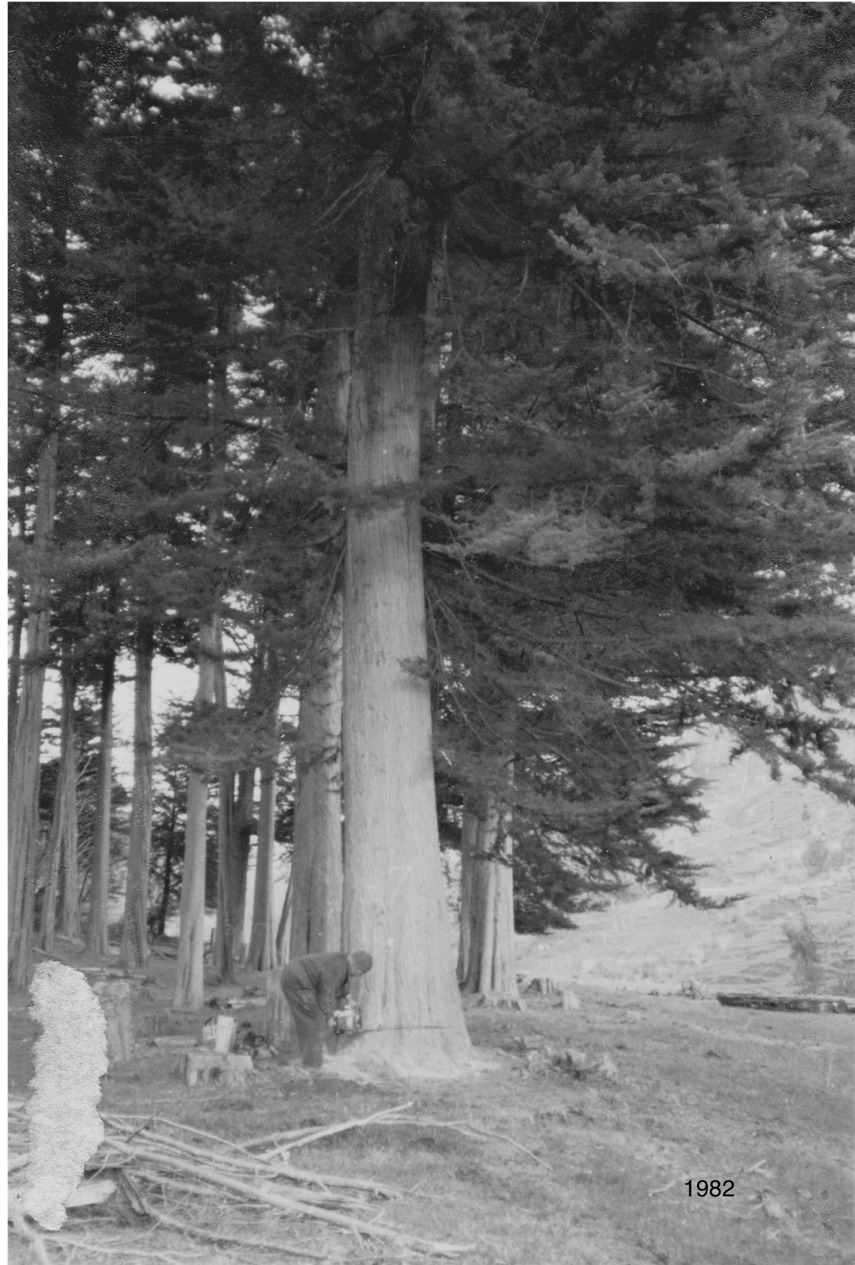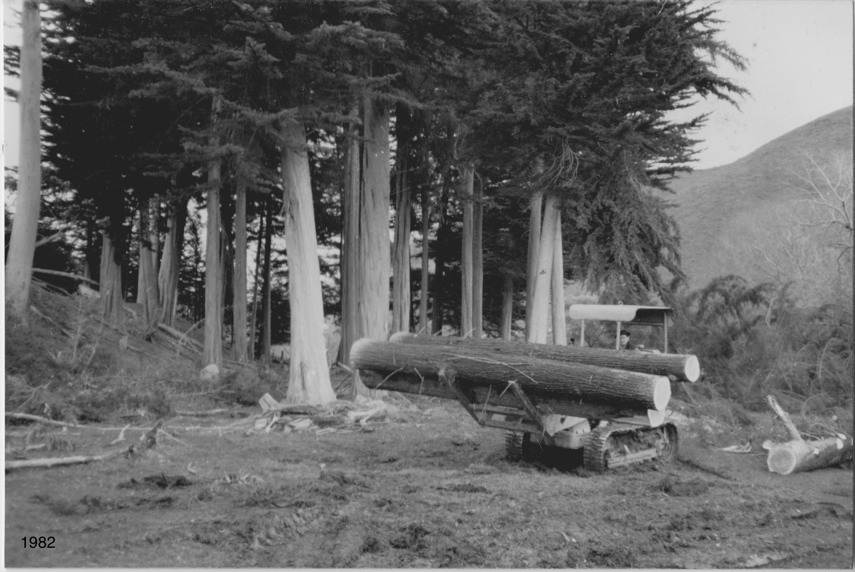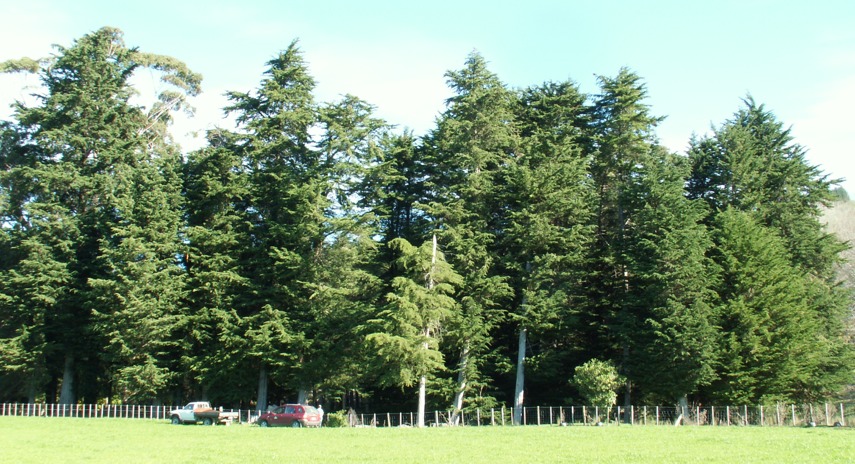 Rodney Faulkenrs stand of macrocarpa, May 2014. Photo Dean Satchell
---