---
Advertisement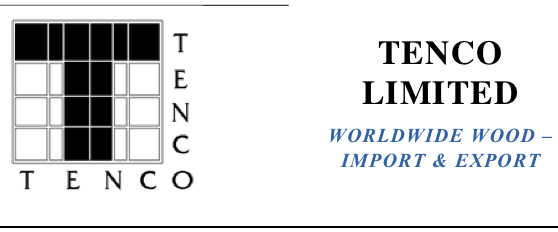 About Tenco
Tenco is one of New Zealand's largest exporters of forest products. We have built to this position since 1991 when the company was set up to export lumber to growing Asian export markets. Experience and reputation count; from small beginnings Tenco has become the largest independent exporter of New Zealand lumber and New Zealand's 4th largest log exporter. Tenco has a regular shipping program of their own log vessels and in combination with these and other ships currently calls at 7 New Zealand ports (5 North Island and 2 South Island).
Tenco buys standing forests. Tenco currently has a number of forests which they purchased at harvestable age to log over a number of years for export and domestic markets. Tenco also regularly buys smaller tracts of forest to harvest immediately or immature forests to hold until harvest time. Tenco is interested in broadening the base of owners from whom it purchases forests and stands of trees. A deal with Tenco is a certain transaction. The owner and Tenco will agree on a value of the tree crop and then Tenco will pay this amount to the owner either in a lump sum amount or on rate per volume unit out-turn from the forest depending on the nature of the tree crop.
Tenco knows there are a lot of farmers who have trees that are close or ready to harvest and will be asking themselves how they should proceed with the sale of their trees. For some farmers the kind of certain transaction with money in the bank could well be appealing. Tenco is actively interested in buying harvestable forests or trees from areas including all the North Island (except the Gisborne and East Coast districts) and Nelson & Marlborough in the South Island .
If you own a forest in this area (16 years and older) and are ready to enter into this kind of agreement Tenco is interested to develop something with you.
Please contact: Josh.Bannan@tenco.co.nz
Work: +64 7 357 5356 Mobile: +64 21 921 595
www.tenco.co.nz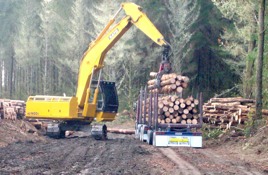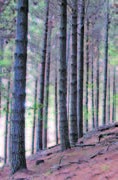 Market Report August 2019

Log Export Prices Under Downward Pressure
For those forest owners actively harvesting, the news out of the export segment will not be what they wanted to hear. In less than a month we have seen wharf gate prices fall $32 a cubic metre across the structural grades and $40 a cubic metre for pruned logs.
We have seen this sort of drop and rise in the past but never in the space of three weeks. Indeed, while some commentators have suggested there have been similar movements in the past, my records show June and July 2019 to be the most rapid.
A Very Elastic Band
In this report I cover off on some of the key factors which have us all reeling under the strain of being on the end of a very elastic band, for some of us quite a large one, while going round and round in circles. Some might even be hoping the elastic breaks and it would all stop, albeit in a rather dishevelled and broken heap.
I said in my last report that a correction was not unexpected. If I reflect back, the warning signs have been there since the last quarter of 2018. New Zealand suppliers to the China eastern seaboard seemed to want to continue to push prices up when domestic sale timber prices in China were falling while Uruguay, Europe and Russia were ramping up supply. And good old New Zealand just kept increasing production with a staggering 70 to 80 vessels a month, New Zealand ports flooded with logs, vessels stacked up and not a care in the world. Frankly we can scour the world to look for some people to string up over what has now happened but I would suggest start looking first in New Zealand.
Just to silence those who will continue to espouse the wall of wood and never sell it − all falsehoods, there is no wall of wood. If we started harvesting forests when they are supposed to be harvested, rates of harvesting would drop 20 to 30 per cent overnight and there would be no over-supply at all. Gisborne port is a classic example of out of control supply. For some time now vessels have been stacking up, and at the beginning of July no less than seven were waiting to come in to load. Meanwhile wood is arriving daily at the port well in excess of the daily load rate. You would have thought someone should have put the big white gloved hand up long before now.
Some have defended the position saying a there was large number of days this year when the pacific swell has been preventing loading. But this has not been a last minute problem.
Confusion
On some of the basics, without reference to specific pricing and trends. While the log price table suggests certain price drops, at the time of writing log prices in China are very fluid and there is a lot a scrambling for information which is often contradictory, and confusion reigns.
As I write this in mid-July precedents are changing daily. If you are considering information about prices stated now you will be well out of date by the time you get to read this article. Please use the price table this time as a guide and I will try to get back to the gospel in future reports.
Domestic Scene Amazingly Understanding
Most of my respondents have suggested domestic prices are remaining stable, at least for the moment. This is very apparent for suppliers who have a good domestic sawmill suite of customers and a history of loyalty − a high level of support is the order of the day.
It is also fair to say most report wide ranging interesting conversations with their sawmill clients, but it appears most acknowledge that if the mills drop the price, the log supply will dwindle to nothing and a not-working sawmill is not for the faint of heart.
Some have reported pruned logs falling by $10 a tonne, some have reported flat pricing and there are two examples of a drop in domestic S grade prices in the North Island. This is early days yet and I do not consider the instances of price drops to be widespread enough to affect the price table.
What is apparent in some regions is demand is just so-so. Overall demand for many is off the boil with the government and increasing costs copping most of the flak. Some commentators have suggested the kiwi dollar US dollar exchange rate climbing out of the mid 65 cents to the mid 67 cents is not adding good news for exporters. Most agree the most unwelcome currency movement is the direct consequence of some of Mr Trump's chickens coming home to roost and a declining US dollar rather than any strength in the kiwi dollar. It has been suggested the Reserve Bank governor should be heading to the gym to tighten up some of the muscle groups.
China Prices Not Good Reading
The China speed bumps I referred to in my last report have turned to a bit more than a bump. It is fair to say this key market has turned into a spiralling hollow. In the space of a month it is almost breath-taking to witness over US$20 a cubic metre drop in the selling price in China.
The rapid reduction in sales prices is certainly well ahead of anything I have experienced in the 16 or so years I have been directly involved in the China trade. Such a quick drop has massive effects, not the least being a dramatic slow-down in the harvest rate in New Zealand. This has consequences for all involved but a slow-down is exactly what is required to get a correction. One thing for certain is the harder and lower it falls, the rebound could be just as amazing, the operative word being could.
Some Basics
Here are some of the basics about what has happened and is happening right now, in mid-July in China :
As reported last month, President Trump's tariff regime started the rot affecting sales from China to the United States. This has had a cumulative slowing down effect with sales in many commodities between China and the United States declining significantly
There has been a significant increase in the supply of timber from multiple sources, primarily Europe and Russia
Pure demand for timber has been waning along with the over-supply and prices have been falling, although they have been stable for a week
Potential beetle damage in Europe following a major wind storm has seen massive areas of harvest to obtain wood fibre before the beetle can cause problems, adding 200,000 cubic metres a month of logs and timber to an over-supplied market
China wholesale returns have been negative for some time while construction has been hampered by a very hot summer, something had to give
Major New Zealand suppliers have ignored the market intelligence since late 2018 trying to push price and supply up when it needed to go down
Harvesting in New Zealand, which has for some time included forests much younger than they needed to be, has been significantly in excess of the market ability to take the extra volume.
The declining sentiment and mood of the market changed to a tipping point in late June which came when one large New Zealand supplier sent several vessels to China without sales locked down. This became a catalyst for a correction which, when you look at the key indicators, has swung far too far the other way.
During all the turmoil of a daily changing dynamic, consumption levels across the eastern seaboard have been pretty good for this time of year at around 70,000 cubic metres a day. This will improve shortly as autumn approaches. Inventory of logs has been climbing to over four million cubic metres, close to 10 weeks of supply, which is on the cusp of too much and part of the problem.
At week four after the rot set in, it is evident the supply lines from New Zealand forests are slowing. My respondent knows of 36 logging crews in the North Island who have been told to go home. Some reports confirm daily deliveries have been dropping by between five and 10 per cent a week but also now slowing every day.
Both India and Korea are following the China lead downwards. Spot opportunities exist but generally playing catch-up is the constant. Based on everyone scrambling for solutions, it would seem likely these destinations will see plenty of log vessels on the horizon shortly.
Shipping Costs Downward Trend
The pendulum has very much swung in favour of charterers with ample vessels opening on New Zealand and some choice on price and timing. In general terms we are seeing a downward trend of two to three dollars a cubic metre and that is about equivalent to the downward effect on currency exchange, so each is cancelling the other. My pick is continuing weakness in shipping costs will prevail while the log supply declines to ports continues.
What happens next?
This is a very hard one to call. On the positive side a significant drop in prices takes a lot of competitor volume out of the market quite quickly. We are also seeing consumption cranking along at not too bad a rate for this time of year and inventory is staying below 4.5 million cubic metres.
As with other times when I have seen this happen, an over-correction is very normal. When the market panics, prices drop like a stone, but the fundamentals of the domestic prices in China tell us where the prices for logs need to be for the wholesalers to start to make margins again. The prospect that some of them may have to trade the Lamborghini in for a BMW worries me not. But the concept that all in the money food chain have to live is fundamental to where log price ends up. This tells me the levels we saw in April and May 2019 will be memory for at least six months and frankly we do not want them back there if we want stability and a good price at the wharf gate.
My read of the demand and supply needs and wants, is that New Zealand needs to drop 350,000 to 400,000 cubic metres a year out of the supply chain if we want a sustainably good price. That is just over 10 vessels and 10 to 12 logging crews in over-capacity. No doubt that might be uncomfortable for some but it is a reality if you look at the numbers.
Of course, just to climb on another of my soap boxes. If the Forest Grower Levy Trust devoted some time and funding for market development for NZ Forestry Inc we might actually find some new market opportunities outside a total dependence on China.
Whatever lies ahead, keep doing it, do not defer. It is now never more important that the only way forward for climate, country and the planet is to get out there and plant more trees.
Log price table key
Understanding the figures (below)
Domestic prices are per tonne landed "at mill door".
Prices are GST exclusive.
Export prices are per JAS cubic metre landed "at wharf gate".
The absence of data reflects insufficient sales.
Prices above or below those indicated are entirely possible if wood quality exceeds or is below the normal market expectation.
P1 AND P2 grades are pruned logs with a minimum 40cm SED and 34cm SED respectively (note SED = Small End Diameter)
S30 and S20 grades are small branch logs with a minimum 30cm SED and 20cm SED respectively
L30/A30 grades are large branch logs with a minimum 30cm SED
K grade are export logs sold to Korea. KA grade is better grade log with a minimum 30cm SED. K grade are smaller standard multi purpose logs and KI is a large branch large Industrial log.
S30 price for Northern South Island relates to N35 grade
Radiata pine log sales
NZ$ per tonne

North NI

Central NI

South NI

North SI

Central SI

South SI

P1 (P36-P38)

172-192

175-190

170-180

172-180

167-175

175-185

S30

128-146

128-135

120-125

122-128

120-125

124-131

S20

116-121

111-116

101-106

109-113

96-101

-

L30/A30

101-110

-

-

-

95-105

100-105

Postwood

82-95

90-100

84-94

72-90

90-100

82-93

Chip

54-59

48-52

46-51

45-50

50-54

44-48

NZ$ per JAS
Pruned (P40)

150-155

151-156

140-145

141-146

132-137

133-138

Pruned (P32)

115-120

120-125

110-115

114-119

102-107

1406-111

A grade

115-120

120-125

106-111

108-113

96-101

100-105

CS/KS

107-112

111-116

99-104

101-106

90-95

94-99

CI/KI

94-55

93-103

88-93

90-95

82-87

89-94

Pulp (CIS/KIS)

86-91

90-95

79-84

81-86

72-77

78-83

Comparing JAS and a tonne of logs

The conversion rate from a JAS cubic metre and a tonne of logs is usually about 0.95 although this can vary. It depends on −

Stem taper which, for example, is usually less in pruned than second or third log
Summer or winter
North Island or South Island
Soil fertility
Rainfall
Aspect such as sunny or shaded back face.

If we accept an average day, average site and the 0.95 conversion rate, an export log grade comparative for an S30 log sold domestically would need to be about $137 per JAS to compare with a $130 a tonne for a domestic sale.
Macrocarpa log sales
Macrocarpa logs
South Island
Landed at mill door/tonne
North Island
Landed at mill door/tonne
Pruned Min SED 40cm
$350 - $375
-
Pruned Min SED 30cm
$170 - $190
-
Small branch Min SED 30cm
$160 - $165
-
Small branch Min SED 20cm
$135 - $145
-
Large branch/Boxing/Sleeper
$115 - $120
-
Firewood logs
$75 - $80
-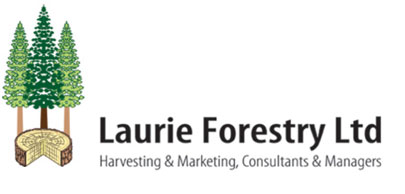 Allan Laurie is the managing director of Laurie Forestry Ltd with over 29 years experience in marketing logs for small to medium growers. www.LaurieForestry.co.nz
(top)