September, 2011
Workshops promote diverse benefits of trees on farms
A new three year programme of regionally-based workshops launching this November will help pastoral farmers and their advisors identify the economic and environmental benefits of planting trees on their properties and how best to incorporate appropriate species into their land use strategies.
The workshops break new ground with their "whole farm" approach and region-specific content. They are supported by the Sustainable Farming Fund, hosted by local branches of the NZ Farm Forestry Association and draw heavily on the expertise and practical local experience of knowledgeable farm foresters. The involvement of local AgFirst consultants, Tane's Trees Trust, Landcorp, regional and unitary councils, Young Farmers and Rural Women ensures that every workshop is tailored to reflect the opportunities and challenges specific to that area, and that tree planting, whether for timber, shelter, erosion control or potential ETS benefits, is viewed in the context of wider farm management practices.
Project manager Ian Nicholas says nearly every farm in New Zealand contains land that is difficult to farm or marginal in some way.
"In these situations trees can provide better returns than traditional farming, as well as creating an on-farm asset that, when mature, will provide farmers with a range of real financial options. However, farmers need more information about the multiple benefits, both short and long term, of tree planting, as well as the practical specifics of tree species selection, planting and management.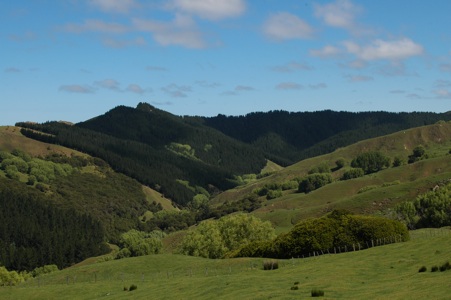 "Many have put the idea of planting trees in the too-hard basket, partly because of lack of knowledge about what are the best tree species to plant, and where, and also because in recent years many farmers have been in survival mode and tree planting has not been on their radar. More fundamentally, they haven't been able to see where trees fit in to their particular farming operation and how they can contribute directly to the bottom line.
"The ETS is creating renewed interest in tree planting amongst land owners throughout New Zealand. For farmers, planting woodlots is an excellent way to offset on-farm carbon emissions, but to gain the maximum benefit from these woodlots, and for optimum establishment, the right species need to be sited in the right areas - where the land will benefit most from trees, and where returns from stock are marginal. Farmers need targeted information in a forum and style that best suits their business and decision making processes. They want to know how to site trees most effectively within their particular farm landscape to augment farm income and address land management issues (e.g. planting on erosion-prone land), off-set carbon emissions and to comply with local government requirements."
Key themes that will be addressed during the workshops include:
Trees in the farm business: Integrated land use strategies generating diverse revenue streams - spreading risk and cash flow, enabling short-term and inter-generational/succession planning.
Trees as a vital part of any integrated land management strategy: Wise land use and "fit for purpose" planting - erosion control, riparian management/water quality, weed control, managing trouble spots, and protecting valuable soils, the lifeblood of the farm.
Integrating trees with livestock management: trees for shelter and fodder, animal welfare issues, impacts on animal health and productivity... and profitability.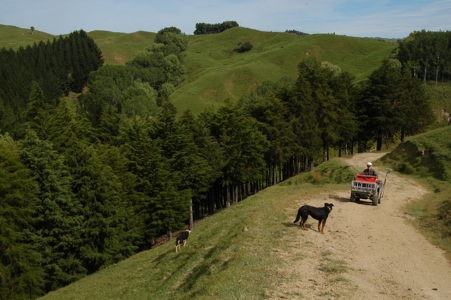 Trees and the ETS: planting to offset on-farm emissions
Each day-long workshop will include local case studies, Agfirst experience including use of Farmax modelling, and panel discussions in the morning, with field trips in the afternoon. Video clips of successful farm foresters from the local Farm Forestry Association branch will provide a powerful demonstration of local on-farm success with trees.
As well as written information and hard copies of presentations, workshop participants will receive a CD containing the workshop presentations, interviews with local farm foresters, and electronic handbooks outlining best practice growing and management of the major farm forestry timber species (redwood, cypresses, eucalypts and blackwoods).
The project is being funded by MAF's Sustainable Farming Fund, and the NZ Farm Forestry Association, Tane's Trees Trust, Agfirst, and regional and unitary councils. In all approximately 25 workshops and hui will be held around New Zealand over the three years of the project.
The first workshop will be held on 17 November in the Gisborne area, at the Wensleydale woolshed, Whangara, with the theme Trees for Profit. For more information and to register your interest in this workshop contact Nick Seymour, tel 06 862 2697.
For more information contact:
Trees on Farms project manager:
Ian Nicholas, tel 07 348 5923, email i.nicholas@clear.net.nz
Chairperson, Gisborne branch, NZ Farm Forestry Assn:
Nick Seymour, tel 06 862 2697, email pnseymour@xtra.co.nz
(More information about Wensleydale farm can be found here »
Media: Vivienne McLean, tel 07 866 5776, email mclean.temple@xtra.co.nz