January, 2012
Poplars and Willows - Central Hawkes Bay workshop, February 2012
A Fresh Look at Poplars and Willows
Poplars and willows - they're the arboreal workhorse of our rural landscape, holding hillsides and river banks together, providing shade, shelter, timber and fodder for stock when feed is short.
Programme
It's therefore appropriate that the first Trees on Farms workshop for 2012, to be held in Central Hawke's Bay in February, will focus on the management of these two species at a time of year when the option of harvesting appropriate trees for fodder starts to look very appealing.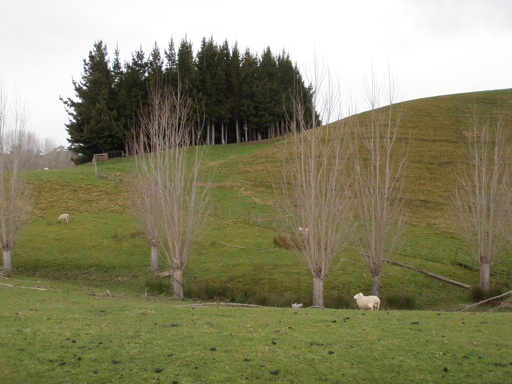 The workshop will be held in the Huatokitoki catchment south east of Waipukurau on Wednesday February 15, starting at 9a.m. It will be opened by Bruce Wills, president of Federated Farmers.
President of the Hawke's Bay Farm Forestry Association Ed Saathof says a growing number of local farmers want to find out more about poplar and willow management, especially safe ways of feeding out and how to manage poplars and willows when they get bigger.
The morning session will therefore run through the basics of poplar and willow management, and include presentations on new clones and the benefits of shade and shelter on stock productivity.
With seven new poplar clones released in 2010, there'll be even greater diversity of choice available for on-farm planting in the future. (See http://www.poplarandwillow.org.nz/pages/breeding-&-research/breeding/poplars/ .) Ian McIvor, a Plant & Food Research scientist, will discuss these and the breeding of other new poplar and willow clones.
Keith Betteridge, a senior scientist at AgResearch Grasslands, Palmerston North, will present a case study on the impact of shade on animal productivity based on trials at a hill country farm near Porangahau. Welfare and the environmental consequences of providing shade will also be discussed. In the Porangahau trials Angus cows were exposed to one of two treatments - space-planted shade trees, or no trees. Pasture was unlimited and the stocking rate was 2.1 cows+calves/ha. GPS collars identified where the cows were throughout the three week trial, while motion sensors on their leg showed whether they were standing, walking, grazing or lying down.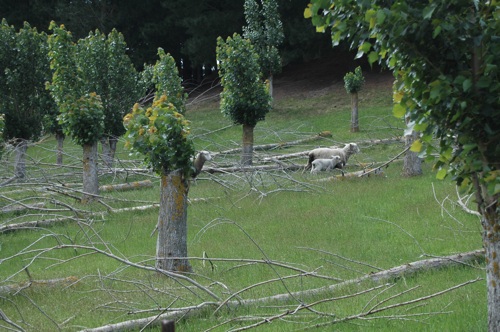 "Amongst many findings, the point of most interest was that cows with shade grazed 30-40 minutes longer each day compared to cows without shade," says Keith Betteridge. "This contradicted the opinions of those who assumed that if cows were under shade, they would not be eating and therefore not growing. Shade trees provided a place for cows that was 10 degrees cooler than out in the open, which, for these black cows that experienced up to 50 degrees C on their back, proved to be most welcome. These cows used shade extensively from around 9 a.m. until mid afternoon."
Video clips of successful farm foresters from the Hawke's Bay Farm Forestry Association will provide case studies of local on-farm success with trees.
The morning session will also include a presentation by AgFirst on the economic impact of building trees into an integrated land management strategy, including use of Farmax modelling, and the role of tree planting in generating diverse revenue streams - spreading risk and cash flow, enabling short-term and inter-generational/succession planning.
After lunch a farm tour will look at specific management issues in the field, including demonstrations of managing trees for fodder, and the merits of appropriate commercial production species and native plantings for Hawke's Bay.
As well as written information and hard copies of presentations, workshop participants will receive a CD containing the workshop presentations, interviews with local farm foresters, recent poplar and willow publications and electronic handbooks outlining best practice growing and management of the major farm forestry timber species.
The workshop is free to attend, but an indication of numbers is needed for catering purposes. For more information contact Ian Nicholas at i.nicholas@clear.net.nz (07 348 5923, 0274 505 904) or Hawke's Bay NZFFA secretary Marie Taylor planthawkesbay@xtra.co.nz (06 836 7018, 0274 424 536)
Trees on Farms is being funded by MAF's Sustainable Farming Fund, and the NZ Farm Forestry Association, Tane's Tree Trust, Agfirst, and regional and unitary councils. Targeted at farmers and other land managers, these workshops aim to highlight tree planting options that will help farm profit, succession planning, and social and environmental sustainability in the long term. Following the highly successful inaugural workshop held in Gisborne in November, a further 25 workshops and hui will be held around New Zealand in 2012-13.
The programme is available here.
For more information contact:
Trees on Farms project manager:
Ian Nicholas, tel 07 348 5923 / 0274 505 904, email i.nicholas@clear.net.nz
Hawke's Bay NZFFA secretary:
Marie Taylor 06 836 7018 / 0274 424 536, email plantHawke'sbay@xtra.co.nz
Media:
Vivienne McLean, tel 07 866 5776, email mclean.temple@xtra.co.nz