Future Forests Research Ltd Media release 4 August 2014.
Media release: Remote controlled tree felling trial shows promise
A successful trial in remote controlled tree felling could lead to significant advances in the safety of forestry harvesting operations.
The trial was completed by the Steepland Harvesting programme—a partnership between government and a consortium of forestry companies and contractors, through the Ministry for Primary Industries' Primary Growth Partnership.
"While remote controlled machines are common in the mining industry and in the military, we understand application to tree-felling is a world-first," says Keith Raymond, Programme Manager from Future Forests Research Limited, the company leading the Steepland Harvesting programme.
"In conjunction with an innovative harvesting contractor in Nelson, Wood Contracting Nelson Limited, and researchers from Crown Research Institute Scion, we integrated a remote control unit into a commercial forest harvesting machine—a John Deere 909 feller buncher," he says.
"We successfully trialed the use of remote controlled tree felling earlier this month—this result aligns to our programme's aim of improving safety and productivity in forestry harvesting operations and our vision of 'No worker on the slope, no hand on the chainsaw'.
"Through developing new technologies for mechanised tree harvesting in New Zealand's steep terrain forests, we aim to make harvesting safer and significantly reduce costs," says Justine Gilliland, Director Primary Growth Partnership at the Ministry for Primary Industries.
One of the projects under the Steepland Harvesting programme aims to design, build and commission a tele-operation system for machines operating on steep slopes. Tele-operation is the combination of using remote control technology and video feedback to operate forestry machinery outside of line-of-sight.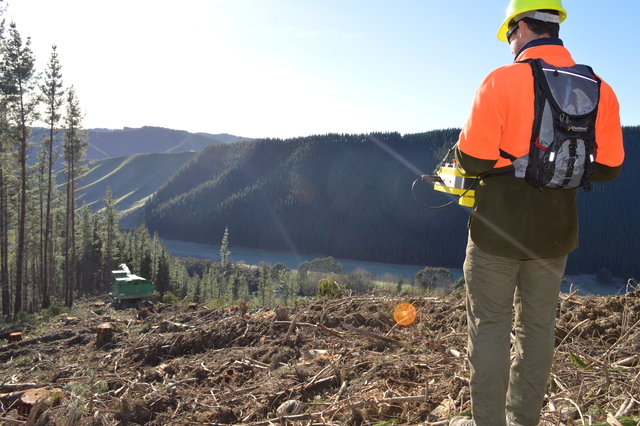 Above: The technology in operation
"We've completed the first of three stages of this project which was to achieve remote control of machine functions of the John Deere 909 feller buncher," says Keith. "The system is designed to meet NZS4240—the NZ standard for remote-controlled mining equipment.
"The next stage is to incorporate video and audio feedback. Once we've completed this, the operator will be able to operate the feller buncher from a safe distance to avoid hazardous tree felling situations.
"We expect to commission the full tele-operation control system in May 2015."
[Ends]
For further information about the Steepland Harvesting programme, see:
http://www.mpi.govt.nz/agriculture/funding-programmes/primary-growth- partnership/steepland-harvesting
About the PGP:
The PGP aims to boost the productivity and profitability of our primary sector through investment between government and industry. It provides an essential springboard to enable New Zealand to stay at the forefront of primary sector innovation.
PGP programmes are generally long-run programmes of five to seven years' duration and are subject to oversight and monitoring by an independent panel (the Investment Advisory Panel) and MPI.
There are 18 announced programmes covering the breadth of the primary industry sectors: wool, dairy, fishing and aquaculture, meat, pastoral, bee keeping, forestry, viticulture and horticulture.
Monitoring requirements for PGP programmes include programme steering groups, quarterly progress reporting, annual plans, audits, and progress reviews, along with evaluation of the overall programme. Funding is only released to programmes on receipt of invoices for work completed in accordance with programme plans.
Media enquiries:
Keith Raymond
Programme Manager, Future Forests Research Limited Phone: 07 921 7239
Email: keith.raymond@ffr.co.nz
Russell Dale
Chief Executive, Future Forests Research Limited Phone: (07) 921 7258
Email: russell.dale@ffr.co.nz
Brad Young
Senior Communications Advisor, Ministry for Primary Industries Media phone: 029 894 0328
Email: media@mpi.govt.nz