Events:

---
Advertisement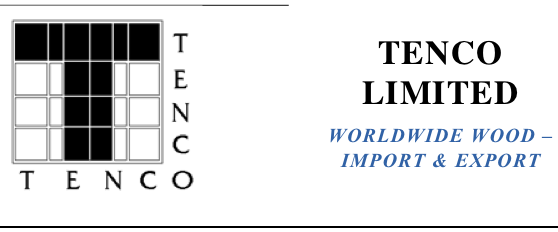 About Tenco
Tenco is one of New Zealand's largest exporters of forest products. We have built to this position since 1991 when the company was set up to export lumber to growing Asian export markets. Experience and reputation count; from small beginnings Tenco has become the largest independent exporter of New Zealand lumber and New Zealand's 4th largest log exporter. Tenco has a regular shipping program of their own log vessels and in combination with these and other ships currently calls at 7 New Zealand ports (5 North Island and 2 South Island).
Tenco buys standing forests. Tenco currently has a number of forests which they purchased at harvestable age to log over a number of years for export and domestic markets. Tenco also regularly buys smaller tracts of forest to harvest immediately or immature forests to hold until harvest time. Tenco is interested in broadening the base of owners from whom it purchases forests and stands of trees. A deal with Tenco is a certain transaction. The owner and Tenco will agree on a value of the tree crop and then Tenco will pay this amount to the owner either in a lump sum amount or on rate per volume unit out-turn from the forest depending on the nature of the tree crop.
Tenco knows there are a lot of farmers who have trees that are close or ready to harvest and will be asking themselves how they should proceed with the sale of their trees. For some farmers the kind of certain transaction with money in the bank could well be appealing. Tenco is actively interested in buying harvestable forests or trees from areas including all the North Island (except the Gisborne and East Coast districts) and Nelson & Marlborough in the South Island .
If you own a forest in this area (16 years and older) and are ready to enter into this kind of agreement Tenco is interested to develop something with you.
Please contact: Josh.Bannan@tenco.co.nz
Work: +64 7 357 5356 Mobile: +64 21 921 595
www.tenco.co.nz
Conference 2019
"Fast Forward" 16-20 May 2019, Rotorua
The Bay of Plenty Branch welcomes you to the 63rd Annual Conference that will be based in Rotorua with field-trips across the Bay of Plenty.
This Conference and Expo will bring together: technical and economic information, land owners and investors, service providers, new technologies and policies, new ideas and fresh perspectives, along with plenty of time to catch up with old friends and make new acquaintances.
Organised by the BOP Branch of the NZ Farm Forestry Association, this is an Annual Conference at a water-shed moment in forestry. Key issues for farm foresters at this time include:
Land-use and the One Billion Tree initiative
National Policy Statement on water quality
Launch of the NES-FP and proposed changes to the ETS
Productivity Commission's Low-Emissions economy report
The vote for continuance of the Forest Grower Levy
More &raquo
---
North Otago forestry meeting
Where: Wainakarua Hall. SH1,
When: Thursday 22 November, 7.30pm,
Supper will follow, all welcome, Bring a friend or neighbour.
Possums, Rabbits, Feral cats Rats, Wasps and much more for your interest.
Speaker Peter Visser of Key Industries, Nelson. Contact Rob Douglas at robsued47@gmail.com
---
South Otago branch field day
Where: Simon & Jo Davis's Coombe Hay property at 1296 Coast Road, Toko Mouth, RD2 Milton
When: Friday 23 November, 1 pm
Winners of the 2018 Peter and Pearl Moffat award. A packed afternoon of interesting topics is planned, followed by a BBQ
---
Wairarapa branch field day
Where: Paton properties, Martinborough
When: Saturday 24th November 2018
Our next Wairarapa Branch field day will be hosted by Clive Paton, Ata Rangi Vineyard, Martinborough. We will visit the renowned 'Bush Block', Pirinoa, and then proceed to Ata Rangi vineyard to have a look at some of the durable eucalypt plantings there and maybe even partake in a little wine tasting.
If you missed seeing Clive, Phyll and their team on Country Calendar recently, it is recommended viewing: Episode 24 https://www.tvnz.co.nz/shows/country-calendar/episodes/s2018-e24
---
Wairarapa branch field day
Paton properties, Waihora
When: Saturday 24th November
Where: 1787 Lake Ferry Road, Martinborough 10.30am – 3.30pm and later...
10.30am Meet at Waihora Farm (15 mins from Martinborough). Park on paddock at end of drive (700m) by woolshed, Meet and greet, cup of tea
11.00am Ground durable eucalypts, production totara, AGS carbon forestry
12.30pm Lunch at Bush Hut
13.30pm Native preservation, bird food trees, Waihora Stream planting and native fish values, aesthetic plantings, Project Crimson
15.00pm Head to Ata Rangi - 4 Puruatanga Rd, Martinborough 5741 15.30pm Ata Rangi - BBQ and wine
See map below for field day locations.
Please RSVP to Kolja or Harriet by November 20th, especially if you intend to stay for the BBQ.
Kolja Schaller: kolja.schaller@gw.govt.nz T: 06 826 1503 | M: 022 068 5424
Harriet Palmer harriet.e.palmer@gmail.com M: 021 025 32529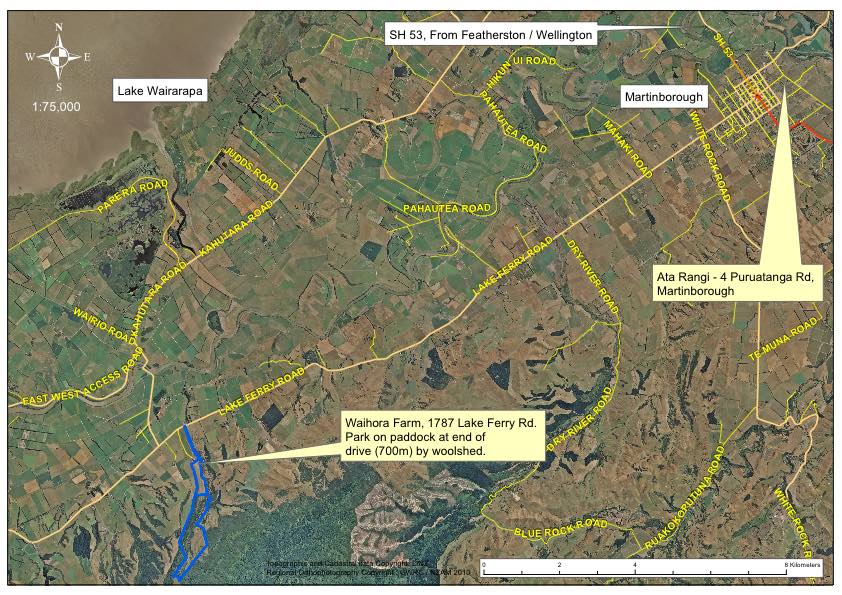 ---
Mid North branch christmas gathering
When: Saturday 24th November, 11am
Where: Headland Farm Park Beach, 71 Manganese Point Road, Tamaterau. Second Gate.
Please bring:
a salad or dessert to share
BBQ available to cook your meat BYO drink and utensils.
Swimming gear!
Alternative venue house 80 (if the weather is uncooperative).
Contact Peter or Pam Kelly 094361230 or 0273146240
---
Tane's Tree Trust AGM and Field Trip
Sustained Yield Beech Management - Canterbury and West Coast
When: 24th - 25th November 2018
Itinerary
Saturday 24th
9am Drive from Christchurch airport to Oxford. Meet up with anyone joining in their own car
10am Drive to John Wardle's property, a continuous cover beech and pine operation
1pm Drive to Greymouth with a stop at Mt White Bridge – view mountain beech forest
4.30pm AGM at The Ashley Hotel conference room, including presentations
Sunday 25th -
8am Drive to Ken Ferguson's Gray Valley farm, a large sheep and beef farm with sustainably managed beech
- With stops at kahikatea/matai remnant stand, clear fell regeneration and thinning site and large wind throw recovery site
11am Leave for Reefton to visit NZSFP Mill site – timber and veneer operation
1.30pm Drive to Christchurch via Lewis Pass
4.30pm Arrive at Christchurch airport
NB: all times are approximate, except the meeting time in Oxford on Saturday at 10am
We will be taking minivans from Christchurch. The cost is $100 per person (return trip).
To reserve your seat please contact the office.
You can join us in your own car as well - please meet in Oxford at 10am.
---
Forest Levy Vote 2019 - invitation to hear more
Each year forest and woodlot owners like yourself contribute about $9 million to supporting forestry in New Zealand. The investment comes from the Forest Growers levy. It supports research, health and safety, biosecurity, and a host of other activities which benefit growers.
In March/April 2019 forest and woodlot owners will be able to vote on setting the levy for the next six years. You are invited to a meeting to hear more about plans for what's necessary for the future of our stake in forestry and what new government policies might mean for our industry.
You'll be able to talk to representatives from the Forest Growers Levy Trust, the Forest Owners Association and the Farm Forestry Association.
If you can't get to the meeting keep an eye on the website for a webinar.
I hope you can join us.
Yours sincerely,

Geoff Thompson,
Chair, Forest Growers Levy Trust
Public meetings in your area
Masterton
Monday 29 October, 9:30AM
Copthorne Solway Park, High St
Feilding
Monday 29 October, 2:30PM
Manfeild, 59 South St
Orewa
Thursday 1 November, 9:30AM
Orewa Bowling Club, Northshore
Whangarei
Thursday 1 November, 4PM
Northland Events Centre, 51 Okara Dr
Wellington
Wednesday 7 November, 4PM
The Terrace Conference Centre, Ground floor, 114 The Terrace
Gisborne
Friday 23 November, 11AM
Gisborne Cosmopolitan Club, 190 Derby St
Rotorua
Tuesday 27 November, 9:30AM
Distinction Rotorua, 390 Fenton St, Glenhome
Hamilton
Tuesday 27 November, 4PM
Distinction Hamilton, 100 Garnett Ave,
Te Rapa
Nelson
Monday 5 November, 10:30AM
Club Waimea, 345 Queen St
Christchurch
Tuesday 13 November, 9:30AM
Sudima Hotel, 550 Memorial Ave
Timaru
Tuesday 13 November, 2:30PM
Timaru Town & Country Club,
99 Douglas St
Dunedin
Wednesday 14 November, 9:30AM
Kingsgate Hotel, 10 Smith St
Gore
Wednesday 14 November, 3PM
Heartland Hotel Croydon, 100 Waimea St
---
Webinar - Learning from three demonstration wood energy applications
When: November 29th, 2pm
The webinar will be an in depth discussion on three recently installed wood energy heating applications.
A recent review of the applications has produced a number of learnings which can be shared with others doing similar projects.
The applications have been written up as case studies and are available to anyone doing similar projects:
Heat for horticulture hot houses
University student residence
Community health centre
The case studies show a number of aspects that worked well, or could have been done differently for each application.
Booking a place at the webinar
Bookings are essential in order to connect to the GoToMeeting system:
Please book your place at this webinar using the following registrantion link https://register.gotowebinar.com/register/6412426973182419714 or by sending an email to admin@bioenergy.org.nz to receive the webinar registration link.
---
Lower North branch event
When: Saturday 1 December, 10.00 am
Where: Diana Annandale's Taupaki property near Kumeu.
Meet at Diana's house in time for morning tea and an introduction to her former production forestry programme (which was harvested more than 20 years ago and is now re-growing a second rotation), plus her quite extensive natural forest areas.
Diana has permanently protected much of the native forest on the farm which is now an important feature of the landscape. She and her family have also fenced off and planted much of the wetland area for conservation purposes - illustrating what good riparian planting might look like.
Our pre-Christmas luncheon – come and enjoy a pleasant lunch with other Lower North members... and of course Diana's native forests and wetland restoration.
To complement all of that, Diana has also planted many other native trees in her "arboretum". Discussions will include consideration of the choice of species planted, the nature of subsequent management and some of the incentives.
A luncheon courtesy of your committee will follow, and even a bit of Christmas Cake.
We plan to finish the visit about 2.00pm to permit you to get home in good time and your committee are sure you will get a buzz out of the day.
Getting there: Diana's property is at 202 Annandale Road, Taupaki. It may be approached along Waitakere Road from either the Kumeu end or from Henderson/Ranui on Swanson and Waitakere Roads. There is ample parking.
Also: Bring some reasonably stout walking shoes and wet weather gear if the forecast isn't quite perfect. Please also send confirmation of your attendance so we can ensure everyone is catered for - RSVP by Wednesday 28 November - phone/text Elizabeth 027 436 8957 or call 0800 768 957 or send an e-mail to thehansens@harcourts.co.nz
We will also provide a brief update on current issues such as the Forest Growers Levy, and what happened at the recent Councillors meeting in Wellington on Friday 16 November.
---
2019 Biosecurity Conference
Where: Scion (Rimu Room)
When: March 5-6
Theme: operational biosecurity
---