Events:

---
Advertisement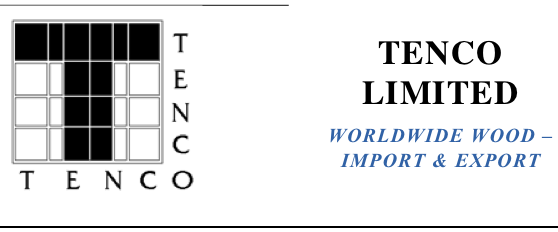 About Tenco
Tenco is one of New Zealand's largest exporters of forest products. We have built to this position since 1991 when the company was set up to export lumber to growing Asian export markets. Experience and reputation count; from small beginnings Tenco has become the largest independent exporter of New Zealand lumber and New Zealand's 4th largest log exporter. Tenco has a regular shipping program of their own log vessels and in combination with these and other ships currently calls at 7 New Zealand ports (5 North Island and 2 South Island).
Tenco buys standing forests. Tenco currently has a number of forests which they purchased at harvestable age to log over a number of years for export and domestic markets. Tenco also regularly buys smaller tracts of forest to harvest immediately or immature forests to hold until harvest time. Tenco is interested in broadening the base of owners from whom it purchases forests and stands of trees. A deal with Tenco is a certain transaction. The owner and Tenco will agree on a value of the tree crop and then Tenco will pay this amount to the owner either in a lump sum amount or on rate per volume unit out-turn from the forest depending on the nature of the tree crop.
Tenco knows there are a lot of farmers who have trees that are close or ready to harvest and will be asking themselves how they should proceed with the sale of their trees. For some farmers the kind of certain transaction with money in the bank could well be appealing. Tenco is actively interested in buying harvestable forests or trees from areas including all the North Island (except the Gisborne and East Coast districts) and Nelson & Marlborough in the South Island .
If you own a forest in this area (16 years and older) and are ready to enter into this kind of agreement Tenco is interested to develop something with you.
Please contact: Josh.Bannan@tenco.co.nz
Work: +64 7 357 5356 Mobile: +64 21 921 595
www.tenco.co.nz
Conference 2018
"Nelson – Autumn Splendour"
Sunday 6 May to Wednesday 9 May 2018, Tahuna Conference Centre, 70 Beach Road, Tahunanui, Nelson
Registration form available to print here »
Register online here »
You'll be asked to log in. If you are not registered on the NZFFA website then please do this first before you register for Conference 2018.
Find out more here »
We invite you to Nelson next May to enjoy the autumn splendour in an historic and modern centre of forestry activity. There is not much flat land in the top of the South Island and little of that to be wasted on trees. The rural land holdings here are traditionally small, but adequate for intensive farming of all sorts of berries, fruit trees and hops. The result is a never-ending pleasure of foothill garden valleys, borders of native remnant giving way to plantation hills, beech ranges and the tops...
---
Middle Districts branch field day
The April field day will be at Malcolm Nairn's property, Makino Road, Feilding.
Date: Tuesday 24th April Time: 10.30 a.m.
Venue: The Nairn property 1061 Makino Road Feilding but!!!!! If it's wet there will be limited parking space so would pay to car pool in Feilding. We will leave this for members to organise amongst themselves.
Malcolm, a long time MDFFA member, has done some very interesting trials with radiata pine at wide stockings and extra high pruning. There are also other plantings of a variety of species. Should be the stimulus for a lot of energetic discussion.
Bring: It would be helpful if we could get 2 or 3 four-wheelers. Otherwise good footwear, suitable clothing, lunch and a friend.
Organiser: Malcolm Nairn 06 323 5560
or Denis Hocking 06 322 1254 jdhocking@xtra.co.nz
---
7th National Forest Ecosystem (FES) Forum and Workshop
When: 8-9 May 2018
Where: Te Papa in Wellington.
This year's theme is 'Integrating Forest Ecosystem Services into decision making processes'.
The event will be addressing the question on how ecosystem services from forests could be measured and included in national and international environmental accounting frameworks. New Zealand and international approaches are currently being developed to establish standard measurements of all the benefits forests provide (e.g., economic, environmental, social) to enable their better representation in public policy and investment decisions.
Day 1 will include a keynote presentation by Dr Michael Vardon (Australian National University) on international initiatives developing the theory and practice of incorporating forest ecosystem services into national and regional environmental accounts. Other sessions will also address what decision making processes can use environmental accounting information and current FES initiatives in New Zealand. The day will finish with a session discussing: 'How do we match what's going on with what we need?'
On Day 2, a workshop will focus on producing a roadmap for the production and use of environmental accounting in forest management and planning in New Zealand. Past New Zealand work and the global experience will be used to shape a future work programme that identifies specific information products, roles for different agencies, possible funding sources as well as opportunities and barriers to the production and use of accounts.
Please see attached draft agenda for the detailed programme. Please note, people interested in the workshop on Day 2 are encouraged to also attend the forum on Day 1 as the workshop will follow up on presentations and discussions from Day 1.
Online registration ($80) for the forum and workshop is essential and the direct registration link is: at https://national-forest-ecosystem-forum-2018.lilregie.com. Registration by Friday 27th April will be appreciated so numbers can be finalised for catering purposes. The Scion website also has the agenda and the registration link available at http://www.scionresearch.com/fesforum2018.
Please pass this information onto your colleagues who may be interested in attending this event.
For more information about the programme please contact: Richard Yao richard.yao@scionresearch.com; Sandra Velarde sandra.velarde@scionresearch.com; or Tim Payn tim.payn@scionresearch.com
---
Gisborne East Coast field day
Where: David Clark's Waingake road.
When: Wednesday 23rd May. 1-30 p.m.
Turn off S.H.2 at Manutuke to Waingake road; about 3 km. on the left is the old quarry were we will park. David started planting this block of hard north facing hill country about two years ago and the trees are just starting to show through. He has planted a range of different Eucalypts, mostly the more durable species. He has also planted Redwoods, C. lusitanica and C.ovensii. He has established a wetland area that has been extensively planted in appropriate species and is already home to numerous ducks and other wildlife.
We will then drive a short distance up the road to his earlier plantings that we visited a few years ago. These were planted about 22 years ago and most species are looking excellent. A small block of pines have recently been harvested, resulting a very good return. There are two different clones of Sequoia sempervirens, redwoods growing near the road. On our last visit, one strain looked to be of much better form with lighter branching and faster growth rate. Also of note is a block of C.lusitanica that are of very good form with no canker and very light branching. There are several species of Eucalyptus as well as Juglans nigra, American black walnut. David's Sequoia sempervirens, planted in 2007.
Any queries; Rodney Faulkner; 867 8131
---
NZ Wood Resene Timber Design Awards
This is New Zealand's only Timber Design award event and allows engineers, architects, architectural designers and builders to showcase innovation using timber.
Professionals worldwide are using wood in often new and imaginative ways to improve a building's seismic and fire resilience, and New Zealand projects are designing buildings to compete with world leaders.
Both local and international companies will be looking to NZ for timber design inspiration in 2018.
NZ Wood Resene 2018 Timber Design Awards key dates:
Stage One Entries open: 1 March 2018
Final Judging - 7 August 2018
Gala Awards Dinner – 20th September 2018 at the Grand Millennium Hotel - Auckland
Entry Details:
Entry is open to NZ resident architects, builders, architectural designers, engineers, students and other designers who have used NZ originated timber that has been manufactured in NZ. Only one entry per project, joint entries between disciplines or firms are welcome.
Conditions of entry:
A submitted project must be based on a completed building or structure.
Building or project must have been completed between 1 March 2016 and 28 February 2018.
Building or project must have significant timber content, either structural or decorative.
Projects may include the effective use of timber in combination with other materials.
Building or project owner's consent for publicity must be acknowledged on the entry form.
Anonymity of the owner's name will be assured if requested in the appropriate part of the entry form.
The entry form must be complete and accurate – you should retain a completed copy for your records. You will receive an email confirming your entry once it has been processed.
Projects entered in previous years must not be entered again.
An entry fee of $115.00 per category entry is payable using the online PayPal method.
A submission may be entered in a maximum of two of the nine categories.
Entry Form will be available at beginning of March so check the NZ Wood website for details: http://www.nzwood.co.nz/category/timber-design-awards/nzwood-resene-timber-design-awards-2018/
Gala Dinner to Announce Winners
Winners are announced at the "Gala Awards Dinner" at the Grand Millennium Hotel Auckland - 20th September 2018. This Gala event is a celebration with New Zealand's most talented designers, engineers and industry leaders. It's a night of celebration of excellence in timber design.
Our Keynote Speaker is yet to be announced, but in past years' we have had leading architectural and property developers key people show how they have lead the way.
We look forward to seeing your entries soon, so don't miss the opportunity to showcase your project in these highly recognised awards!
To view the full list of 2017 finalists: Click here
---
Forest Growers Conference and Field Trip 2018
Day 1: Tuesday, 16th October 2018, 9:30am - 4:30pm.
Conference
Dinner and Science Awards
6:00pm Pre dinner drinks 7:00pm Dinner/Awards
Day 2: Wednesday, 17th October 2018, 8:30am - 4:30pm.
Day 3: Thursday, 18th October 2018, Approx Time: 8:00am - 4:00pm.
Where: Trinity Wharf Tauranga, 51 Dive Crescent, Tauranga 3110 - Room Reservations
We are now approaching the fifth anniversary of the Forest Growers Levy funded work programme. The programme aims to increase forest profitability, reduce risk and ensure the industry's licence to operate is protected.
Day 1 of the 2018 conference will include a report back on the wider activities supported by the Forest Growers Levy Trust as well as presentations on research that are of benefit to small forest owners.

Day 2 will have a focus on genetic improvement, work to improve productivity and wood quality, and biosecurity. Log export logistics and fumigation will be discussed.

The field trip will include a visit to Port of Tauranga to look at log export logistics technology, log fumigation and methyl bromide recapture technologies, along with a visit to an award winning farm forestry property near Tauranga.

A more detailed programme and registration details will be available by early June 2018.

Learn about the research programmes being funded by the levy, the results to date and how you as a forest grower can use these results to:
Achieve better financial returns from new and existing forests
Improve the health and resilience of your forests to pests and diseases
Maintain our industry 'licence to operate'
Come along and benefit from this significant investment in the future of the forest growing industry by the Forest Growers Levy Trust.
---