Events:

---
Advertisement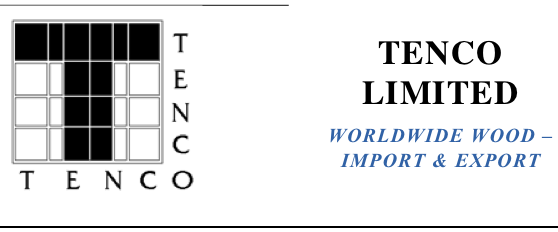 About Tenco
Tenco is one of New Zealand's largest exporters of forest products. We have built to this position since 1991 when the company was set up to export lumber to growing Asian export markets. Experience and reputation count; from small beginnings Tenco has become the largest independent exporter of New Zealand lumber and New Zealand's 4th largest log exporter. Tenco has a regular shipping program of their own log vessels and in combination with these and other ships currently calls at 7 New Zealand ports (5 North Island and 2 South Island).
Tenco buys standing forests. Tenco currently has a number of forests which they purchased at harvestable age to log over a number of years for export and domestic markets. Tenco also regularly buys smaller tracts of forest to harvest immediately or immature forests to hold until harvest time. Tenco is interested in broadening the base of owners from whom it purchases forests and stands of trees. A deal with Tenco is a certain transaction. The owner and Tenco will agree on a value of the tree crop and then Tenco will pay this amount to the owner either in a lump sum amount or on rate per volume unit out-turn from the forest depending on the nature of the tree crop.
Tenco knows there are a lot of farmers who have trees that are close or ready to harvest and will be asking themselves how they should proceed with the sale of their trees. For some farmers the kind of certain transaction with money in the bank could well be appealing. Tenco is actively interested in buying harvestable forests or trees from areas including all the North Island (except the Gisborne and East Coast districts) and Nelson & Marlborough in the South Island .
If you own a forest in this area (16 years and older) and are ready to enter into this kind of agreement Tenco is interested to develop something with you.
Please contact: Josh.Bannan@tenco.co.nz
Work: +64 7 357 5356 Mobile: +64 21 921 595
www.tenco.co.nz
Conference 2018
"Nelson – Autumn Splendour"
Sunday 6 May to Wednesday 9 May 2018, Tahuna Conference Centre, 70 Beach Road, Tahunanui, Nelson
Registration form available to print here »
Register online here »
You'll be asked to log in. If you are not registered on the NZFFA website then please do this first before you register for Conference 2018.
We invite you to Nelson next May to enjoy the autumn splendour in an historic and modern centre of forestry activity. There is not much flat land in the top of the South Island and little of that to be wasted on trees. The rural land holdings here are traditionally small, but adequate for intensive farming of all sorts of berries, fruit trees and hops. The result is a never-ending pleasure of foothill garden valleys, borders of native remnant giving way to plantation hills, beech ranges and the tops...
---
Mid North branch AGM
2018 AGM to be held at Matapouri on Saturday 24th February.
For those keen for a walk first we will meet at the Matapouri Hall at 10am. The Hall is on the left after the store and opposite Morrison Road. We will leave in convoy from there and go a short distance to the end of Ringer Avenue. From there we will walk to the end of Matapouri Beach and then take the headland path that brings us back to Whale Bay. Assuming everyone has enough energy we will go down to Whale Bay and then return back to the end of Ringer Avenue.
We will drive to Peter and Nikki Davies-Colley's property at 754 Matapouri Road for lunch around 12pm and the AGM around 1pm.
754 is on the left before Langman Lane when coming from Matapouri back towards Whangarei. There is a red mailbox with 754 on it.
There will be a chance to look at Peter and Nikki's new house and to walk around a developing garden.
Just bring your lunch and walking shoes.
---
Far North branch field day and AGM
Where: Brian & Gaye Simms, 337 Snelgar Road Kaitaia
When: Sunday, 4th March, 10 A M
Do-it-yourself harvesting and use of blackwood, silky oak and Eucalyptus saligna.
After decades of effort planting and tending these specialty timbers the time has come to start using the wood. Brian has developed his own methods of getting very hefty logs from the bottom (usually) of steep hills and thence to a nearby mill. A couple of years ago, armed with the confidence of having done woodwork at school and rough chainsaw carpentry on- farm he decided to have a go at making furniture, coffee tables in particular. It has all been a big learning experience and he hopes to garner further knowledge from field day participants as well as offering what he has learned to date. And yes, the woodwork will be on show (and for sale!)
There is 200m to walk on a sloping farm road, or tractor ride if you prefer.
Lunch and AGM afterwards. Bring your lunch
Contact: Brian Simms 09 4084050 027 4062801 treesimsy@gmail.com
---
Forest Biosecurity Conference 2018
Ramping up our biosecurity - licence to use tomorrow's toolbox?
March 14th, Rotorua
The conference will feature a keynote address from Tim Ebata. Tim is currently the forest health officer for the Ministry of Forests, Lands, Natural Resource Operations and Rural Development in the province of British Columbia, Canada and will speak about how the BC authorities have managed public reaction to the spray programme for gypsy moth.
The Minister of Biosecurity has been invited to open the conference. As indicated in the attached draft programme there will be speakers from industry, research and government and the conference will include panel discussions to debate key issues and identify challenges and opportunities for New Zealand biosecurity. There will be more to come!
You will note the conference formally starts at 3pm on March 14, but all attendees are encouraged to come to the lunch at 12 noon, and to take part in the Forest Biosecurity Consultative Committee (FBCC) meeting from 1 to 3pm.
Register using the link below which includes payment for the conference, and the dinner (if you wish to attend). The dinner will be at Terrace Kitchen, on the lakefront in Rotorua township, and will be a set menu. If you have any dietary requirements, the registration link provides an opportunity to indicate this to the organising committee.
Please feel free to pass this registration information and link to others who may be interested.
Register here (note you can register/pay for more than one person on the form if required).
Please be aware that accommodation in Rotorua is limited for the night of Tuesday March 14. If you need to book accommodation for the conference, it might pay to look at it sooner rather than later.
If you have any questions, please email Venise Comfort, NZFOA
---
ForestWood 2018 Conference
When: Wednesday 21 March 2018
Where: Museum of New Zealand Te Papa Tongarewa
Website: www.forestwood.org.nz
The new government has thrown a sudden and revolutionary challenge to our forest industry. To reach a billion new trees, planting must double the present rate – sustained over the next ten years.

ForestWood 2018 is the key conference designed to take a hard look at the Growth vs Gremlins in the new era of New Zealand forestry.

150 days into the new government's forest goals, ForestWood 2018, Museum of New Zealand Te Papa Tongarewa, Wednesday 21 March, will hear how and where all this planting is about to happen – The Plan.

Critical issues are to be addressed, such as the role of the Overseas Investment Office, the future of carbon credits, a Wood First Policy and the sustainability of New Zealand wood processing.

Be part of this milestone event and register now.

The full programme is available online at forestwood.org.nz/programme.
Early Bird Registration Reminder
Register before Tuesday 13 February to secure the best Early Bird registration fees.
ForestWood is the only opportunity to participate in a whole-of-industry conference and will be an event not to be missed. Reduced rates are available to members of FOA, WPMA, FICA, and NZFFA.
A special rate is also available to members of NZIF.


Conference Dinner
Sponsored by C3
Wednesday 21 March 2018, from 5pm
Te Marae, Museum of Te Papa Tongarewa
Cost per ticket: $125
more >>
---
Mid North branch field day
Where: Gravatt's farm, 1493 Pukehuia road, Tangiteroria
When: Saturday 24th March, 10.00 am
Theme in the morning: "Protecting Norths erosion prone hills"
January 1999 a rain storm dumped 150 mm of rain in 2 hours causing hundreds of slips and blocking culverts with silt. The storm damage was startling and made us realise we needed to step up our poplar planting.
The next two years we planted 700 one metre wands in two badly affected gullies. We usually plant 100 poles each year.
A farm forestry colleague, John Pedersen, says the erosion prone nature of Northlands hill country makes the planned field day particularly topical. It's not a case of if, but when the next big weather bomb comes. We have such extreme rainfall at times that makes erosion a big problem in the North. The sticky clay we have can just fall to bits when it gets a lot of rain. It is our challenge to try and slow down natures destructiveness.
Why poplars?
erosion
shelter for stock
prunings fed to stock (insurance against drought)
wonderful autumn colour
NRC Land Management advisors will help with discussion, advice and promoting the MPI funded Kaipara hill country erosion project which is a part of the Council's efforts to reduce erosion sedimentation into the Kaipara harbour.
Afternoon programme: Eucalypts
We will visit a 4 ha Eucalyptus pilularis trial block and will have Dean Satchell to lead our discussion. Also another planting of 50 E. microcorys.
We have other plantings of trees if time permits.
All welcome. Bring good walking shoes and your lunch.
Contact person: Bev Gravatt (09) 430 0641
---
NZ Wood Resene Timber Design Awards
This is New Zealand's only Timber Design award event and allows engineers, architects, architectural designers and builders to showcase innovation using timber.
Professionals worldwide are using wood in often new and imaginative ways to improve a building's seismic and fire resilience, and New Zealand projects are designing buildings to compete with world leaders.
Both local and international companies will be looking to NZ for timber design inspiration in 2018.
NZ Wood Resene 2018 Timber Design Awards key dates:
Stage One Entries open: 1 March 2018
Final Judging - 7 August 2018
Gala Awards Dinner – 20th September 2018 at the Grand Millennium Hotel - Auckland
Entry Details:
Entry is open to NZ resident architects, builders, architectural designers, engineers, students and other designers who have used NZ originated timber that has been manufactured in NZ. Only one entry per project, joint entries between disciplines or firms are welcome.
Conditions of entry:
A submitted project must be based on a completed building or structure.
Building or project must have been completed between 1 March 2016 and 28 February 2018.
Building or project must have significant timber content, either structural or decorative.
Projects may include the effective use of timber in combination with other materials.
Building or project owner's consent for publicity must be acknowledged on the entry form.
Anonymity of the owner's name will be assured if requested in the appropriate part of the entry form.
The entry form must be complete and accurate – you should retain a completed copy for your records. You will receive an email confirming your entry once it has been processed.
Projects entered in previous years must not be entered again.
An entry fee of $115.00 per category entry is payable using the online PayPal method.
A submission may be entered in a maximum of two of the nine categories.
Entry Form will be available at beginning of March so check the NZ Wood website for details: http://www.nzwood.co.nz/category/timber-design-awards/nzwood-resene-timber-design-awards-2018/
Gala Dinner to Announce Winners
Winners are announced at the "Gala Awards Dinner" at the Grand Millennium Hotel Auckland - 20th September 2018. This Gala event is a celebration with New Zealand's most talented designers, engineers and industry leaders. It's a night of celebration of excellence in timber design.
Our Keynote Speaker is yet to be announced, but in past years' we have had leading architectural and property developers key people show how they have lead the way.
We look forward to seeing your entries soon, so don't miss the opportunity to showcase your project in these highly recognised awards!
To view the full list of 2017 finalists: Click here
---