Eucalyptus nitens, recovery and economics of processing 15 year old trees for solid timber
Report Date:
May 2015
Author:
Dean Satchell, Sustainable Forest Solutions, R.D. 1 Kerikeri, Northland 0294
+64 9 4075525
Special thanks and acknowledgement go to:
MPI Sustainable Farming Fund
Neil Barr Farm Forestry Foundation
John Fairweather Specialty Timbers
North Canterbury, South Canterbury, South Otago and Southland branches of NZFFA
NZFFA Eucalyptus Action Group
NZFFA Research committee
Appendix 1: Assumptions in Discounted Cash Flow Analysis
Appendix 2: Sawn timber price estimates
Appendix 3: Literature review - Value-based survey pricing methods
Appendix 4: Literature review - Estimating profitability of growing E. nitens for solid timber production
Appendix 5: Sawmilling method
Appendix 6: Flooring price survey instrument
Appendix 7: Survey results table
Appendix 8: Survey analysis
Appendix 9: Wood physical properties, test results
Appendix 10: Glossary of terms
Appendix 11: Case study stand plot
Appendix 12: Comparison between levels of internal and surface checking
Appendix 13: Air drying experiment
Appendix 14: Sensitivity analysis
---

15 year old Eucalyptus nitens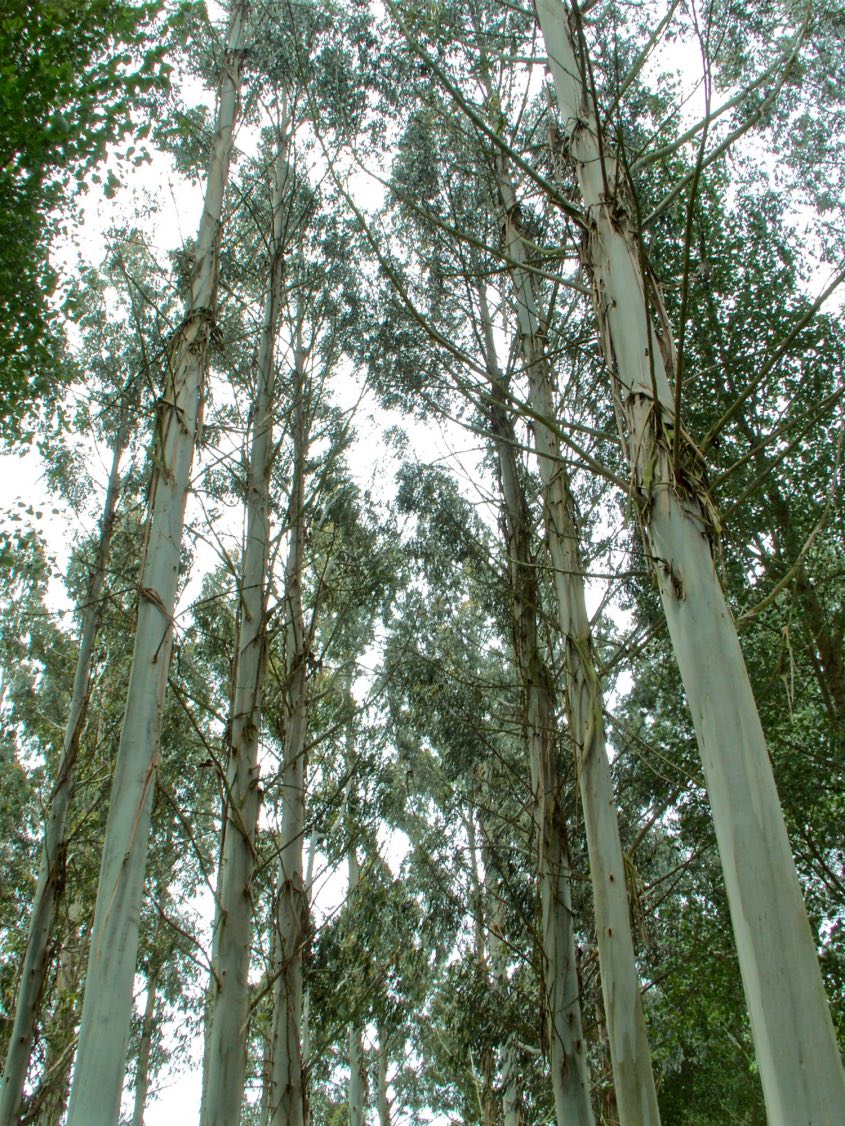 Headlogs and crowns in the stand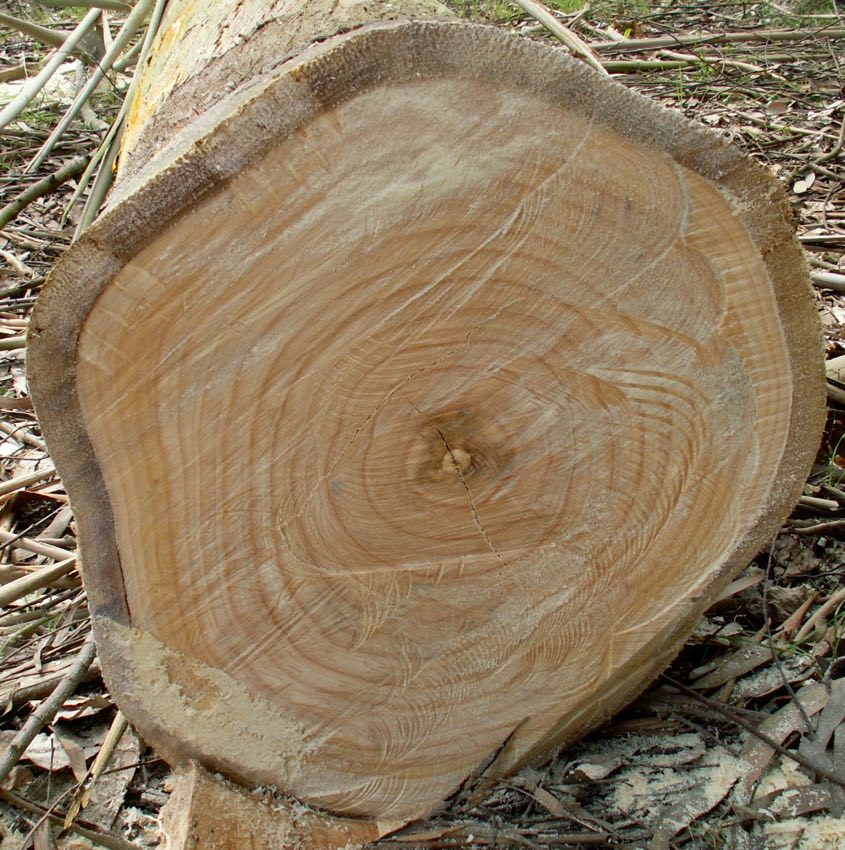 Growth rings in 15 year old tree.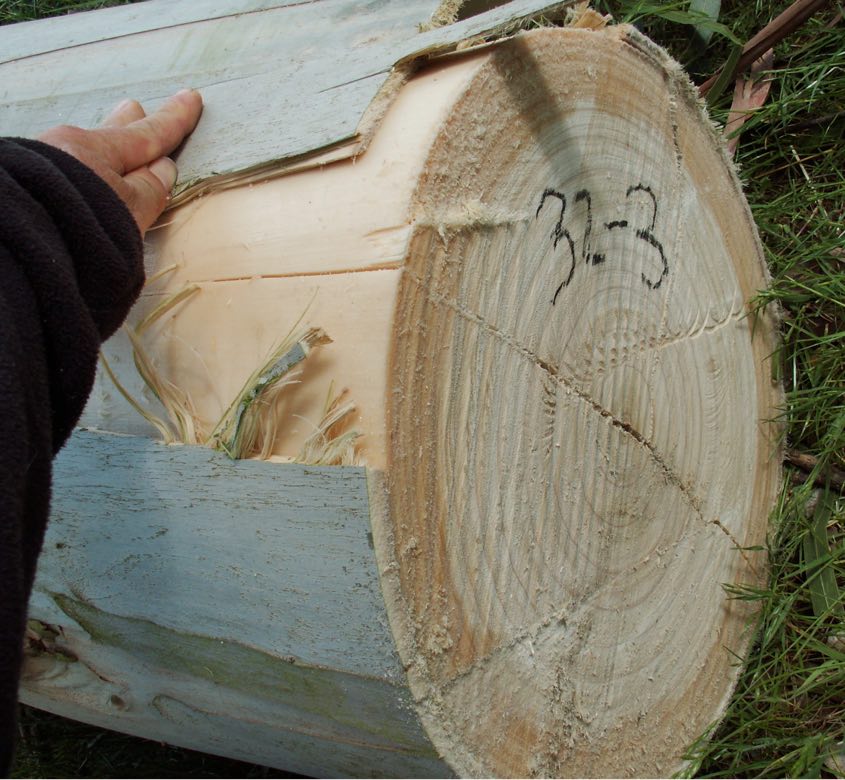 Some logs had end splits immediately after felling.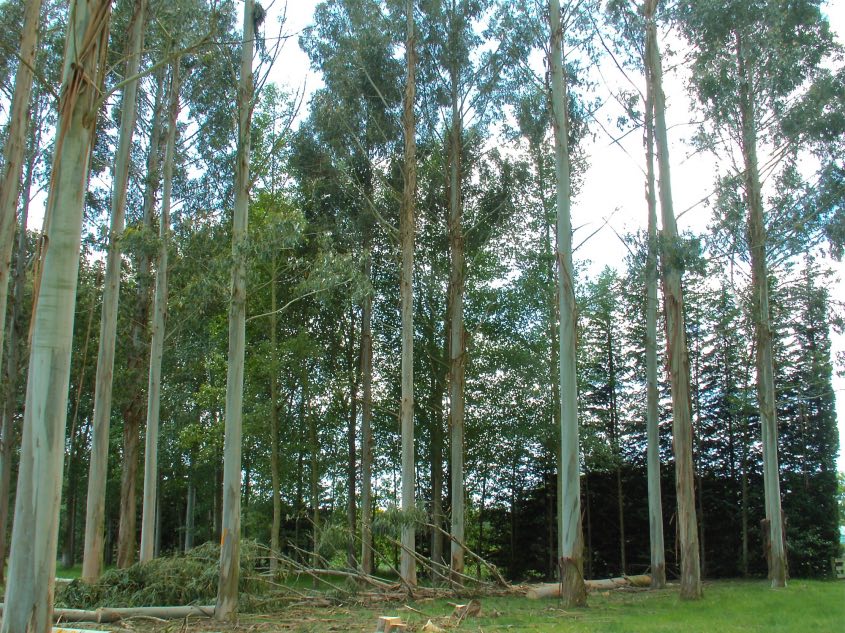 Trees being felled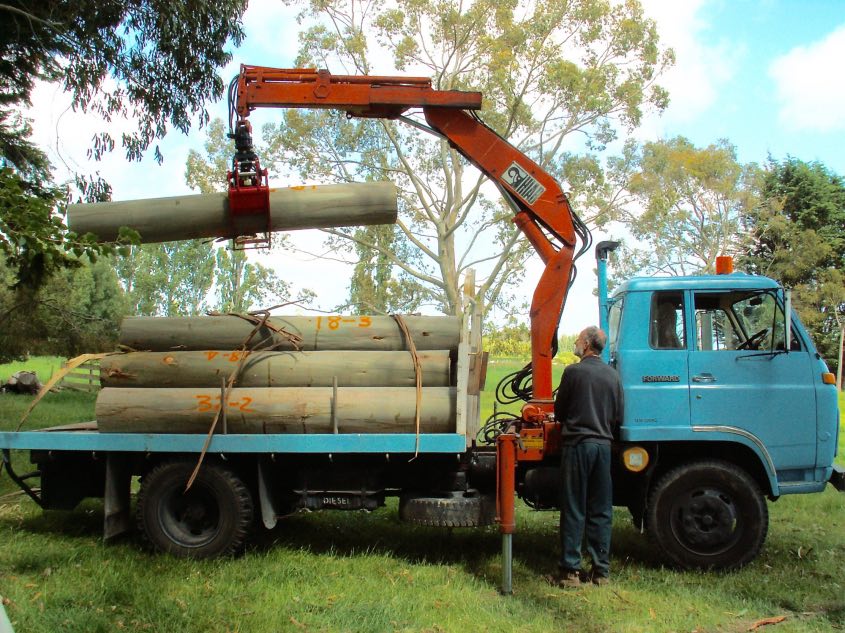 Loading logs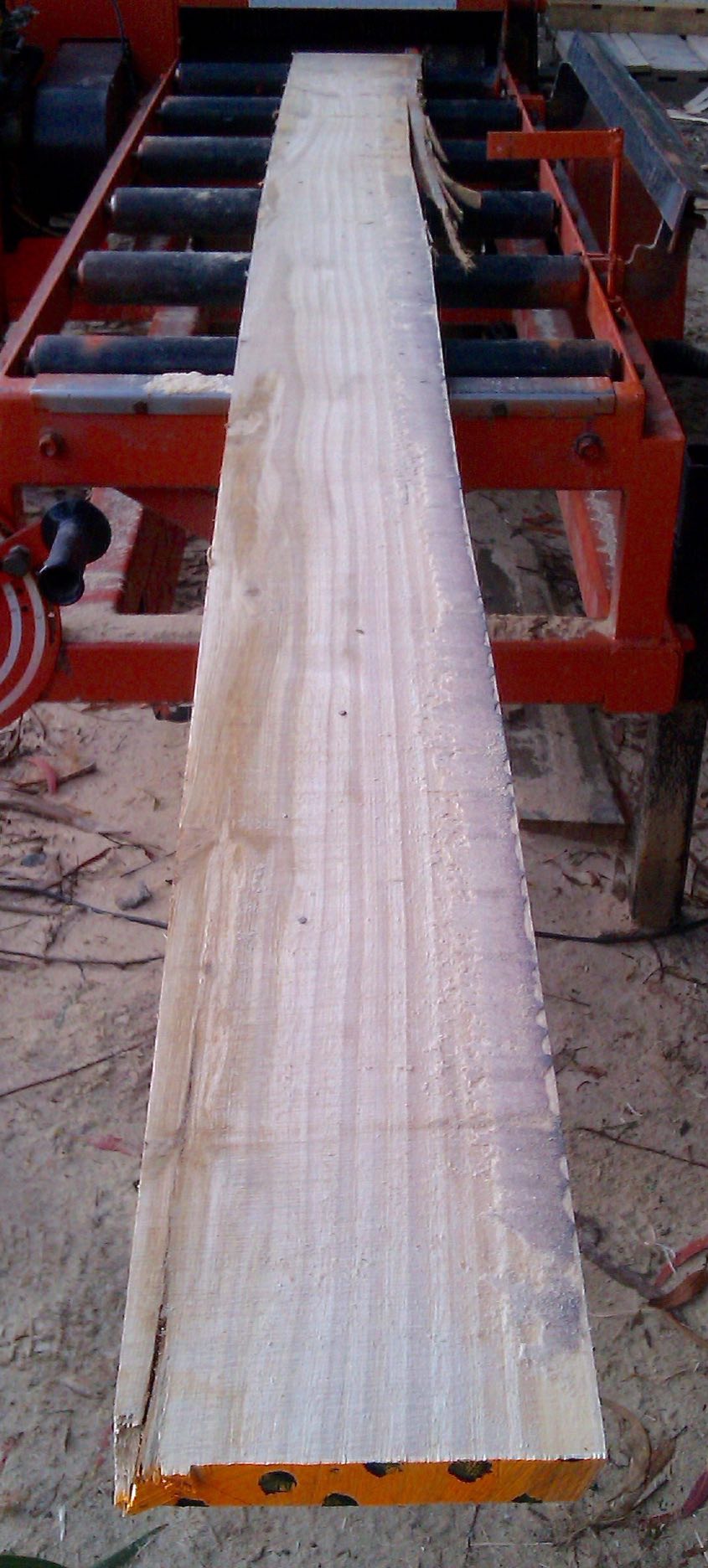 Wide quartersawn slab from pruned tree about to be edged. The discoloured core wood will be removed.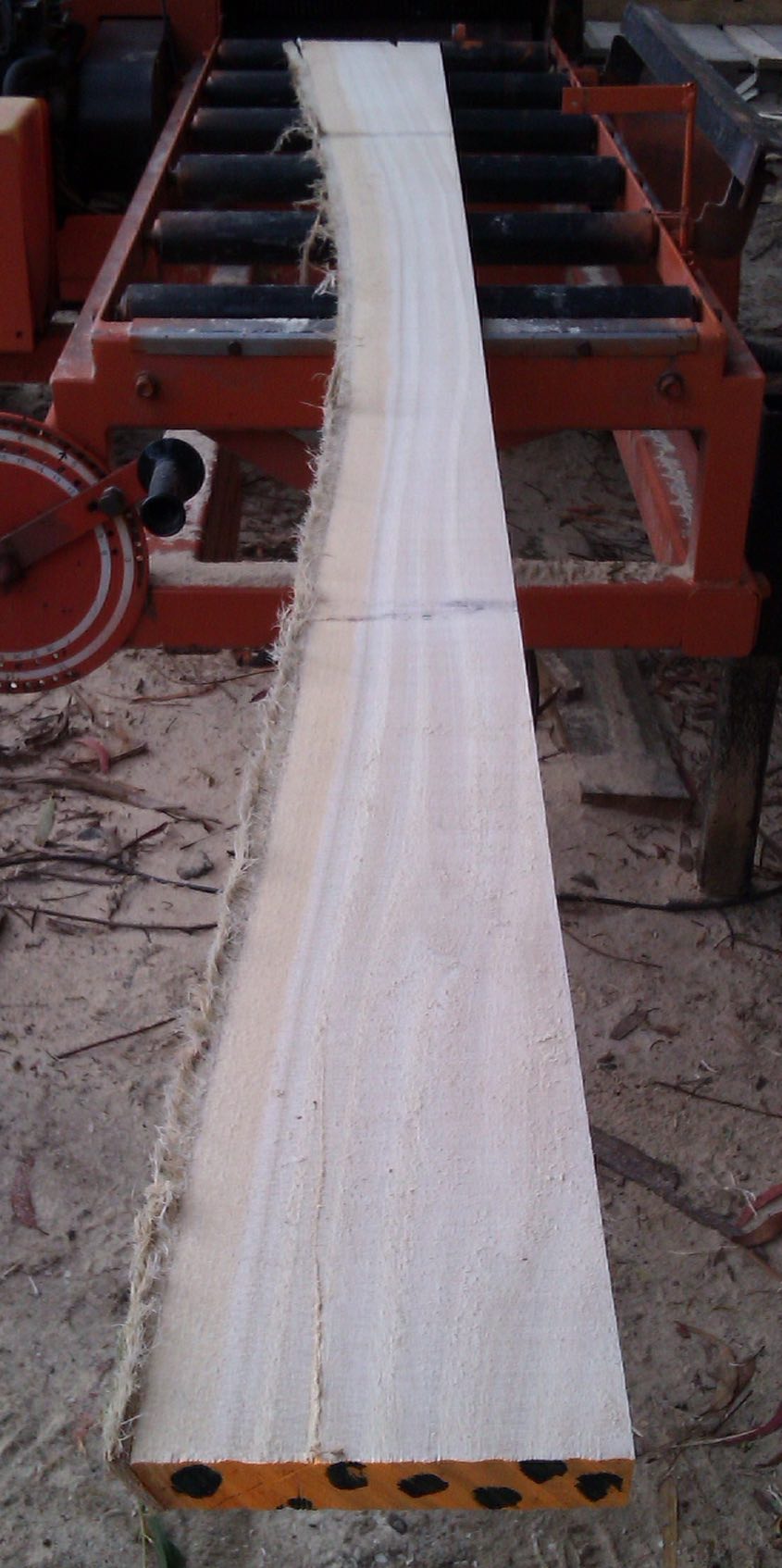 Movement causes wastage. The curve needs to be edged out.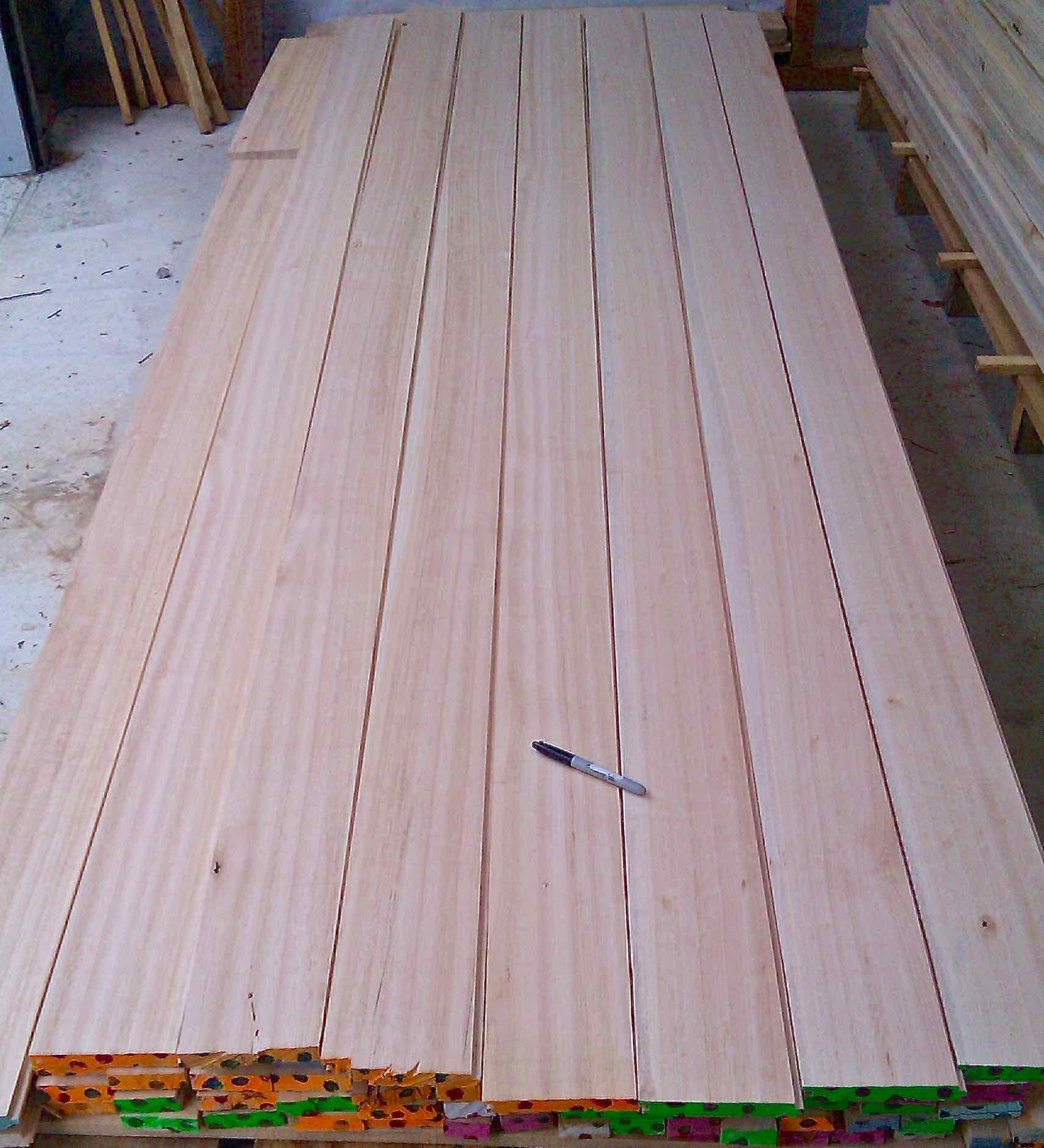 Boards from pruned logs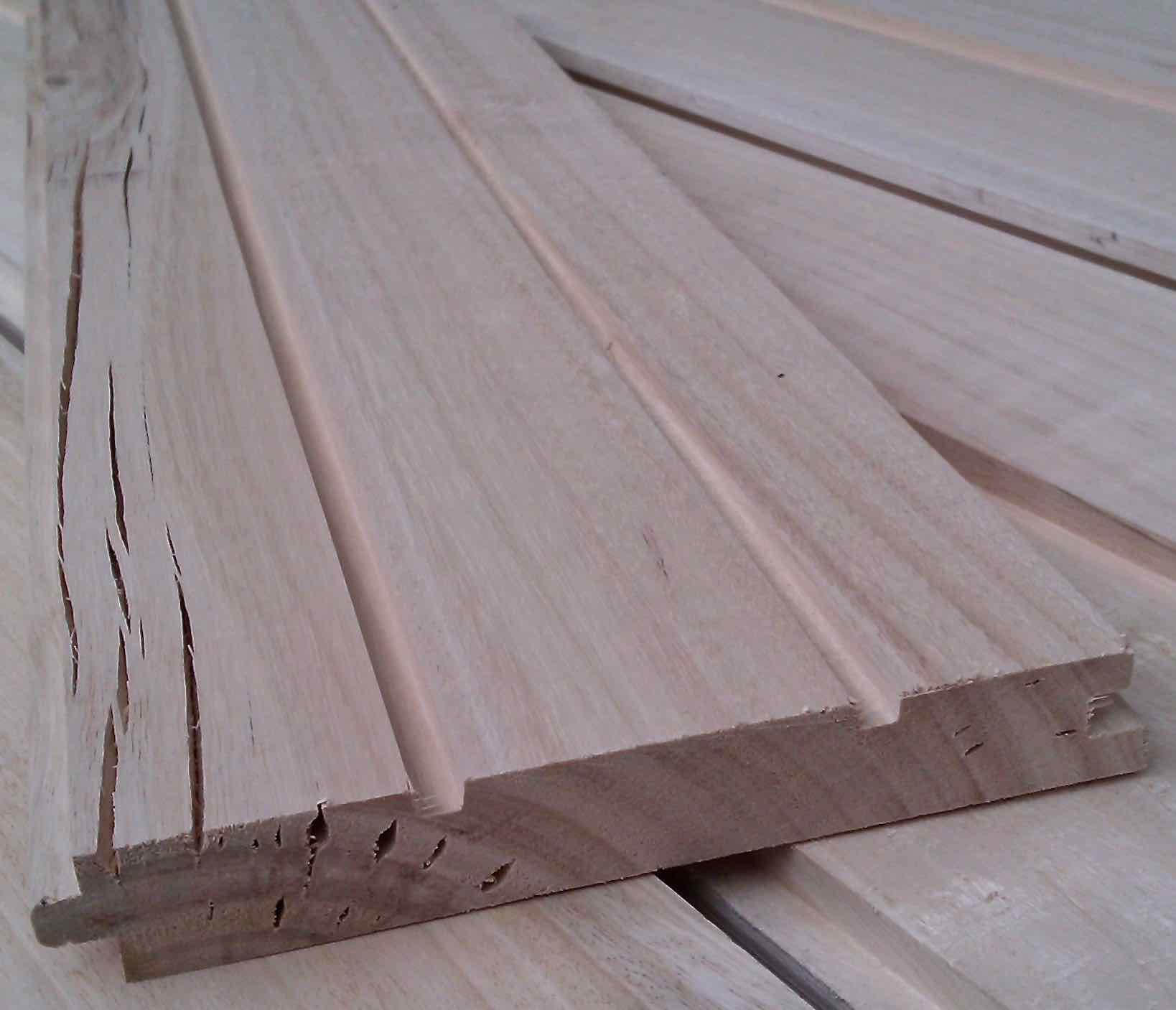 Heavy internal checking showing also as surface checking. Note this is most severe where the board becomes flatsawn, but may also have something to do with being close to the discoloured core.

Attractive feature for retaining in overlay flooring product. This feature would need to be docked out for flooring over joists.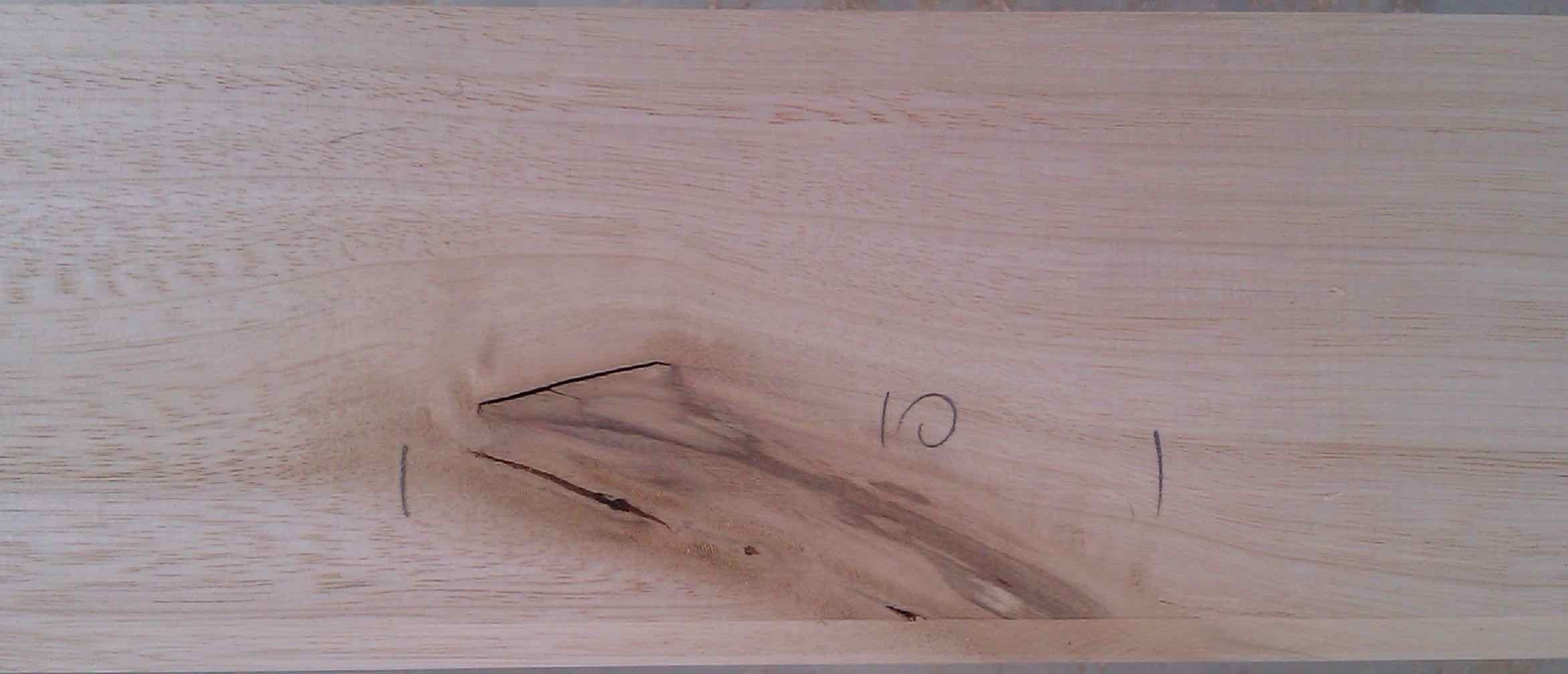 Pruning wound in quartersawn board.


This T&G board was deliberately and skillfully dressed for a clear surface, with knot feature confined to the tongue. Clearly skill of the operator has a big part to play in maximising returns from logs.

Two lengths were obtained from each side of this pruning wound, each over 1.2 m. A full length 3m board would have been required to be edged narrower. This was the right judgment call.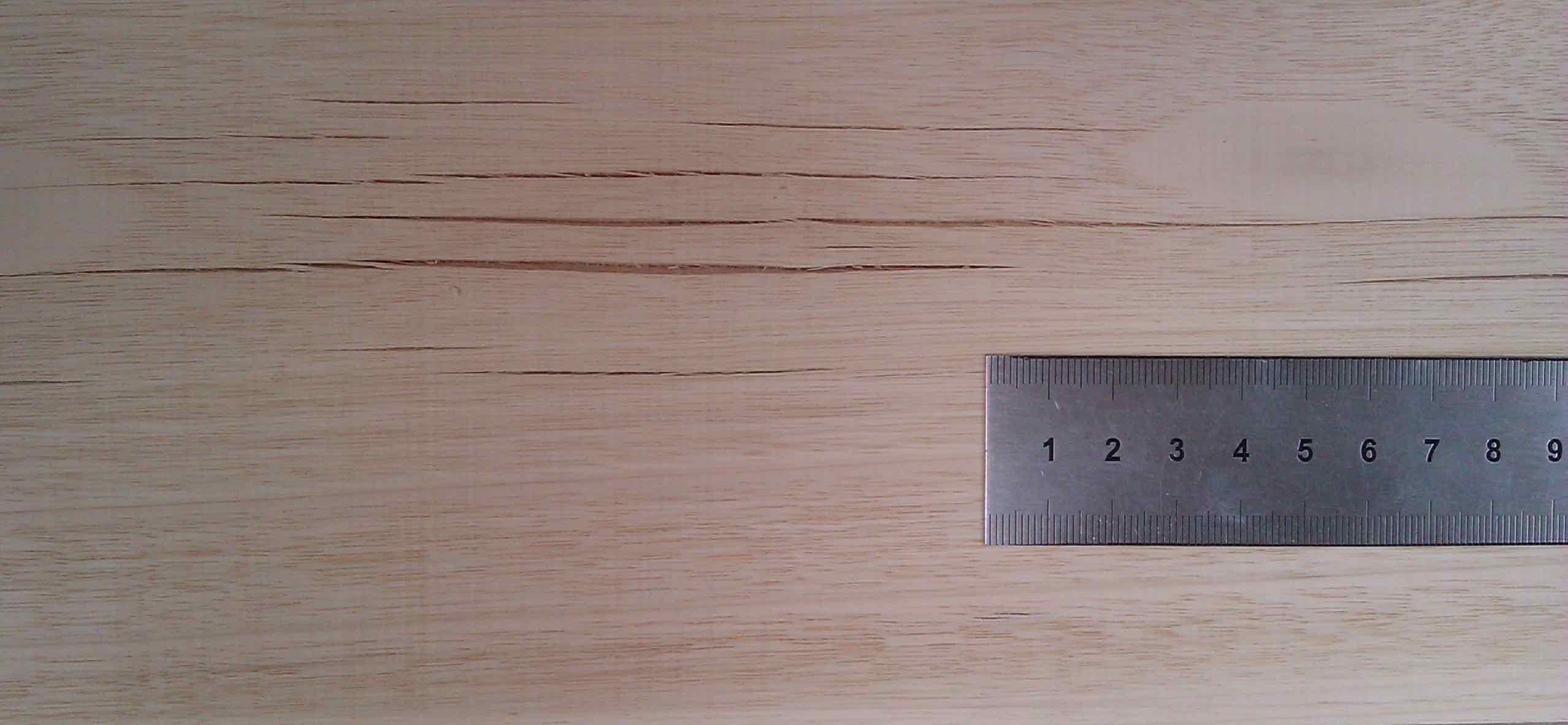 Surface checking on the dressed surface.


Heavy checking on a flatsawn surface


Attractive feature that a customer might wish to be retained in the board for an overlay floor. This would be docked out for a floor over joists because it does not meet structural requirements. How do grading judgement calls equate to value to the consumer?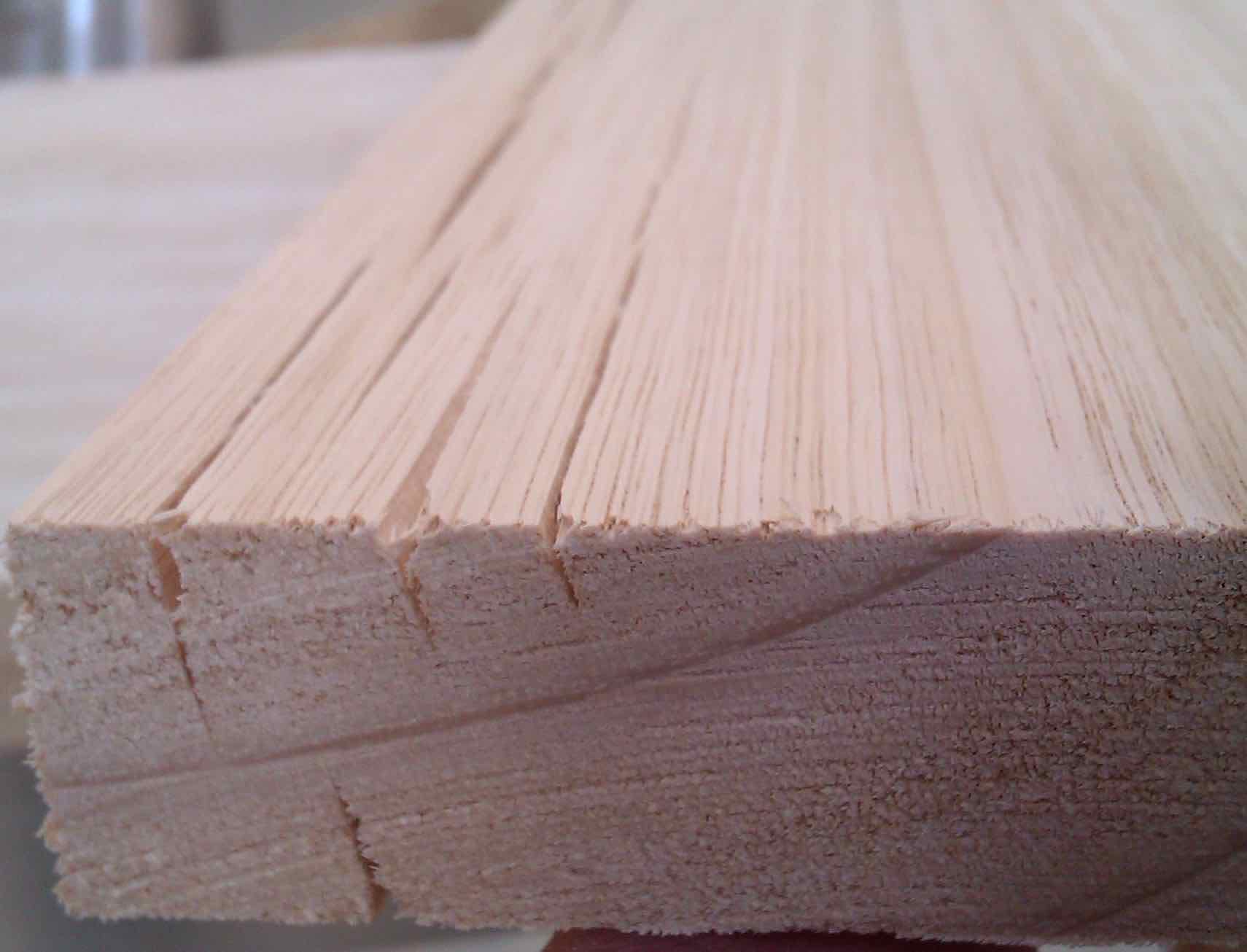 Deep 'surface' checking in a blanked flatsawn board. This will not be dressed out.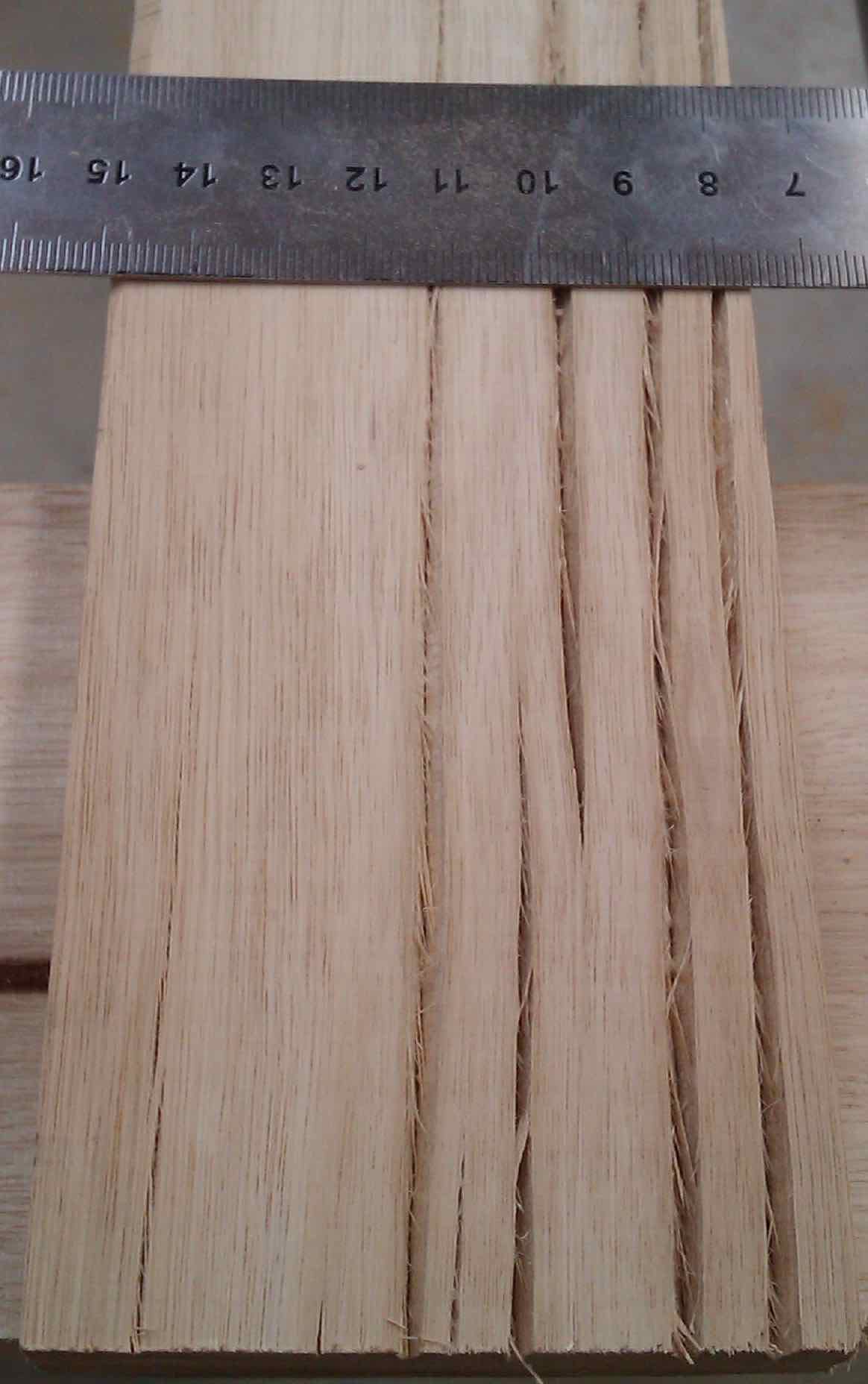 Extremely heavy checking on a flatsawn surface. Some of this is up to 3 mm wide.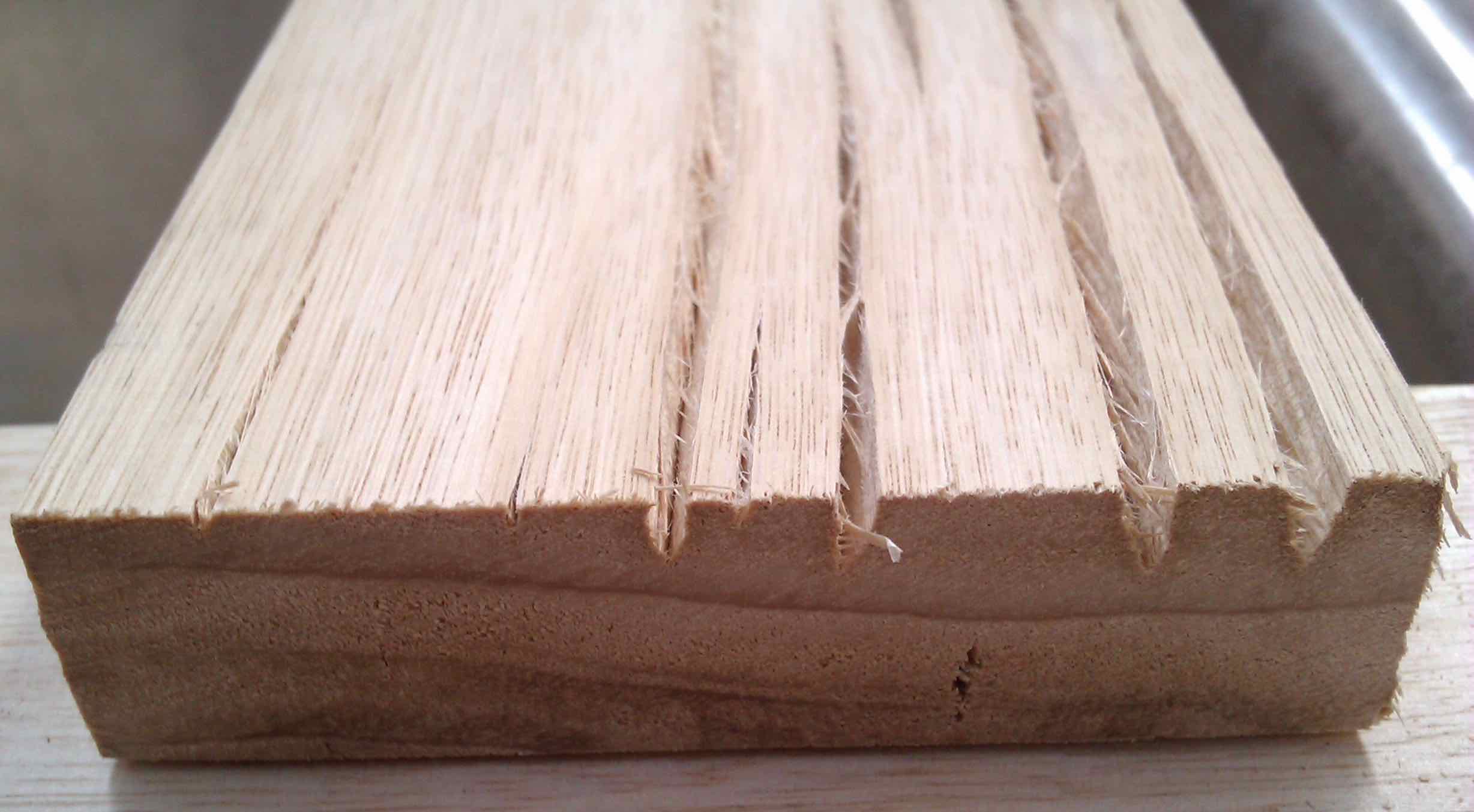 End-view of heavy checking on the board.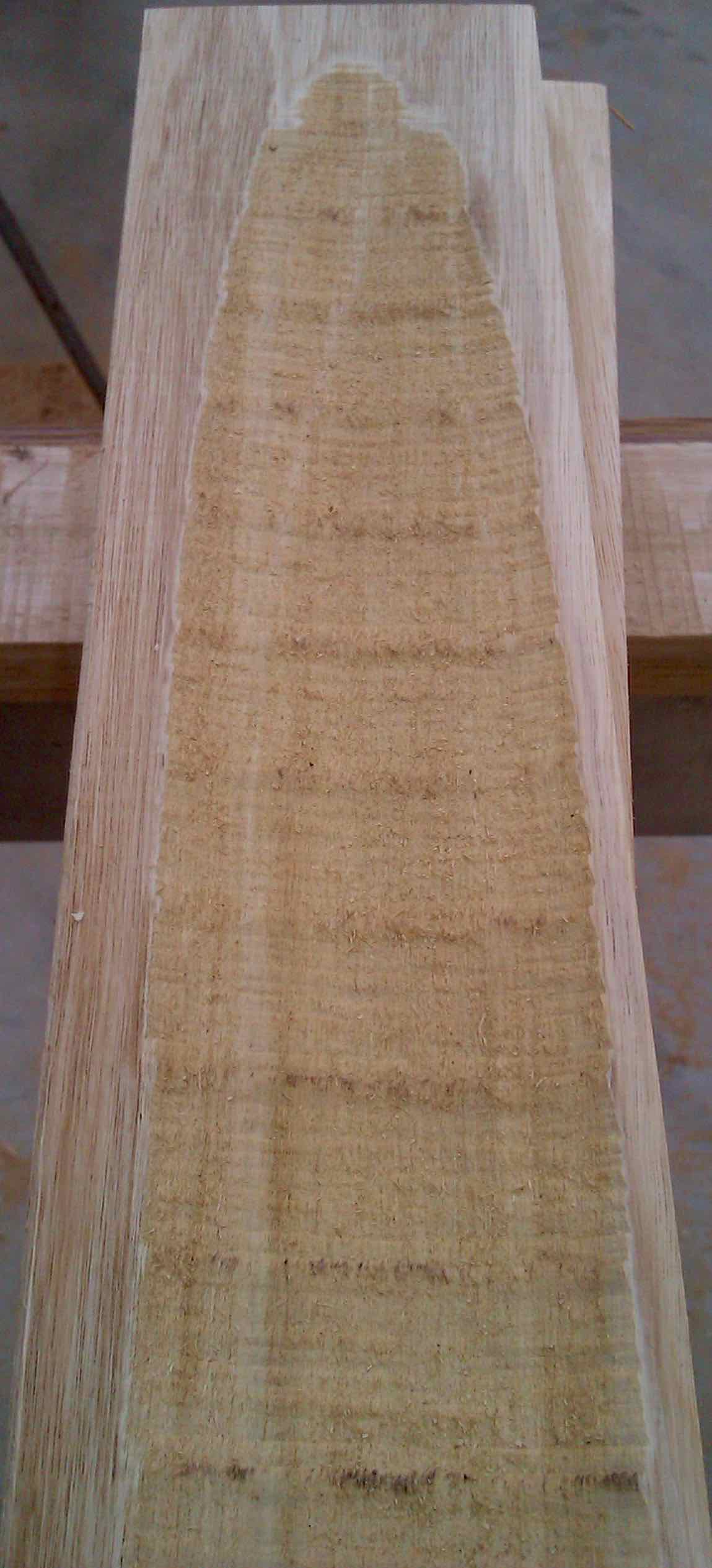 Skip caused by cupping on the flatsawn surface.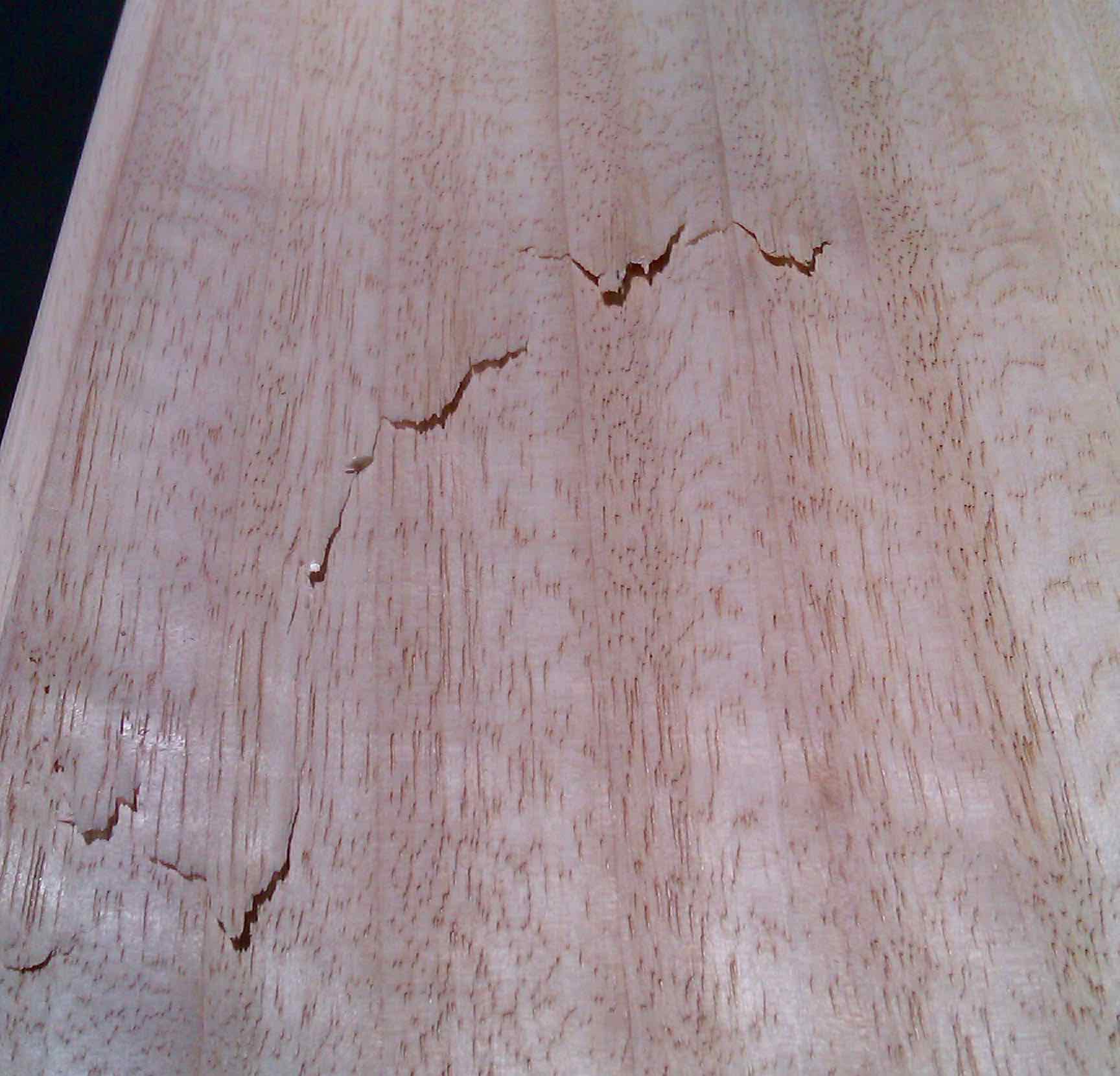 Checking on the quartersawn surface.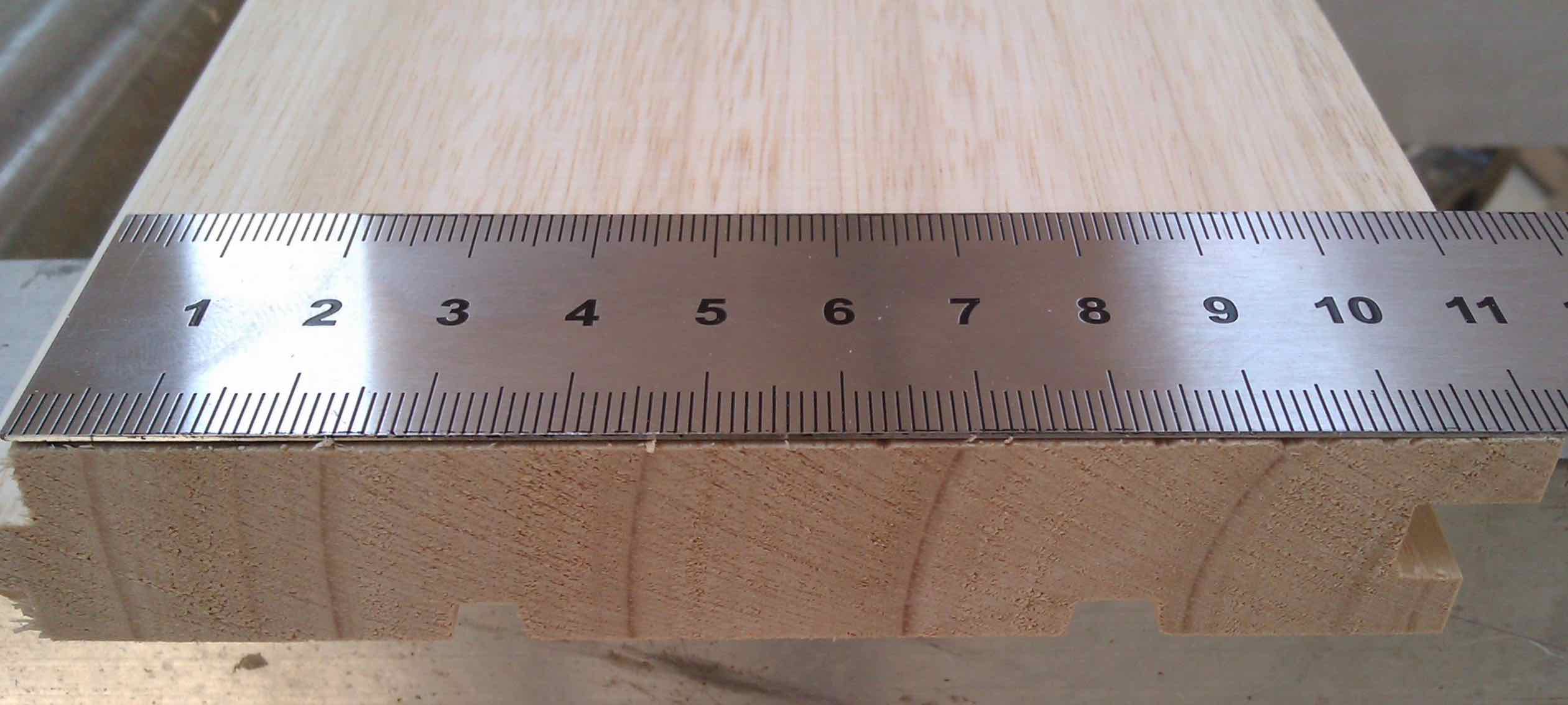 Quartersawn ex 125 mm profiled board showing growth rings averaging 2 cm.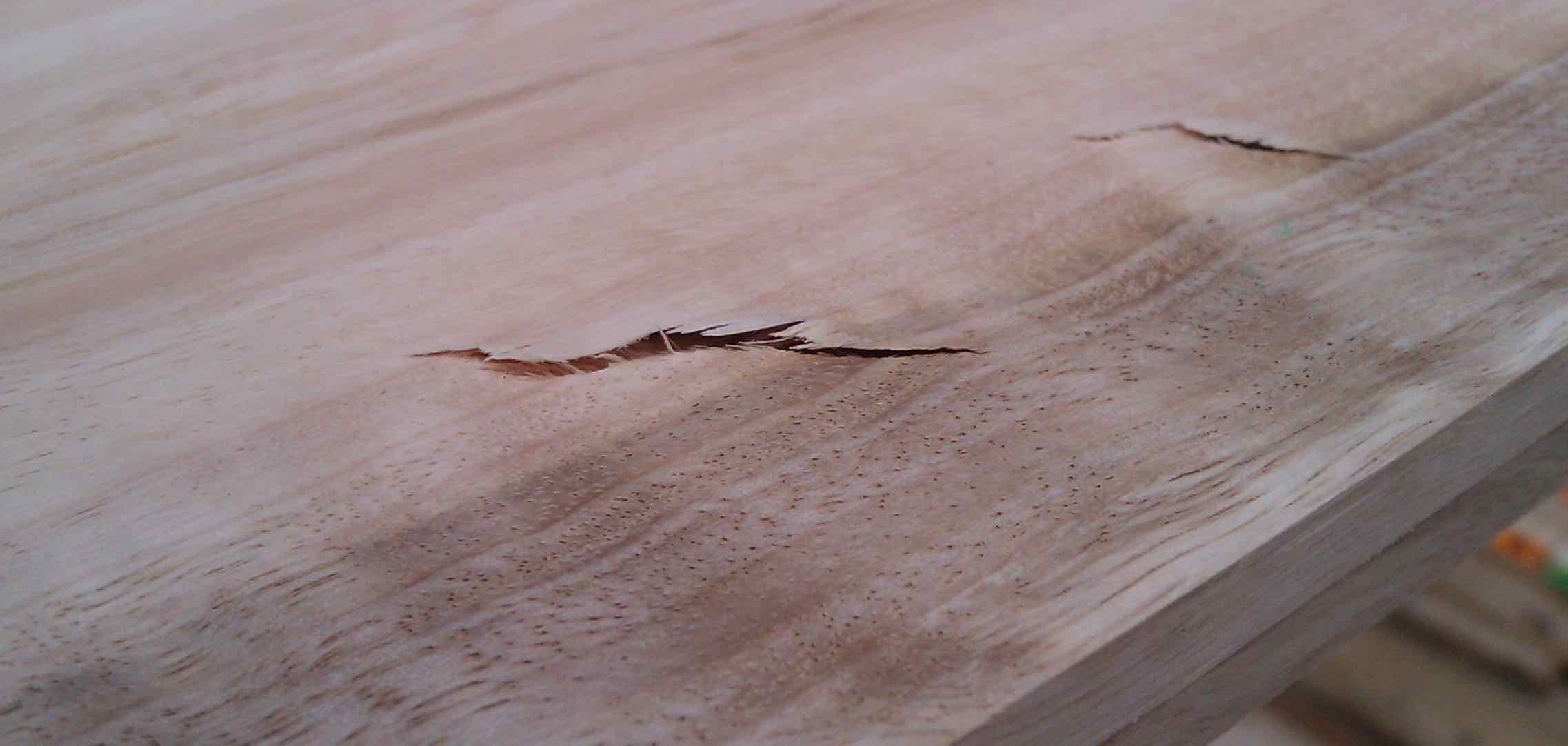 Checking on the quartersawn face. Checking appears to often be worst in the last heartwood growth ring.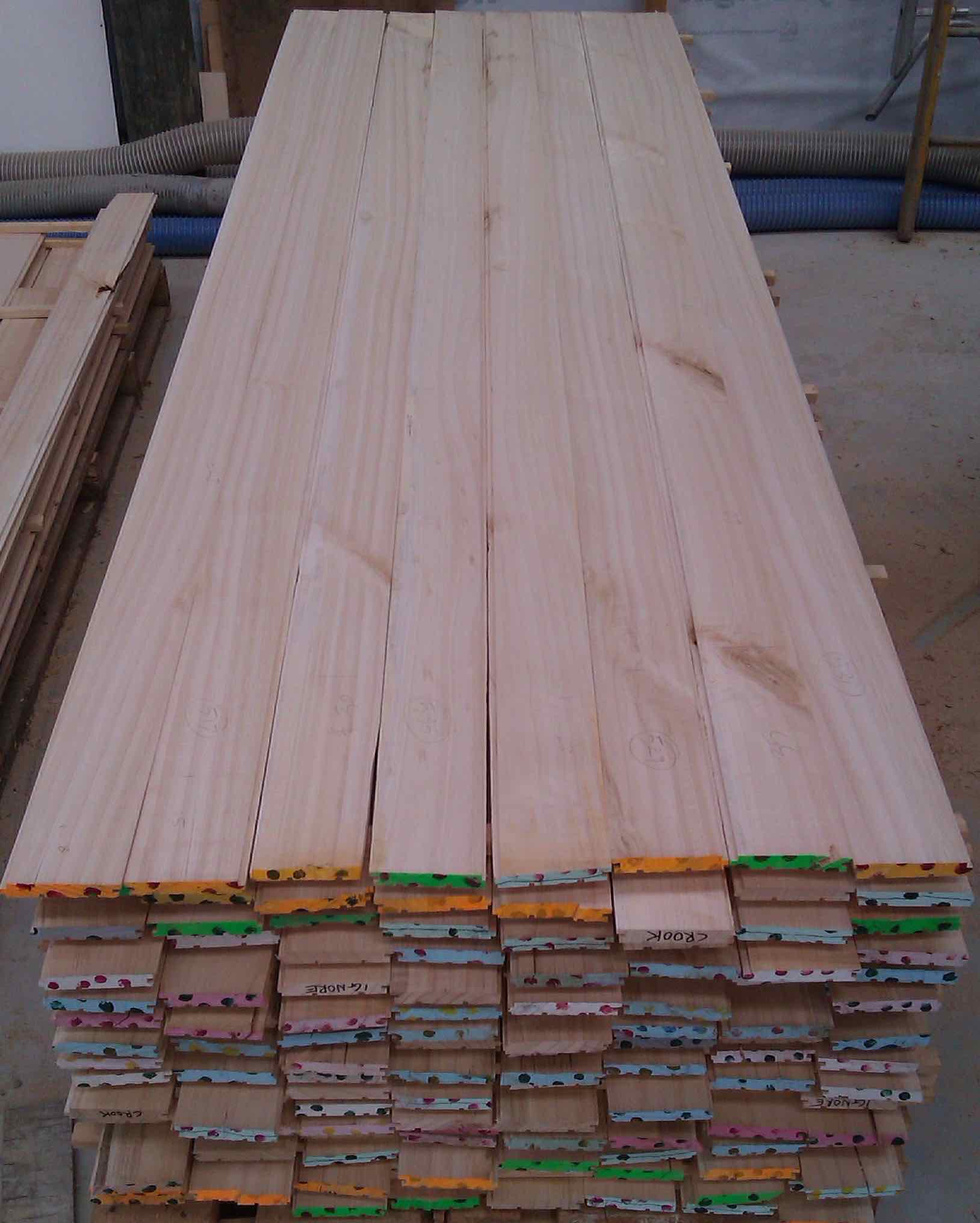 Mixed boards from buttlogs and headlogs.


Pruning wound near the end of the board. Note the board tapers anyway and only 30 cm was docked.


End split, showing 38 cm of board docked from the end.


Skip on the profiled surface caused by excessive collapse.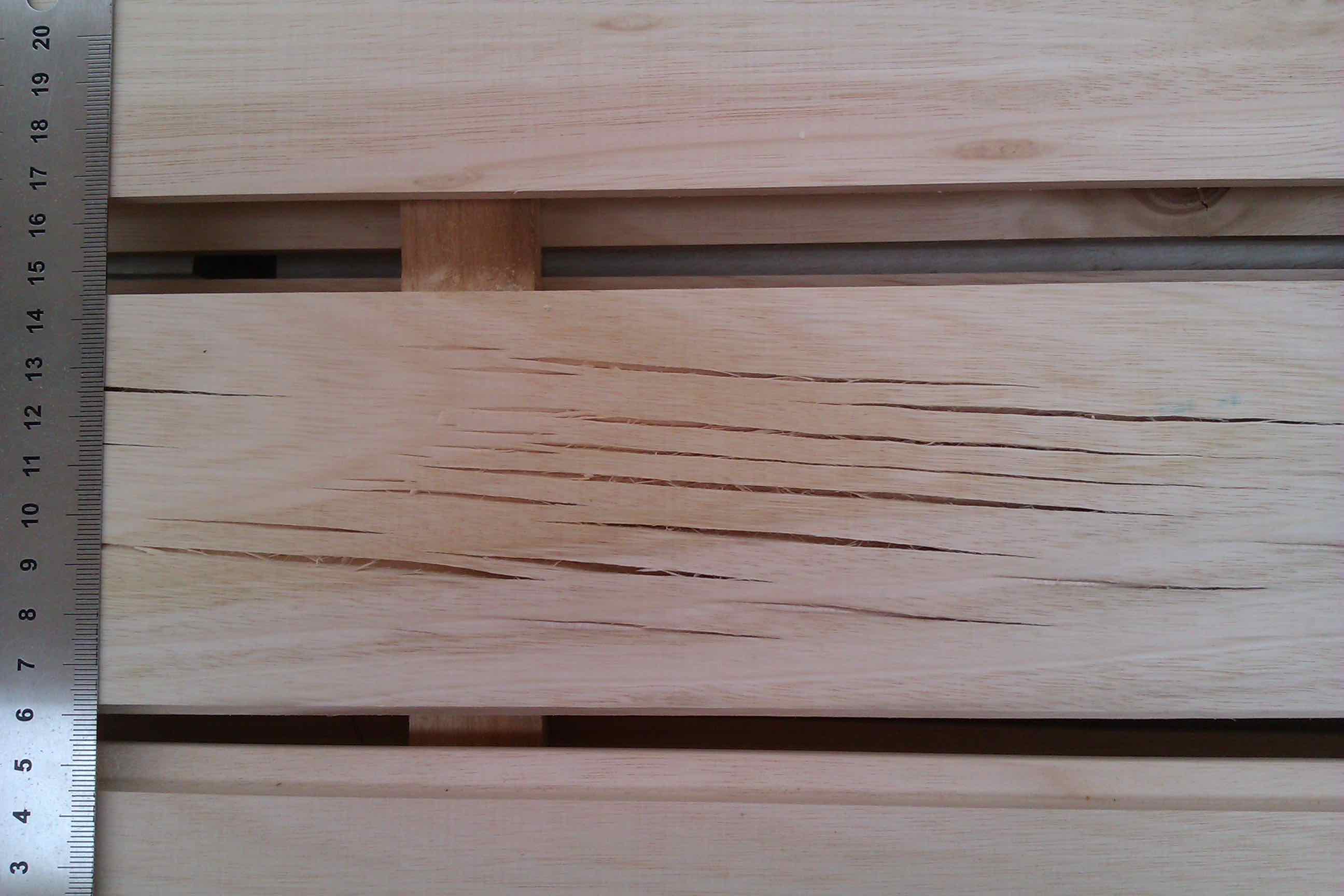 Severe checking on the profiled flatsawn surface.

Severe collapse on the edge of this board meant the tongue was insufficient. Is this board still suitable for overlay?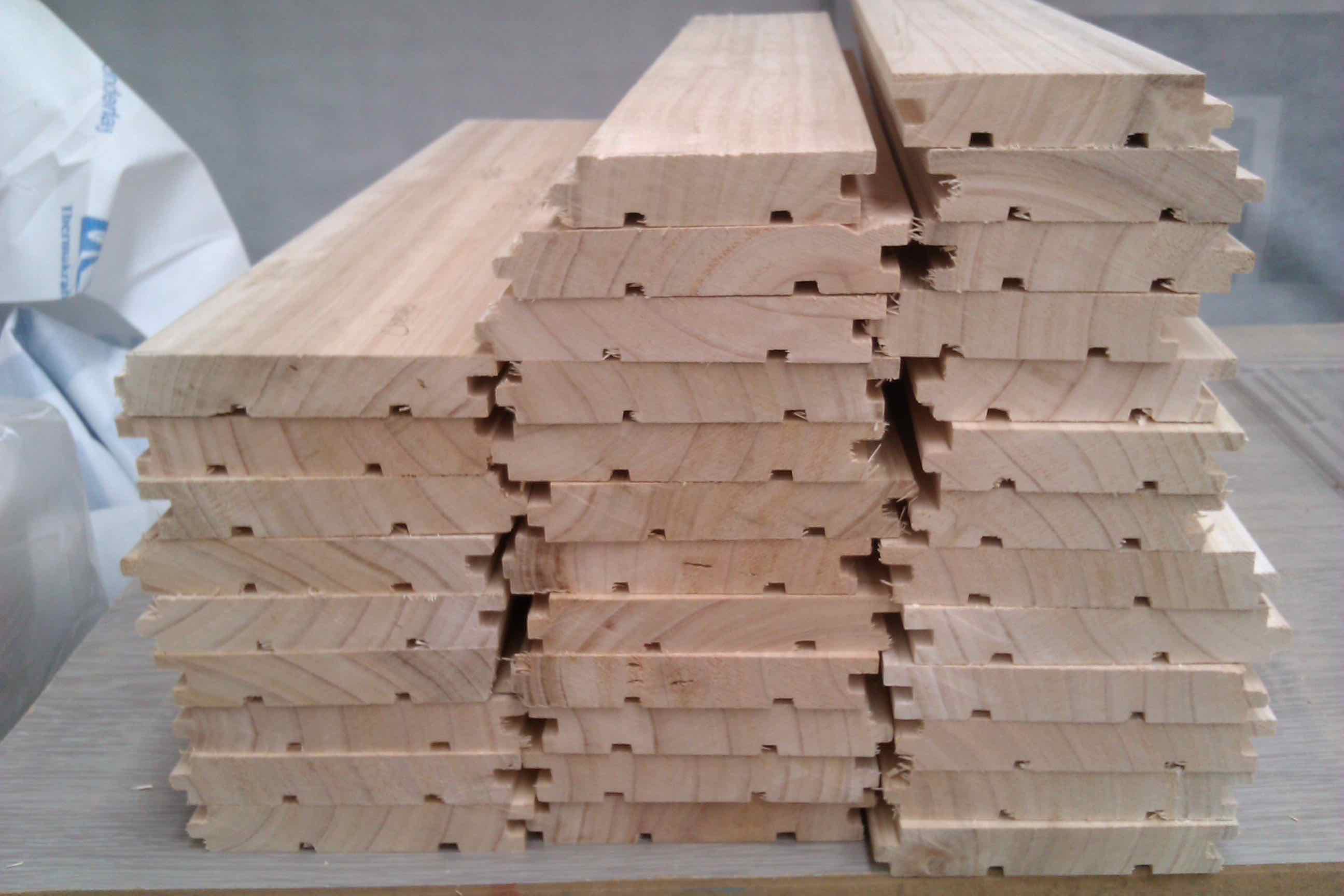 Typical cross section of boards showing sawing pattern (mostly quartersawn, some riftsawn tending towards flatsawn) and levels of internal checking.


Small 'clean' knot. Is this feature suitable for 'clears' or 'select' grade?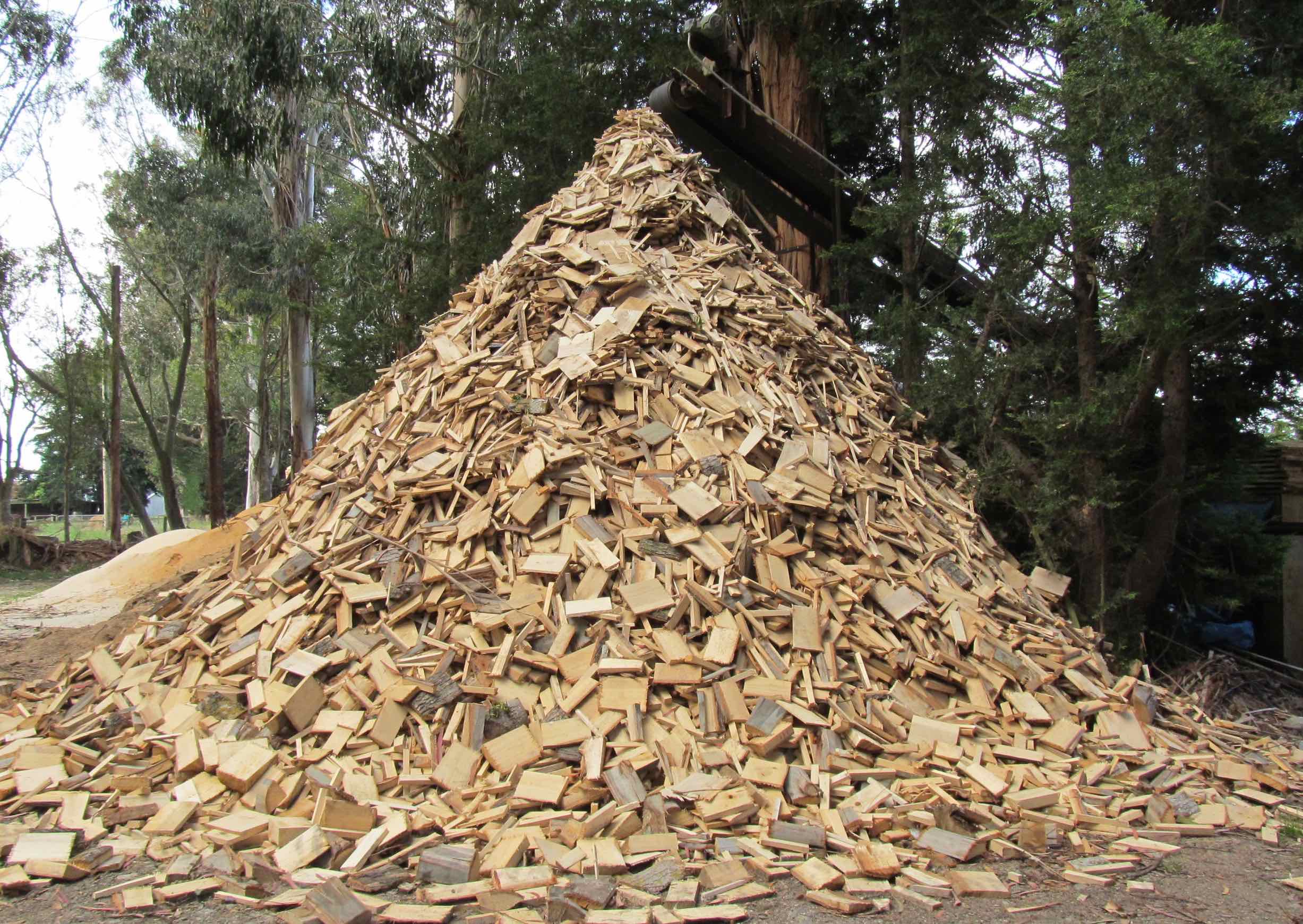 Slabwood firewood. This is produced as part of the case study processing operation.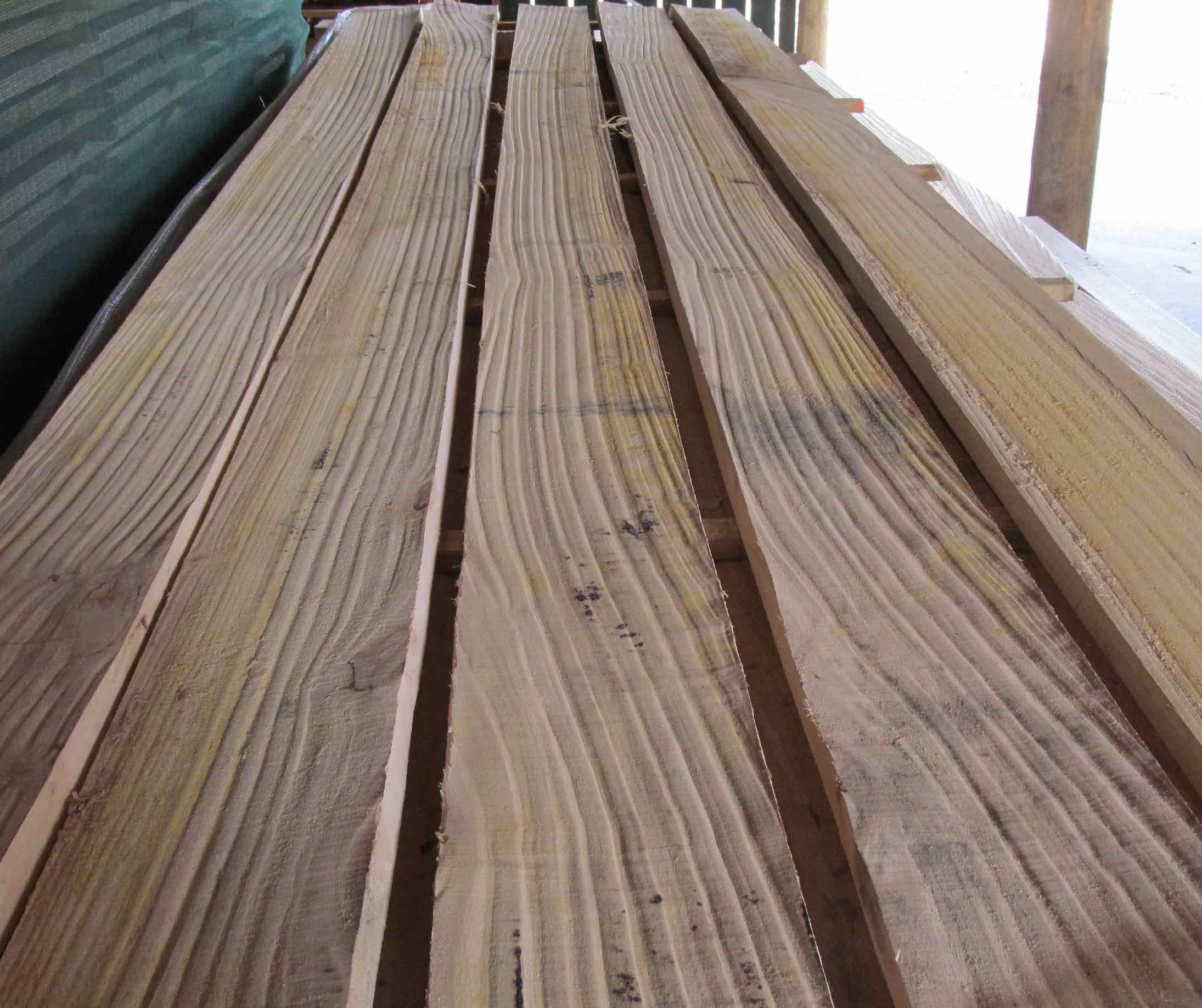 Severe washboarding collapse in undressed E. nitens timber (this was not case-study timber).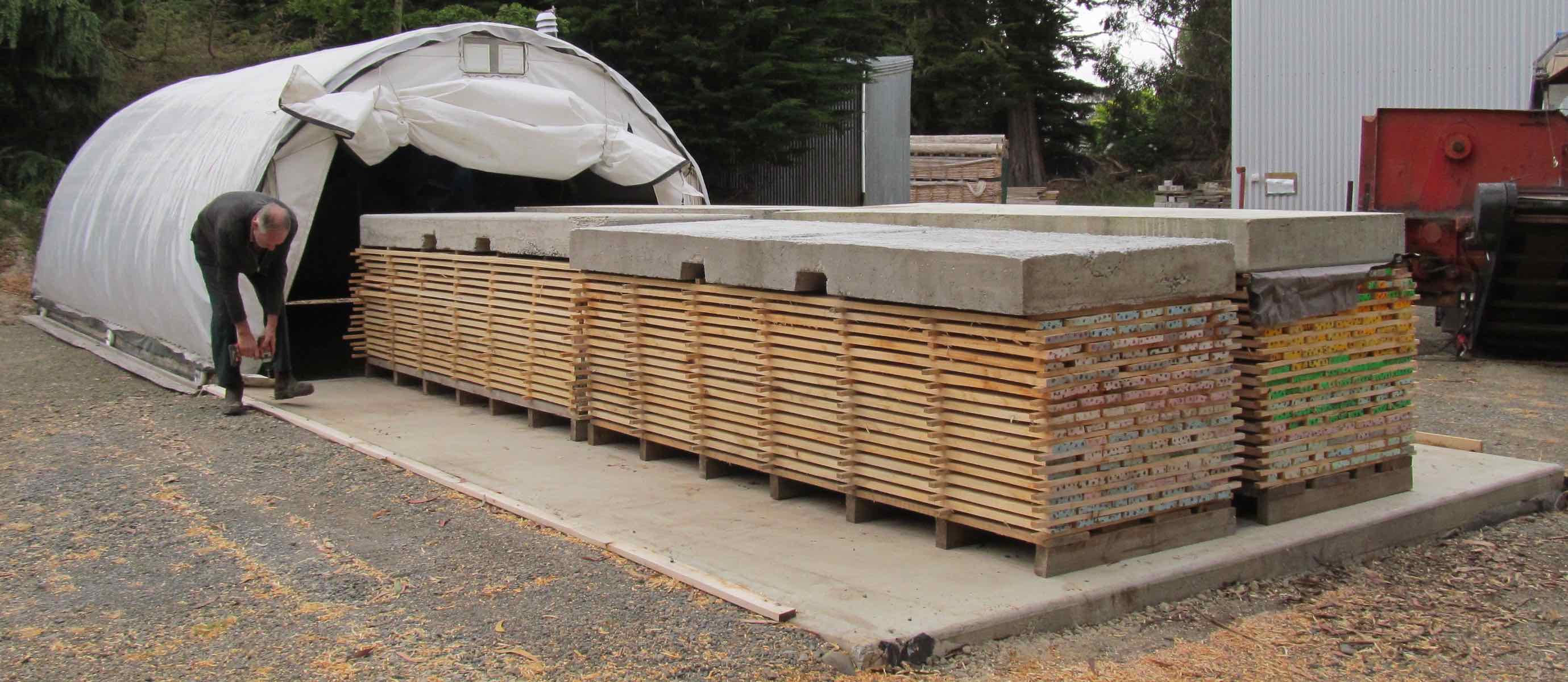 The case study timber coming out of the Solarola kiln.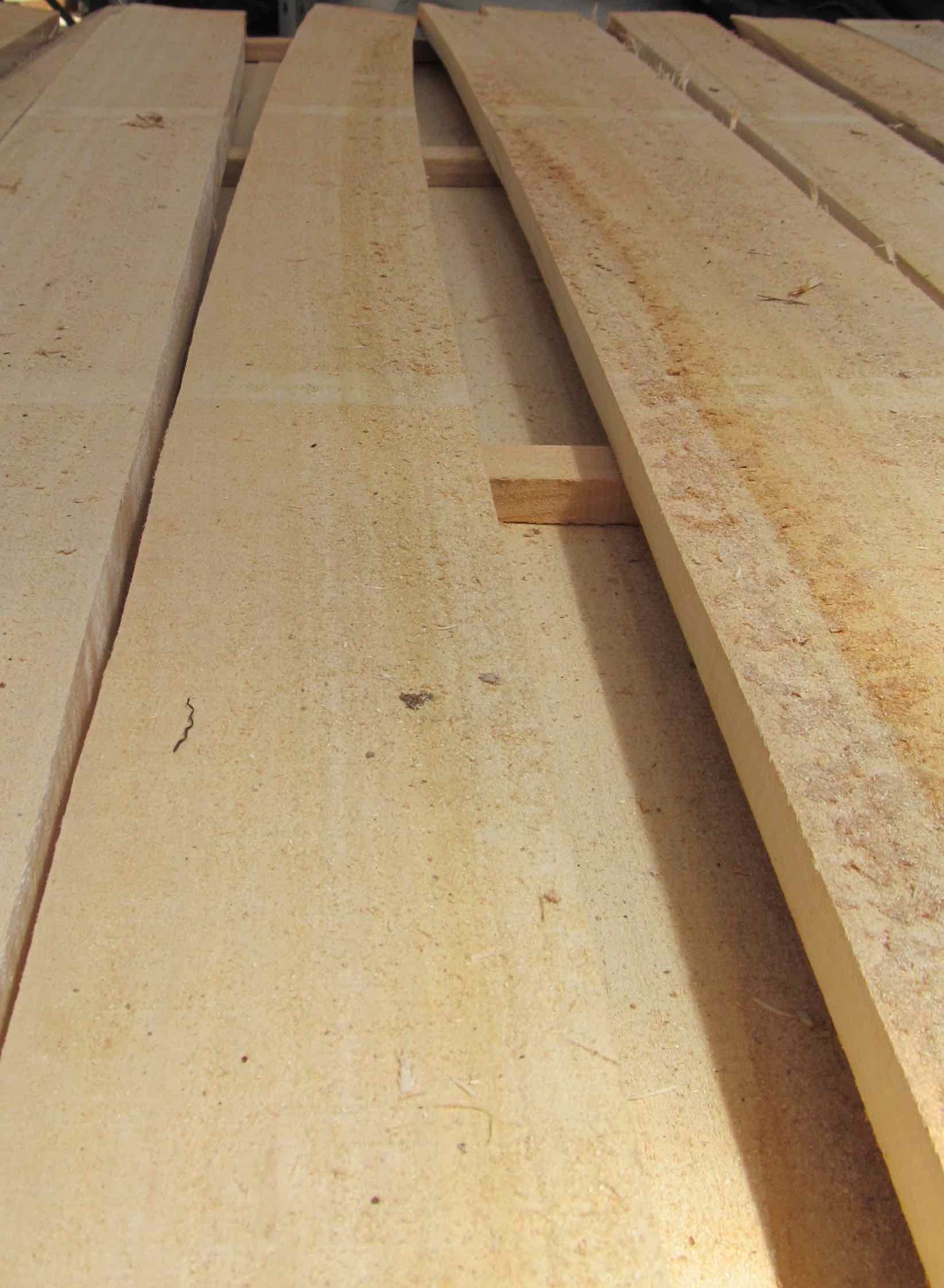 Drying crook. This crook expressed during the drying process and the board will need to be docked into sections for machining.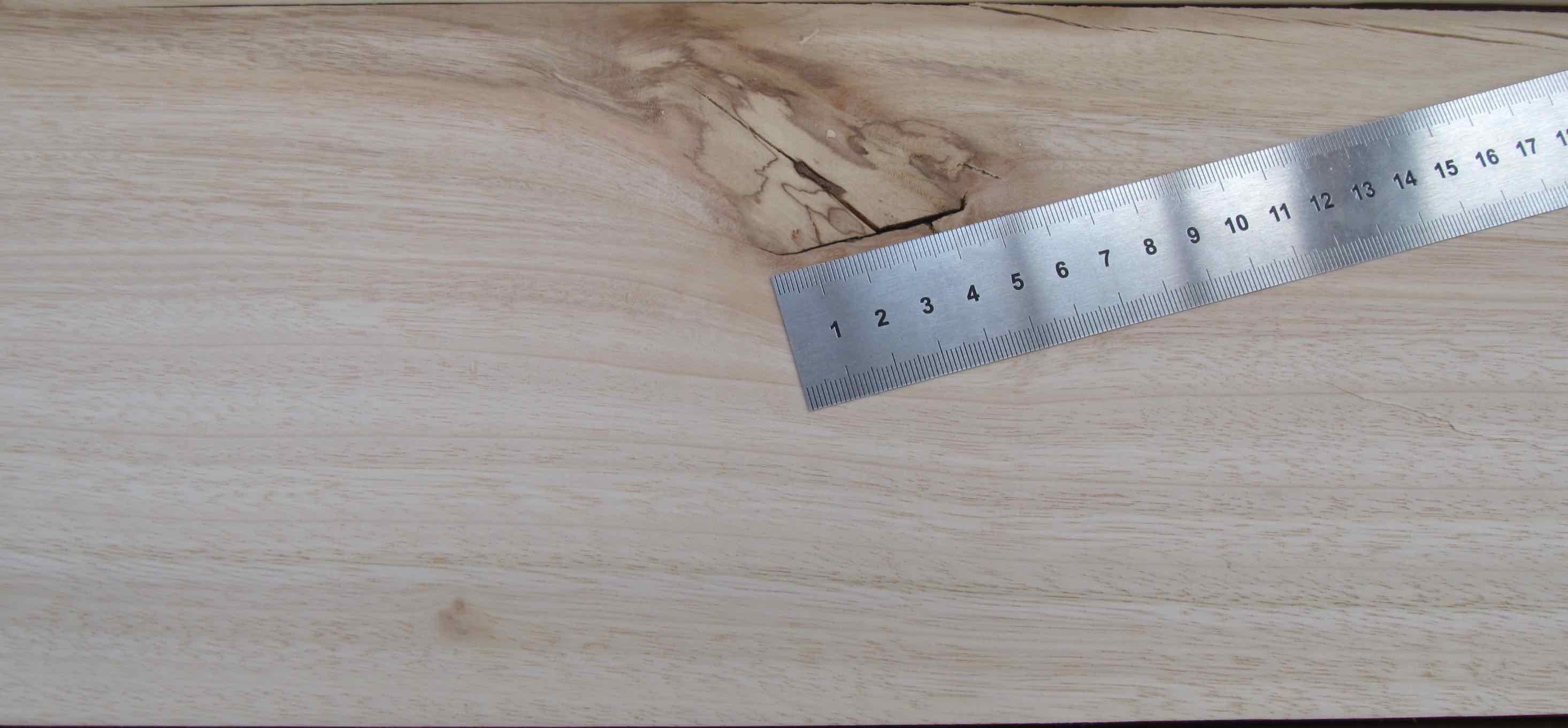 Knot with a 4 cm diameter. There is some discolouration extending into the core.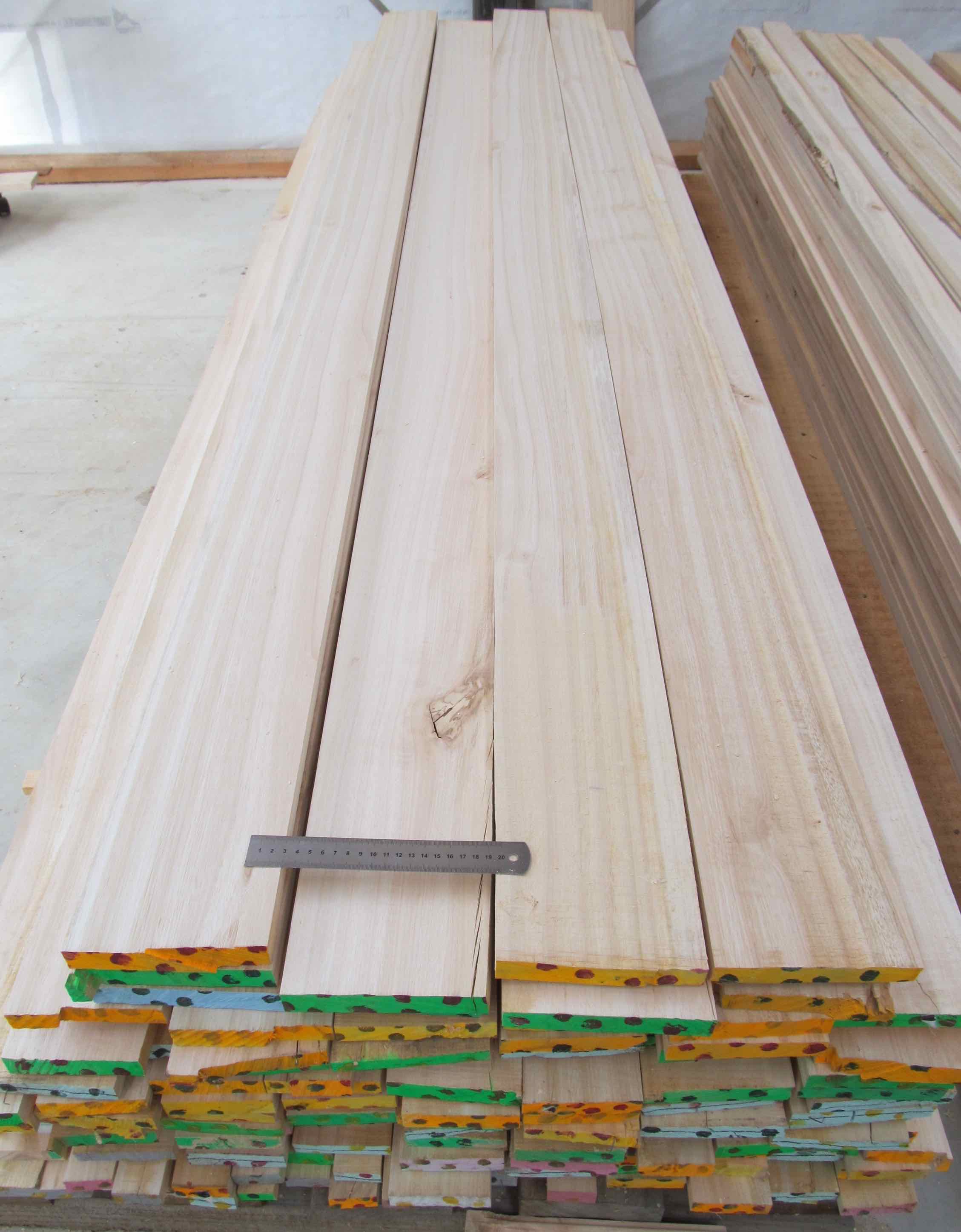 This board was edged for highest value. The knot will be docked out along with the end-splits for a clears/select product.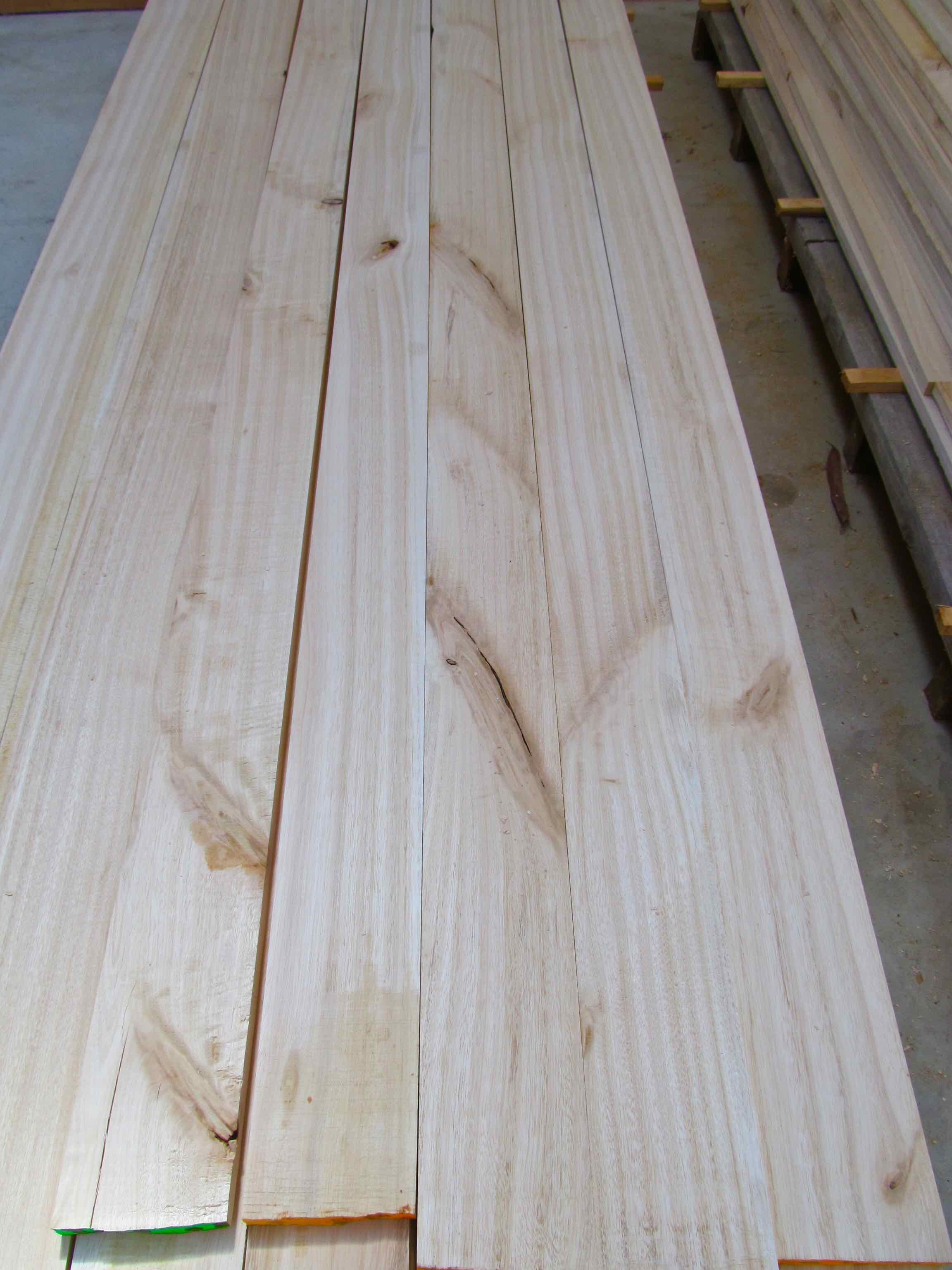 Typical headlog material, some boards with large spike knots and clear sections between them.


Tongue and groove profile, quartersawn board.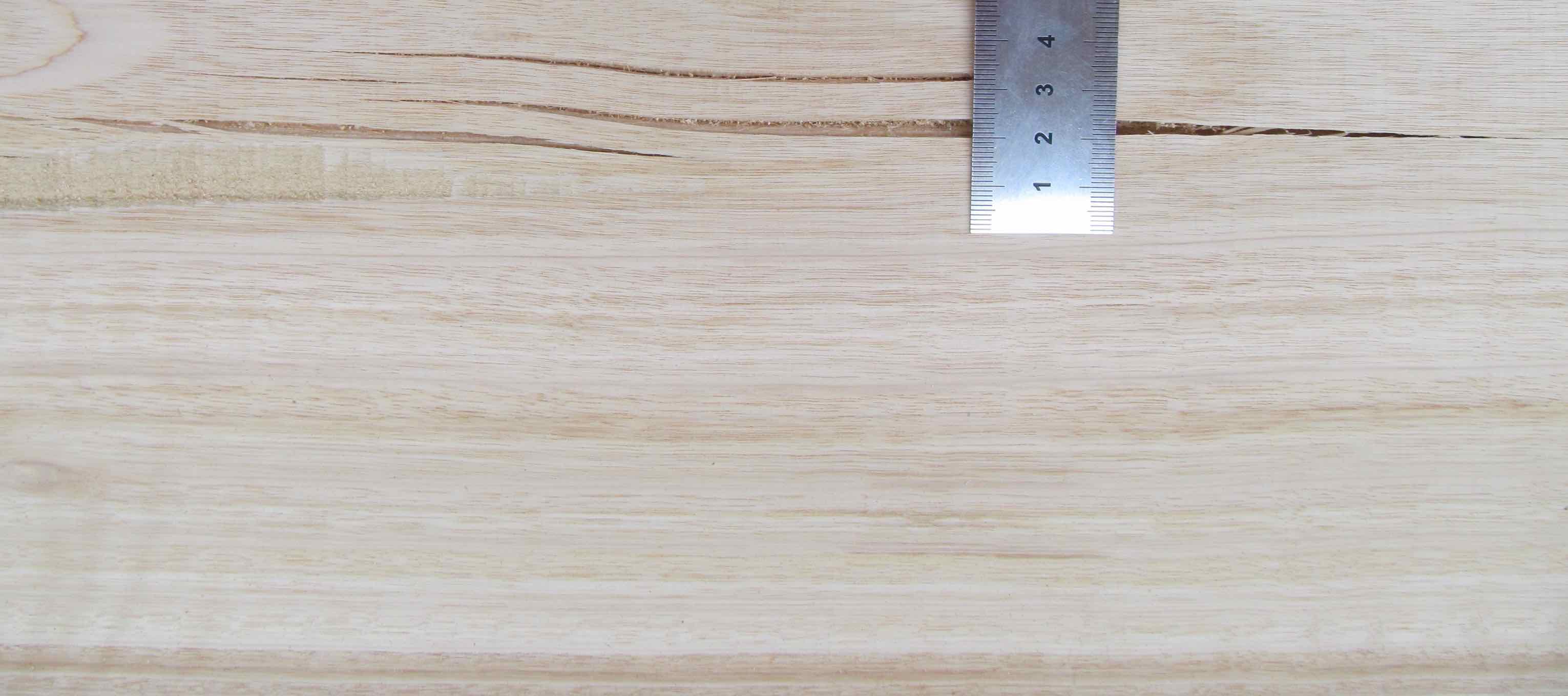 Large, wide checking, approximately 3 mm wide.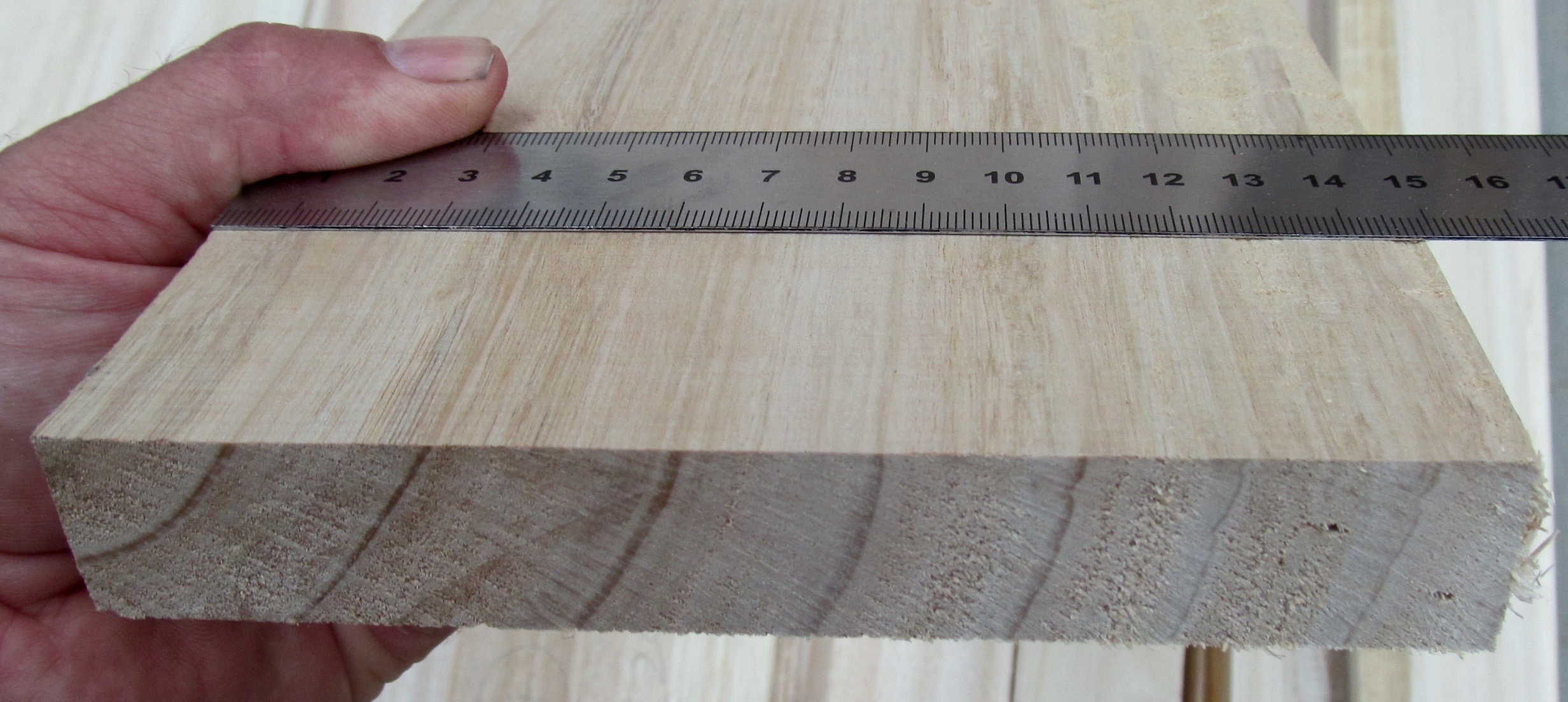 Quartersawn blanked 150 mm nominal board. This was successfully sawn close to the pith. Precision edging is necessary for the sawing pattern used.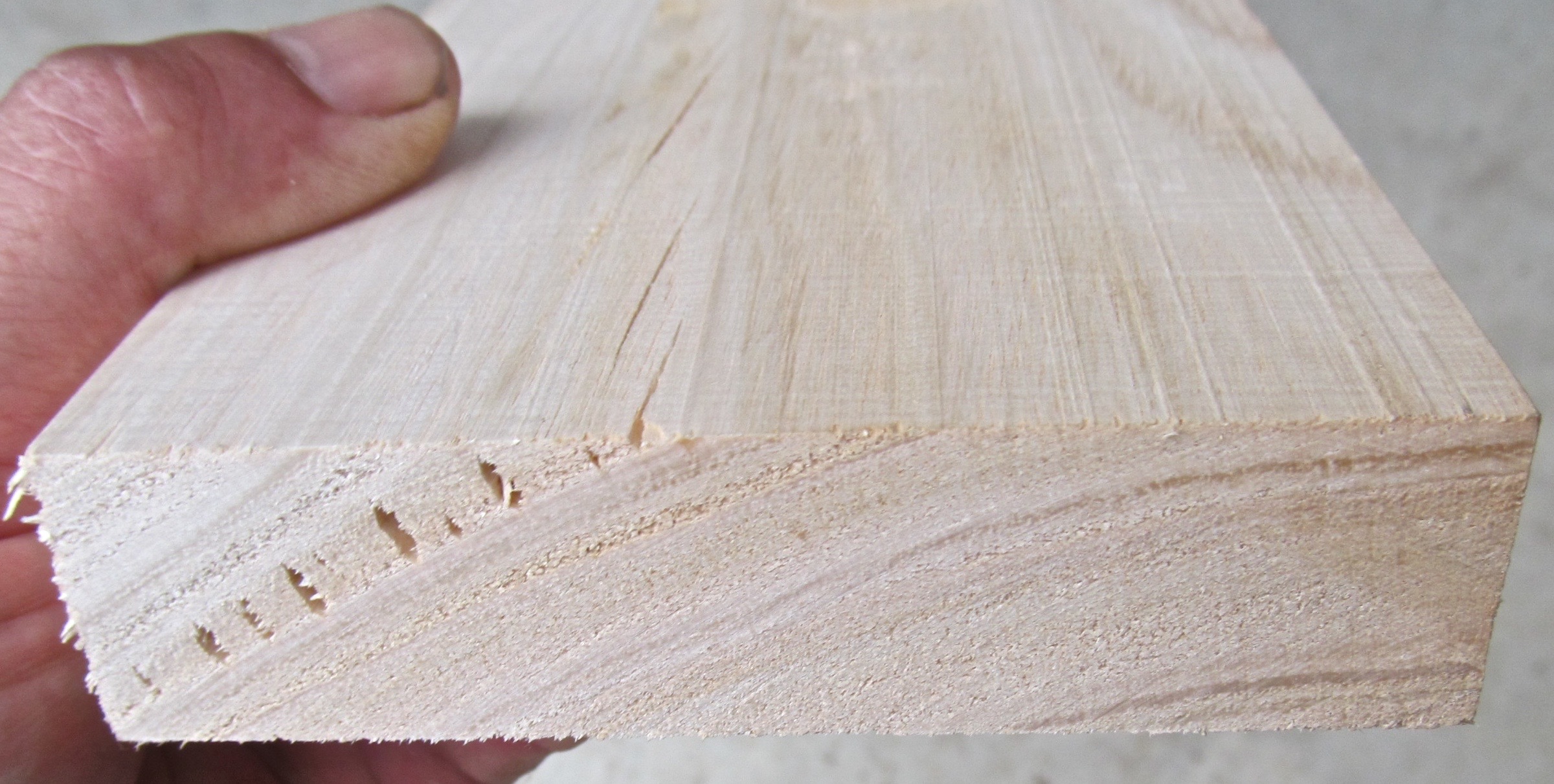 Surface checking or internal checking? Note this is the last ring of heartwood.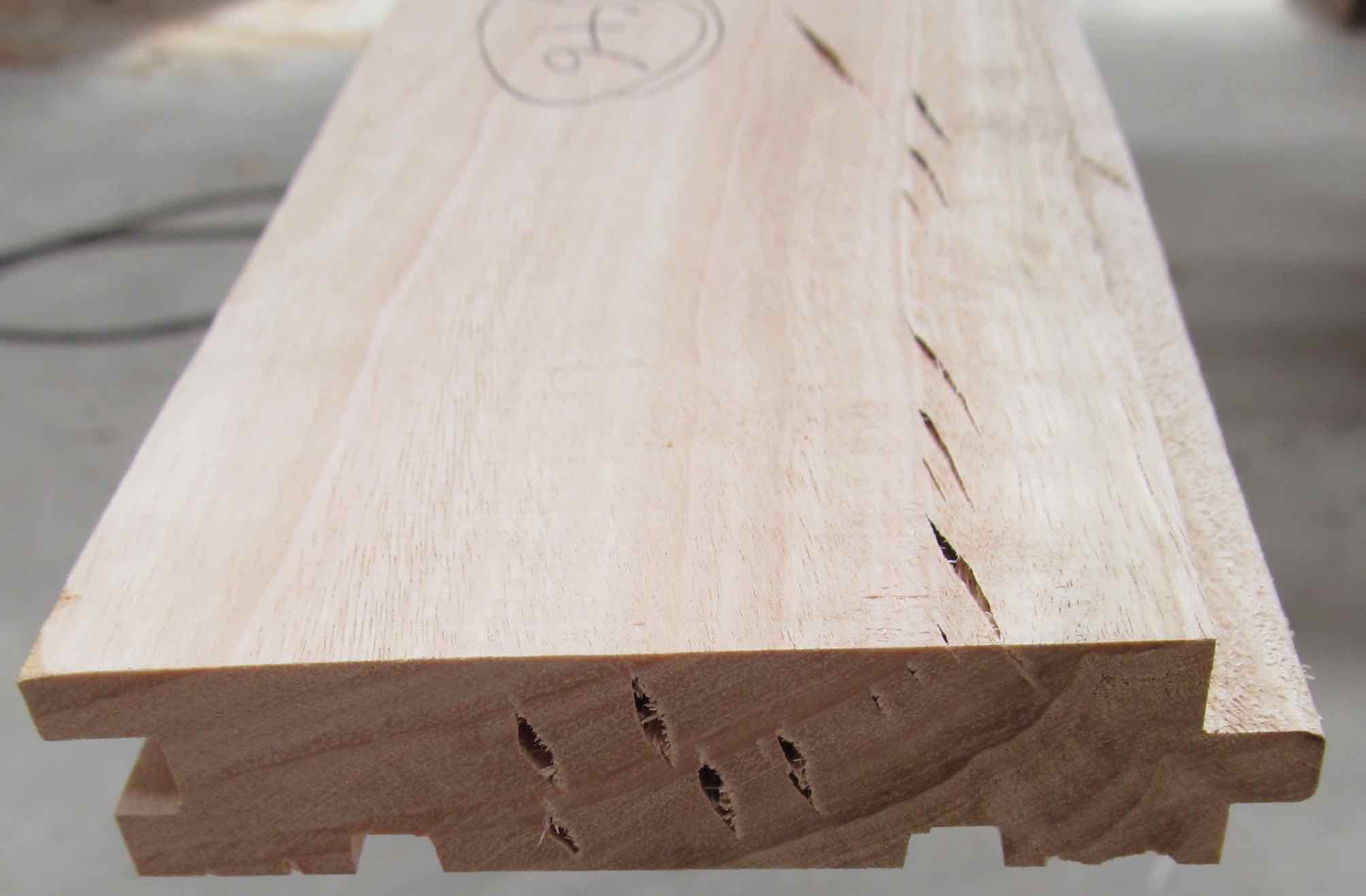 Heavy internal checking in this flatsawn 100 mm board, especially on the last heartwood growth ring. This board was high density, however other trees with high density wood didn't suffer from checking. No relationship was found for checking and density.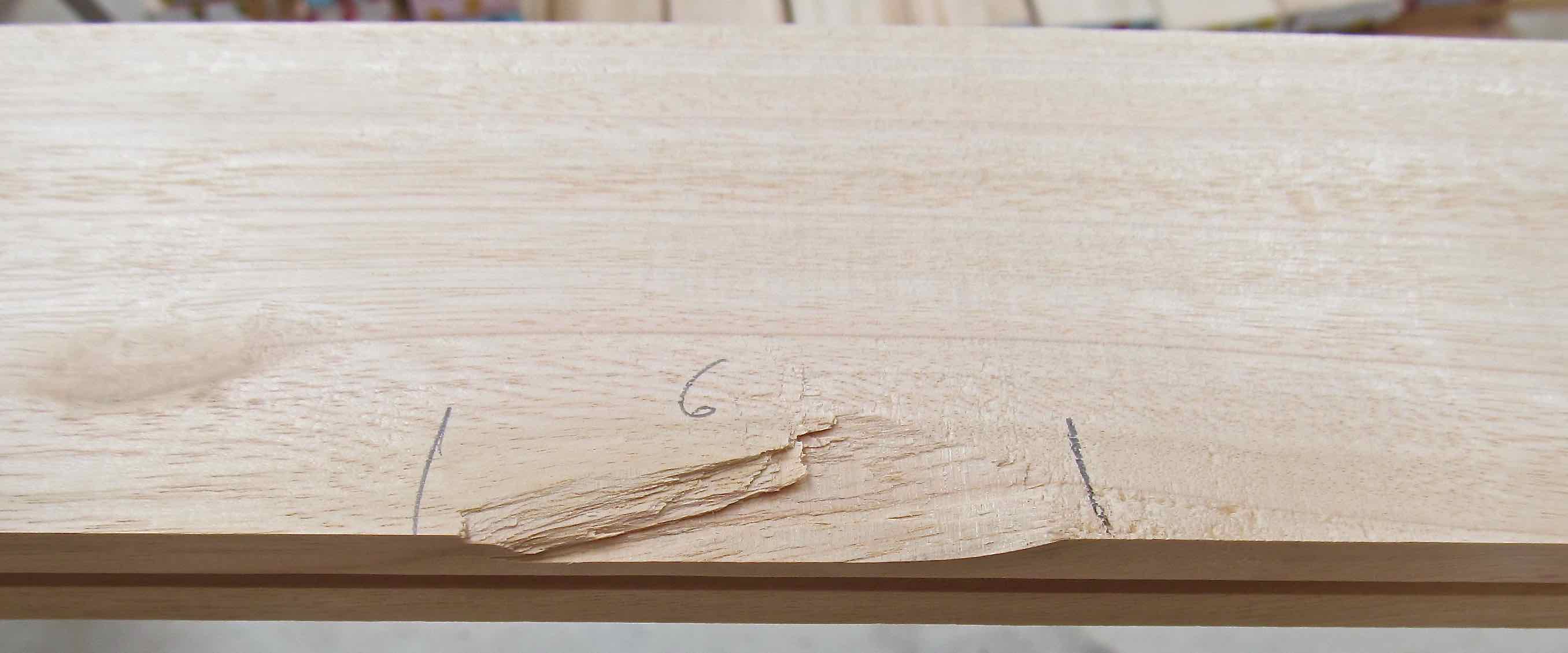 Want caused by machining.


6 cm docked out because of a pruning wound in the board and want associated with this.


Natural knot feature, either docked as box or categorised as 'high feature' grade. Is there demand for such wood that requires filling with epoxy for flooring?


23 cm of wood with checking docked out to produce high quality clears either side.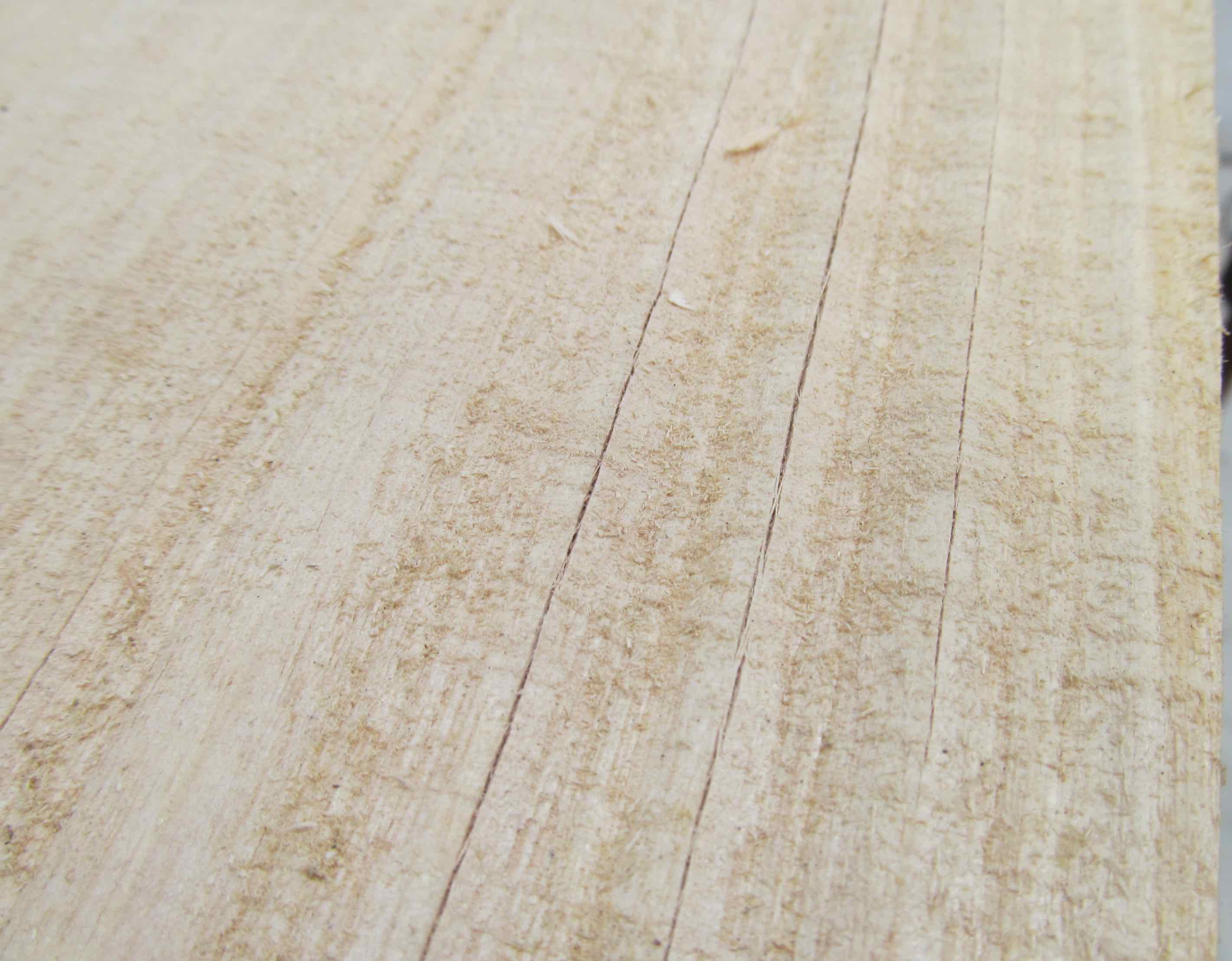 Surface checking on the dry rough sawn timber.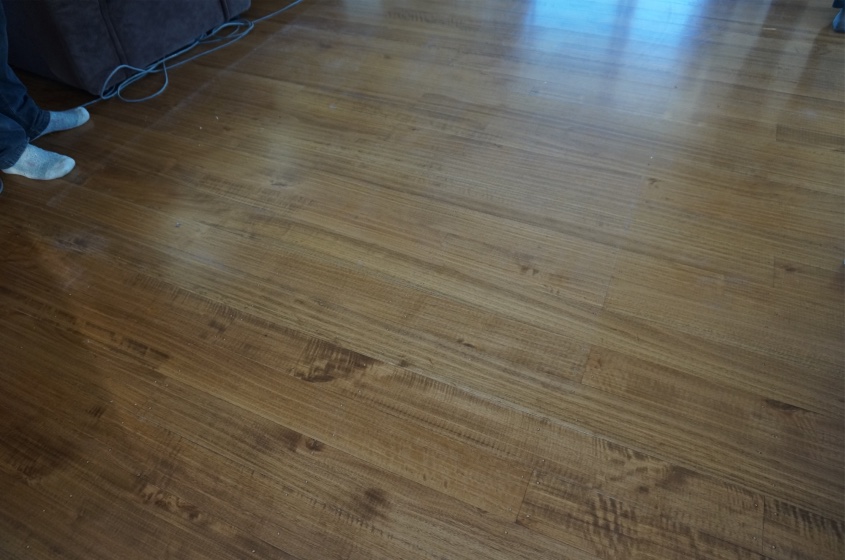 Ex 125 mm width floor laid from study boards. A light brown stain was applied.

Ex 125 mm width floor laid from study boards. A light brown stain was applied.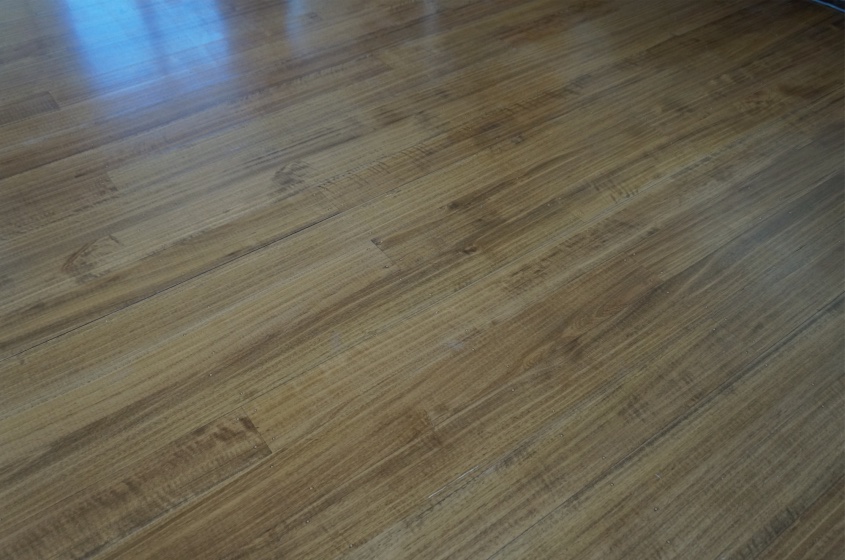 Ex 125 mm width floor laid from study boards. A light brown stain was applied.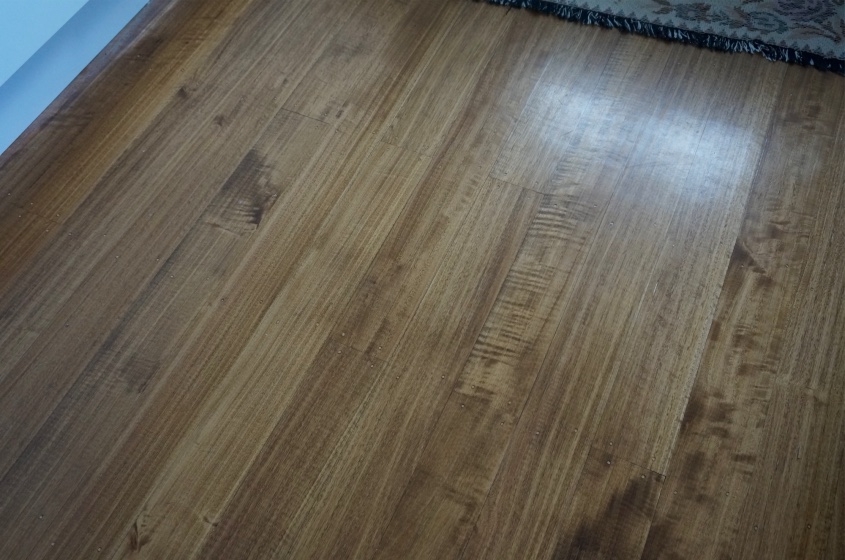 Ex 125 mm width floor laid from study boards. A light brown stain was applied.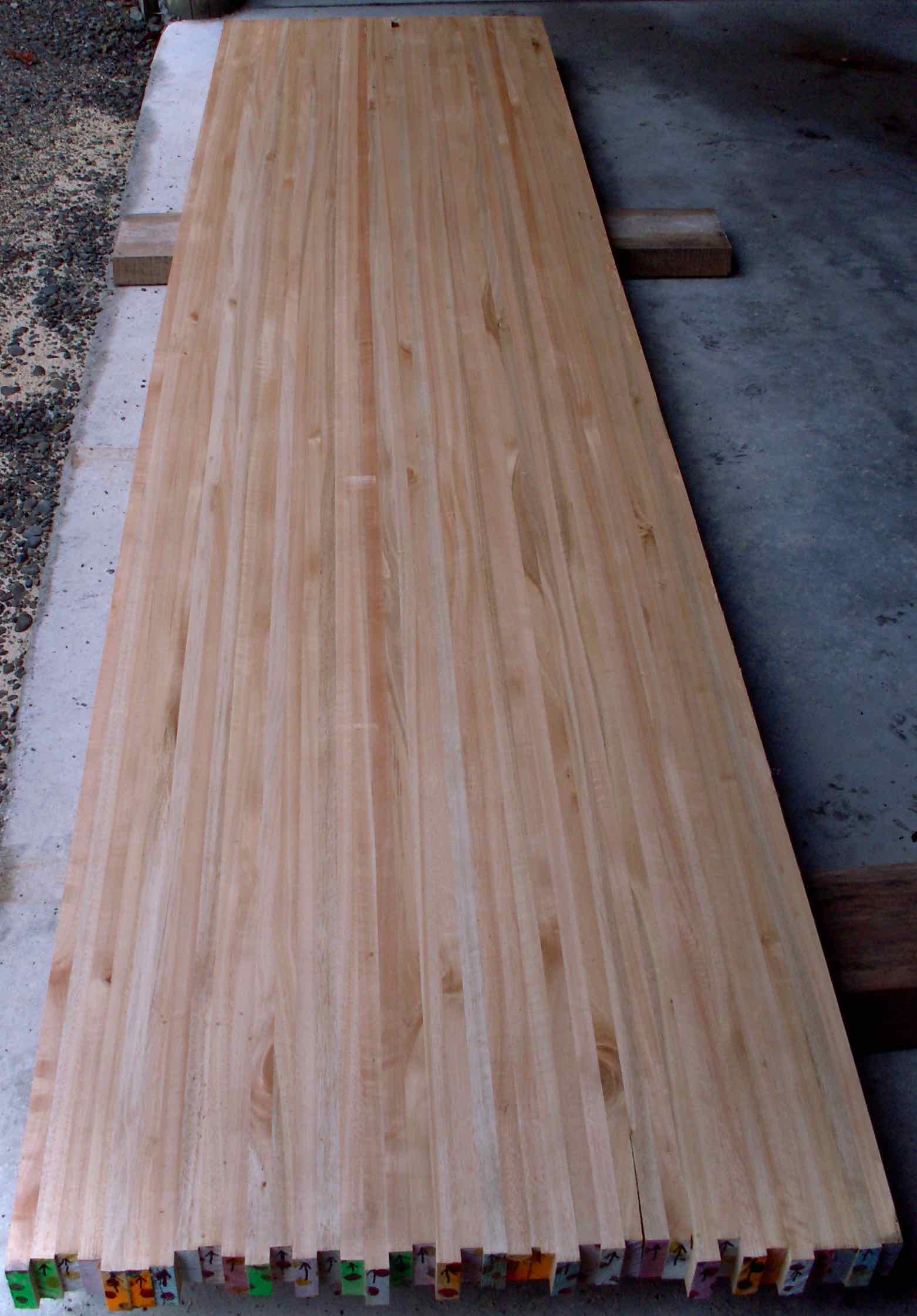 Panel after laminating and coating with sanding sealer.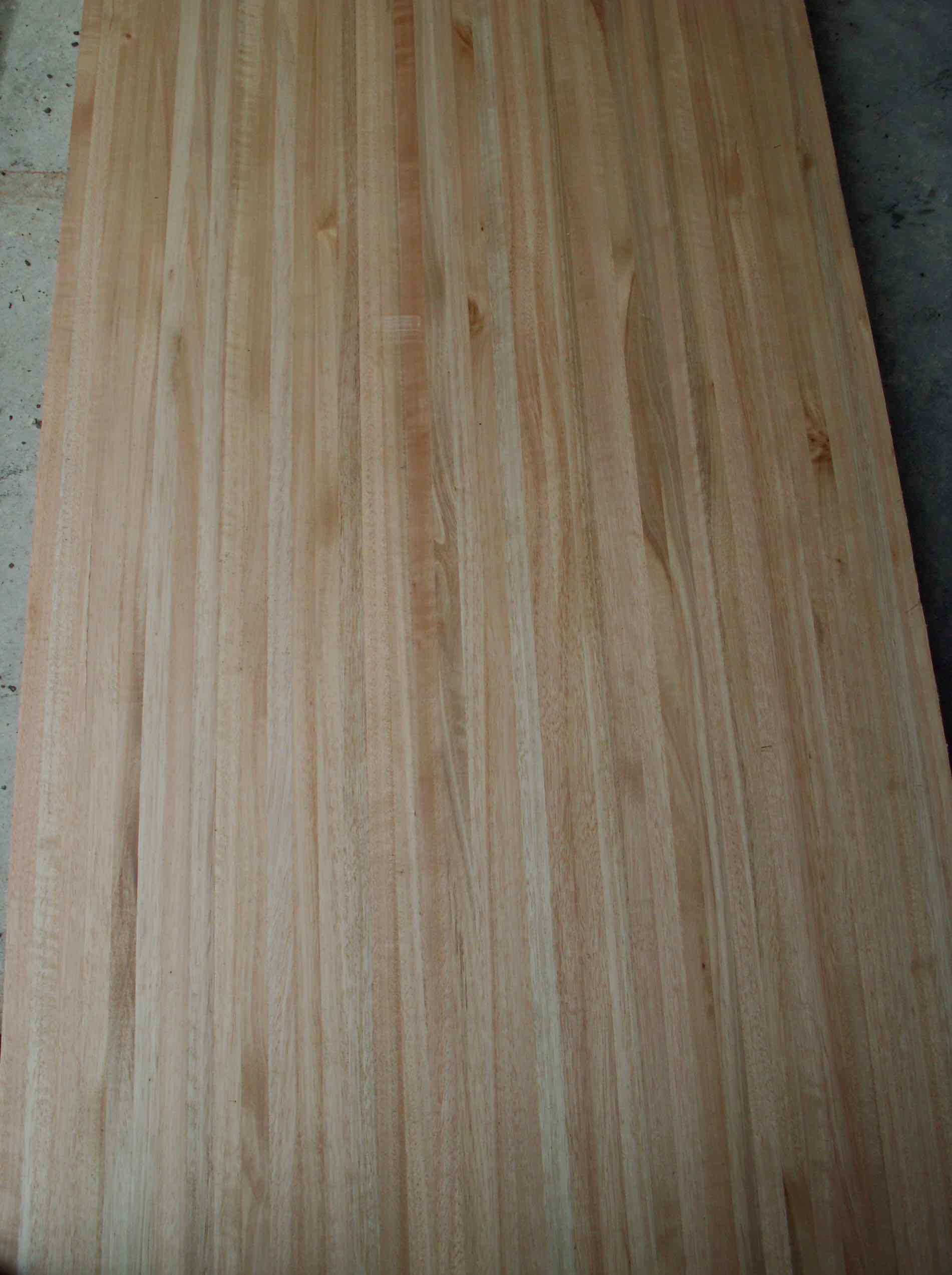 Laminated panel suitable for benchtop etc.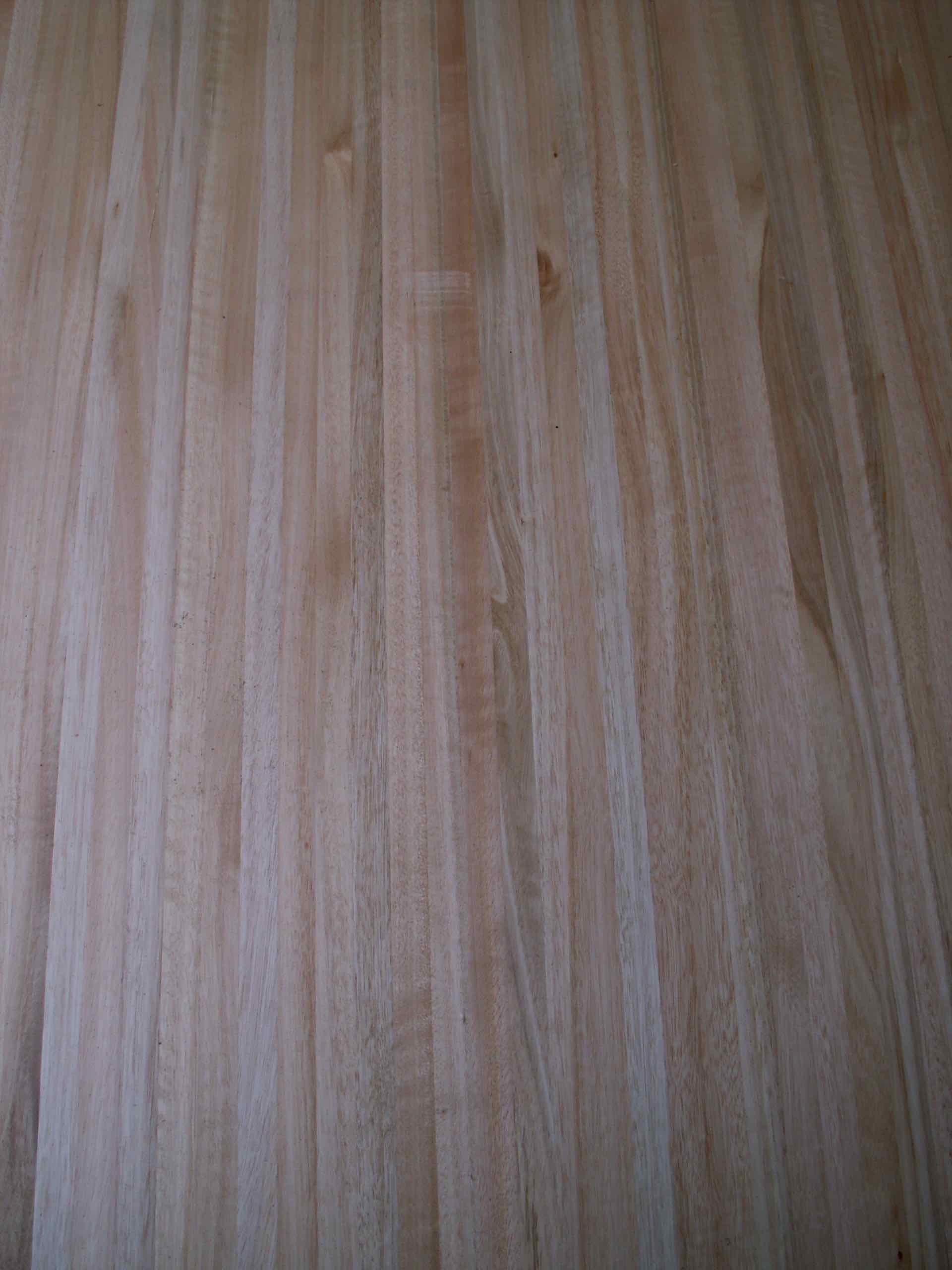 Laminated panel surface.
---
Disclaimer: The opinions and information provided in this report have been provided in good faith and on the basis that every endeavour has been made to be accurate and not misleading and to exercise reasonable care, skill and judgement in providing such opinions and information. The Author and NZFFA will not be responsible if information is inaccurate or not up to date, nor will we be responsible if you use or rely on the information in any way.