Eucalyptus nitens, recovery and economics of processing 15 year old trees for solid timber
Report Date:
May 2015
Author:
Dean Satchell, Sustainable Forest Solutions, R.D. 1 Kerikeri, Northland 0294
+64 9 4075525
Special thanks and acknowledgement go to:
MPI Sustainable Farming Fund
Neil Barr Farm Forestry Foundation
John Fairweather Specialty Timbers
North Canterbury, South Canterbury, South Otago and Southland branches of NZFFA
NZFFA Eucalyptus Action Group
NZFFA Research committee
Appendix 1: Assumptions in Discounted Cash Flow Analysis
Appendix 2: Sawn timber price estimates
Appendix 3: Literature review - Value-based survey pricing methods
Appendix 4: Literature review - Estimating profitability of growing E. nitens for solid timber production
Appendix 5: Sawmilling method
Appendix 6: Flooring price survey instrument
Appendix 7: Survey results table
Appendix 8: Survey analysis
Appendix 9: Wood physical properties, test results
Appendix 10: Glossary of terms
Appendix 11: Case study stand plot
Appendix 12: Comparison between levels of internal and surface checking
Appendix 13: Air drying experiment
Appendix 14: Sensitivity analysis
---
Appendix 5: Sawmilling method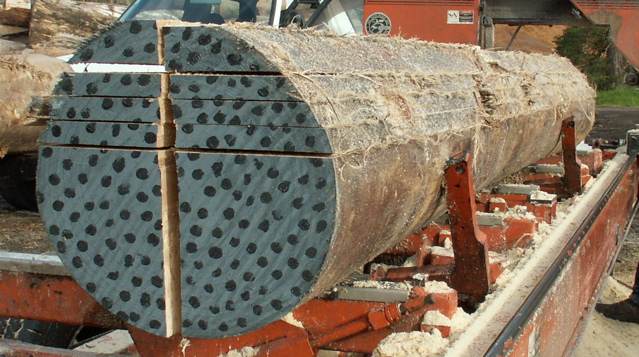 Shown here is the slabbing process which takes place after first sawing the log through the pith and then turning the two intact halves 90 degrees. By keeping the log intact two slabs are produced with each slabbing cut. The slabs are transferred to the twin blade edger for edging into straight boards. Note there is very little tangental deflection near the periphery but high radial deflection. Because the log is clamped in place slabbing cannot continue all the way through the log. The two cants are turned so there is a flat face on the bed before slabbing continues.
Below is an example of a pruned 40cm SED log with the pattern applied. The pruned knotty core is 16cm diameter and green recovery based on log SED is approximately 66% and nominal recovery 55%.
The economic analysis in this study is based on the assumption that logs with SED below 25 cm are not worth sawmilling.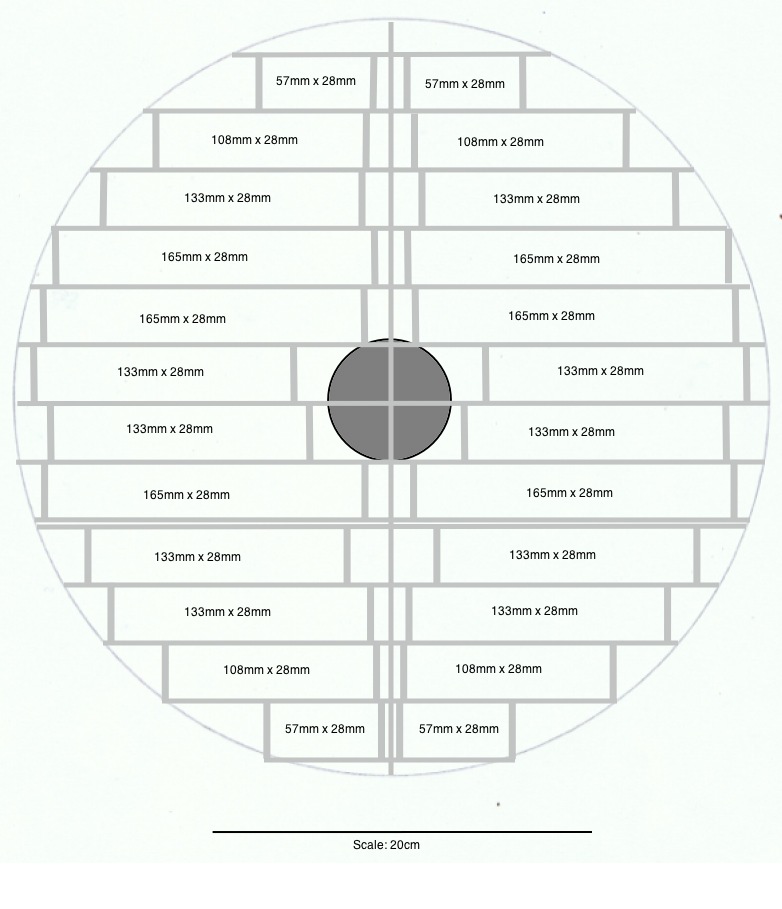 ---
Disclaimer: The opinions and information provided in this report have been provided in good faith and on the basis that every endeavour has been made to be accurate and not misleading and to exercise reasonable care, skill and judgement in providing such opinions and information. The Author and NZFFA will not be responsible if information is inaccurate or not up to date, nor will we be responsible if you use or rely on the information in any way.