CDG Newsletter 1, June 2019
Editorial
I have called this Newsletter 1 because the CDG has turned a new leaf. Following from group discussion one evening at the recent Rotorua conference, those of us who remembered what was decided have begun to action a plan that will reinstate cypress in its place as the most glorious of all plantation timber species in New Zealand.
The first stage of that plan is to engage members in planting demonstration blocks around New Zealand to showcase the new generation of cypresses. These are not the cypress of old. These new clones are the result of decades of breeding work that has culminated in a shortlist of exciting prospects, trees that offer good growth and form along with canker resistance. Yes, this is the brave new world, a world that we will all have to come to grips with, a world where canker is a thing of the past and the trees that growers plant will actually thrive, grow and produce valuable timber. I know this will surprise some of you, while others will dismiss such claims as wildly fictitious and unbelievable, but I say to you "try and find out, otherwise you will never know". If you are sceptical, then you should still set out to prove your hypothesis and plant some. Go on... Because if you don't, you will never know.
This years trial stock are a world first. The leylands are a hybrid discovered over 100 years ago by accident. The two parents were completely different species (nootkatensis and macrocarpa) and seeds grown showed that they crossed. A bit like crossing a donkey and a horse to get a mule. Shame that the parents weren't good examples of their kind, which is what can happen with accidents. The world first was to reproduce that hybrid, but this time using the very best parents for the cross with artificial fertilisation. Innovative stuff, and not something for the forest industry to sneeze at. However, being a conservative industry and all, it will no doubt take years of demonstrations to crack the nut and change the mindset of the majority, the growers convinced that all cypress are a waste of time, just because the track record has convinced them that this is the case.
Enough from me, please get involved.
Editor
New Cypress Hybrid Clones released
Scion has released 12 new cypress hybrid clones (see Table).
These should be suitable replacements for existing Leyland and Ovensii hybrids for those who are interested in planting them. All clones released were selected for good growth, form, and propagation success in the nursery greater than 80%.
Table 1. Details of the 12 hybrids selected with good growth and form, and propagation success 80% or better propagation success

| Clone Number | Type | Species | Name |
| --- | --- | --- | --- |
| 7 | Leyland | Ch. nootkatensis x C. macrocarpa | Leyland S1 |
| 8 | Leyland | Ch. nootkatensis x C. macrocarpa | Leyland S2 |
| 10 | Leyland | Ch. nootkatensis x C. macrocarpa | Leyland S3 |
| 15 | Leyland | Ch. nootkatensis x C. macrocarpa | Leyland S4 |
| 26 | Leyland | Ch. nootkatensis x C. macrocarpa | Leyland S5 |
| 64 | Leyland | Ch. nootkatensis x C. macrocarpa | Leyland S6 |
| 21 | Ovensii | Ch. nootkatensis x C. lusitanica | Ovensii S1 |
| 23 | Ovensii | Ch. nootkatensis x C. lusitanica | Ovensii S2 |
| 29 | Ovensii | Ch. nootkatensis x C. lusitanica | Ovensii S3 |
| 56 | Ovensii | Ch. nootkatensis x C. lusitanica | Ovensii S4 |
| 86 | Ovensii | Ch. nootkatensis x C. lusitanica | Ovensii S5 |
| 89 | Ovensii | Ch. nootkatensis x C. lusitanica | Ovensii S6 |
Hybrids occurring naturally between cypress species can offer commercial advantages over either of the parent species. Some accidental inter-genus hybrids (Leylands and Ovensii) have been deployed as clones for over a century. In 2004 Scion decided to take a more deliberate approach to cross-pollination to explore the commercial potential of cypress hybrids.
The main cypress species identified for New Zealand forestry are Cupressus lusitanica and C. macrocarpa. Breeding programs for each of these species have been running since the mid 1980s and good parents have been identified. Both species are capable of good growth rates on the right sites and produce good timber, but have problems with cypress canker. Hybridisation can provide a way of overcoming this disease.
To re-create hybrids similar to the commonly known Leyland and Ovensii clones, Chamaecyparis nootkatensis pollen from the British Columbia breeding programme was shipped to New Zealand in 2005 and used to make hybrid crosses with C. macrocarpa to make "Leylands" and C. lusitanica – re-creating the "Ovensii" clone. All C. macrocarpa and C. lusitanica parents were from the breeding programme, In addition, hybrids were made with Cupressus guadalupensis, thought to be resistant to cypress canker.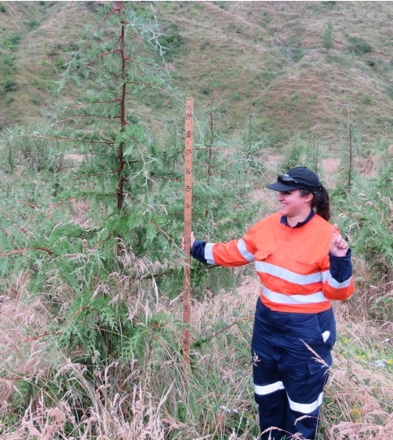 The resulting plants were established in two trials, one in Kaingaroa, the other on the East coast, planted in winter 2008.
Field cuttings were taken from over 100 hybrids in 2009, and brought back to Scion to be propagated. As part of this process, records were kept on rooting success over 2 years. This information was used to short-list selections based on growth and form (Table 1.)
The resulting 12 clones were released to Nurseries during 2014.
In 2014 three new trials (Whakarewarewa, Kinlieth and Paparoa) were established with the 12 hybrid clones that had been released, along with a selection with slightly lower rooting percentages but good growth and form. Thirty clones were tested in total. Tests also included the original Ovensii clone, as well as seedling C. Lusitanica as a benchmark.
During 2017 trial inspections at the 2014 sites it was observed the clones were growing faster than the C. luistanica seedlings and the traditional Ovensii.
Scion will continue to monitor and measure these trials as they progress.
Cypress performance trials
The Cypress Development Group will oversee a nationwide cypress performance trial, making use of available clonal stock currently held at Southern Cypresses and Southern Woods nurseries.
After discussing at the Cypress Development Group (CDG) AGM at the Rotorua NZFFA Conference and several subsequent meetings afterwards with interested parties, it was decided that I, Vaughan Kearns, CDG Treasurer, would act as coordinator for candidates who may offer trial sites for these cypress clones.
In light of the limited range of sites chosen by Scion to conduct larger-scale trials, the CDG will undertake our own trial using a smaller number of trees but covering a large range of geographical sites and climates across the country.
We ask that interested parties come forward and offer sites of around half a hectare to accommodate 180 cypress trees. We are aiming for 100 separate sites around New Zealand.
This exciting opportunity to make use of these newly developed clones, which have shown superior growth and form along with resistance to cypress canker, are offered firstly to all the CDG membership before the remaining NZFFA members.
In order to achieve a good survival rate there will be incentives to keep the trials in good condition.
Trees will be offered at a discounted rate to cost. The discounted rate is $400.00 including freight for 180 trees. Cost price is $700.00
Spacing is to be 3 metres between trees and 4 metres between rows.
After inspection by the appointed authority three to five years after planting:
those who successfully planted and tended the trial will not be required to make further payment.
Those whose trials have been deemed unmeasurable through neglect or stupidity will be required to pay the full cost of the trees (an additional $300).
Those with sites that have been well managed will be first on the list to receive trees on a much larger scale and at a continued lower price once the "winners " in the trial are propagated for general release.
It is proposed that the layout of planting of the trial will be in a simple row format, with 3 metres between trees and 4 metres between rows. There will be 19 rows with 10 trees of each clone in a row. In addition are four "controls", clones that we already have performance data on. These will be Ovensii, Ferndown, Rotoehu 2/20 and Rangitoto #3. Having these will enable us to compare the new clones alongside the control trees on each different site.
Further details of the trial will be forwarded in due course to candidates. If candidates also wish to plant around the trial as part of a larger-scale planting, this is perfectly acceptable provided the trial remains obvious and accessible.
The main requirement will be that no type of pruning is undertaken for the first five years of growth. No pruning for form, nor lift pruning.
It is imperative for useful data that all trees throughout the various trials are treated the same across all sites.
The trials will be visited by an approved assessor at various times to record relevant survival and growth data.
It is expected that after about five years, each triallist will be free to make their own decisions on stand management. That is, thinning, pruning or no further management are all options for the owner.
Please contact me for further details.
Kind Regards,
Vaughan Kearns
Cypress Performance Trial Coordinator.
ruapehusawmills@xtra.co.nz
(top)