Advertisement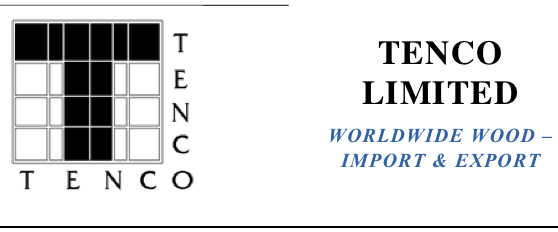 About Tenco
Tenco is one of New Zealand's largest exporters of forest products. We have built to this position since 1991 when the company was set up to export lumber to growing Asian export markets. Experience and reputation count; from small beginnings Tenco has become the largest independent exporter of New Zealand lumber and New Zealand's 4th largest log exporter. Tenco has a regular shipping program of their own log vessels and in combination with these and other ships currently calls at 7 New Zealand ports (5 North Island and 2 South Island).
Tenco buys standing forests. Tenco currently has a number of forests which they purchased at harvestable age to log over a number of years for export and domestic markets. Tenco also regularly buys smaller tracts of forest to harvest immediately or immature forests to hold until harvest time. Tenco is interested in broadening the base of owners from whom it purchases forests and stands of trees. A deal with Tenco is a certain transaction. The owner and Tenco will agree on a value of the tree crop and then Tenco will pay this amount to the owner either in a lump sum amount or on rate per volume unit out-turn from the forest depending on the nature of the tree crop.
Tenco knows there are a lot of farmers who have trees that are close or ready to harvest and will be asking themselves how they should proceed with the sale of their trees. For some farmers the kind of certain transaction with money in the bank could well be appealing. Tenco is actively interested in buying harvestable forests or trees from areas including all the North Island (except the Gisborne and East Coast districts) and Nelson & Marlborough in the South Island .
If you own a forest in this area (16 years and older) and are ready to enter into this kind of agreement Tenco is interested to develop something with you.
Please contact: Josh.Bannan@tenco.co.nz
Work: +64 7 357 5356 Mobile: +64 21 921 595
www.tenco.co.nz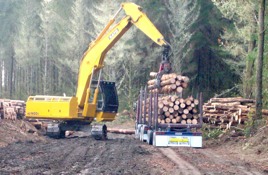 Modern eucalyptus sawmilling technology in Tasmania
Thursday, December 31, 2015, Dean Satchell's blog
Whilst in Tasmania during December 2015 I had the fortuitous opportunity to visit Newood sawmill near Huonville at the invitation of mill manager Josh Turnbill. This mill was set up around 2004 specifically to efficiently saw the natural regrowth eucalypt resource in Tasmania. The rotation length for the naturally regenerating species (primarily E. obiqua, E. regnans and E. delegatensis) is about 60 years to produce logs suitable for this mill, which utilises twin bandsaws and twin blade edgers to deal with the high levels of tension present in regrowth logs.
I'm very grateful to Josh for showing me around the mill, which is an excellent example of using technology to overcome issues with cost-efficiently producing high quality sawn product from small-diameter eucalypt logs. Log diameters vary considerably, with the optimum being between 40cm and 50 cm, with logs down to 30 cm SED being sawn cost-effectively and with a focus on quartersawn production.


Range of log diameters in the yard.
Production is approximately 10 cubic metres of sawn lumber per hour and 13,500 m3 per year. This comes from about 40,000 m3 of logs. The aim is to increase throughput to 48,000 m3 of logs per annum from a single shift operation with approx 17 workers.
Average sawn recovery is 34% from an average log small end diameter of 43 cm. Recovery is up to 45% with logs over 50 cm SED.
This sawmill is one of the most advanced setups in Australia for sawing regrowth resource and was commissioned in 2004. Approximately half the product is sawn to 19 mm green thickness, with the other half sawn to 28mm thickness. Nominal sawn widths are mostly nominal 2" - 8". A new product line being trialled is 38 mm thickness and a small amount of 76 mm x 38 mm battens are currently being produced.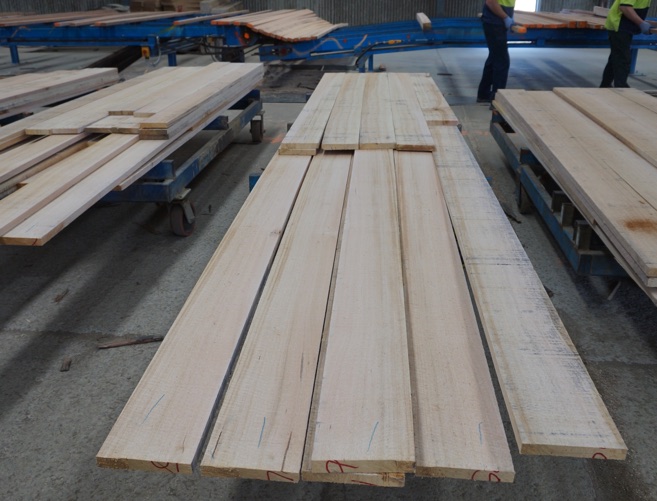 Production of clean, straight quartersawn boards of varying length.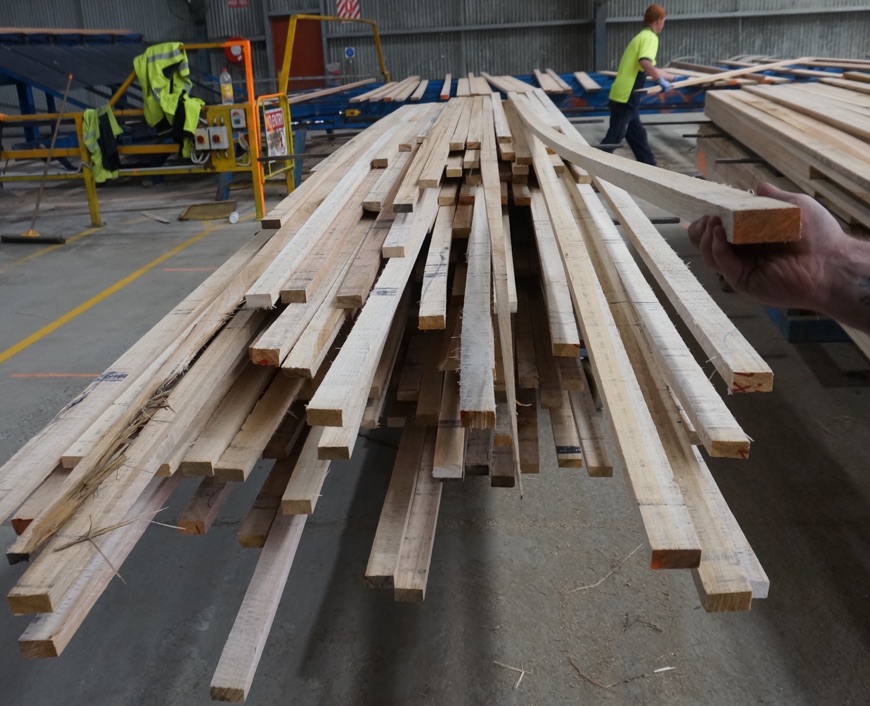 Narrow width quartersawn product is very popular in the market, this is 56 x 28 mm greensawn product.
---
Disclaimer: Personal views expressed in this blog are those of the writers and do not necessarily represent those of the NZ Farm Forestry Association.