Advertisement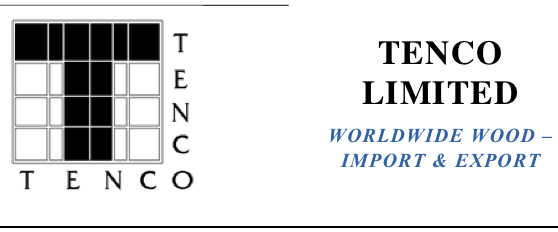 About Tenco
Tenco is one of New Zealand's largest exporters of forest products. We have built to this position since 1991 when the company was set up to export lumber to growing Asian export markets. Experience and reputation count; from small beginnings Tenco has become the largest independent exporter of New Zealand lumber and New Zealand's 4th largest log exporter. Tenco has a regular shipping program of their own log vessels and in combination with these and other ships currently calls at 7 New Zealand ports (5 North Island and 2 South Island).
Tenco buys standing forests. Tenco currently has a number of forests which they purchased at harvestable age to log over a number of years for export and domestic markets. Tenco also regularly buys smaller tracts of forest to harvest immediately or immature forests to hold until harvest time. Tenco is interested in broadening the base of owners from whom it purchases forests and stands of trees. A deal with Tenco is a certain transaction. The owner and Tenco will agree on a value of the tree crop and then Tenco will pay this amount to the owner either in a lump sum amount or on rate per volume unit out-turn from the forest depending on the nature of the tree crop.
Tenco knows there are a lot of farmers who have trees that are close or ready to harvest and will be asking themselves how they should proceed with the sale of their trees. For some farmers the kind of certain transaction with money in the bank could well be appealing. Tenco is actively interested in buying harvestable forests or trees from areas including all the North Island (except the Gisborne and East Coast districts) and Nelson & Marlborough in the South Island .
If you own a forest in this area (16 years and older) and are ready to enter into this kind of agreement Tenco is interested to develop something with you.
Please contact: Josh.Bannan@tenco.co.nz
Work: +64 7 357 5356 Mobile: +64 21 921 595
www.tenco.co.nz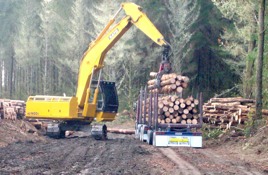 Eucalyptus laevopinea for high value hardwood
Sunday, May 25, 2014, Dean Satchell's blog
Eucalyptus laevopinea (silvertop stringybark) is a eucalyptus species that grows really fast and produces a high quality hardwood timber.
It comes from the tablelands of New South Wales and is both cold-hardy and very fast growing. The timber is hard, strong and moderately durable. This makes it suitable for a range of high-value end uses like flooring, outdoor decking and furniture, structural applications requiring good strength and being a decorative stable hardwood could even be used for high-quality furniture.
The tree
E. laevopinea is really quite an amazing tree. It has great form, even better growth rates, is mostly self-pruning and has the best health of any eucalypt I've seen. A good dense crown of leaves means high volumes per hectare and resistence to bugs and possums means good growth rates.
The timber
The timber is pale brown and has a narrow band of sapwood. The sapwood is resistent to lyctus borer, which is an added bonus for internal applications, i.e. no treatment required. The heartwood is moderately durable and thus suitable for outdoor uses such as decking and outdoor furniture. Being a stringybark, the logs are easy to mill with low growth stresses and no shakes. Excellent surface hardness for use as flooring and best of all, fast growth! Good stability means that it doesn't need to be quartersawn and is easy to dry.
Growth rates
I've seen a few stands of E. laevopinea and they were all of similar growth rates to good radiata pine and the ash eucalypts. The ash eucalypts (e.g. E. fastigata and E. regnans) are non durable and soft, therefore not really of much use except for panelling. This one is far more useful but also grows fast, and from what I've seen could be harvested in only 20 years.
Siting
E. laevopinea is growing well as far south as Otago and has shown to be suitable for most New Zealand climates, even colder sites. It grows really well in Northland so is happy with humidity, unlike many eucalypt species.
E. laevopinea is my pick for hardwood timber where extreme durability is not required. Ground durability would be expected to be limited, but I'm yet to be convinced that naturally ground durable timbers hold higher value anyway.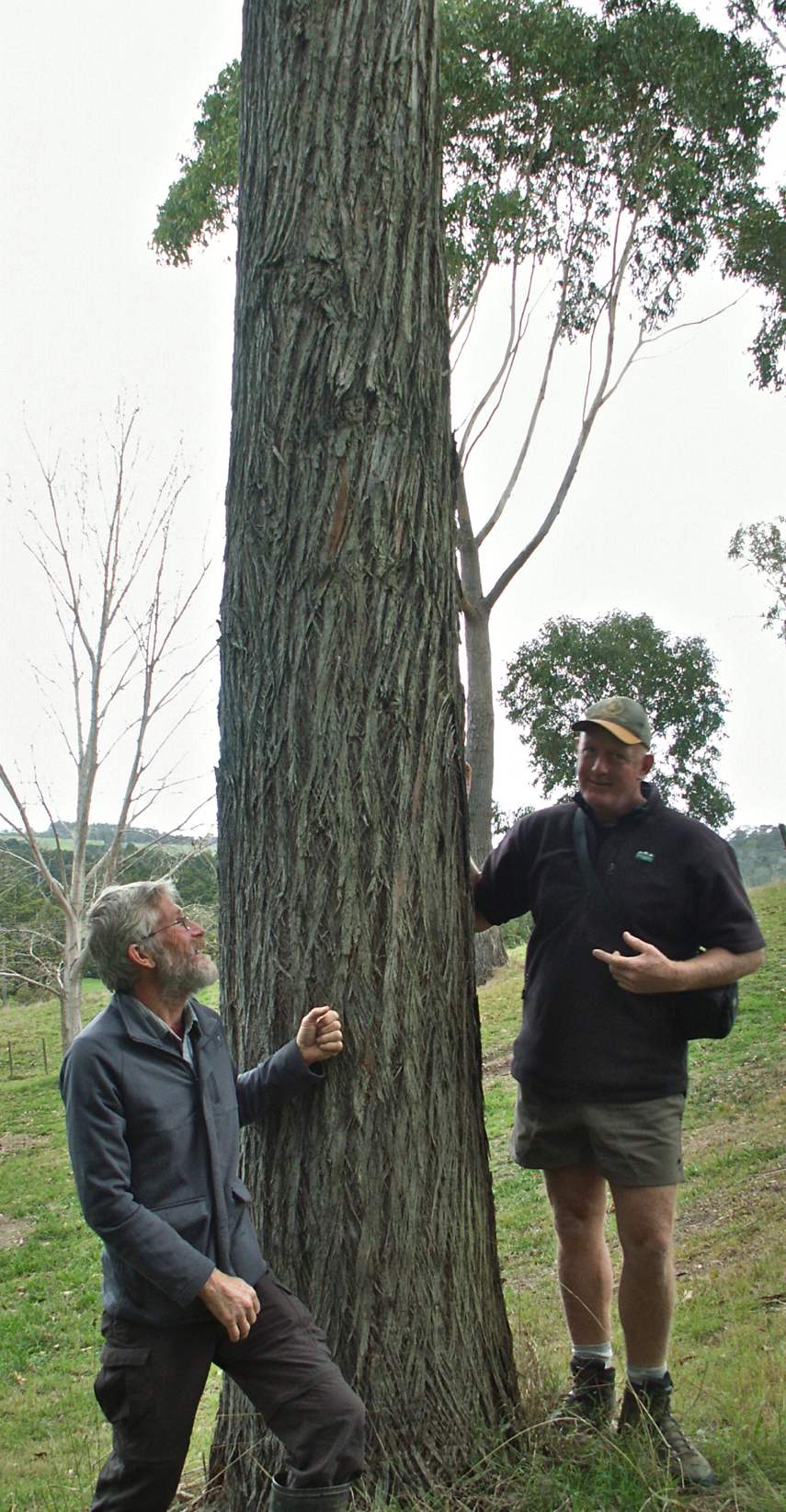 Tim Rose and Angus Gordon admire a 16 year old E. laevopinea in Northland. The diameter at breast height is 61 cm and the tree is pruned to 8m.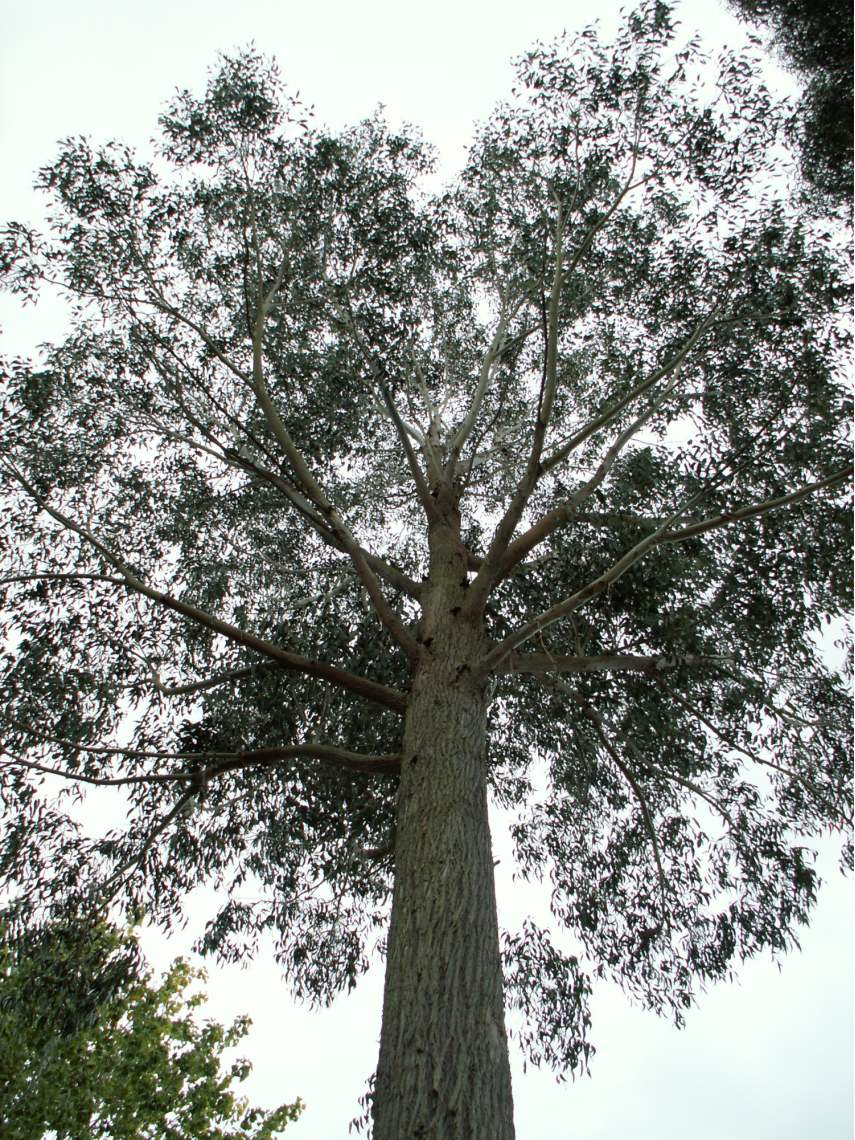 The same tree showing a dense crown of leaves. The crown structure is great for an open grown tree. John Pedersen reckons he only pruned "a few branches off" and the tree was otherwise self-pruning.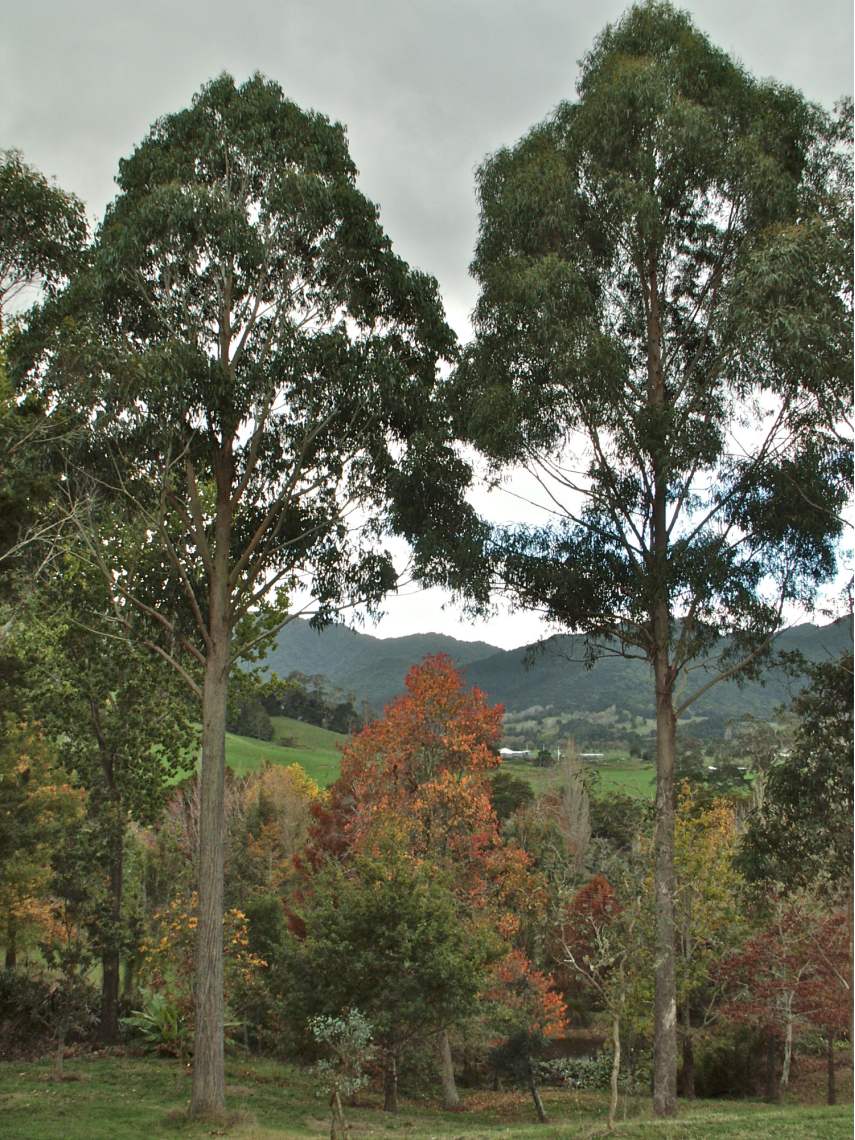 On the left E. laevopinea and on the right E. quadrangulata. Both trees are 16 years old, open grown and pruned to 8m. The crowns are a similar size but the E. laevopinea has a DBH (OB) of 61 cm while the E. quadrangulata has a DBH (OB) of 39.75 cm. The E. quadrangulata required significantly more pruning but has still grown well and produces a durable timber.
---
5 posts.
Post from Gary Fleming on May 29, 2014 at 9:52pm
Dean Would Laevopinea be as drought hardy as Macrorhyncha?

Post from Dean Satchell on May 29, 2014 at 10:21pm
I wouldn't think so. In Australia E. macroryncha grows in much drier areas inland of E. laevopinea. E. macroryncha grows much slower but I'm thinking should be a good choice for colder, drier areas than E. laevopinea. Finding out the limitations of E. laevopinea should be a priority. E. macroryncha also has limitations… it doesn't even grow here in Northland, it is too humid and warm for it, so limitations both ways!
Post from Hemon Dey on April 6, 2016 at 10:37pm
Can this be coppiced like other Eucalypts?
Post from Stuart Swanson on August 18, 2016 at 11:16am
G'day Dean I'm interested in sourcing seed for E.laevopinea for some trials here in nothern Tasmania. I've planted E.muelleriana some 15 years ago and it is growing well. Quality basalt soil, 200m elevation,  moderate frosts, ~1000mm annual rainfall, mean annual temp ~13 degrees. Any info on seed sourec would be appreciated.
Regards Stu
Post from Shem & Jen Kerr on May 3, 2019 at 9:48am
Dean, your statement that you're "yet to be convinced that naturally ground durable timbers hold higher value anyway" appears to differ from that of the NZ forest industry that has allocated the bulk of eucalypt research funding to 3 ground durable species, and none to the faster growing class 3 species in a time when the general public perceive an urgent need for immediate forest increase to deal with the proposed anthropogenic global warming. As I see it, only the head of the ostrich needs to be ground durable.

Disclaimer: Personal views expressed in this blog are those of the writers and do not necessarily represent those of the NZ Farm Forestry Association.