Bert Hughes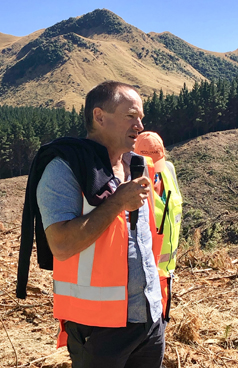 I am CEO and Forestry Director at Forest Enterprises Growth Limited (FEG). I am also a shareholder in FEG. FEG's subsidiary, Forest Enterprises Limited (FEL) is a licensed Managed Investment Scheme manager offering investment in forests. FEG manages over 65 forests comprising 32,000 hectares for investors. FEL represents over 6,500 essentially small forest owners. FEG harvests about a million tonnes of logs and replants more than 1,500 hectares pa.
I am a Registered Forester with the NZ Institute of Forestry and a Chartered Member of the NZ Institute of Directors. I have the NZCF (Ranger Training) and a BBS (Massey).
FEG is a member of the Farm Forestry Association, the Forest Industry Contractors Association, and several Wood Councils.
I grew up on a farm and worked in the woods since 1983. I still operate our small family forest with several alternative timber species. My experience includes:
Five years NZFS graduating as Forest Ranger.
Logger and Silviculture worker
Log marshalling at various ports.
Nelson Regional Manager of a large forestry company
Co-owner, founder of an SME forestry company
At FEG - company strategy, valuation and reporting, forestry business, marketing of the million tonnes produced annually.
I would ensure the Levy Funding is directed to the most effective use of our funds. Strength in the forest industry is key to lifting utilisation in forest products which leads to delivering social, environmental and economic benefits to society and stakeholders. The use of levy funding is an important tool to achieve that.
---