Red Needle Cast appearing 2016
Scion is the leading provider of forest-related knowledge in New Zealand
Formerly known as the Forest Research Institute, Scion has been a leader in research relating to forest health for over 50 years. The Rotorua-based Crown Research Institute continues to provide science that will protect all forests from damage caused by insect pests, pathogens and weeds. The information presented below arises from these research activities.
From Forest Health News - Issue 265 - March/April 2016.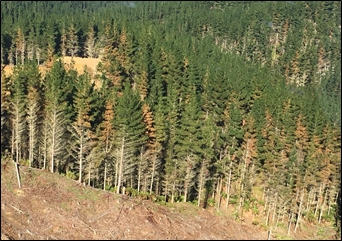 We received our first report of red needle cast for 2016 in early April. It was from the East Cape and the forester who reported it suggested it may be a bad season.
Red needle cast has been more prevalent on the East Cape and central North Island than elsewhere, although occasional outbreaks have been noted in Nelson, Taranaki and Northland. A research programme is currently investigating the relationships between environmental factors and disease development. Its aim is to provide forest growers with information that will help them decide if and when to apply spray for disease control.
Lindsay Bulman
This information is intended for general interest only. It is not intended to be a substitute for specific specialist advice on any matter and should not be relied on for that purpose. Scion will not be liable for any direct, indirect, incidental, special, consequential or exemplary damages, loss of profits, or any other intangible losses that result from using the information provided on this site.
(Scion is the trading name of the New Zealand Forest Research Institute Limited.)