Dothistroma control
Scion is the leading provider of forest-related knowledge in New Zealand
Formerly known as the Forest Research Institute, Scion has been a leader in research relating to forest health for over 50 years. The Rotorua-based Crown Research Institute continues to provide science that will protect all forests from damage caused by insect pests, pathogens and weeds. The information presented below arises from these research activities.
From Forest Health News 159, February 2006.
The needle-cast fungus Dothistroma has been present in New Zealand plantation forests for over 40 years. Since the mid 1960s there has been considerable research directed at developing suitable methods for managing the disease and, as a result of this work, there has been an annual aerial spray programme to control infection in plantations.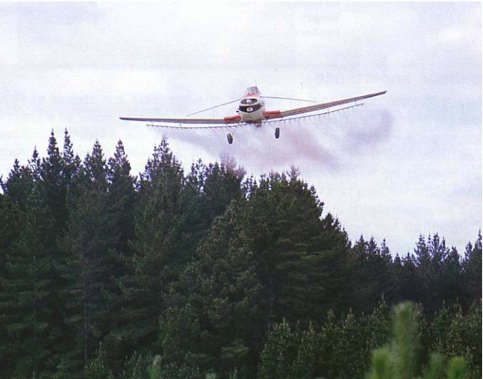 While most of the research has been carried out by the Forest Research Institute (under its various titles), the control programme has been the responsibility of the Dothistroma Control Committee (DCC). In the early days the Forest Service was responsible for the work of the DCC; today it is a sub-committee of the New Zealand Forest Owners' Association.
Dothistroma is a disease that infects the needles of pines and causes early needle death. As infection levels get higher (15–25%) some loss of growth begins to occur and in severe cases growth stops. The disease rarely kills trees but does cause a significant reduction in growth if left unchecked at high infection levels.
Aerial spraying has been refined as a management tool to complement other control initiatives for the disease. A tree breeding programme has been going for many years allowing forest owners to plant resistant breeds on susceptible sites. This,
combined with timely thinning and pruning (to improve airflow through the stand), can reduce the rate and severity of infection. However, these tools are sometimes not enough and managers need to spray their trees with a copper fungicide to reduce infection levels and keep their stands healthy and growing. In order to ensure a cost effective programme is developed for all forest owners, the DCC coordinates the purchase of the copper fungicide and oil used for spraying and the application of the spray. There is mutual benefit here because fungi do not respect ownership boundaries and neighbourly relations are enhanced if everyone with severe Dothistroma does control spraying.
The DCC also invests in ongoing research to improve the spray used, to find improved application techniques and to ensure that the operation is sustainable, and to mitigate any adverse environmental effects. The DCC continues to work closely with Ensis (FRI) to ensure the best information is available to forest owners and the disease can be managed as cost effectively as possible.
Forest owners are urged to get their forests surveyed in July/August and to contact the DCC as early as possible after the survey to ensure their forests are treated in a timely manner. Spraying usually occurs between Labour Weekend and Christmas, and if required a second application (for severely infected stands) is carried out in February.
The DCC can be contacted on 07 3323 454 or 0274 885 940.
(Don Hammond, Secretary, DCC)
&nbsp
This information is intended for general interest only. It is not intended to be a substitute for specific specialist advice on any matter and should not be relied on for that purpose. Scion will not be liable for any direct, indirect, incidental, special, consequential or exemplary damages, loss of profits, or any other intangible losses that result from using the information provided on this site.
(Scion is the trading name of the New Zealand Forest Research Institute Limited.)