Dairy farm planting for shelter
Neil Cullen, New Zealand Tree Grower November 2008.
On many of the dairy conversions undertaken in the south, the first victim is often the farm's existing trees. Sometimes there are valid reasons for removal of these trees. They may be abortion-inducing macrocarpa or they might not fit in with new paddock alignments.
Nevertheless the need for more shelter and shade on southern dairy farms still exists and this motivated South Otago branch president Mark Hay to organise a field day near Kaitangata during the last week of August.
Two dairy farms
The venue for the field day was two established dairy farms on either side of the Matau branch of the Clutha River. Soils on these farms are deep alluvial types just a matter of centimetres above sea level with pumps and flood banks keeping the water off the pastures.
On Evan Dick's farm an extensive network of shelterbelts has been established over many years with alders, poplars, willows and eucalypts the preferred species. With temperatures on the day struggling to get above five degrees, the advantages of having shelter for man and beast were readily apparent. Local vet Bruce Bissett emphasised that the provision of shade during summer was just as important for top production and that customer concerns regarding animal welfare are likely to increase in future.
From the protection of a well established willow shelterbelt, Edendale Nursery owner Ron Hinton outlined what he considered to be the four crucial elements in growing effective shelter. If any parts of planning, preparation, planting and protection are neglected or done badly then the end result will be failure.
Ron related examples of farmers forgetting to reduce hare numbers before planting or giving the planting job to an inexperienced worker as common causes of establishment failure. Grass control is especially important on fertile dairy farms and needs to be continued for three years.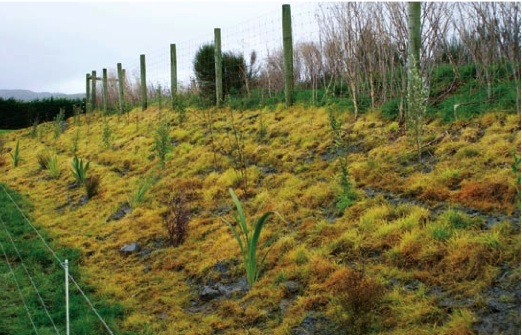 With dairy farmers understandably reluctant to forego large areas of pasture, shelterbelts are usually kept narrow. Ron's favoured species for coastal Southland and South Otago are hybrid willows and poplars, Eucalyptus subcrenulata and E. cordata, Olearia traversii and O. paniculata, and Thuja plicata.
At the second dairy farm, farmers were shown how areas such as effluent ponds, tanker roundabouts and milking sheds can be enhanced or disguised by strategic planting. On display was a bank surrounding a large effluent pond that had recently been planted with a selection of natives. The most important consideration with these plantings is selecting the right species ? and with the surf roaring in the background a tolerance of salt spray was an obvious necessity for that site.